Looking for a low FODMAP appetizer that's dressed to impress? Try these low FODMAP blistered caprese bites. With a deep, savoury flavour and a fantastic pop of colour, they'll leave your guests raving without troubling your tummy.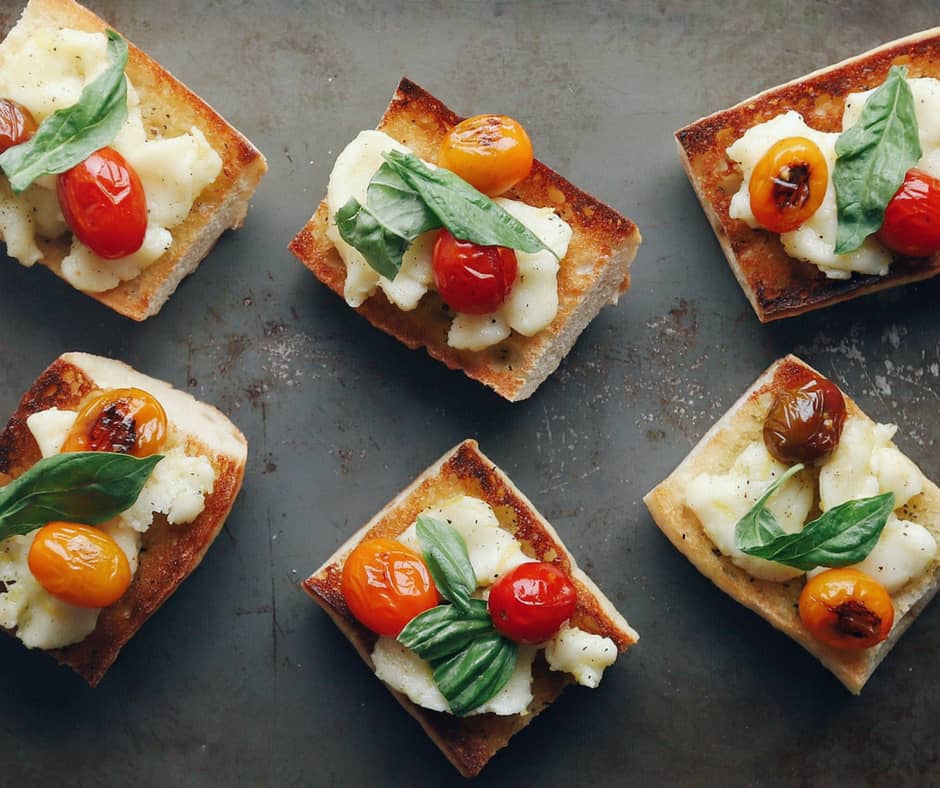 Heads up, this post uses affiliate links. If you make a purchase using one of the links I've provided, I'll receive a small sum of money. You can read more about my affiliations here.
---
My husband and I love to entertain. While we don't get to do it as often as we'd like, we tend to go all out when we get the opportunity. I love making appetizers, but finding tasty low FODMAP options can be challenging.
I love these low FODMAP blistered caprese bites because they're ready in 15 minutes, but they have a really dramatic look to them. Between the blistered tomatoes and the marinated mozzarella, they make a minimal effort look magical. And, they're pretty tasty to boot!
Think these low FODMAP blistered caprese bites sound great, but you don't have time to try them now? Don't worry! You can PIN THIS POST for later.
Keep It FODMAP Friendly
These low FODMAP blistered caprese bites will take your next party from amazing to epic. Check out the notes below for tips on keeping this recipe FODMAP friendly.
First, these blistered caprese bites get their bite from garlic-infused oil. While garlic is normally considered high FODMAP, because FODMAPs are water soluble, you can easily infuse them into fats like butter and oil.
If you use a store-bought garlic-infused oil, make sure to check the ingredient lists for items like "garlic extract" and check for any pieces floating in the bottle to make sure you're getting a low-FODMAP brand. If you can't find one at your local store, Fody Foods Co. has a Monash-certified low FODMAP garlic-infused oil available online.
Next up is lemon zest! According to Monash University, lemon juice is safe in servings up to 1/2 a cup. The app doesn't list lemon zest specifically, but there are two recipes on the Monash University Blog using the same amount of lemon juice and zest as we are here, so I think we're safe! If you're not sure how you feel about it, skip the lemon zest. No worries!
We'll also be using mozzarella for our caprese bites. According to the Monash app, mozzarella is safe for most folks in servings of 1/4 c (40 g). This is because bacteria eat some of the lactose while the cheese is fermenting. Our recipe works out to 31 g of mozzarella – just under 1/4 cups. So you won't need a lactose-free brand for this recipe.
Next up, cherry tomatoes. Monash University has said cherry tomatoes are safe in servings of 3 cherries per sitting. Servings of 4 cherries or more are high in the FODMAP fructose. We'll be using 2 cherries per crostini which is within Monash's recommended range.
If you want more cherries per crostini, cut the cherries in half after roasting to get more bang for your buck.
Last but not least, our baguette. If you're in the elimination phase of the program, you'll need to use gluten-free bread. But remember, something being gluten-free doesn't necessarily mean you're home free. Make sure you check the ingredients for sneaky FODMAPs like honey, apple or pear juice, amaranth flour, inulin/chicory root, etc. Personally, I haven't found a gluten-free baguette I like, so I make sure to toast the bread when I have to use it. You can do this on your BBQ or under your broiler.
Pick Your Headliner?
Whether you're planning a quiet night with your family or you're rocking a holiday bash, these low FODMAP blistered caprese bites are dressed to impress. If your feeling casual, these caprese bites are great with my low fodmap arugula and prosciutto pizza.
If you're planning something a little more formal, these would also be a fantastic starter for my low FODMAP roasted chicken or my low FODMAP spaghetti squash recipes.
Want to try these low FODMAP blistered caprese bites? Don't forget to PIN THIS RECIPE for later!
Print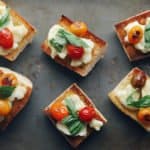 Low FODMAP Blistered Caprese Bites
---
Description
Looking for an appetizer to take your party from drab to fab? Try these quick and easy low FODMAP blistered caprese bites. Made with blistered tomatoes and marinated mozzarella, these FODMAP appetizers will leave your guests raving and your tummy happy!
---
1 tbsp

lemon zest

1/4 tsp

salt

1/4 tsp

pepper

250 g

mozzarella cheese (torn in pieces)

1 tbsp

olive oil

16

cherry tomatoes

1

low FODMAP baguette

1/3 cup

torn basil leaves
---
Instructions
Place 1 tbsp of garlic-infused olive oil, lemon zest, salt, pepper, and mozzarella in a small bowl. Set aside.
Heat the regular olive oil in a large frying pan and cook the tomatoes until they blister (about 3 minutes). Set aside. 
Cut the baguette in half and brush with remaining garlic-infused oil (toast if desired). Top with mozzarella, tomatoes and fresh basil. Serve immediately
Notes
Recommended low FODMAP serving size – 1 – 2 bites per sitting
Monash recently updated the serving size for cherry tomatoes. This recipe has been updated to accommodate the new serving sizes. 
To save time, you can marinate the mozzarella up to 24 hours in advance. Just make sure to let the cheese come back to room temperature before using. 
Prep Time:

10 minutes

Cook Time:

5 minutes

Category:

Appetizer

Cuisine:

American
You might also like one of these:
Low FODMAP Stuffed Peppers: These savoury low FODMAP stuffed peppers are packed with fresh flavour. Serve them in mini bell peppers for an adorable appetizer.
Low FODMAP Summer Bruschetta Bites: These low FODMAP strawberry bruschetta bites are the perfect combination of sweet and savory. These mouthwatering appetizers will add a pop of colour to your table all year round.
Low FODMAP Garlic Shrimp: Marinated in low FODMAP garlic-infused butter, these low FODMAP garlic shrimp will leave your guests raving!
If you like this post, don't forget to share it! Together we'll get the low FODMAP diet down to a science!