If you're not quite comfortable in the kitchen, starting the Low FODMAP Diet can be extra stressful. When I started the program, I was still pretty new to cooking. This added a whole new layer to the stress of the elimination phase. If you need some help getting warmed up in the kitchen, check out these low FODMAP stuffed peppers.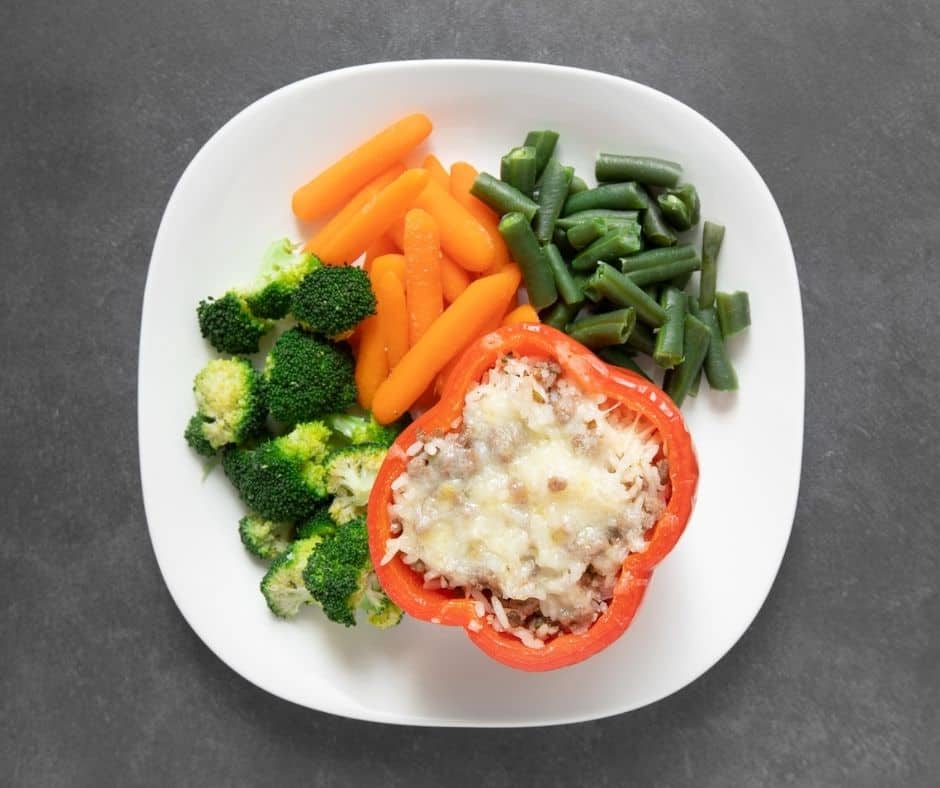 Heads up, this post uses affiliate links. If you make a purchase using one of the links I've provided, I'll receive a small sum of money. You can read more about my affiliations here.
---
These stuffed peppers were Franken-FODMAPed from the recipe I used before starting the low FODMAP program. They're ready in 45 minutes and are simple enough for someone new to cooking. The "Stuffing" is also freezer friendly. So, when I make these, I always freeze at least one serving for the next time I'm in a pinch.
As a side note, peppers can get expensive. When they're out of season, or when my budget feels a little tight, I skip them and eat the stuffing out of a bowl. My husband can confirm they still taste amazing.
Think this recipe sounds great, but you don't have time to try it now? Don't worry. You can PIN THIS POST for later.
Keep It FODMAP Friendly
These low FODMAP Stuffed peppers are a quick and easy way to get dinner on the table. Check out the notes below to keep this recipe FODMAP friendly.
First up is peppers. According to Monash University, bell peppers don't have any FODMAPs. But, just so you know, they do have a compound called capsaicin. This chemical can cause heartburn or abdominal pain in some people. If you have issues with heartburn, skip the pepper and eat the stuffing out of a bowl.
Next up, tomatoes. I normally use Roma tomatoes in my stuffed peppers. They have less juice than a common tomato, so they don't water down the recipe. Also, the "flesh" of a Roma tomato is much thicker and drier, which is better for recipes like this, where they get boiled down.
Monash University recommends 1 small Roma tomato per sitting. Servings of 5 1/2 Roma tomatoes or more are high in the FODMAP fructan. We use 2 Roma tomatoes in this recipe. This works out to half a Roma tomato per serving, so you're good.
Normally, stuffed pepper recipes use minced onion to add a savory flavour. Since onions are off-limits for now, use a splash of balsamic vinegar to add some depth.
According to Monash, 1 tbsp of balsamic vinegar is low FODMAP. Don't worry about it too much, though. You're only adding a splash.
The final ingredient is cheddar cheese. Hard cheeses are lower in lactose because it's broken down by bacteria during the fermentation process. This means you can have a small amount of cheddar cheese even if you're in the elimination phase.
According to the Monash app, you can have up to 1/2 a cup of shredded cheddar per sitting. We use 1/2 a cup for the entire recipe so you'll be safe, even if you have a larger portion.
Whose Side Are You On?
These low FODMAP stuffed peppers are pretty filling, but they can look a little sad sitting on your plate all by themselves. My husband and I normally make a fresh garden salad to take up some of our plates. You can also add some steamed vegetables like carrots, or a safe portion of broccoli for some veggie variety.
FODMAP math
You are what you eat! Check out the notes below to see how many servings of each FODMAP group are in one of these stuffed peppers.
Fructose = 0
Lactose = 0
Fructan = 0.5
GOS = 0
Polyol = 0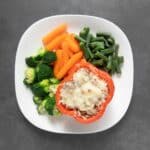 Low FODMAP Stuffed Peppers
Looking for a stress-free FODMAP friendly dinner? Try these low FODMAP Stuffed peppers. This colourful dish is the perfect introduction to the Low FODMAP Diet, especially if you're still finding your way around the kitchen.
What You Need
4

red bell peppers

top removed/cored

2

cups

white rice

cooked

1

lb

extra lean ground beef

2

tbsp

fresh thyme leaves

removed from sprig

1

tsp

paprika

2

roma tomatoes

diced

splash

balsamic vinegar

1/2

cup

cheddar cheese

shredded
What You Do
Bring a large pot of water to a boil. Blanch peppers for 5 minutes, then remove and set aside to cool/drain. Preheat oven to 350 degrees.

Heat garlic-infused olive oil in a frying pan over medium heat. Add beef, paprika, and thyme. Scramble fry beef until cooked through. DO NOT DRAIN!

Push meat to one side of the pan and allow grease and oil to accumulate in the center of the pan. Add tomatoes and cook for 3-5 minutes (until very soft).

Add rice and stir all ingredients until combined. Then drizzle mixture with balsamic vinegar (be gentle), and stir. Add cheese and stir one final time.

Scoop the stuffing into the peppers. Place peppers on a baking tray and bake for 20 minutes. Serve warm.
Notes
Use mini peppers to make a cute and colourful appetizer, or skip the peppers and freeze the stuffing for a quick and delicious freezer meal!
You might also like one of these:
If you like this post, don't forget to share it! Together we'll get the low FODMAP diet down to a science!
SaveSave
SaveSave
SaveSave
SaveSave