Looking for a healthy low FODMAP lunch idea? Use up the last of your summer strawberries with this quick and easy low FODMAP kale and strawberry salad. Made with fresh ingredients and drizzled with homemade salad dressing you'll be full of greens in no time!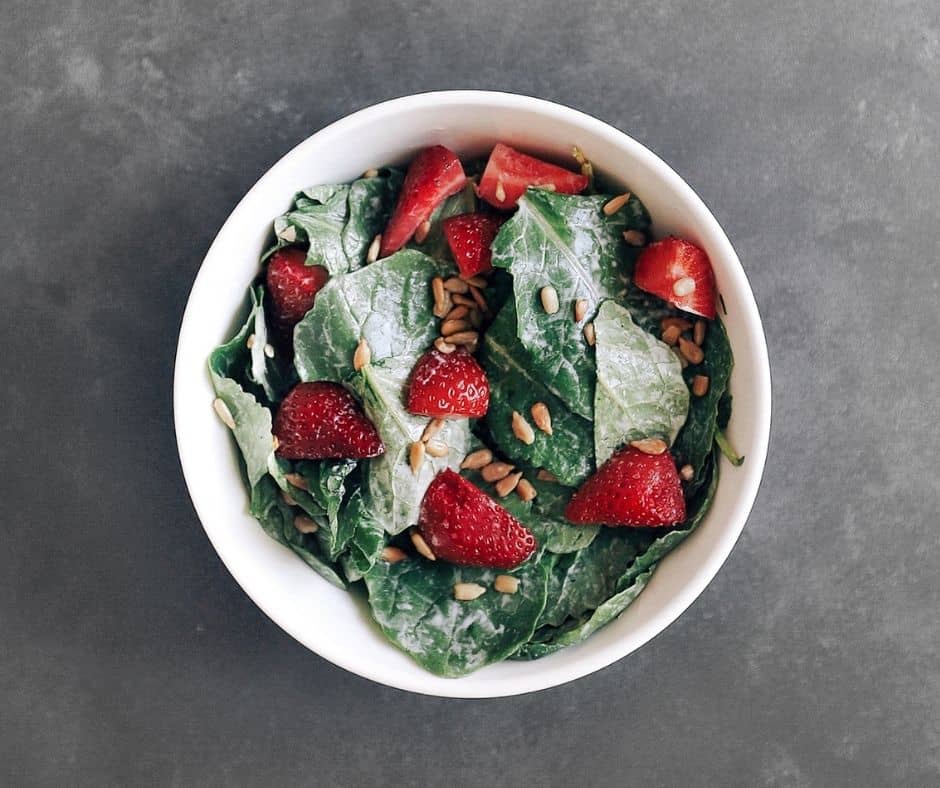 Fun fact! I have the taste buds of a 4-year-old, so I normally find kale a little overwhelming. That being said, I'm a huge fan of this low FODMAP kale and strawberry salad.
While I'm a sucker for anything with fresh Ontario strawberries, the combination of baby kale, berries, and creamy dressing comes together beautifully. I would recommend this recipe for anything from an easy afternoon lunch on your back deck, a side dish for your next backyard bash, or a quiet family dinner at home.
Think this low FODMAP kale and strawberry salad sounds great, but you don't have time to try it now? Don't worry! You can PIN THIS POST for later.
Keep It FODMAP Friendly
If you're looking for a healthy lunch idea, this low FODMAP kale and strawberry salad is a winner. Check out the notes below for tips on keeping this recipe FODMAP friendly.
First up we'll do our fresh ingredients. This includes kale and chives. According to the Monash app, all three of these items can be eaten freely. That means you can eat as much of them as you want without adding to your FODMAP load.
We'll also be using strawberries. Monash recently retested strawberries and determined they're low FODMAP in servings of 5 medium-sized berries (65 g) per sitting. Servings of 6 berries (75 g) or more are high in the FODMAP fructose.

Our recipe uses 1.5 cups of strawberries, which works out to around 54 g per serving. This is well within Monash's recommended range.
Next up, sunflower seeds. According to the official Monash app, sunflower seeds are safe in servings of 2 tsp (hulled) per sitting. It's worth noting, though, that sunflower seeds become high FODMAP in servings of 70 g. That's more than 10x the recommended serving size, so this recipe is well within the low FODMAP limit.
This recipe also calls for mayonnaise. If you can't find a low FODMAP mayonnaise at your local store, it's super easy to make it yourself. Just put one egg white in the bottom of a tall jar and add 1/2 a cup of olive oil. Blend them together using an emersion blender for 1 minute and voila!
If you're still in the elimination phase, I'd also encourage you to make your own lactose-free buttermilk. Just take 1/4 cup of lactose-free milk and add 1 tsp of lemon juice or white vinegar. Let it sit for 10 minutes at room temperature (so the milk can curdle) and you're done.
Our final ingredient is sour cream. Again, if you're still in the elimination phase, you're going to need a lactose-free alternative. For my Canadian peeps, both PC and Gay Lea have lactose-free lines that include sour cream.
Pick Your Headliner
This low FODMAP kale and strawberry salad is perfect as a healthy side dish. But, if you're using it as a main dish, you might want to add some extra protein. This recipe is fantastic with my seasoned chicken breasts or with these low FODMAP garlic shrimp.
Try to stay away from juicy meats like steak, as the juices won't play nicely with such a creamy dressing.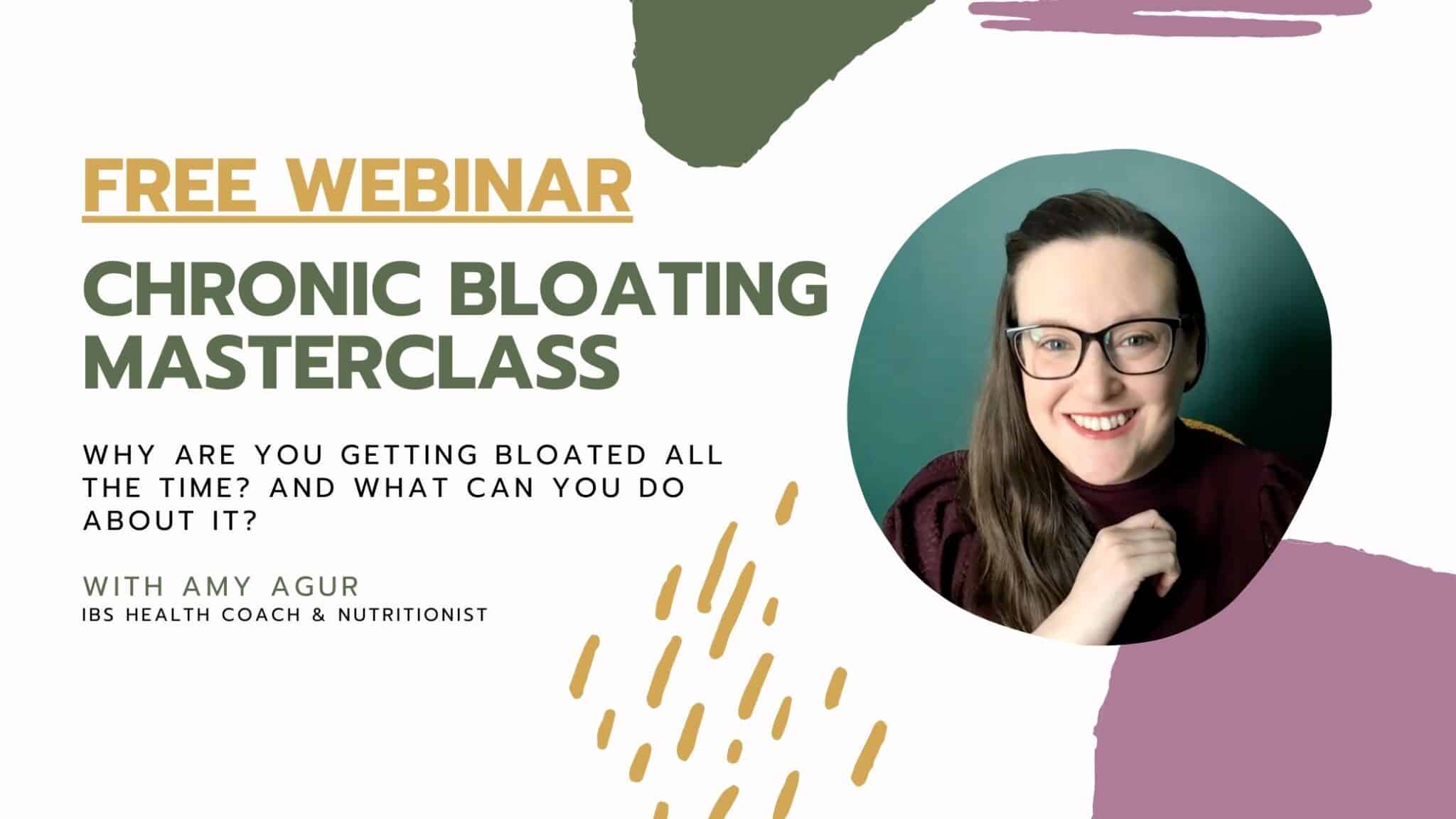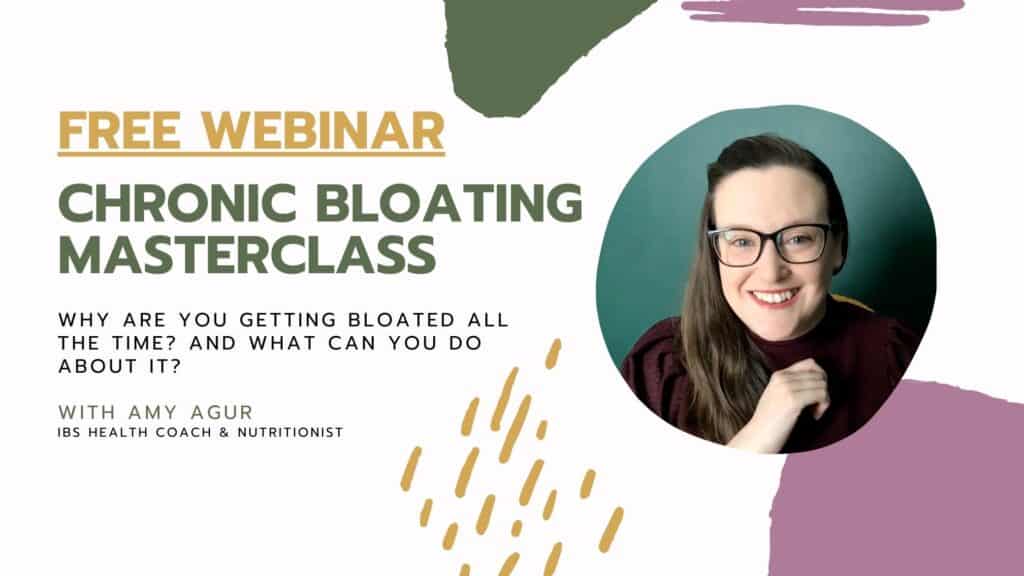 FODMAP math
Wondering how this easy strawberry kale salad stacks up? Check out the notes below to see how many servings of each FODMAP group are in 1/4 of this recipe.
Fructose = 1
Lactose = 0
Fructan = 0
GOS = 0
Polyol = 0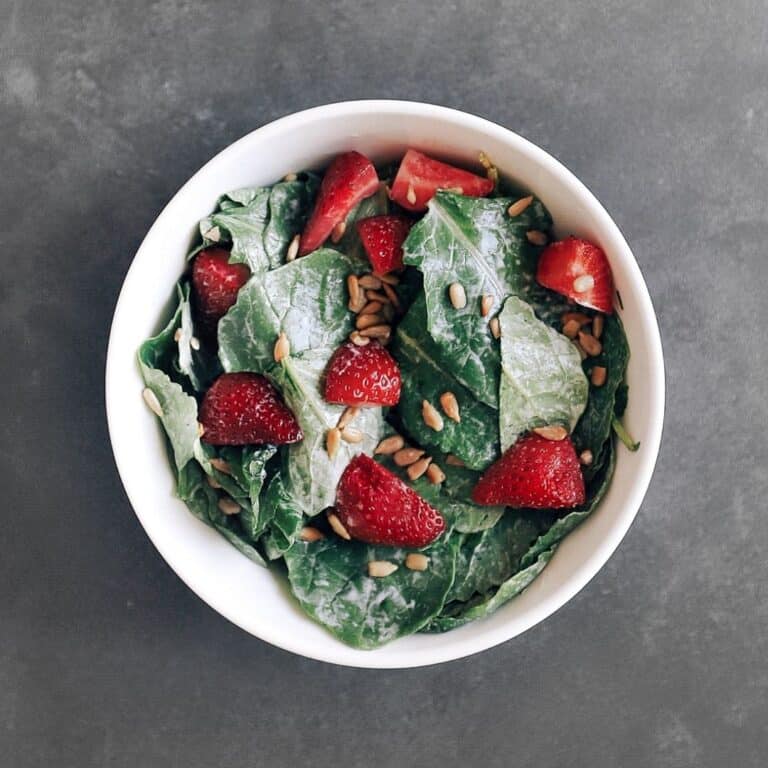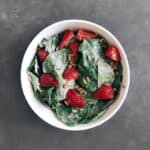 Low FODMAP Kale and Strawberry Salad
Looking for a healthy lunch idea? This low FODMAP kale and strawberry salad is a quick and easy way to add some fruits and veggies to your day.
What You Need
5

oz

baby kale

1.5

cups

strawberries

(quartered)

1/4

cup

salted roasted sunflower seeds

1/4

cup

lactose-free buttermilk

3

tbsp

lactose-free sour cream

3

tbsp

low-fodmap mayonnaise

3

tbsp

chives

(chopped)

1

tbsp

white wine vinegar

pinch

salt and pepper
What You Do
Toss baby kale, strawberries, and sunflowers in a large bowl.

In a smaller bowl, mix buttermilk, sour cream, mayonnaise, chives, white wine vinegar, salt and pepper. Drizzle dressing over salad and serve immediately.
You might also like one of these:
Low FODMAP Fruit and Walnut Salad: With the perfect combination of sweet, salty, and crunch, this fruit and walnut salad is an easy way to add some FODMAP friendly fibre to your diet.
Low FODMAP Quinoa and Tuna Salad: Looking for a healthy, protein-packed recipe? With 19.8 g of protein per serving, this quinoa and tuna salad will keep you full throughout your busy day.
Low FODMAP Salad Dressings: Not into salad nudity? These three low FODMAP salad dressings will have your salad dressed to the nines.
If you like this post, don't forget to share it! Together we'll get the low FODMAP diet down to a science!