Think following the Low FODMAP Diet means you can't have your favourite comfort foods? As long as you're ready to get creative, there are lots of ways to bring normal looking foods back into your diet. Case and point is this savoury low FODMAP arugula and prosciutto pizza.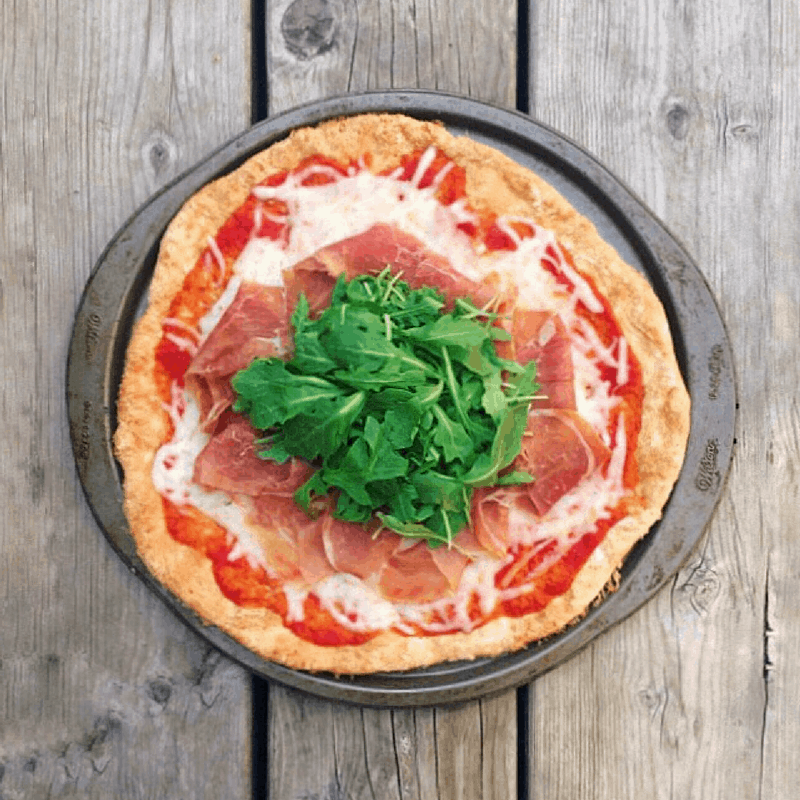 Made with a homemade low FODMAP pizza crust and FODMAP friendly toppings, this pizza will have your non-FODMAPing friends enviously eying your leftovers. Since this recipe makes two pizzas, you can share it if you want to. Or not. This pizza is pretty delicious.
Think this low FODMAP arugula and prosciutto pizza sounds great, but you don't have time to try it now? Don't worry. You can PIN THIS POST for later.
Keep It FODMAP Friendly
This low FODMAP arugula and prosciutto pizza is the savoury pizza you've been looking for. Check out the tips below to keep this recipe FODMAP friendly.
First, if you're in the elimination phase, make sure to use gluten-free flour. For my Canadian peeps, I like PC's gluten-free flour. I like it because I can use it cup for cup and it makes a nice fluffy crust.
Remember, unless you have celiac disease, you're avoiding the FODMAP fructan, not gluten itself.
This pizza crust recipe also uses xanthan gum. Even though xanthan gum isn't a FODMAP, it can cause symptoms in some people. If you know you're sensitive to gums, you might want to sit this one out. If you're not sure how you handle gums, start with one or two pieces of pizza and see how you react before increasing your portion size.
Next, choose a FODMAP friendly tomato base. I normally use a basic tomato puree. According to Monash University, 1/2 a cup of canned tomatoes is low FODMAP. Since we're only using a few spoonfuls, you'll be fine even if you eat the whole pizza on your own ('cause let's be honest, that happens sometimes).
Next up is cheese. Hard cheeses like mozzarella are low FODMAP in small servings because the lactose is broken down by bacteria during the fermentation process.
Monash says mozzarella is safe in servings up to 1/2 a cup. This recipe uses 3/4 cups of mozzarella. If you plan on sharing your pizza, you can use a full portion. If you know you're having a pizza for one, use a 1/2 cup of mozzarella instead.
You can read more about Monash's recommendations for dairy products here.
We're getting a little fancy with this pizza, so our final ingredients are prosciutto and arugula. According to the Monash app, arugula only has trace amounts of FODMAPs. So, you can pile on as much as you want, without adding to your FODMAP load.
In case you don't know, prosciutto is ham cured with salt. Since ham is a protein, it doesn't have any FODMAPs. Make sure to double-check with your deli counter to confirm no high FODMAP seasonings have been added. If not, you're ready to go
Whose Side Are You On?
Since this low FODMAP pizza uses a thin crust, you may want to include a side dish, especially if you plan on sharing.
I normally like to pair my pizza with a nice garden salad. If you need some lettuce inspiration, you can check out some easy salad ideas here. If you're feeling a little daring, you could also pair this pizza with… more pizza. In which case I recommend you check out my low FODMAP Margherita pizza.
Want to try this low FODMAP arugula and prosciutto pizza? Don't forget to PIN THIS RECIPE for later.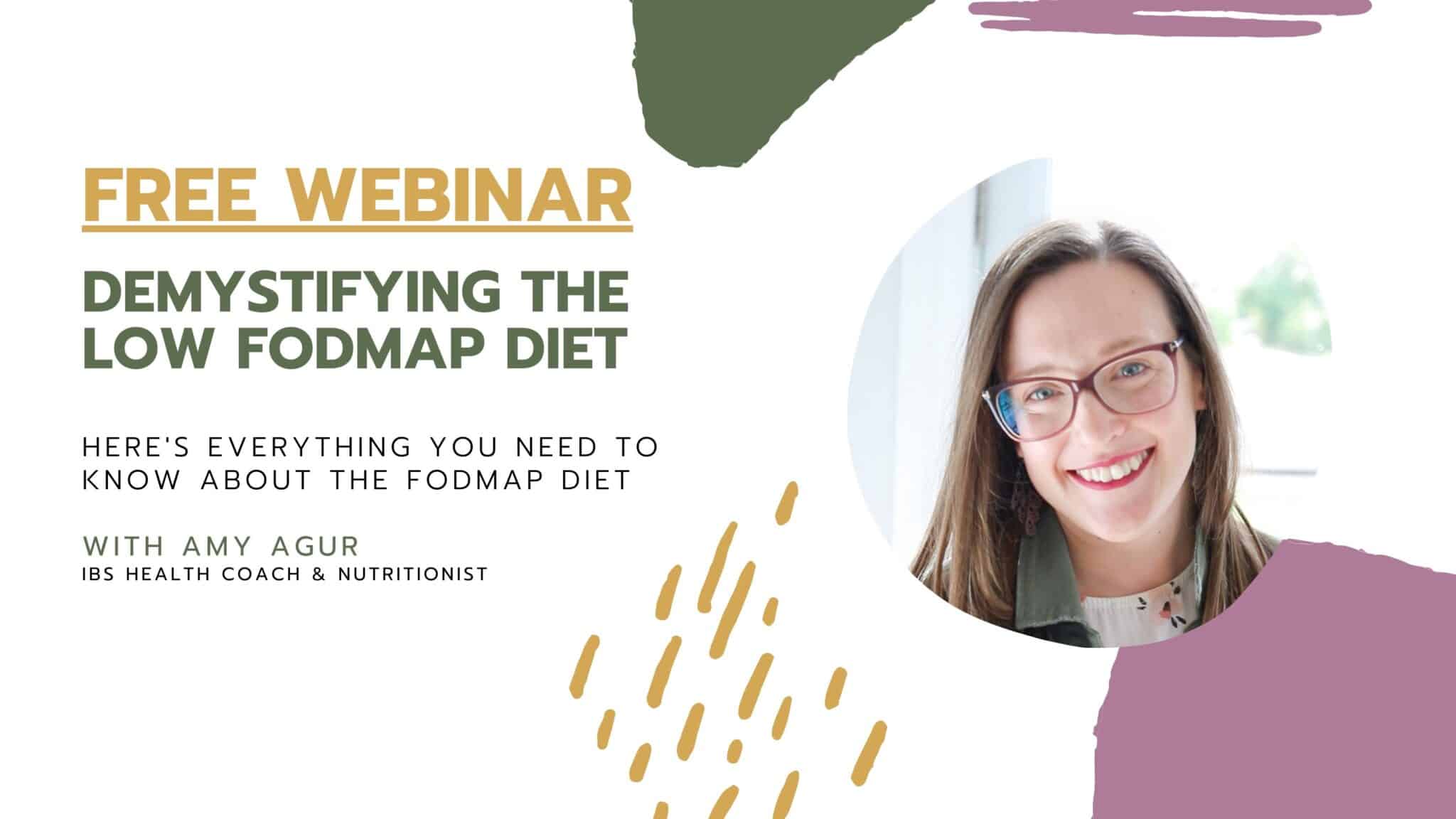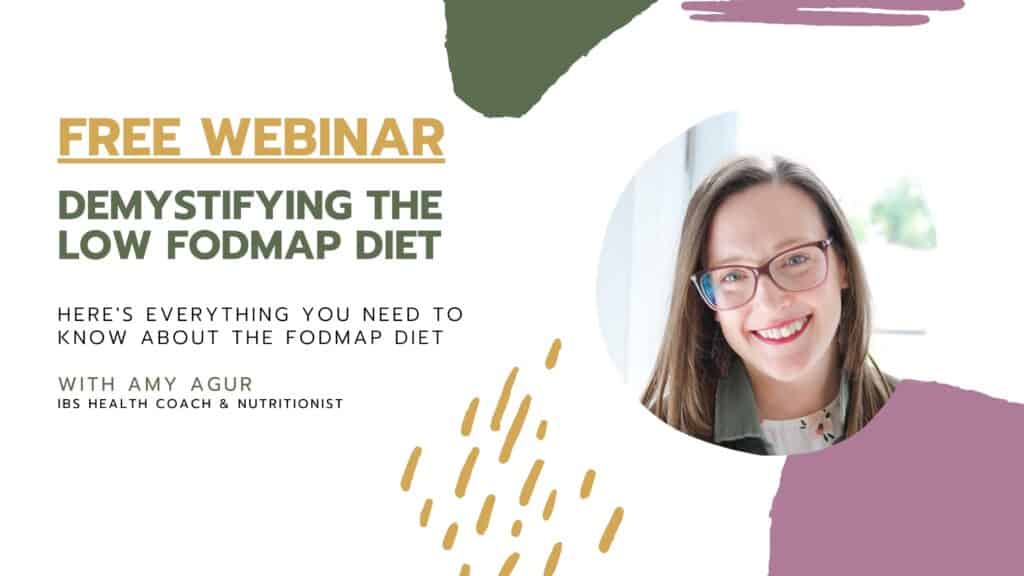 FODMAP math
You are what you eat! Check out the notes below to see how many servings of each FODMAP group are in 1/4 of this recipe.
Fructose = 0
Lactose = 0.8
Fructan = 0
GOS = 0
Polyol = 0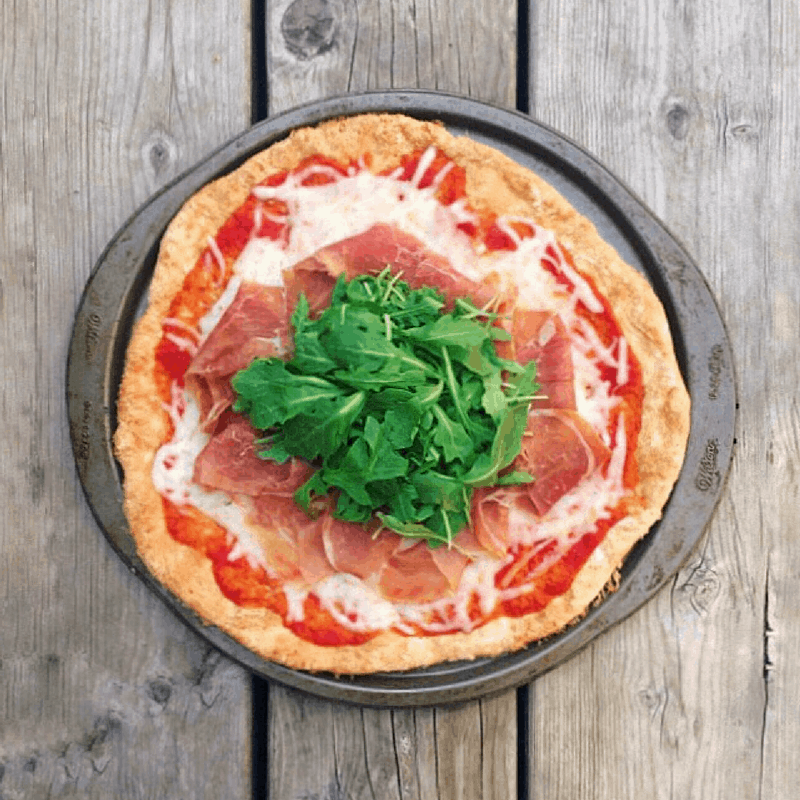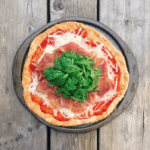 Low FODMAP Arugula and Prosciutto Pizza
Looking for a savoury FODMAP-friendly lunch or dinner idea? Try this low FODMAP prosciutto and arugula pizza! Made with fresh ingredients in the comfort of your kitchen, this recipe will be a family hit in no time.
What You Need
Gluten-Free Crust
1

pkg instant yeast

1

tbsp

sugar

1.5

cups

lukewarm water

2

eggs

2

tsp

olive oil

3

cups

gluten-free flour

3

tsp

xanthan gum

1/2

tsp

salt

1

tbsp

Rosemary

(crushed)
Pizza Toppings
4

tbsp

tomato puree

pinch

oregano

3/4

cup

mozzarella cheese

(grated)

salt & pepper to taste

10

pieces

prosciutto

1

cup

arugula
What You Do
Place yeast, sugar, and warm water in a heat-proof bowl and allow it to sit for 10 minutes. The water should become frothy as the yeast ferment.

After 10 minutes, add eggs and olive oil and mix thoroughly. Then add the gluten-free flour, xanthan gum, salt, and rosemary. Mix until the ingredients cling together in a sticky ball. Cover the bowl with a damp tea towel and allow the dough to rise on the counter for at least 20 minutes.

Preheat your oven to 425 degrees. Split the dough into two parts. Place one-half of the dough on a piece of parchment paper and press it into the desired shape/thickness using your hand. The dough will be very sticky, so you may need to put a piece of plastic wrap over it while you work it into position. Either place the second portion of dough in the fridge to use later or roll it out while the first pizza is in the oven. The toppings listed are enough for two pizzas.

Once the oven is ready, place the pizza on a cookie sheet or directly onto a pizza stone. Cook on the lower rack for 15-20 minutes (until the top of the pizza is lightly browned). Then remove the pizza from the oven and cover it lightly with tomato puree. Sprinkle oregano, salt, and pepper, on the pizza sauce, then sprinkle with mozzarella. Place the pizza back into the oven for another 5 minutes (or until the cheese has melted).

Once the cheese is melted, remove the pizza from the oven and place prosciutto strips directly onto cheese. Top with a handful of arugula. Serve warm.
Notes
This recipe makes two crusts.
You might also like one of these:
Low FODMAP Mediterranean Pizza Whether you're cooking up a date-night extravaganza or planning out your movie night menu, this easy low FODMAP Mediterranean pizza will hit the spot!
Fully Loaded Low FODMAP Nachos Whether you're getting looking for a fun family recipe or settling in for the big game, these fully loaded nachos will be the talk of your table!
Low FODMAP Enchiladas Give your dinner routine a shake with these easy low FODMAP enchiladas! Stuffed with savoury seasoned beef and smothered in a homemade red sauce these enchiladas will be the talk of your table.
If you like this post don't forget to share it! Follow me on YouTube @flipyourleaf for a ton of videos on understanding FODMAPs, IBS mechanics, and how to feel safe in your body. Together we'll get the low FODMAP diet down to a science!
SaveSave