Are you on the lookout for some FODMAP friendly appetizers? Try these low FODMAP garlic shrimp. Marinated in garlic-infused oil and grilled to perfection, these shrimp will be the highlight of your holiday season.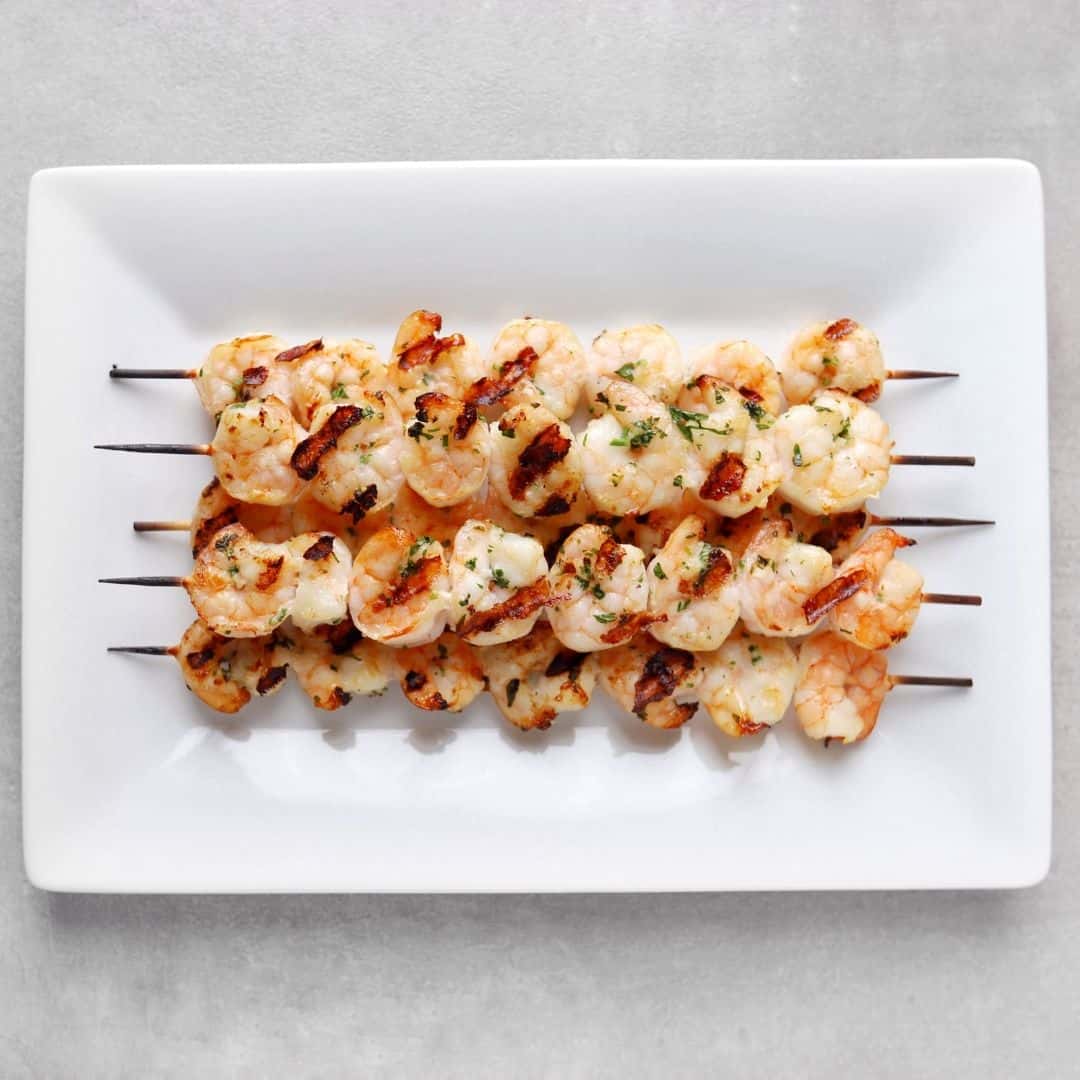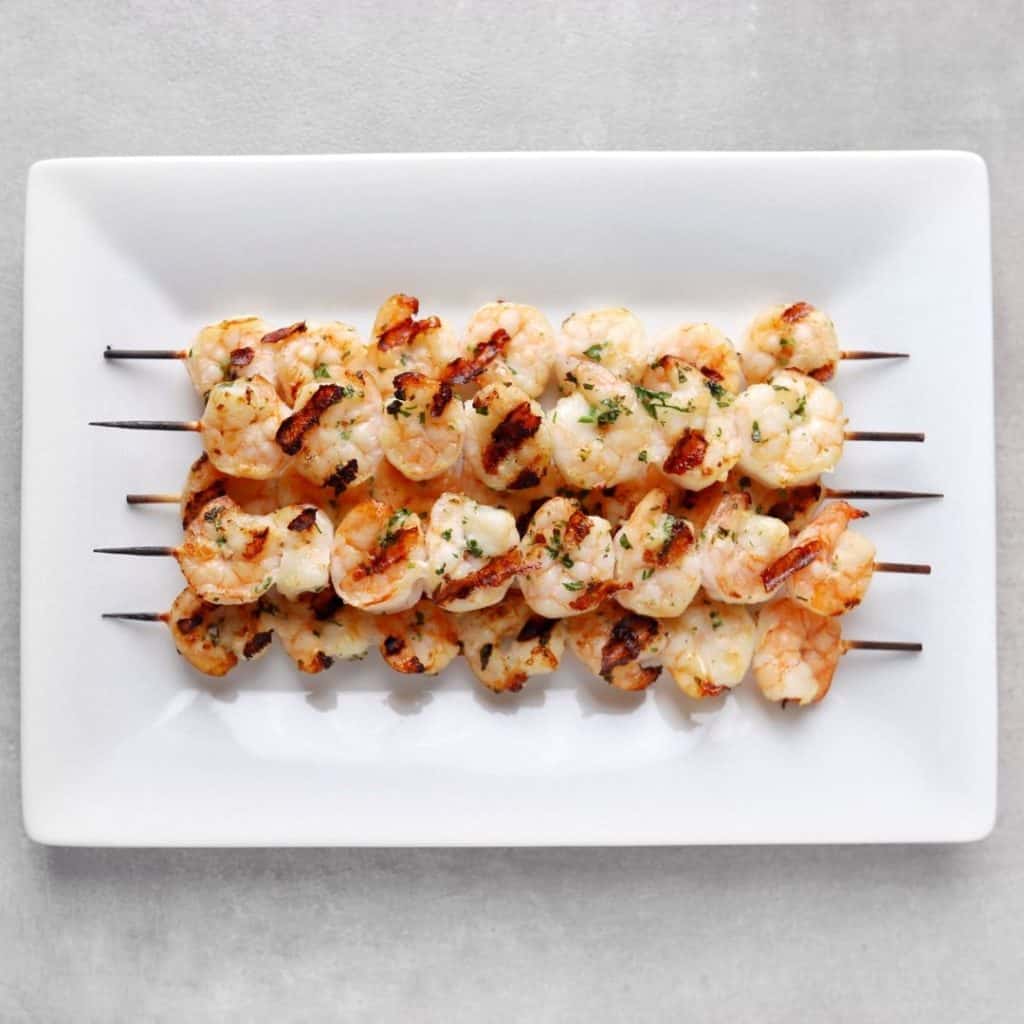 Heads up, this post uses affiliate links. If you make a purchase using one of the links I've provided, I'll receive a small sum of money. You can read more about my affiliations here.
---
These low FODMAP garlic shrimp are a great appetizer for a host on the go. With only 10 minutes of chopping and 10 minutes to cook, you'll have a delicious appetizer in record time.
Because I'm a huge fan of full disclosure, I want to make it clear I don't eat sea bugs shrimp, so I haven't tried this recipe myself. However, this is an Agur family classic. These babies are gone almost as soon as they're on the serving platter. So, I have a ton of faith you'll enjoy this recipe.
Think these low FODMAP garlic shrimp sound great, but you don't have time to try them now? You can PIN THIS POST for later.
Keep It FODMAP Friendly
These low FODMAP garlic shrimp will be a family tradition in no time. Check out the notes below for tips on keeping this recipe FODMAP friendly.
First, because shrimp is a protein, they don't have any FODMAPs. This means they won't add to your FODMAP load.
We'll add their deep garlic flavour using garlic-infused oil. Remember, when choosing an infused oil, double-check the ingredients for "garlic extract." You should also make sure you can't see any garlic pieces or sediment floating in the bottle. If you can't find low FODMAP garlic oil at your local grocery store, you can grab some from Fody Foods Co.
This recipe also uses butter. According to the Monash app, butter doesn't have any FODMAPs (because it's all fat). This means you won't need to use a lactose-free product for this recipe.
The remaining ingredients (cilantro, parsley, thyme, and lemon) don't contain any FODMAPs. So you're good to go.
Pick Your Headliner
Just because you don't have an event coming up, doesn't mean you can't enjoy these low FODMAP garlic shrimp. Try them on your favourite salad, toss them in a pasta, or add them to your next stir-fry for some protein-packed flavour.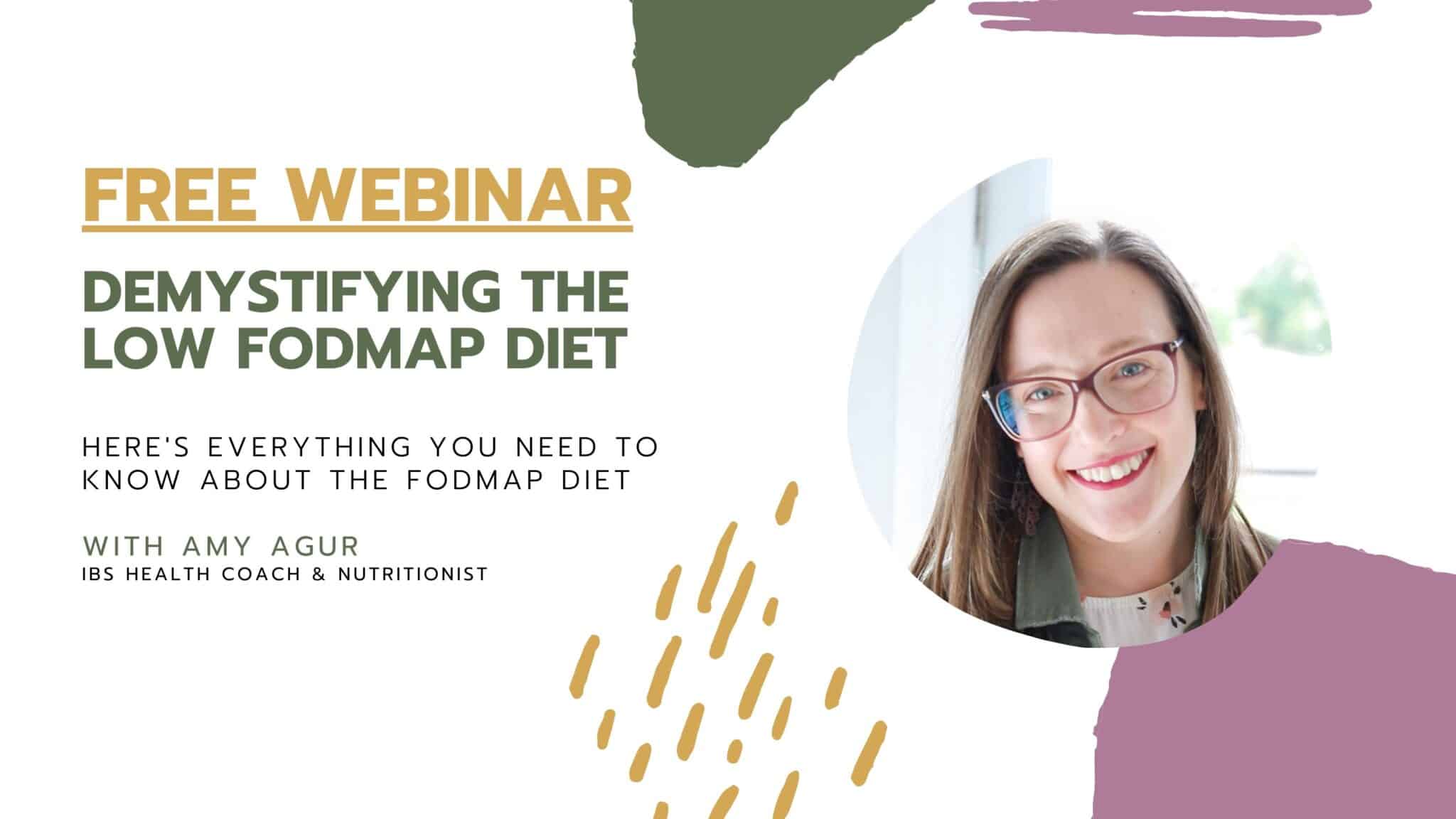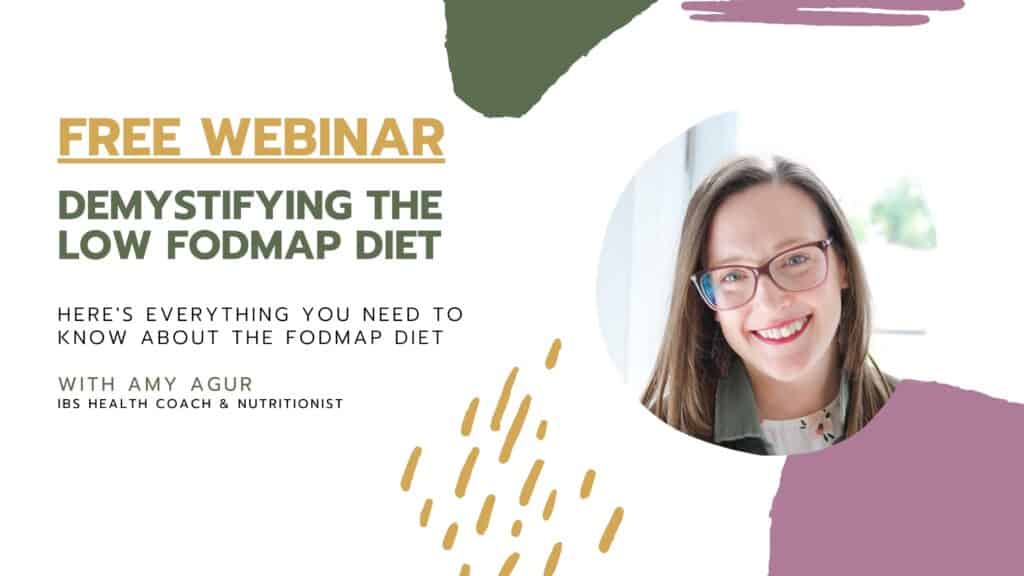 Want to try these low FODMAP garlic shrimp? Don't forget to PIN THIS RECIPE for later.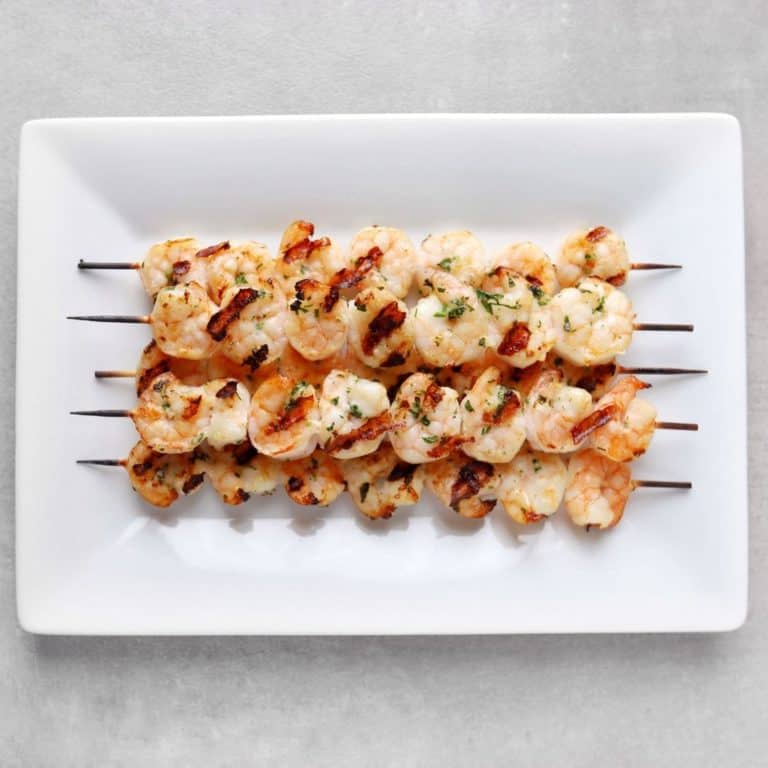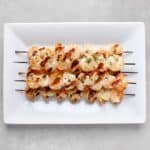 Low FODMAP Garlic Shrimp
Looking for a FODMAP friendly appetizer? Try these low FODMAP garlic shrimp! Marinated in garlic-infused oil, this quick and easy recipe will leave your guests raving!
What You Need
2

lbs

shrimp

(peeled and deveined)

salt to taste

1/2

cup

low FODMAP garlic-infused oil

1/2

cup

unsalted butter

(melted)

1

heaping tbsp

fresh thyme

(chopped)

1

heaping tbsp

fresh cilantro

(chopped)

1

heaping tbsp

fresh parsley

(chopped)

olive oil for grill

1/2

lemon

(cut into wedges)
What You Do
Place your shrimp in a large bowl and sprinkle them lightly with salt. Then add garlic-infused olive oil, butter, thyme, cilantro, and parsley. Stir the shrimp to coat it in the marinade, then cover the bowl with plastic wrap and let it hang out in the fridge for at least 45 minutes.

Once your shrimp have finished marinating, turn your barbecue to full. While your grill is heating up, place your shrimp on some skewers.

Gently oil your grill and then place your skewers down. Cook the first side for 3 minutes. Then gently lift up each end of your skewers to loosen them and flip your shrimp over. Cook on the second side for 3-5 minutes. The shrimp should be pink and a little crunchy.

Once your shrimp are cooked, put the skewers on a plate and squeeze fresh lemon over them. You can either serve them on their skewers or pull them off and place them in a serving dish with some toothpicks.
Notes
Make sure your butter isn't hot when you add it to the shrimp. You want to cook them on the BBQ, not in your marinade!
You might also like one of these:
Low FODMAP Mushroom Crostini Looking for a savoury appetizer recipe? These low FODMAP mushroom crostini will keep your taste buds and your tummy happy!
Low FODMAP Caprese Sticks These tasty little low FODMAP Caprese sticks will add a fresh pop of flavour to any party!
Low FODMAP Lemon-Caper Potato Bites Freshen up your holiday appetizers with these lemon-caper potato bites! Packed with flavour, but light on FODMAPs, this appetizer will keep your tastebuds and your tummy happy!
If you like this post, don't forget to share it! Together we'll get the low FODMAP diet down to a science!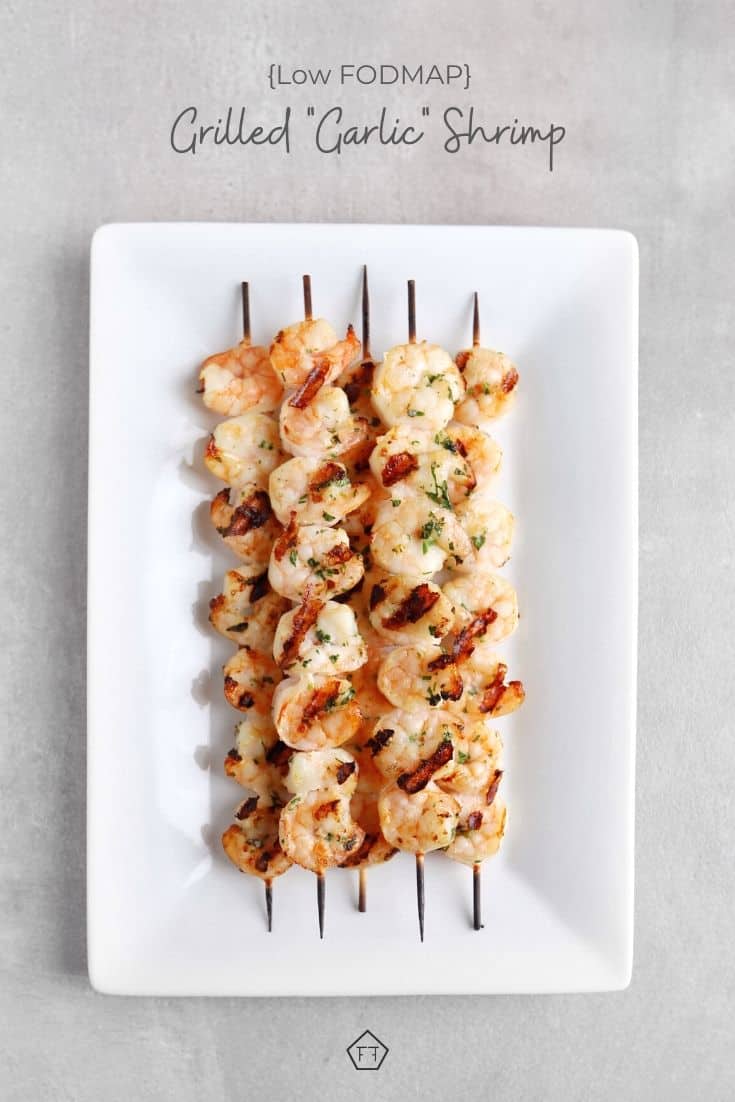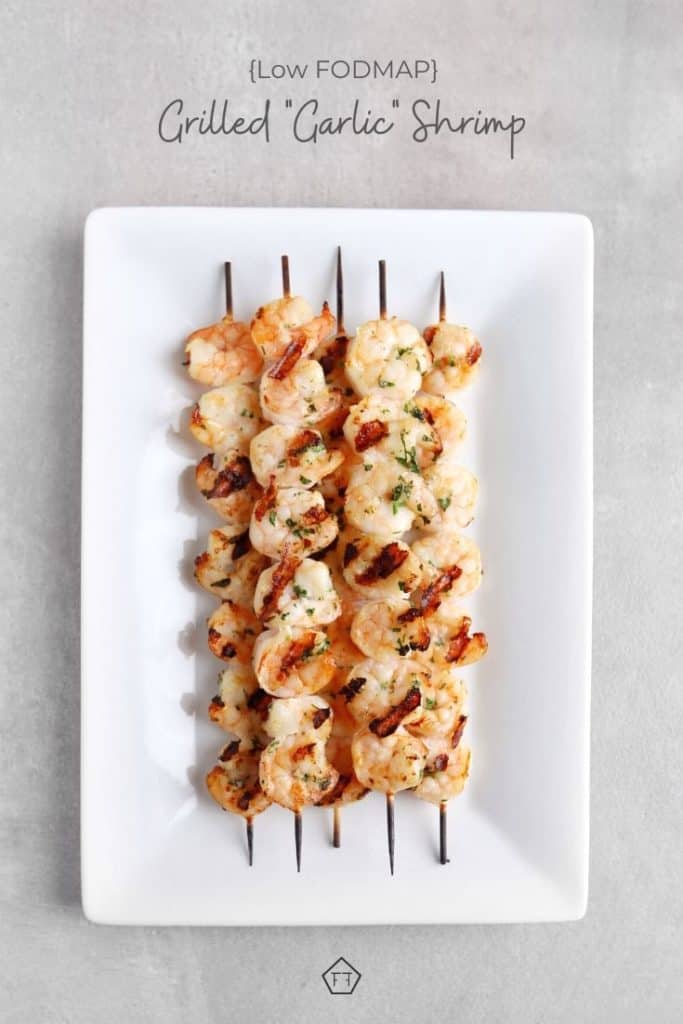 SaveSave
SaveSave
SaveSaveSaveSave
SaveSaveSaveSaveSaveSave
SaveSave
SaveSave
SaveSaveSaveSave