Two years before I was diagnosed with IBS, I decided to learn how to cook. When I announced this to my husband, he was a little skeptical. Especially since, at the time, I was still scared of our gas stove. But over the next two years, I managed to fill an entire recipe book with delicious meals that only I could make.
When I was put on the Low FODMAP Diet, I was heartbroken. I had put so much time and effort into building my recipe collection and it felt wasted.
At first, I tried to Franken-FODMAP some of my old favourites, but I didn't know enough about the program (or making recipes in general), to get them right. So eventually, I started looking for naturally low FODMAP recipes. My first incredible find was this low FODMAP spaghetti squash lasagna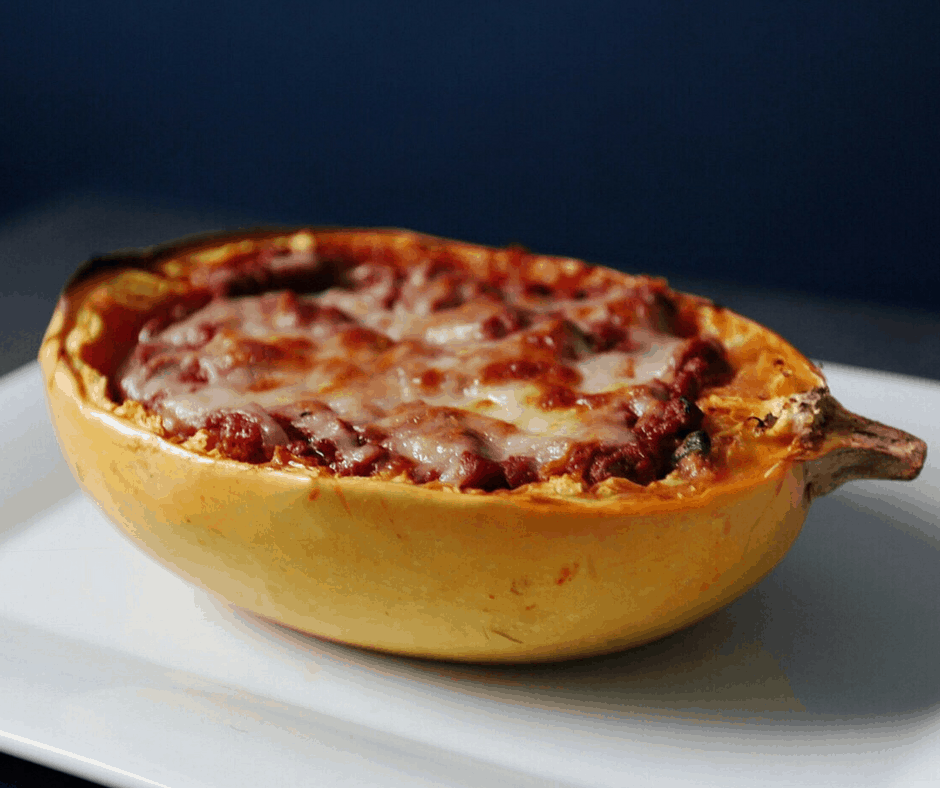 Heads up, this post uses affiliate links. If you make a purchase using one of the links I've provided, I'll receive a small sum of money. You can read more about my affiliations here.
---
This recipe takes a little elbow grease, but it is absolutely phenomenal. The rich, buttery spaghetti squash, mixed with a savoury meat sauce will light up every taste bud you own. If you're wondering what to do with the last of your winter squash, I'm telling you, this. is. it.
Think this sounds great, but you don't have time to try it now? Don't worry, you can PIN THIS POST for later.
Keep It FODMAP Friendly
This low FODMAP spaghetti squash lasagna will take your dinner to the next level. Check out the notes below for tips on keeping this recipe FODMAP friendly.
First, according to the Monash app, spaghetti squash is safe in servings of 1 cup. Heads up, servings of 1.5 cups or more are high in fructans and galactooligosaccharides. If you're using a large squash, make sure to measure out your portion carefully.
This recipe gets some of its savoury flavour from garlic-infused oil. Because FODMAPs aren't "fat-soluble" they won't break down in fats. This means you can infuse their flavour in fats like butter or oil without adding any FODMAPs to your recipe. If you can't find a low FODMAP garlic oil at your local store, you can grab some online from Fody Foods Co.
Next up is cheese. Hard cheeses are lower in lactose. This is because bacteria eat it during the fermentation process. This makes hard cheeses like mozzarella and cheddar safe in small portions during the elimination phase.
According to Monash, mozzarella is safe in servings of 1/2 a cup. We use 1/2 a cup of mozzarella for the entire recipe. This works out to 1/16 of a cup per serving, which is within the recommended range.
Sour cream, on the other hand, is high in lactose. So, if you're in the elimination phase, you'll need a lactose-free sour cream. For my Canadian peeps, President's Choice and Gay Lea both have lactose-free products available.
This recipe also uses tomato puree. The Monash app says canned tomato is safe in servings of 1/2 a cup. We use 1.5 cups for the entire recipe. This works out to almost 1/3 of a cup per person.
Whose Side Are You On?
This spaghetti squash lasagna is pretty rich. If you're considering a side dish, I recommend a light salad. If you need some inspiration, you can check out three of my favourites here.
Are you excited to give this low FODMAP spaghetti squash a try? Don't forget to PIN THIS RECIPE before you leave.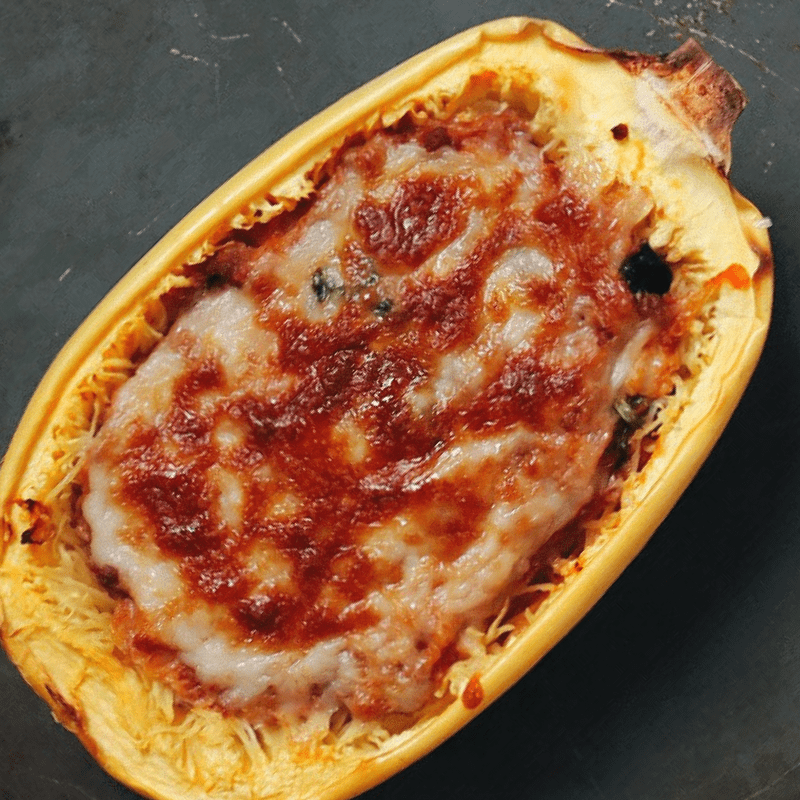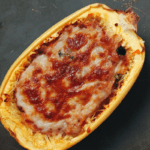 Low FODMAP Spaghetti Squash Lasagna
This delicious spaghetti squash lasagna will warm you up for the last few cold snaps of the year. A great gluten-free lasagna alternative, this rich and savoury dish will warm up your insides!
What You Need
2

sm

spaghetti squash

1.5

cup

spinach

1/2

cup

sour cream

lactose-free if possible

1/8

tsp

sea salt

1/2

cup

mozzarella

1

lb

lean ground beef

1.5

cup

tomato puree
What You Do
Preheat oven to 350 degrees. Slice squash in half (lengthwise). Scoop out innards and discard. Place halves on a baking sheet and bake, cut sides up, for 50 minutes.

Remove squash from baking sheet and allow to cool for 10 minutes. Then scoop out the insides using a fork (do not damage the squash shells). Place spaghetti strands in a towel, and squeeze out as much moisture as physically possible. Place in a medium-sized mixing bowl and set the bowl aside with shells.

Heat the garlic-infused olive oil in a frying pan and add spinach. Cook the spinach until it wilts (2-3 minutes). Combine spinach, sour cream, salt, and mozzarella in the squash bowl. Try to fluff up the squash strands as much as possible while combining ingredients together.

Cook ground beef in the spinach pan until cooked through. Add tomato sauce and simmer for 5 minutes.

Increase the oven temperature to 425 degrees. Mix meat with squash mixture and then scoop it into your squash shells. Place the shells back on the baking sheet and sprinkle with mozzarella cheese. Return baking sheet to oven and bake for 20 minutes (or until cheese is browned). Remove from oven and let stand for 10 minutes. Serve warm.
Notes
If you damage your spaghetti shells by accident, you can put the mixture in a baking dish instead.  Make sure you grease the dish or you're in for a messy cleanup!
You might also like one of these:
Low FODMAP Vegetable Pie Looking for a savoury plant-powered dinner idea? This easy low FODMAP vegetable pie will be a family favourite in no time!
Low FODMAP Mushroom Wellington Looking for a show-stopping dinner idea, this easy low FODMAP mushroom wellington will be the talk of your holiday table!
Low FODMAP Mushroom Rissoto With a rich, creamy texture and a deep, savoury flavour, this easy mushroom risotto will be the talk of your table!
If you like this post, don't forget to share it! Together we'll get the low FODMAP diet down to a science!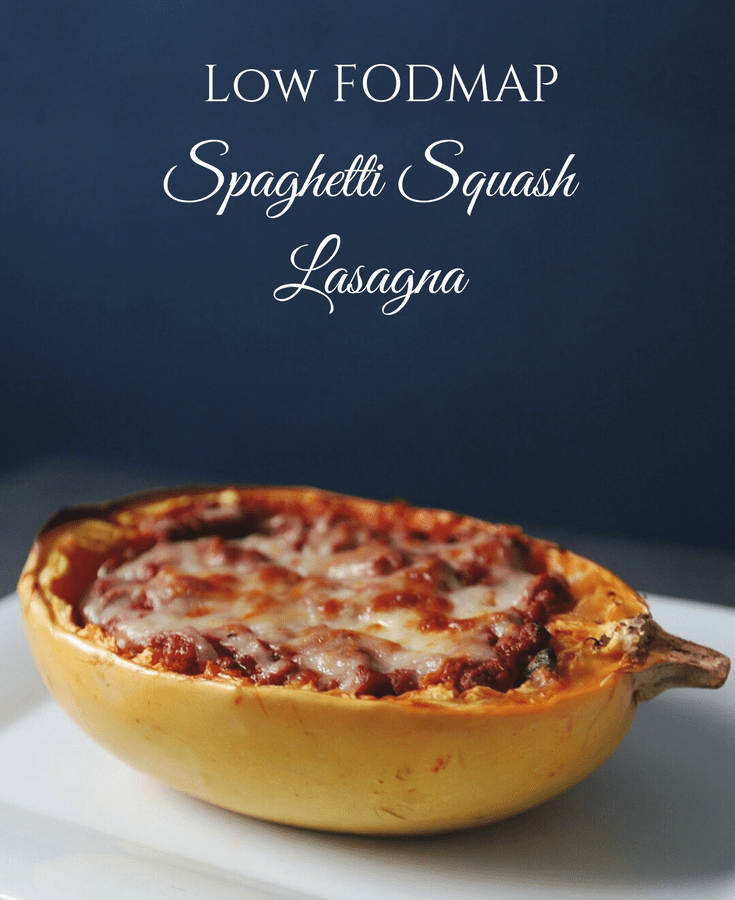 SaveSave
SaveSave
SaveSave
SaveSave
SaveSave
SaveSaveSaveSave
SaveSave