Need a FODMAP friendly way to stay refreshed this summer? If you're looking for a fresh-tasting alcoholic drink, you've come to the right place, friend! This low FODMAP strawberry vodka smash is a great way to use up your fresh strawberries and toast the end of the summer.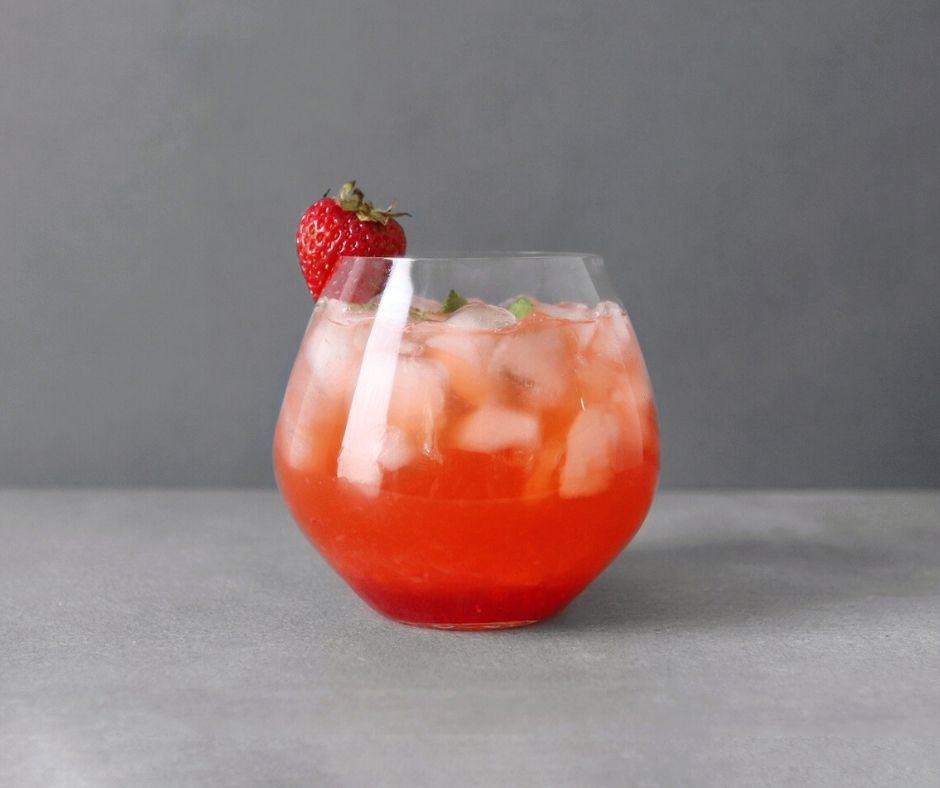 While vodka is low FODMAP in single servings, it can be ridiculously hard to find low FODMAP mixers. Most pre-packaged mixes have some mix of fructose, glucose-fructose, agave nectar, or high fructose corn syrup (HFCS). No thanks!
The easiest solution I've found is to make low FODMAP mixers from scratch. For this low FODMAP strawberry smash, we'll use a strawberry infused simple syrup. Worried that sounds too involved for happy hour? Don't panic! Making infused simple syrup is ridiculously easy.
Think this low FODMAP strawberry vodka smash sounds great, but you don't have time to try it now? Don't worry! You can PIN THIS POST for later.
Keep It Friendly
This low FODMAP strawberry vodka smash is a great way to relax over the summer. Check out the notes below for tips on keeping this recipe FODMAP Friendly.
This recipe get's it's undeniably sweet flavour from a classic simple syrup. Made with table sugar and water, this simple syrup is quick, easy, and low FODMAP.
This recipe also uses a lot of strawberries. Lucky for us, according to Monash University, strawberries don't have any detectable FODMAPs. That means you can add as many as you want without adding to your FODMAP load.
Next up is lime juice. According to the Monash app, lime juice is safe in servings of 1 cup per sitting. Servings of 1.5 cups are high in fructans, so measure carefully. Our recipe uses 1/4 cup of lime juice in total. This is well within the recommended range per serving.
Let's talk vodka! While 30 ml of vodka is considered low FODMAP, keep in mind alcohol is a general gut irritant and may still bother some people. This recipe uses 3/4 cups of vodka which works out to one serving of vodka per drink. If you're not sure how you digest alcohol, start with one strawberry vodka smash and see how it goes.
This recipe also uses sparkling water. Look for a sparkling water made with just water and carbon dioxide. While bubbles bother some people, sparkling water (also called seltzer water) is low FODMAP. If you think the bubbles will bother you, you can either add them a little early so they're less noticeable or use regular water instead.
Finally, our last ingredient is mint. According to Monash, mint is low FODMAP in servings of 1 bundle (90 g). We're only using mint as a garnish, so we'll be well within the recommended range.
Pro tip! To get the best bang for your buck, don't forget to spank your mint! Hold your mint leaves in the palm of one hand and give them a little smack to help release the oil in the leaves. Drop them right in your glass for a fresh kick with every sip.
Whose Side Are You On?
If you're looking for a partner in crime for your strawberry vodka smash, here are a few of my favourite sidekicks. First, you can stick with the strawberry theme and try these low FODMAP summer bruschetta bites or these low FODMAP strawberry scuffins. Or, you can try this low FODMAP dark chocolate gelato for a complementary flavour.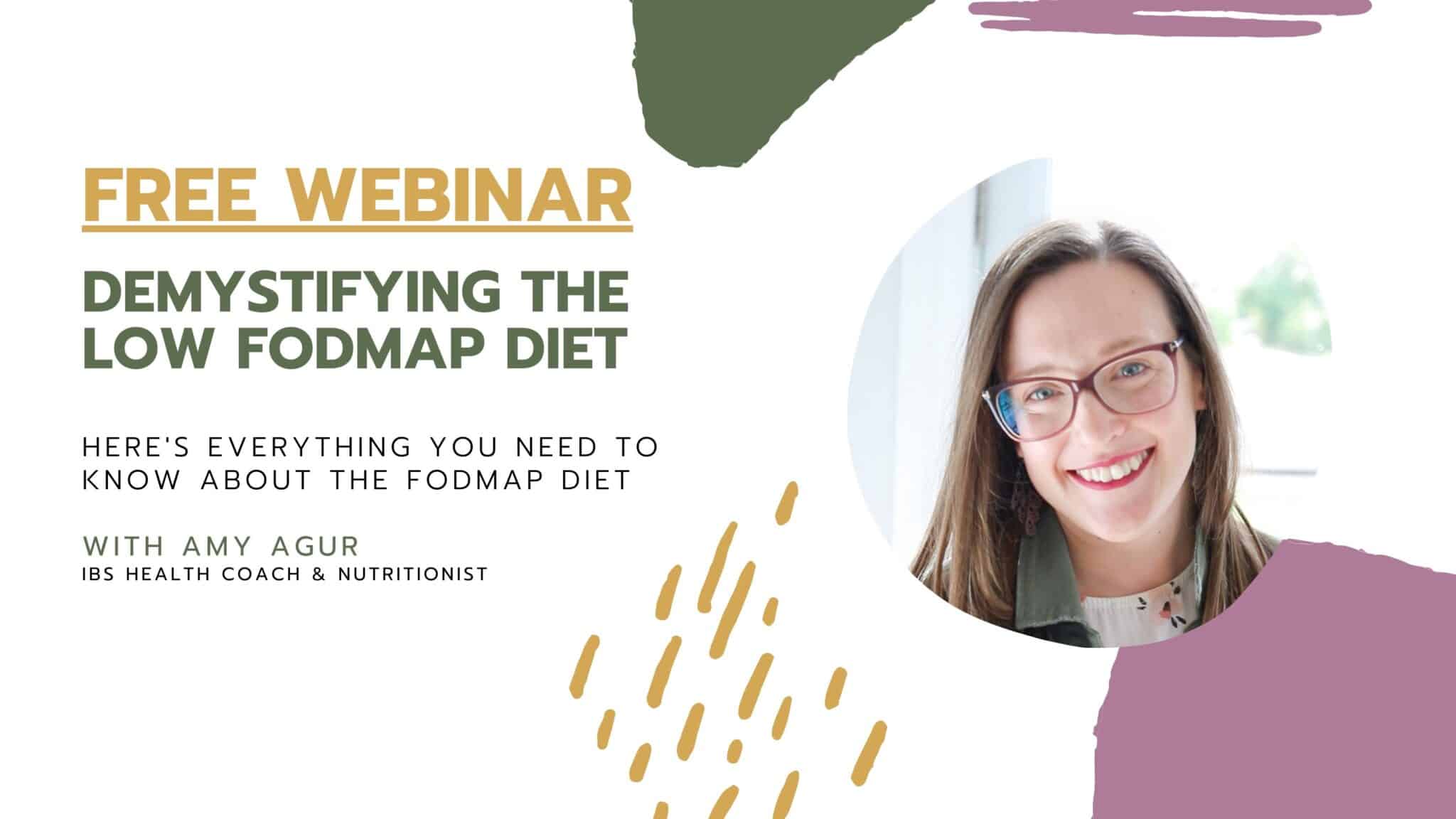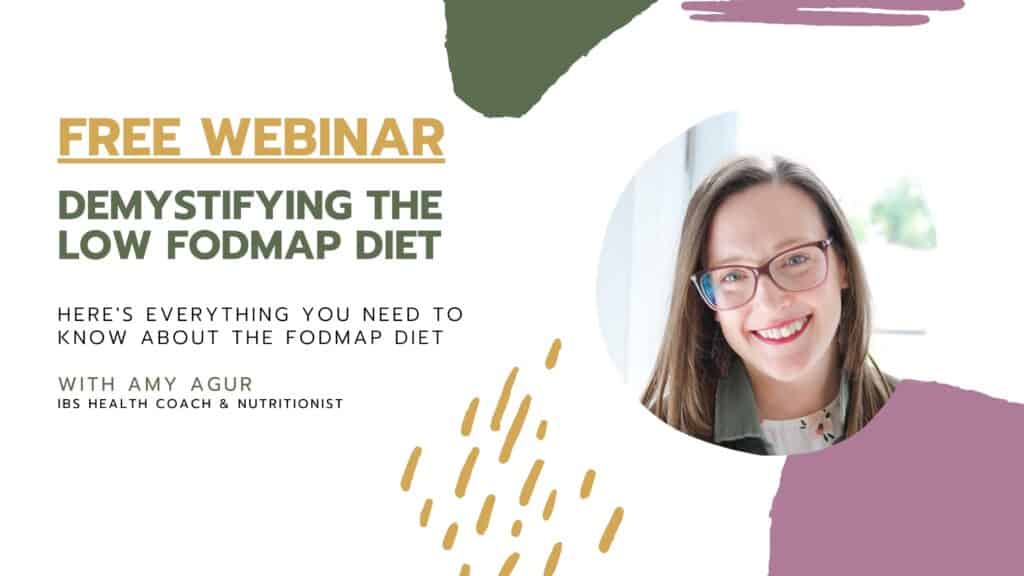 FODMAP math
Wondering how this strawberry vodka smash stacks up? Check out the notes below to see how many servings of each FODMAP group are in one serving of this recipe.
Fructose = 0.3
Lactose = 0
Fructan = 0
GOS = 0
Polyol = 0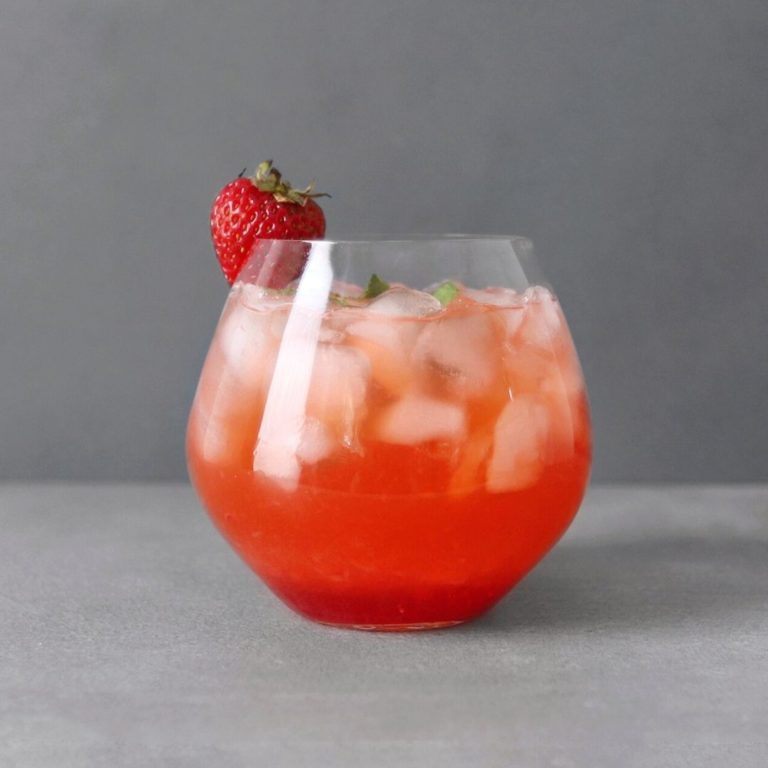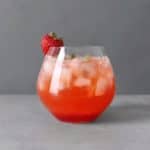 Low FODMAP Strawberry Vodka Smash
Raise a glass of this low FODMAP strawberry vodka smash and cheers to a FODMAP friendly summer!
What You Need
Strawberry Simple Syrup
1/2

cup

sugar

1/3

cup

water

4

cups

hulled strawberries

(sliced)
Cocktails
2

cups

hulled strawberries

(chopped)

1/4

cup

fresh lime juice

pinch

salt

3/4

cup

vodka

3

cups

sparkling water or club soda

crushed ice cubes

mint leaves
What You Do
Simple Syrup
In a small saucepan, bring sugar and water to a boil. Stir continuously until the sugar has dissolved. Then, add strawberries and cook until soft (about 2 minutes). Remove the pan from the burner and let the mixture cool completely (about 1 hour).

Strain the mixture through a sieve (press on the strawberries to get out all the juices). Discard the strawberry mush.
Cocktails
Place 2 cups of fresh strawberries, lime juice, and salt in the bottom of a large pitcher. Mush the strawberries up using a muddler or the handle of a wooden spoon.

Pour in 1/2 a cup of the simple syrup, vodka, and sparkling water. Adjust the syrup to your taste. Add ice cubes and stir to combine. Serve with a mint leaf.
Notes
Simple syrup recipe makes 1 cup of syrup which is equal to two batches. The leftover syrup can be refrigerated for up to 3 days in an airtight container. 
You might also like one of these:
Low FODMAP Lemonade: Made with simple syrup and old-fashioned elbow grease, this low FODMAP lemonade will keep you refreshed all summer long!
Low FODMAP Holiday Spirits: Think following the Low FODMAP Diet means you'll have to cheers with an empty glass? Check out these low FODMAP holiday spirits.
Low FODMAP Mocha Macchiato: Made with coconut milk, espresso, and chocolate syrup, this low FODMAP mocha macchiato will curb your caffeine and your chocolate cravings.
If you like this post, don't forget to share it! Together we'll get the low FODMAP diet down to a science!