If you're new to the Low FODMAP Diet, your focus has probably been on finding three square meals a day. That doesn't leave a ton of time for researching non-essentials like FODMAP friendly appetizers. Don't worry, though. If you need an easy holiday appetizer, you can try these low FODMAP mushroom crostini.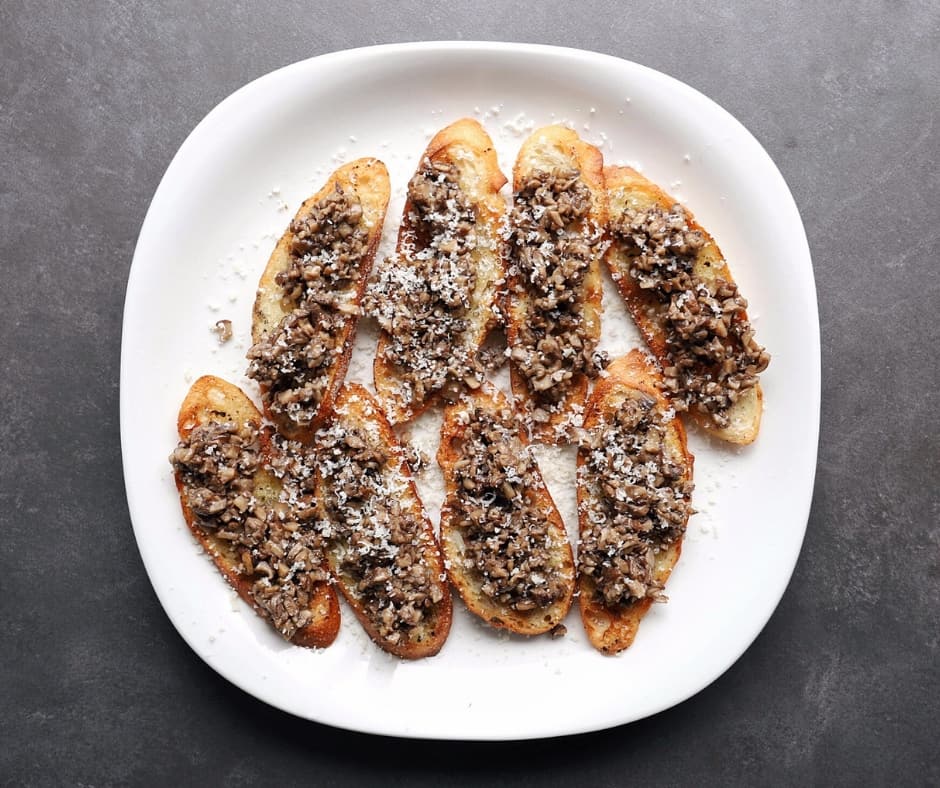 Heads up, this post uses affiliate links. If you make a purchase using one of the links I've provided, I'll receive a small sum of money. You can read more about my affiliations here.
---
This low FODMAP mushroom crostini recipe is an Agur classic. My husband created it a few years ago and now it's practically a holiday tradition. It's definitely one of our favourites.
So how, exactly, is a recipe full of mushrooms low FODMAP? Magic! Just kidding. It's actually science.
Did you know FODMAP molecules are water-soluble? This means they break apart in water. This recipe uses canned mushrooms (which have been packed in water), so some of their FODMAPs have leached out. Want to get nerdy with me? You can check out more information on the chemistry of FODMAPs here.
So what does this mean for you? According to a recent update from Monash University, small servings of canned mushrooms are low FODMAP. I've put more specific notes on portion sizes in the notes below.
Think these low FODMAP mushroom crostini sound great, but you don't have time to try them now? You can PIN THIS POST for later.
Keep It FODMAP Friendly
These low FODMAP mushroom crostini will keep your taste buds and your tummy happy. Check out the notes below for tips on keeping this recipe FODMAP friendly.
First up is mushrooms. According to Monash University, canned mushrooms are safe in servings of 1/2 a cup (110 g) per sitting. Servings of 200 g or more are high in mannitol and should be avoided.
This recipe uses 1 can of mushrooms, which works out to 1 tbsp of mushrooms per crostini. This means you can have 4 mushroom crostini per sitting.
This recipe also uses two kinds of cheese: chèvre (goat) cheese and Asiago cheese. Both types of cheese are safe in servings of 1/2 a cup (60 g). But, we're only using 2 tbsp of chèvre cheese and a sprinkle of Asiago for the entire recipe, so these won't make a large contribution to your FODMAP load.
The final ingredient is your base. If you're in the elimination phase, you need to use gluten-free bread or crackers. I used Glutino gluten-free bagel bites (original flavour).
I like using these for two reasons: 1) they're a tiny bit salty which is nice with the deep earthy flavour of the mushrooms, and 2) they're sturdier than crackers which means they won't get soggy even if your guests aren't quite on time.
Whose Side Are You On?
These low FODMAP mushroom crostini are awesome on their own, but if you're using them for a large group or a holiday meal, you may need more options.
These crostini also work well with these low FODMAP garlic shrimp or my low fodmap caprese sticks. Both of these appetizers are also finger-friendly and relatively mess-free. Which is perfect for parties where people are moving around or standing.
Want to try these low FODMAP mushroom crostini? Don't forget to PIN THIS RECIPE for later.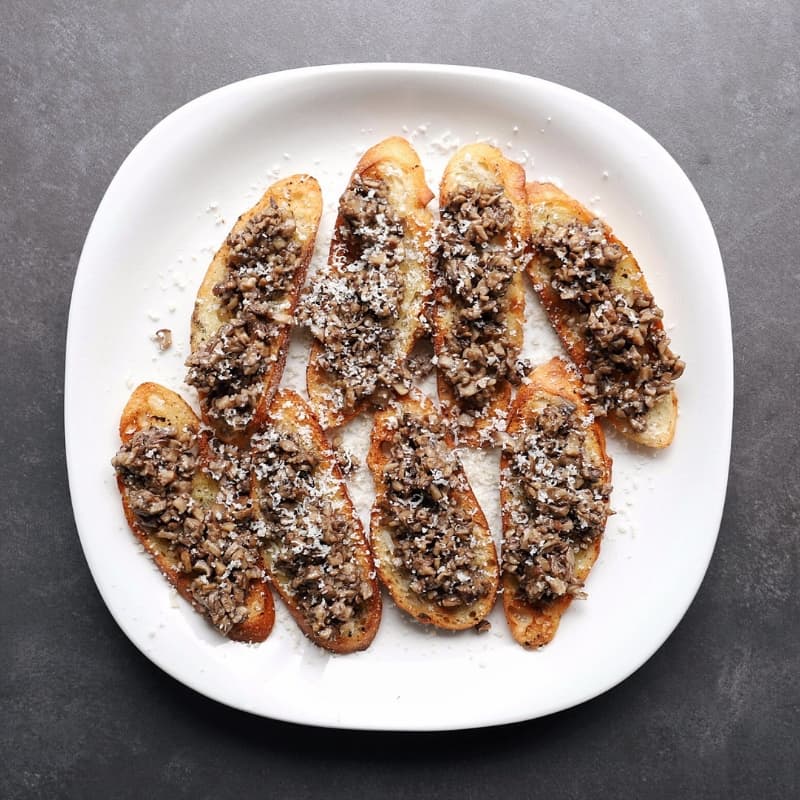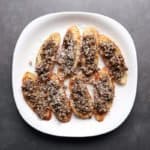 Low FODMAP Mushroom Crostini
Looking for a FODMAP friendly appetizer or a warm winter snack? These savoury low FODMAP mushroom crostini are a quick and easy way to warm up your table and your tummy!
What You Need
1

can

mushrooms

(drained, rinsed, and diced)

salt and pepper to taste

2

tbsp

chèvre cheese

1

tbsp

fresh parsley

(minced)

sprinkle

Asiago cheese

1

box

gluten-free crackers (or toasted bread of choice)
What You Do
Warm oil over medium heat. Add mushrooms and cook, stirring frequently, until mushrooms have reduced in size by a little more than half (about 10 minutes).

Sprinkle mushrooms with salt and pepper. Add chèvre cheese and fresh parsley. Stir until mixture is coated evenly.

Place 1 tbsp of mixture on each cracker and top with Asiago cheese. You can serve this dish cold, or turn on your broiler to melt the cheese and warm the crostini back up when you're ready to serve.
SaveSave
You might also like one of these:
Low FODMAP Blistered Caprese Bites Bring out your inner foodie with these easy blistered caprese bites! Ready in minutes, they'll be the talk of your table!
Low FODMAP Lemon-Caper Potato Bites Freshen up your holiday appetizers with these lemon-caper potato bites! Packed with flavour, but light on FODMAPs, this appetizer will keep your tastebuds and your tummy happy!
Low FODMAP "Garlic" Shrimp Looking for a FODMAP-friendly appetizer? Marinated in garlic-infused oil and grilled to perfection, these shrimp will be the talk of your table!