A few months before I was put on the Low FODMAP Diet, my husband and I moved to our dream home. We spent most of the winter making plans for all the barbecues we wanted on our brand new deck. I spent the spring digging out our backyard for a beautiful and welcoming garden. Then the summer hit and I was put on the Low FODMAP Diet. This put a bit of a kink in our plan…
It all came together eventually, but it was hard to find low FODMAP foods that were still Instagramable. One of the first FODMAP friendly appetizers I found were these low FODMAP Caprese sticks.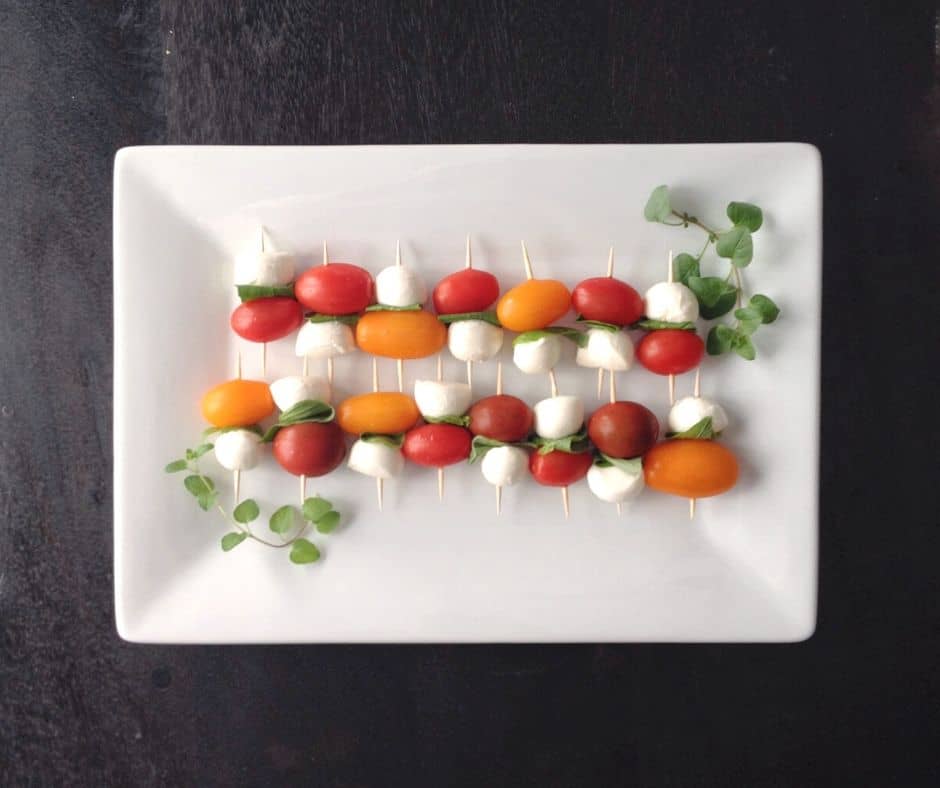 I think these Caprese sticks are adorable. And, they're the perfect finger food.
They're small enough to hold in your hand, they aren't messy, and they're colourful. Don't forget to keep any leftovers for a healthy post-party cleanup snack.
If you find the Bocconcini balls a little bland, try wrapping the basil leaf around the mozzarella ball. It's the mixture of the sweet tomato, peppery basil, and the acidity in the cheese jumbled up together that make it sparkle.
Think that sounds great, but you don't have time to try it now? Don't worry, you can PIN THIS POST for later.
Keep It FODMAP Friendly
These low FODMAP Caprese sticks make a fresh and colourful appetizer. But, there are a few things you need to remember to keep this recipe FODMAP friendly.
The first thing on our list is cheese. Hard cheeses are lower in lactose because it's broken down by bacteria during the fermentation process. This makes them safe in small servings during the elimination phase.
According to Monash University, mozzarella is safe in servings of 60 g per sitting. Each Bononcini ball is about 28 grams. Since the official Monash app doesn't have a maximum serving of mozzarella, I normally have three Caprese sticks and call it a day.
You also need to think about what kind of tomatoes you use. I use cherry tomatoes when I make this as an appetizer. I like them because they're bite-sized and they make less of a mess. According to the Monash app, 4 cherry tomatoes are safe. Servings of 13 tomatoes or more are high in the FODMAP fructan, so don't go crazy.
If you're making this as a side dish or for lunch, you can also use common tomatoes. Monash has determined common tomatoes don't have any FODMAPs, so you can eat as many of these as you want.
Want to try these low FODMAP Caprese sticks? Don't forget to PIN THIS RECIPE so you can try it later.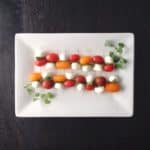 Low FODMAP Caprese Sticks
These adorable low FODMAP Caprese sticks will brighten up any serving platter. Enjoy them as an appetizer, lunch, or a snack.
What You Need
1

pkg

bocconcini balls

20

cherry tomatoes

20

fresh basil leaves

20

toothpicks
What You Do
Skewer each toothpick with tomato, basil, and bocconcini ball. Cover with plastic wrap and store in the fridge until serving.
You might also like one of these:
Low FODMAP Veggie Pizza Answer pizza's siren call with this savoury low FODMAP veggie pizza!
Low FODMAP Blistered Caprese Bites Bring out your inner foodie with these easy blistered Caprese bites! Ready in minutes, they'll be the talk of your table!
Low FODMAP Maple Bacon Salad Unleash your inner foodie with this deceptively easy maple bacon salad! Made with fresh greens and candied bacon, you're sure to be the envy of your lunch table!
If you like this post, don't forget to share it! Together we'll get the low FODMAP diet down to a science!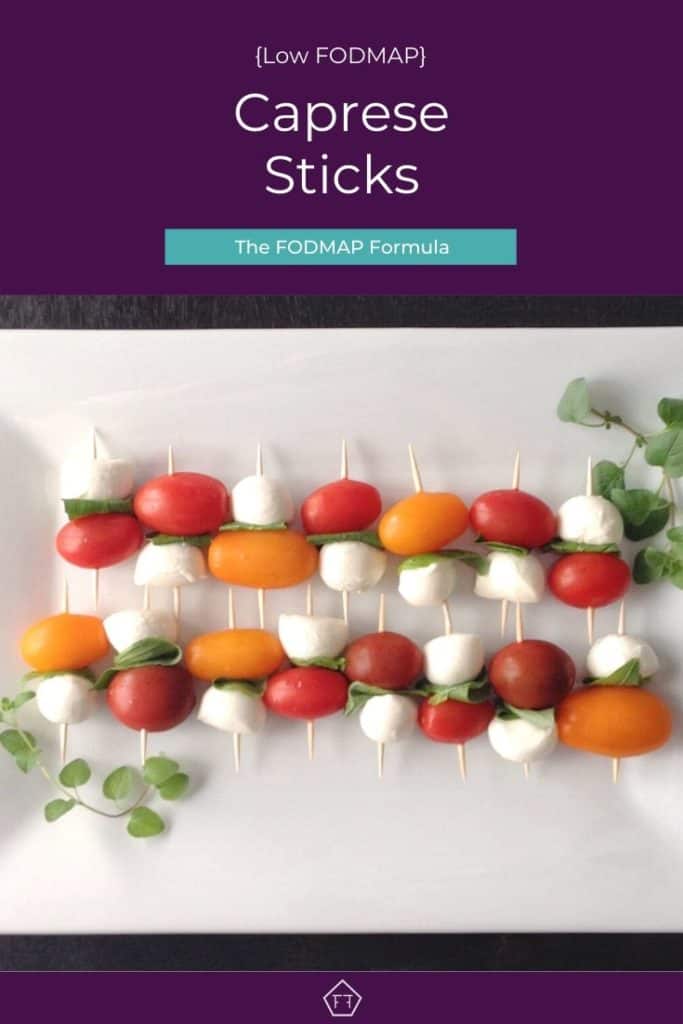 SaveSave
SaveSave