Have a chocolate craving you just can't curb? It can be hard to keep your sweet tooth in check when you start the low FODMAP program. Don't worry, though. I've got your cravings covered with these low FODMAP chocolate doughnuts.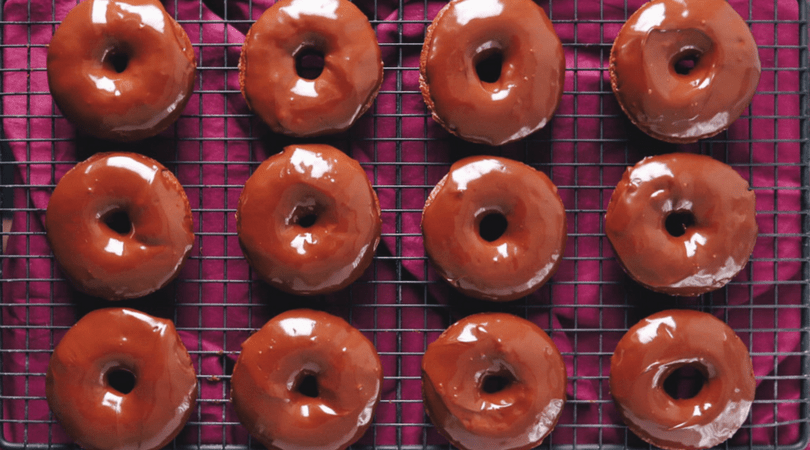 Being from the land of Tim Horton's, I know my doughnuts, and these sweet little treats fit the bill.
Light and fluffy these doughnuts are the perfect treat for any chocoholic. You can eat them naked, dust them with icing sugar, or dip them in melted chocolate for a fun start to your low FODMAP day. I normally make them on the weekend for a fuss-free breakfast I'm excited to wake up for.
Think these low FODMAP doughnuts sound great, but you don't have time to try them now? You can PIN THIS POST for later.
Keep It FODMAP Friendly
These low FODMAP chocolate doughnuts will help satisfy your sweet tooth. Check out the notes below for tips on keeping this recipe FODMAP friendly.
First, if you're in the elimination phase, you need to use gluten-free flour. For my Canadian peeps, I use PC's gluten-free all-purpose flour. I like it because I can use it cup for cup and it doesn't have any gums.
Remember, unless you have celiac disease, you're avoiding the FODMAP fructan, not the gluten itself.
This recipe also uses milk and butter. According to the Monash app, butter doesn't have any FODMAPs (because it's all fat). So, you won't need to find a lactose-free product.
However, you will need to use lactose-free milk. This recipe uses whole milk. For my Canadian peeps, Neilson's lactose-free line goes up to 3.25%. If you can't find a high-fat lactose-free brand, you can also add lactase drops to normal milk. Just remember to let the milk sit in the fridge for at least 24 hours so the enzymes have time to break the lactose down.
You can read more about what Monash says on dairy products here.
Last but not least, is cocoa powder. Monash University says cocoa powder is safe in servings of 2 tsp (8 g). Servings larger than 5 tsp (20 g) are high in both fructans and galactooligosaccharides (GOS).
We use 1/4 cup of cocoa powder, which works out to 0.6 tsp of cocoa per doughnut. This is well within the range specified by Monash.
Remember to think about what you're putting on your doughnut as well. I like to dip mine in melted vegan chocolate chips for a yummy low FODMAP icing. Make sure you check your Monash app for the recommended serving size when you pick your topping.
Want to try these low FODMAP chocolate chip doughnuts? Don't forget to PIN THIS RECIPE for later.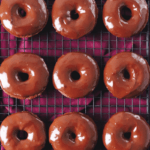 Low FODMAP Chocolate Doughnuts
Whether you're looking for a fun Saturday afternoon snack or a leisurely Sunday brunch, these low FODMAP chocolate doughnuts will brighten your day!
Course:
Baking, Breakfast, Brunch, Dessert, treat
What You Need
Doughnuts
2

cups

gluten-free flour

1/4

cup

cocoa powder

1.5

cups

sugar

2

tsp

gluten-free baking powder

1

tsp

salt

1

lg

egg

(lightly beaten)

1.25

cups

lactose-free whole milk

2

tbsp

unsalted butter

(melted)

1

tbsp

vegetable oil

2

tsp

vanilla
Chocolate Icing
1

bag

low FODMAP chocolate chips
What You Do
Doughnuts
Preheat oven to 350 degrees and spray 3 doughnut trays with cooking spray. Set aside.

Mix together dry ingredients (flour, cocoa powder, sugar, baking powder, and salt) in a medium bowl. Set aside.

Whisk together wet ingredients (egg, milk, butter, oil, and vanilla) in a small bowl.

Add the wet ingredients to the dry ingredients and stir with a spatula until they are barely mixed. Fill each doughnut well 3/4 full with a spoon or a piping bag. Bake for 17 minutes or until an inserted toothpick comes out clean.


Allow the doughnuts to cool in the doughnut tray for 5 minutes, then tap the doughnuts onto a flat surface (like a baking sheet) to cool completely.
Chocolate Icing
Melt 1 bag of low FODMAP chocolate chips in a double boiler. Once the chocolate is smooth, dip your cooled doughnuts in the chocolate and top with crushed mint candies, sprinkles, or whatever else your heart desires!
You might also like one of these:
Low FODMAP Cake Doughnuts Looking for a sweet treat that won't upset your tummy? These light and fluffy doughnuts are so tasty no one will guess they're low FODMAP!
Low FODMAP Pumpkin Doughnuts Looking for the ultimate sweet treat? These low FODMAP pumpkin doughnuts will tame any sweet tooth!
Low FODMAP Brownies Unleash your inner foodie with these epic low FODMAP brownies. Packed with three types of chocolate, these rich, chewy brownies will be the talk of your dessert table!
If you like this post, don't forget to share it! Together we'll get the low FODMAP diet down to a science!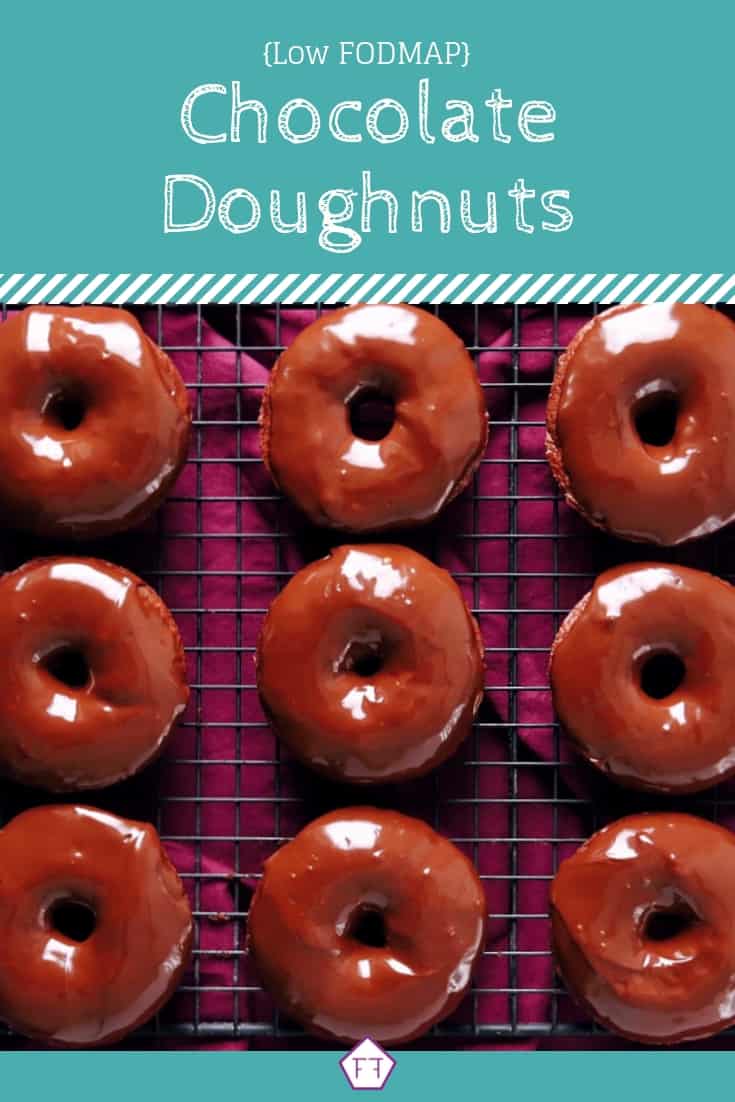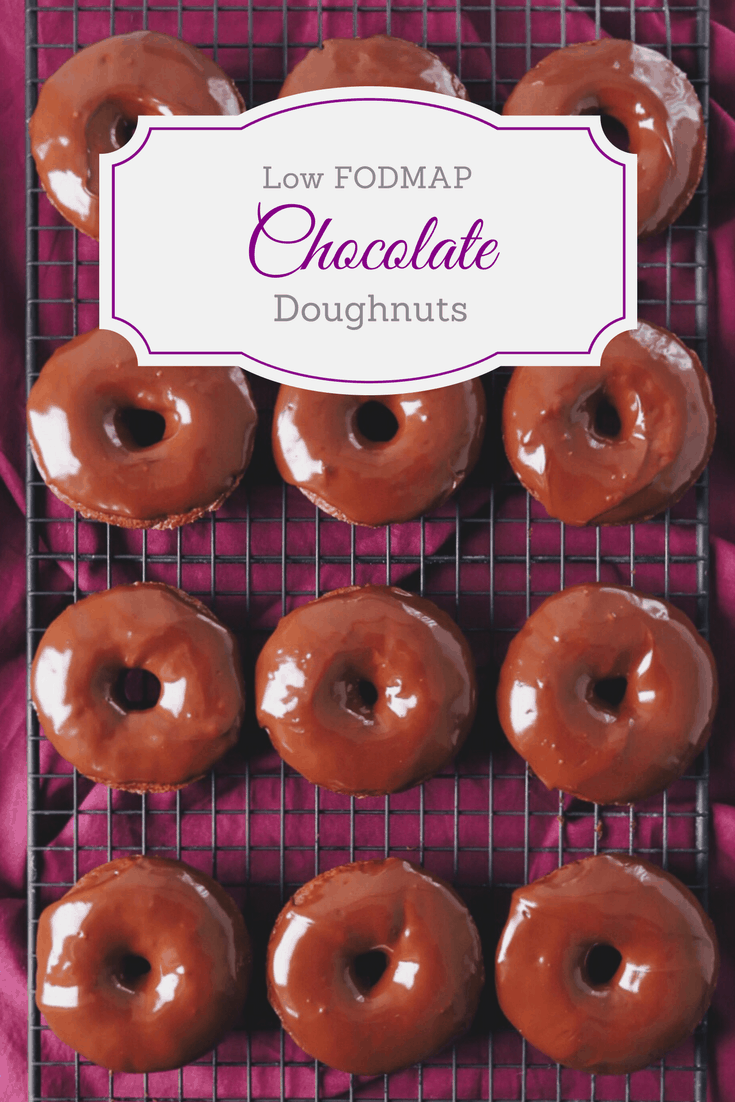 SaveSave
SaveSave