Need a simple lunch idea? Whether you're making a quiet lunch at home or need something you can take to work, this classic low FODMAP chicken BLT sandwich has you covered!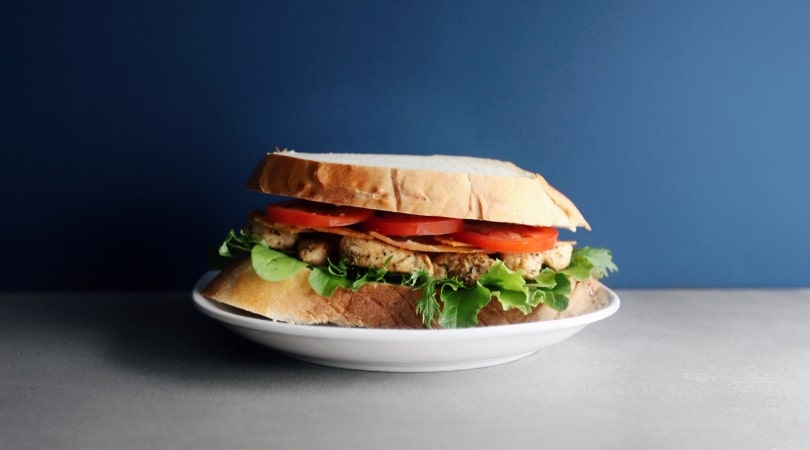 This low FODMAP chicken BLT sandwich is one of my absolute favourites. Made with fresh lettuce and tomato and topped with crispy bacon, the BLT sandwich is a classic for a reason!
To upgrade your lunch to a super-fancy chicken BLT, I normally steal any leftover chicken pieces hanging out in my fridge. If you're making your sandwich with fresh chicken, I recommend cutting it up into small pieces and stir-frying them for a fast lunch from scratch!
Not a chicken nudist? That's ok. Try seasoning your chicken with my low FODMAP chicken seasoning mix or this low FODMAP taco seasoning.
Think this low FODMAP chicken BLT sandwich sounds great, but you don't have time to try it now? Don't worry! You can PIN THIS POST for later.
Keep it FODMAP Friendly
This low FODMAP chicken BLT sandwich is a classic choice for your next lunch! Check out the notes below for tips on keeping this recipe low FODMAP.
The first thing you should know is that because chicken and bacon are proteins, they don't have any FODMAPs. This means you can eat as much of them as you want – from a FODMAP standpoint at least. 500 pieces of bacon probably aren't good for you…
Next up, mixed greens. I use mixed greens because that's what I usually have kicking around in my fridge. But you can use any type of lettuce you'd like.
According to Monash University, most types of lettuce only have trace amounts of FODMAPs. That means you can basically go wild with your greenery. That being said, some mixes include high FODMAP ingredients (like chickory leaves). So, if you're using pre-packaged greens, take a peek at the label before you buy.
You can't have a BLT without tomatoes! Lucky for you, according to the Monash app, tomatoes don't have any detectable FODMAPs. This means you can add as many tomatoes as your heart desires without adding to your FODMAP load.
To transform our chicken BLT from a salad to a sandwich, you're going to need some bread. If you're in the elimination phase of the program, either use gluten-free bread or long-rise sourdough bread. According to the Monash app, 2 slices of wheat sourdough are low FODMAP.
Heads up, traditional sourdough bread is low FODMAP because bacteria break down the fructans in the wheat during the rising process. But, some companies cheat and use yeast to speed things up. Check out this article by IBS Nutrition for information on picking low FODMAP sourdough bread.
Our final ingredient is mayonnaise. While homemade mayo is low FODMAP (it's just egg and oil), low FODMAP brands can be hard to find at the store. If you can't find a low FODMAP option at your local store, grab my quick and easy aioli recipe.
If you're feeling extra fancy, you can try my low FODMAP avocado aioli. Grab the recipe right here.
Whose Side Are You On?
If your low FODMAP chicken BLT sandwich looks a little lonely, try adding some potato wedges or these sweet potato fries. If you're looking for a sidekick you can take on-the-go, try this quick and easy strawberry kale salad!
Want to try this low FODMAP chicken BLT sandwich? Don't forget to PIN THIS RECIPE for later!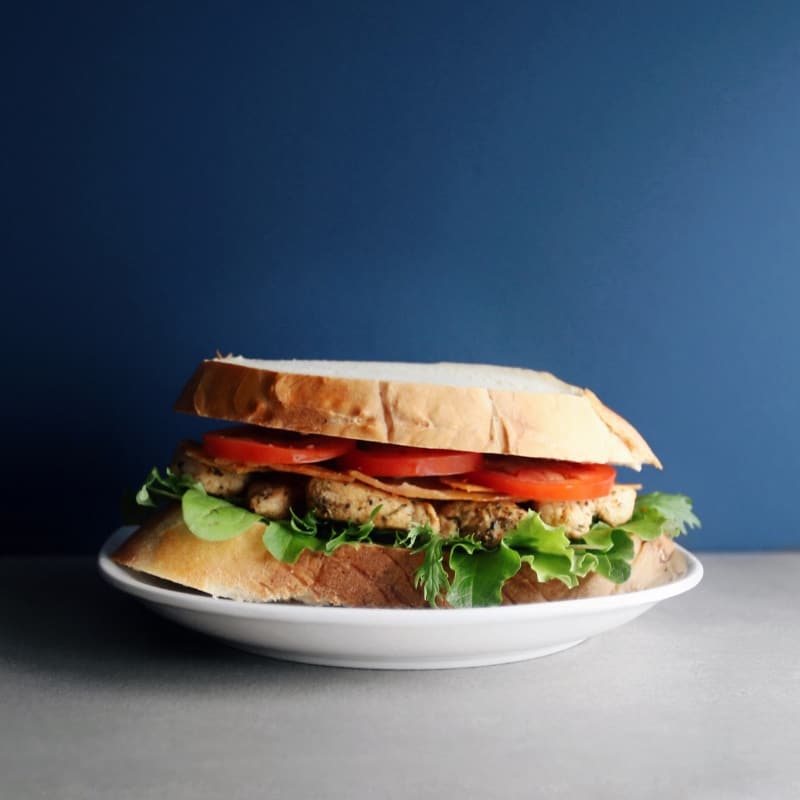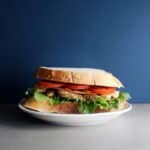 Low FODMAP Chicken BLT Sandwich
This classic low FODMAP chicken BLT sandwich is perfect for a quiet lunch at home or a quick meal on the go!
What You Need
1-2

pieces

bacon

1

handful

mixed greens

(or 1 lettuce leaf)

3 oz

chicken breast pieces

3

slices

common tomato

2

slices

low FODMAP sourdough bread

low FODMAP mayonnaise

(optional)
What You Do
Cook your bacon pieces in a frying pan until crispy. Pat dry with paper towel and break in half.

Toast your bread. Then, add your lettuce, chicken, bacon, tomato, and mayo if that's your thing. Enjoy!
You might also like one of these:
Low FODMAP Quinoa Salad Looking for a quick and easy recipe you can take on-the-go? This simple quinoa salad is packed with protein and fresh flavours to keep you full throughout your busy day.
Low FODMAP Salsa Chicken Looking for a healthy lunch idea? This quick and easy salsa chicken recipe is the perfect way to sneak some healthy veggies into your diet.
Low FODMAP Short Rib Beef Stew Looking for a savoury make-ahead lunch idea? Made with savoury low FODMAP beef stock and seasonal root vegetables, this hearty stew is the perfect way to end a chilly day!
If you like this post, don't forget to share it! Together we'll get the low FODMAP diet down to a science!