Occasionally, I find myself standing in the middle of the grocery store without a plan. While I usually decide what my family eats ahead of time, sometimes I just can't find inspiration. When wandering around the grocery store doesn't give me any ideas, I always go for low FODMAP Tacos.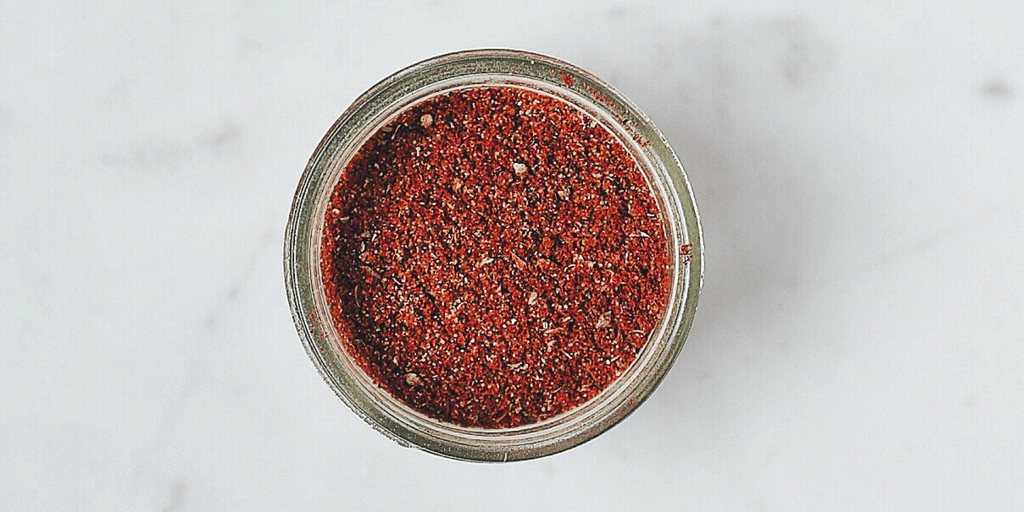 Heads up, this post uses affiliate links. If you make a purchase using one of the links I've provided, I'll receive a small sum of money. You can read more about my affiliations here.
---
As with most diet changes, the trick to long-term survival is being prepared. Because I know I can't always make a decision, my husband and I have agreed to save these low FODMAP tacos for days I'm out of ideas. Since this recipe is one of our favourites, no one minds when it pops up on our menu.
Think these low FODMAP tacos sound great, but you don't have time to try them now? You can PIN THIS POST for later.
Keeping it FODMAP Friendly
Think tacos seem like a FODMAP death trap? Don't worry. With some clear instructions, your whole family will enjoy these low FODMAP tacos.
Tortilla Options
If you're in the elimination phase, you'll need to use a gluten-free wrap. This can be a traditional corn tortilla, a gluten-free product like brown rice tortillas, or a fresh iceberg lettuce leaf.
If you're using a lettuce leaf, cut the stem off of the lettuce and pull the leaf from the bottom up to prevent tearing.
Topping Options
While taco toppings are practically endless, here are some common ones:
Seasoned Beef: Most commercial taco seasonings use dehydrated onion and garlic. If you need a low FODMAP taco seasoning, you can use my recipe below.
Cheese: Hard cheeses like mozzarella or cheddar have a lot of their lactose broken down during the fermentation process. This means you can have small portions of cheese during the elimination phase, even though they aren't lactose-free. Currently, Monash University recommends limiting your serving size to 40 g (3/8th of a cup) of cheddar cheese per sitting.
Tomatoes: According to the Monash app, common tomatoes don't have any detectable FODMAPs. This means you can have as much as you want. If you're using a different type of tomato, make sure to check your Monash app for a specific serving size.
Avocado: Avocados are high in the polyol sorbitol. But you can still have a small portion with your tacos. Monash recommends limiting your serving to 1/8 of an avocado per sitting.
If avocado is your thing, measure out a safe serving and keep it to the side.
Salsa: You may think salsa is off-limits during the elimination phase, but there are lots of FODMAP-friendly salsa recipes available these days. You can grab my low FODMAP salsa recipe here, or you can order a low FODMAP salsa from FODMAP friendly companies like Fody Foods Co.
Sour Cream: Sour cream is really high in lactose. A lactose-free sour cream is ok for the elimination phase. If you can't find a lactose-free product, I'd recommend skipping it for now.
If you want to use a topping I haven't mentioned, check your Monash app for the recommended portion size.
Do these low FODMAP tacos sound just right for you? PIN THIS POST for later.
Whose Side Are You On?
Need a side dish for your tacos? You can add always add a side of rice with a touch of salt. You can put it either on the side (to catch delicious taco juices) or, if you're feeling cheeky, put it right inside.
Print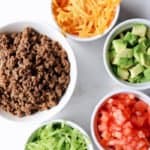 Low FODMAP Tacos
---
Description
Looking for a classic family-friendly recipe? Try these low FODMAP tacos! Made with FODMAP friendly ingredients, your whole family will be counting the days to Taco Tuesday!
---
Low FODMAP Taco Seasoning
1 tbsp

chilli powder

1/4 tsp

dried oregano

1/2 tsp

paprika

1.5 tsp

ground cumin

1 tsp

ground sea salt

1 tsp

ground black pepper

1/8 tsp

cayenne pepper
Taco Ingredients
1

lb lean ground beef

1

head iceberg lettuce (large leaves reserved for wraps)

1

common tomato (chopped)

1 cup

cheddar cheese (

40g

reserved)

1

Avocado (1/8 reserved)
---
Instructions
Low FODMAP Taco Seasoning
Seal all seasoning ingredients in a Ziploc back and shake until thoroughly mixed.
Taco Preparation and Assembly
Heat garlic oil in a frying pan on medium and stir in beef. Scramble fry until cooked through. Drain. Return the frying pan to heat.
Combine 1 tbsp of taco seasoning with enough water to cover the bottom of the frying pan. Pour over meat and stir to combine. Allow the liquid to simmer until water has evaporated (10-15 minutes).
Assemble toppings: Cut off the bottom of the head of lettuce and gently peel away the large outer leaves for wraps if desired. Shred the rest for toppings. Dice tomatoes and avocados, and shred the cheddar.  Serve warm.
Notes
Recommended low FODMAP serving – 2 tacos per sitting
If you are having trouble removing the lettuce leaves without ripping them, you can double them up when making your tacos.  Just make sure you cover any tears or holes as best you can and have a napkin handy!
Prep Time:

15 minutes

Cook Time:

15 minutes

Category:

Main Course

Cuisine:

Mexican
Nutrition
Serving Size:

2 tacos

Calories:

435

Sugar:

4 g

Sodium:

724 g

Fat:

22 g

Saturated Fat:

6 g

Unsaturated Fat:

11 g

Trans Fat:

1 g

Carbohydrates:

7 g

Fiber:

5 g

Protein:

26 g

Cholesterol:

70 mg
Keywords: Low FODMAP Tacos, Low FODMAP Taco Seasoning, Gluten-Free Tacos
Note: A few people have commented that the seasoning is a little spicy, so I've reduced the amount of seasoning from to 2 tbsp to 1 tbsp.
You might also like one of these:
Low FODMAP Enchiladas Give your dinner routine a shake with these easy low FODMAP enchiladas! Stuffed with savoury seasoned beef and smothered in a homemade red sauce these enchiladas will be the talk of your table.
Low FODMAP Mini Meatloaves Looking for a classic dinner idea you can size up or down to suit your needs? These mini meatloaves will be a weeknight favourite in no time!
Low FODMAP Chicken Fingers Looking for a fun lunch idea? Crispy on the outside and tender on the inside, your whole family will love these easy quick and easy chicken fingers.
If you like this post, don't forget to share it! Together we'll get the low FODMAP diet down to a science!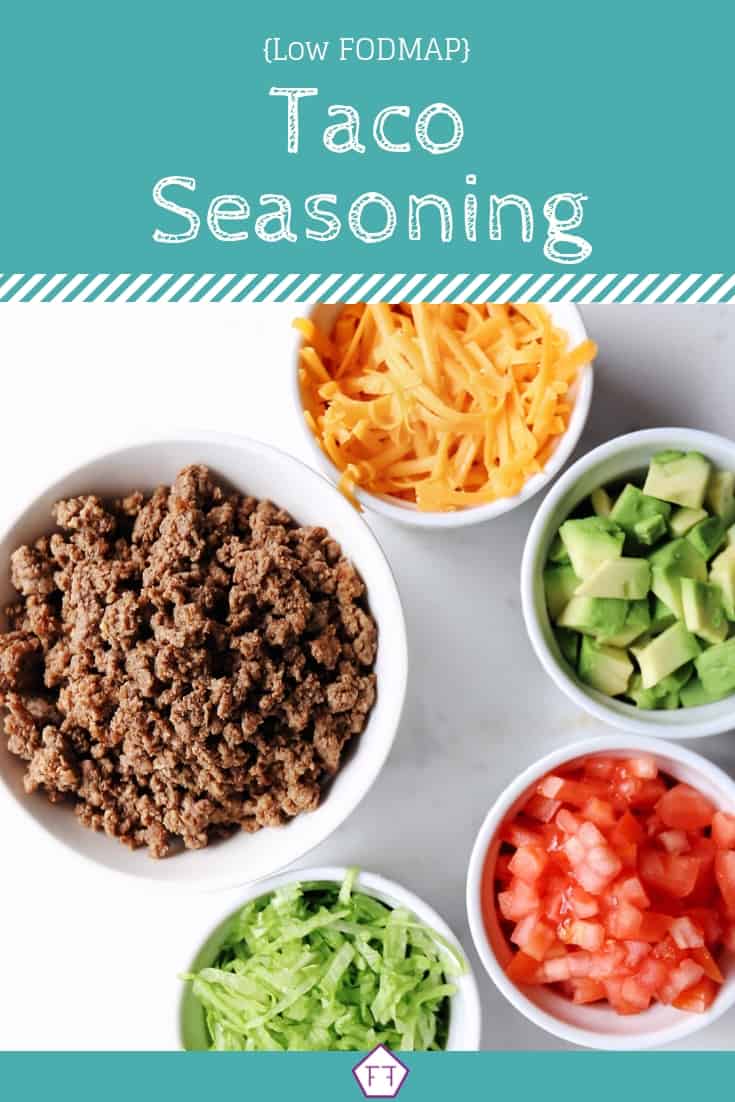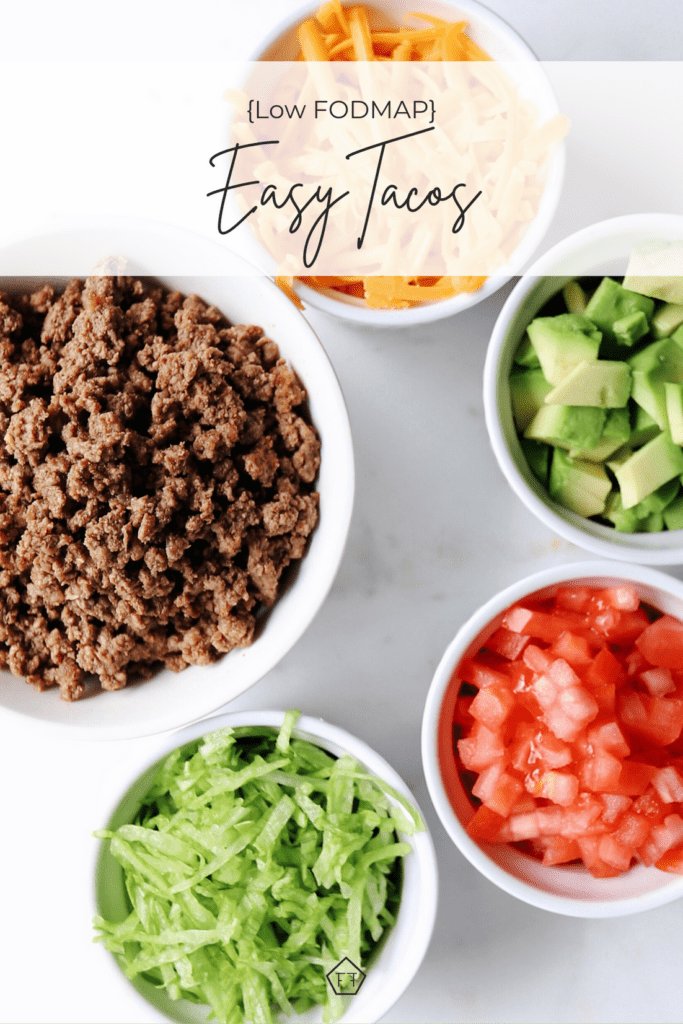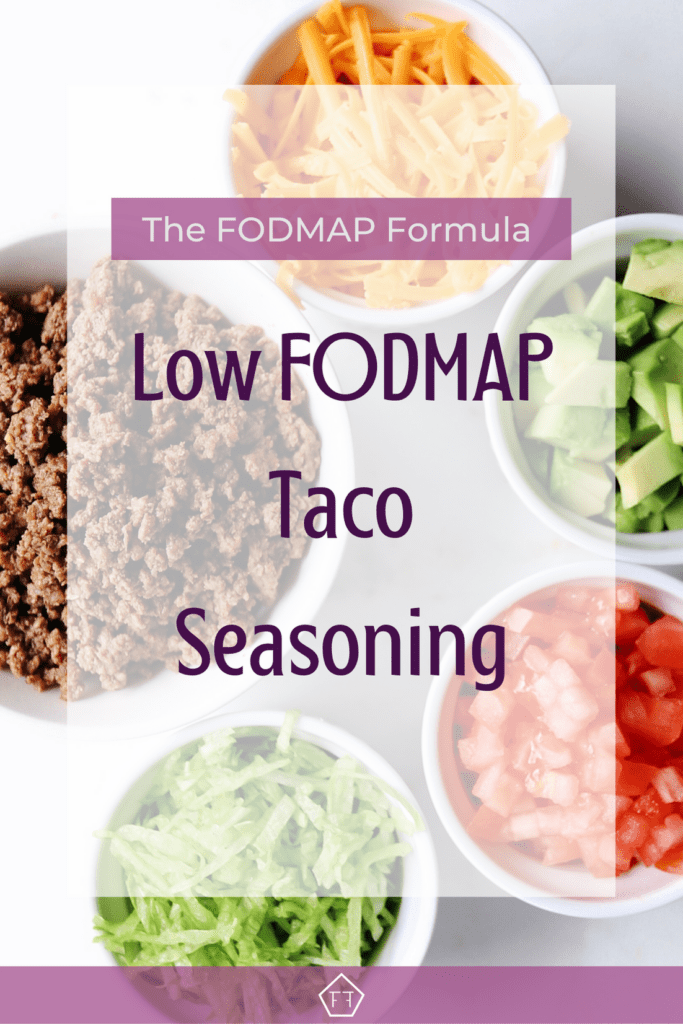 SaveSave
SaveSave
SaveSaveSaveSave
SaveSave
SaveSave