Looking for a quick and easy lunch you can take on-the-go? Packed with flavour, these low FODMAP chicken caesar wraps are perfect for work or a simple lunch at home.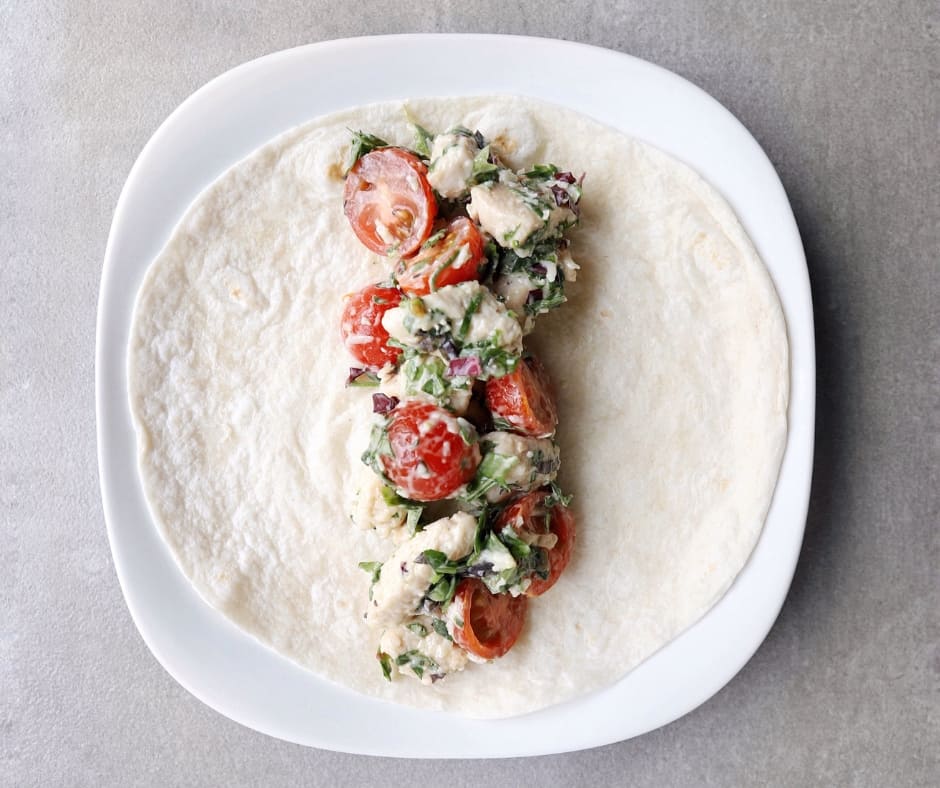 I love chicken! It's a low FODMAP protein, and it's pretty versatile. But, for some reason, I always end up with a spare chicken boob. I hate food waste, so I usually pop it on my salad or sneak it into another recipe I have planned throughout the week (I'm looking at you nachos!).
If you're looking for a healthy lunch option you can take to work or school, save your chicken boobs! This low FODMAP chicken Caesar salad wrap is the lunch you've been waiting for! Ready in 5 minutes, these wraps are the perfect sidekick for your busy day!
Think this low FODMAP chicken Caesar wrap sounds great, but you don't have time to try it now? Don't worry! You can PIN THIS POST for later.
Keep It FODMAP Friendly
Looking for a quick and easy lunch you can take on-the-go? These low FODMAP chicken Caesar wraps are perfect for work or school. Check out the notes below for tips on keeping this recipe FODMAP friendly!
First up, chicken! Since chicken is a protein, it doesn't have any FODMAPs (unless you add them). So, you can eat as much chicken as you'd like without adding to your FODMAP load.
We'll also be using cherry tomatoes. According to the Monash app, cherry tomatoes are low FODMAP in servings of 5 cherries (75 g). Servings of 16 cherries or more are high in the FODMAP fructose.
This recipe also uses parmesan cheese. According to Monash University, parmesan cheese is low FODMAP in servings of 1/4 cups (40 g) per serving. Servings of 4 cups (500 g) or more high in lactose.
Our recipe uses 0.25 cups of parmesan total, which works out to 0.63 servings of lactose per wrap.
Last but not least, wraps! Monash University doesn't have a wrap listed in the app. I typically calculate my wraps based on gluten-free bread, which is low FODMAP in servings of 52g per sitting – the average low FODMAP wrap is about 10g.
Show Your Work (FODMAP Math)
Wondering how your chicken Caesar wrap stacks up? Check out the FODMAP servings below!
Fructose = 0
Lactose = 0.25
Fructan = 1
GOS = 0
Polyols = 0
Whose Side Are You On?
Worried your low FODMAP chicken Caesar wrap will be lonely? Try pairing it with something simple like my low FODMAP kale and strawberry salad or my low FODMAP greek salad. Too much lettuce? Shake it up with my hearty low FODMAP roasted red pepper soup.
Want to try this low FODMAP chicken Caesar salad wrap? Don't forget to PIN THIS RECIPE for later!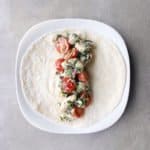 Low FODMAP Chicken Caesar Wrap
Looking for a tasty lunch on-the-go? This low FODMAP chicken Caesar wrap is perfect for work or a quiet lunch at home!
What You Need
1.5

cups

chicken breasts

(cooked, chopped)

3

cups

lettuce

(chopped)

20

cherry tomatoes

(halved)

0.25

cups

parmesan cheese

(grated)

pepper to taste

4

lg

low FODMAP tortillas
What You Do
Combine all the ingredients (except the tortillas) in a large bowl. Place 1/4 of the mixture in the center of each tortilla and roll it up. Pin the tortilla closed with a toothpick if you're eating lunch on-the-go.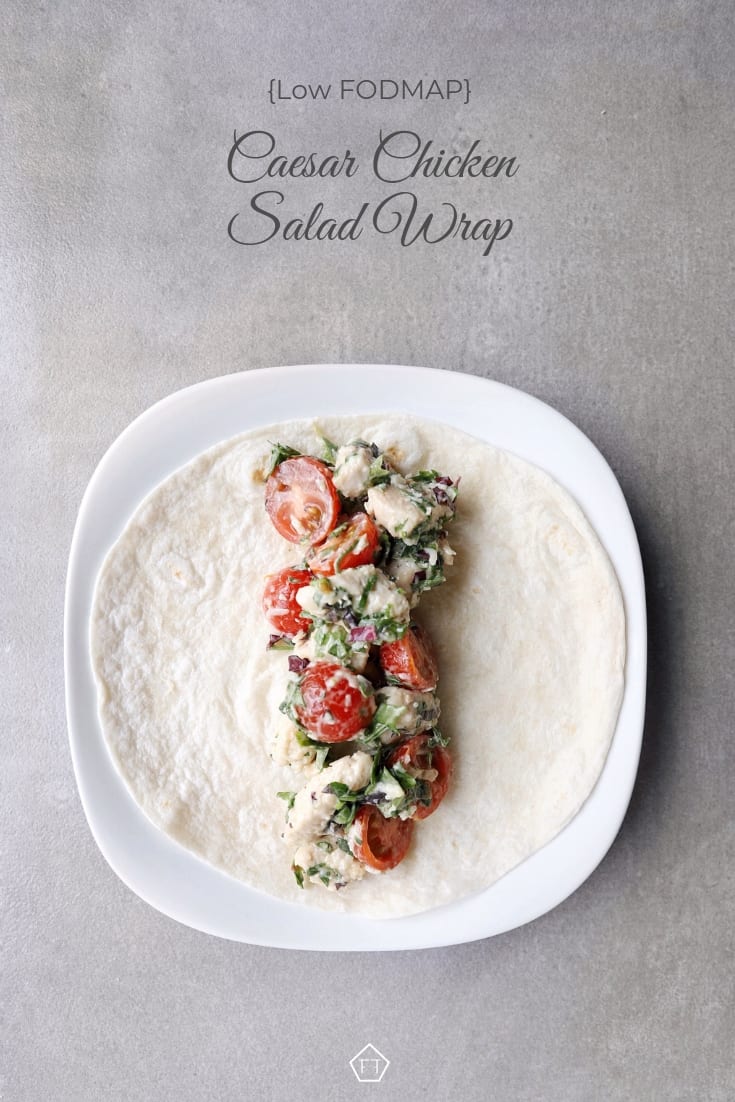 I hope this low FODMAP chicken Ceaser salad wrap makes your next lunch on-the-go a little easier. If you like this recipe, don't forget to share it! Together we'll get the low FODMAP diet down to a science!
P.S. Want access to bonus content, VIP discounts, and some fabulous freebies? Sign up for my mailing list below, and you'll get all these goodies and more sent directly to your inbox!
© 2019 Amy Agur – The FODMAP Formula
---
You might also like one of these:
Low FODMAP Turkey & Swiss Crepes Looking for a savoury lunch on-the-go? Grab one of these quick and easy turkey and Swiss crepes!
Epic Low FODMAP Grilled Cheese Looking for a classic lunch idea? Brace your taste buds, friend! This grilled cheese sandwich is so good you'll forget it's low FODMAP!
Low FODMAP Pulled Pork Looking for some FODMAP friendly comfort food? Made in the slow cooker and slathered in homemade BBQ sauce, this low FODMAP pulled pork will cure any comfort food craving!