Entertaining on the Low FODMAP Diet can be hard. The trick is finding recipes that taste delicious but won't leave you fielding questions about your digestive troubles during the big game. That's one of the reasons I love these fully loaded low FODMAP nachos. They taste amazing and no one will guess they're low FODMAP.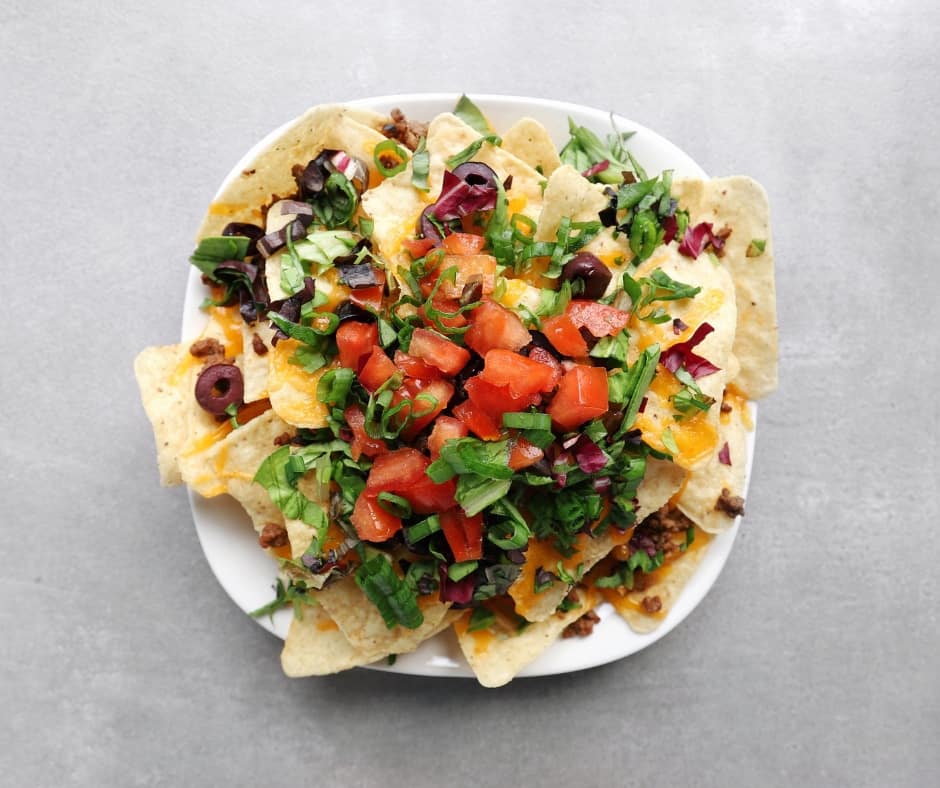 Heads up, this post uses affiliate links. If you make a purchase using one of the links I've provided, I'll receive a small sum of money. You can read more about my affiliations here.
---
When I started the Low FODMAP Diet, I thought nachos and I had broken up forever. In fact, I was so convinced nachos and I were over, I had them as my "last meal" the night before I started the low FODMAP program.
Apparently, I was being a little dramatic, because it's actually pretty easy to Franken-FODMAP this classic party dish. Since nachos are one of my favourite recipes, I've also included notes on how to take your nachos from awesome to epic. So, party on, my friend.
Think these low FODMAP nachos sound awesome, but you don't have time to try them now? You can PIN THIS POST for later.
Take Your Nachos from Awesome to Epic
In my humble opinion, the difference between awesome and epic nachos is topping coverage. To avoid accidental chip nudity, I alternate layers of chips and toppings. This makes a delicious mess of cheese, olives, peppers, and meat you'll enjoy with every bite.
Remember to add fresh ingredients (like lettuce, tomatoes, avocados, etc.) after everything is melted.
Another tip is to make sure you use the right kind of cheese. Strong cheeses can overpower other flavours, so I go for a simple cheddar. I also like to hand grate my cheese. While pre-grated cheeses are convenient, they often come with things like modified milk ingredients, calcium chloride, cellulose powder, natamycin (also called pimaricin or
While pre-grated cheeses are convenient, they often come with things like modified milk ingredients, calcium chloride, cellulose powder, natamycin (also called pimaricin or natacyn), lipase, and colouring. Yuck!
My final tip to keep your nachos ranking on the amazing scale is to leave wet toppings on the side.
There are a few reasons this is a good idea. First, no one wants to eat soggy chips. Second, you want to avoid trying to scrape sour cream or salsa off of one chip onto all the other ones. Or worse, eating three scoops of sour cream on one chip. Finally, it saves persnickety eaters from having to eat around the ingredients they can't pick off.
Keep It FODMAP Friendly
These fully loaded low FODMAP nachos are going to be the star of your next big game. Check out the notes below for tips on keeping this recipe FODMAP friendly.
We have a lot of ingredients to cover. So, to make this a little easier, I've broken the ingredients down into three groups: 1) base ingredients, 2) oven-friendly ingredients, and 3) fresh ingredients. As always, check any extra toppings with your Monash app before you dig in.
Base Ingredients
If you're in the elimination phase, you need to use gluten-free tortilla chips. Corn chips are normally gluten-free but you should still check for wheat, just to be safe. According to Monash University, you can have 50 grams of corn chips. This is the size of one small package.
If you're looking for a fun twist, you can also use zucchini rounds or mini bell peppers instead of chips. Remember to check your Monash app for safe serving sizes.
Oven-Friendly Ingredients
Cheese: Hard cheeses like cheddar, are low FODMAP in small servings. This is because bacteria break down the lactose during the fermentation process. According to Monash, cheddar is safe in servings of 1/2 a cup per sitting.
This recipe uses 1 cup of cheese. This works out to 1/4 cup of cheddar cheese per person, which is within the recommended serving size.
Meat: Adding meat will give your nachos a nice savory flavour. Your meat options include shredded chicken, ground beef, or pulled pork, etc.
I make nachos as a fun way of using up my leftover seasoned chicken breasts. The seasoning adds a really nice flavour to the cheese when they melt together.
I also use ground beef seasoned with my low FODMAP taco seasoning. It adds a fun kick and it tastes delicious when the seasoning mingles with the cheese.
Olives: According to Monash, both black and green olives only have trace amounts of FODMAPs. This means you can eat as many as you want. Remember to dice them up so they don't overpower the other flavours.
Jalapenos: Jalapenos haven't been tested yet. So, if you're in the elimination phase skip these for now. If you've finished your re-challenges, Monash has outlined how to test your own foods here.
Fresh Ingredients
One of my favourite parts of these fully loaded nachos are the fresh ingredients. The good news is, toppings like lettuce and the green part of green onions are low in FODMAPs. This means you can eat as many as you want.
Avocado: Avocado is a classic nacho topping. According to Monash University, 1/8 of a medium-sized avocado is safe for most people. Servings of 1/4 of an avocado or more are high in the polyol sorbitol. If you are in the elimination phase measure out a safe portion and keep it on the side.
Tomato: Monash has recently updated the recommended serving for tomatoes. According to the Monash app, roma tomatoes are low FODMAP in servings of 1 tomato (75 g). Servings of 3 + 1/3 tomatoes (250 g) are high in the FODMAP fructan.
Sour Cream: Sour cream is another nacho favourite, but it's high in lactose. If you're in the elimination phase of the program, use a lactose-free product or skip this one for now. For my Canadian peeps, PC and Gay Lea both have lactose-free sour creams.
Salsa: Salsa is our final favourite topping. Low FODMAP salsa can be hard to come by. If you don't have a recipe handy, you can grab mine here, or you can purchase a low FODMAP salsa from a brand like Fody Foods Co.
These fully-loaded nachos will rock your socks. But, just because they're low FODMAP doesn't mean you're home free. Remember, too much fat can also trigger symptoms.
Some people are also sensitive to food volume. Having too much food in your digestive system at once can put a lot of stress on your body. This means you might trigger symptoms by eating too much, no matter what you eat.
FODMAP math
You are what you eat! Check out the notes below to see how many servings of each FODMAP group are in 1/4 of this recipe.
Fructose = 0.3
Lactose = 1
Fructan = 0.3
GOS = 0
Polyol = 0
Print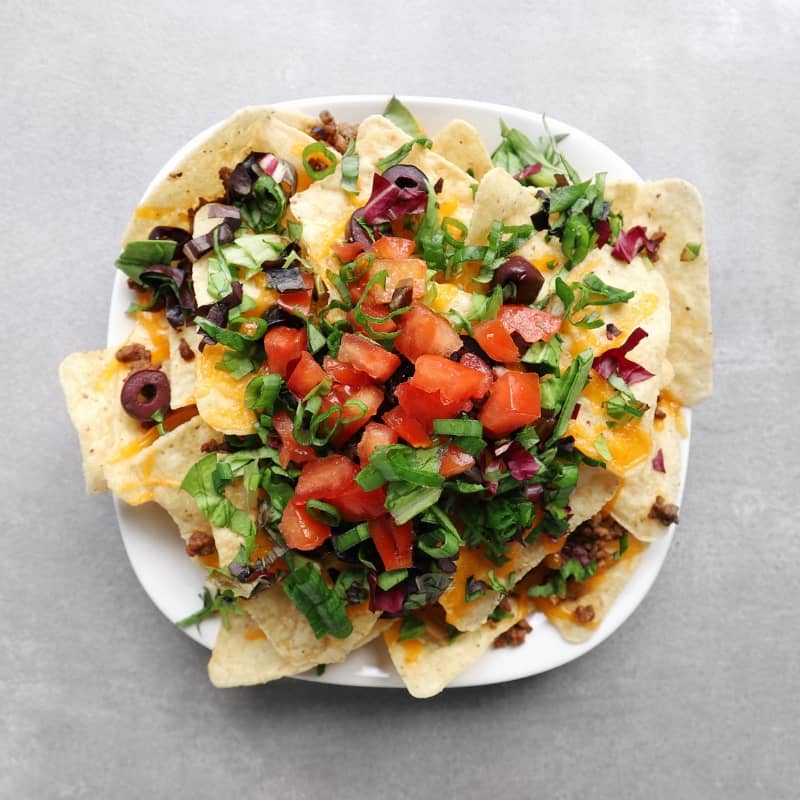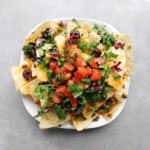 Fully Loaded Low FODMAP Nachos
---
Description
These fully loaded low FODMAP nachos will be the star of your next big game! 
---
1

bag corn chips

1/2

lb prepared low FODMAP taco beef

1 cup

cheddar cheese (lactose-free, shredded)

1/2 cup

kalamata olives (sliced)

1/2 cup

lettuce (shredded)

1

roma tomato (diced)

2

green onions (green parts only, diced)

1/4 cup

sour cream (lactose-free)
---
Instructions
Preheat the oven to 350 degrees and line a baking sheet with aluminum foil. Place a single layer of chips on your baking sheet and sprinkle with 1/3 cheese and 1/3 taco meat. Make a second layer of chips and sprinkle with  1/3 of cheese, 1/3 taco meat, and 1/3 of olives. Add a final layer of chips and cover with remaining cheese, meat and 1/3 olives. Bake for 5 minutes (or until cheese has melted).
Remove nachos from oven and top with lettuce, tomatoes, green onions and remaining 1/3 olives. Place sour cream on the side for the best results. Serve warm.
Notes
Recommended Low FODMAP Serving – 1/4 recipe per sitting
Prep Time:

10 minutes

Cook Time:

10 minutes

Category:

Appetizer, Lunch, Dinner

Cuisine:

American
Keywords: Low FODMAP Nachos, Gluten-Free Nachos
You might also like one of these recipes:
If you like this post, don't forget to share it! Together we'll get the low FODMAP diet down to a science!