Looking for a FODMAP friendly appetizer? These low FODMAP mozzarella sticks have a deep, savoury flavour you're going to love. Whether you make them for your next movie night or the big game, these mozzarella sticks will steal the show.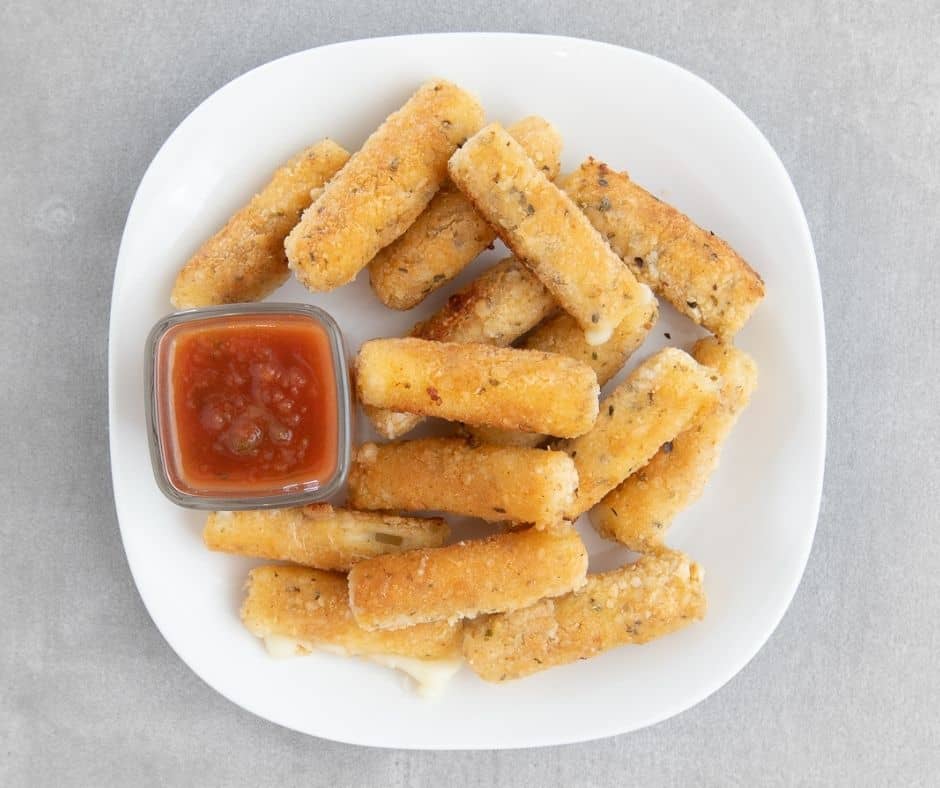 These mozzarella sticks are one of my all-time favourite appetizers. Dangerously easy to make, these classic crowd-pleasers are welcome at any party. Crispy on the outside, rich and gooey on the inside, you'll use any excuse to make these hand-held heart attacks.
Think these low FODMAP mozzarella sticks sound great, but you don't have time to try them now? Don't worry. You can PIN THIS POST for later.
Keep It FODMAP Friendly
These low FODMAP mozzarella sticks are the ultimate comfort food. Check out the notes below for tips on keeping this recipe FODMAP friendly.
First up is mozzarella. Hard cheeses like mozzarella are low FODMAP in small servings because bacteria eat the lactose during the fermentation process.
According to Monash University, mozzarella is safe in servings of 60 g (about 1/2 a cup, shredded). This recipe uses cheese strings, which are 21 grams each. Since we cut the cheese strings in half, you can have up to 5 mozzarella sticks and still be within the recommended range.
This recipe also uses flour and breadcrumbs. If you're in the elimination phase, you'll need to use gluten-free products. For my Canadian peeps, PC's gluten-free breadcrumbs are low FODMAP. If you're using something else, remember to check the label for high-FODMAP ingredients like amaranth flour, inulin, honey, etc.
Remember, unless you have celiac disease, you're avoiding the FODMAP fructan, not the gluten itself.
Whose Side Are You On?
These low FODMAP mozzarella sticks are great on their own. But, if you want to add a little extra flavour, try dipping them in my low FODMAP marinara sauce. The savoury flavour of the cheese and the tartness of the sauce make mozzarella and marinara the perfect pair.
Want to try these low FODMAP mozzarella sticks? Don't forget to PIN THIS RECIPE for later.
FODMAP math
You are what you eat! Check out the notes below to see how many servings of each FODMAP group are in 4 of these mozzarella sticks.
Fructose = 0
Lactose = 1
Fructan = 0.5
GOS = 0
Polyol = 0
Low FODMAP Mozzarella Sticks
Looking for a savoury appetizer idea? Try these low FODMAP mozzarella sticks! This quick and easy recipe will curb any comfort food craving
What You Need
12

mozzarella cheese strings

(cut in half)

1/4

cup

gluten-free flour

1

lg

egg

(lightly beaten)

1

cup

low FODMAP bread crumbs

1

tsp

dried oregano

1/4

tsp

paprika

pinch

salt

3

tbsp

vegetable oil
What You Do
Mix the breadcrumbs, oregano, paprika, and salt in a small bowl. Then coat the mozzarella sticks as follows:

1) dredge the mozzarella sticks in the flour

2) dip them in the egg

3) roll them in the breadcrumb mixture

4) dip them in the egg a second time

5) roll them in the breadcrumbs a second time

Cover your mozzarella sticks with plastic wrap and place them in the freezer for 20-30 minutes (until the breadcrumbs harden).

Heat up your vegetable oil in a small frying pan. Add your mozzarella sticks to the frying pan in small batches and cook each side until brown (about 1 minute per side). Allow them to cool off on a wire rack for 3-5 minutes before serving.
Notes
When you roll your mozzarella sticks in the breadcrumb mixture, pat the breadcrumbs down with your fingers. This will keep the breadcrumbs from falling off while cooking. 
You might also like one of these:
Low FODMAP Pulled Pork Looking for some FODMAP friendly comfort food? Made in the slow cooker and slathered in homemade BBQ sauce, this low FODMAP pulled pork will cure any comfort food craving!
Epic Low FODMAP Nachos Whether you're getting looking for a fun family recipe or settling in for the big game, these fully loaded nachos will be the talk of your table!
Low FODMAP Buffalo Dip Looking for an epic appetizer recipe? This easy low FODMAP buffalo chicken dip is the perfect party pick!
If you like this post, don't forget to share it! Together we'll get the low FODMAP diet down to a science!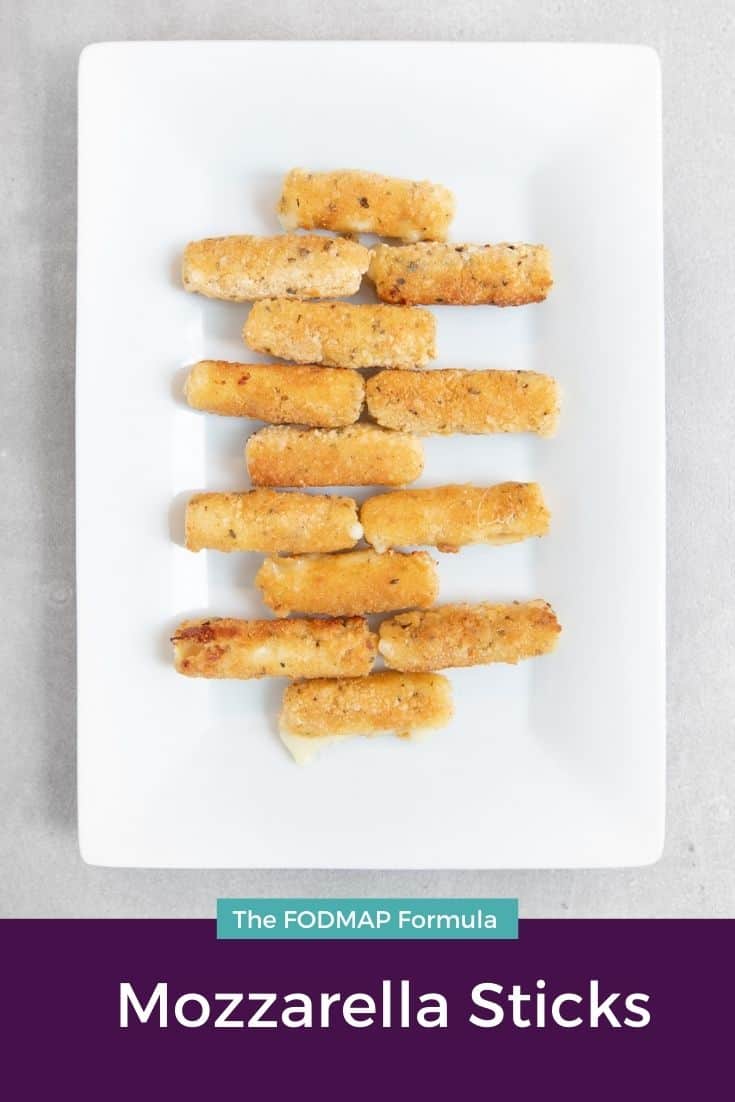 SaveSave
SaveSave
SaveSave
SaveSave
SaveSave