When I started the Low FODMAP Diet, the first thing I did was a panic-induced Pinterest search. Monash app in hand, I cruised through the interweb trying to find a happy medium between my normal diet and my list of low FODMAP foods. I found a ton of gorgeous meal ideas. But what I really wanted, was a safe meal to hide in while I got my bearings. This low FODMAP marinara sauce was just the kind of recipe I was looking for.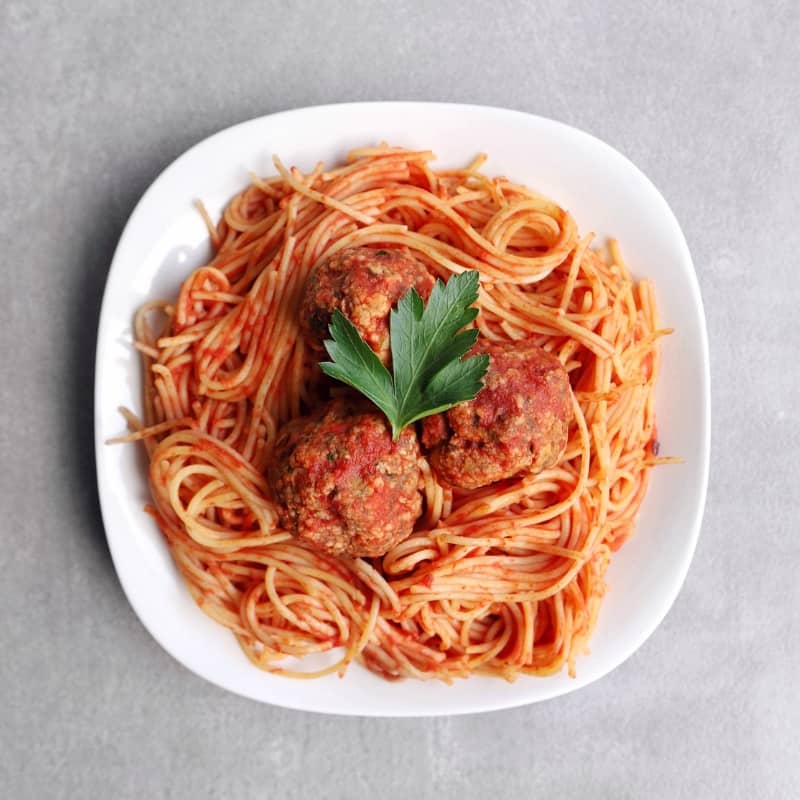 Heads up, this post uses affiliate links. If you make a purchase using one of the links I've provided, I'll receive a small sum of money. You can read more about my affiliations here.
---
This low FODMAP marinara sauce is basically tomato puree and seasonings, so it's easy to manage your FODMAP load. Since it's light on ingredients, it can also be made in bulk without breaking the bank.
When I make larger batches, I use a muffin tray to freeze my sauce in single servings. Just shake the frozen sauce blocks into a Ziploc bag once they're completely frozen. One muffin well is about 1/4 cup of sauce, so it's perfect for a quick and easy meal for one.
Think this recipe sounds great, but you don't have time to try it now? You can PIN THIS POST for later.
Keep It FODMAP Friendly
This low FODMAP marinara sauce is a great way to introduce yourself to the low FODMAP program. Check out the notes below for tips on keeping this recipe FODMAP friendly.
First, according to the Monash app 1/2 of a jar of marinara sauce is low FODMAP. This recipe uses 1 jar of tomato puree. So, technically, you can have up to half the recipe.
Keep in mind some people are also triggered by food volume. Having too much food in the digestive tract at once can put a lot of pressure on your system. This means if you eat too much, you might trigger symptoms whether your meal is low FODMAP or not.
It's also worth noting that some people are sensitive to the acidity in tomatoes. If you suffer from a secondary issue like GERD, dyspepsia, or general acid reflux, start with a small serving and see if you have a reaction.
This recipe also uses garlic-infused oil. This will give our marinara a deep, savoury flavour, but without all the FODMAPs. If you can't find a low FODMAP garlic oil, you can grab one online from Fody Foods Co.
Last but not least, while there are a lot of ways to use marinara sauce, it normally ends up on pasta. While you may think switching to a gluten-free pasta means you're home free, you still need to manage your portion size.
According to the Monash app, gluten-free pasta is safe in servings of 1 cup per sitting. Servings of 1.5 cups or more are high in the FODMAP fructan. So, I recommend measuring your serving carefully.
Pick Your Headliner
While marinara sauce is normally used for pasta, there are a ton of fun ways to play with this recipe. You can put it on pizza (like my margherita pizza), use it for chicken parmesan, a dip for mozzarella sticks, or on meatball sandwiches. If you're looking for some low FODMAP meatballs, you can grab my recipe here.
Have fun with it and make sure to tag me on Instagram @fodmapformula with your creations.
Want to try this low FODMAP marinara sauce? Don't forget to PIN THIS RECIPE for later.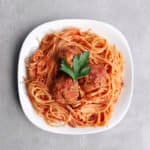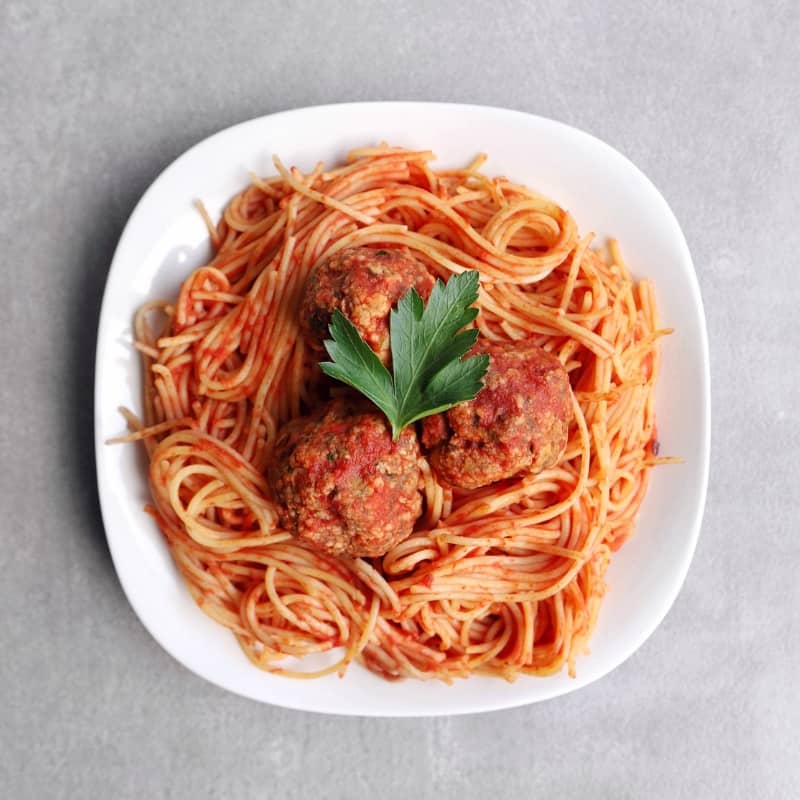 Low FODMAP Marinara Sauce
Looking for a quick and easy dinner idea? Check out this low FODMAP marinara sauce! Put it on pasta, pizza, meatball sandwiches, or anywhere you need a rich and flavourful red sauce.
What You Need
1

tsp

low FODMAP Italian seasoning

1/2

tsp

red pepper flakes

1

tsp

salt

22

oz

tomato puree

1/2

cup

water

gluten-free pasta of choice
What You Do
Heat garlic oil in medium saucepan. Add seasoning (Italian seasoning, red pepper flakes, and salt), and stir for 30 seconds. Add tomato puree and water. Simmer (partially covered) on low for 30 minutes, stirring occasionally.
Notes
If you want to add meat to your marinara sauce, cook and drain the meat first, then add to the sauce while it's simmering so they have time to commingle before being served. 
You might also like one of these:
Low FODMAP Baked Ziti Looking for a tasty weeknight dinner idea? Your whole family will love this easy low FODMAP chicken cacciatore!
Low FODMAP Skillet Gnocchi Tossed in a homemade cream sauce and topped with melted cheese, this low FODMAP skillet gnocchi will have even your pickiest eaters coming back for seconds!
Low FODMAP Macaroni and Cheese Whether you're feeding the gang for the big game or looking for some leftovers you can steal for lunch, this easy macaroni and cheese will hit the spot!
If you like this post, don't forget to share it! Together we'll get the low FODMAP diet down to a science!