Looking for a family-friendly dinner idea? You're going to love this low FODMAP chicken parmesan. Covered with crispy low FODMAP breadcrumbs and baked in a savoury marinara sauce, you'll forget this recipe is low FODMAP.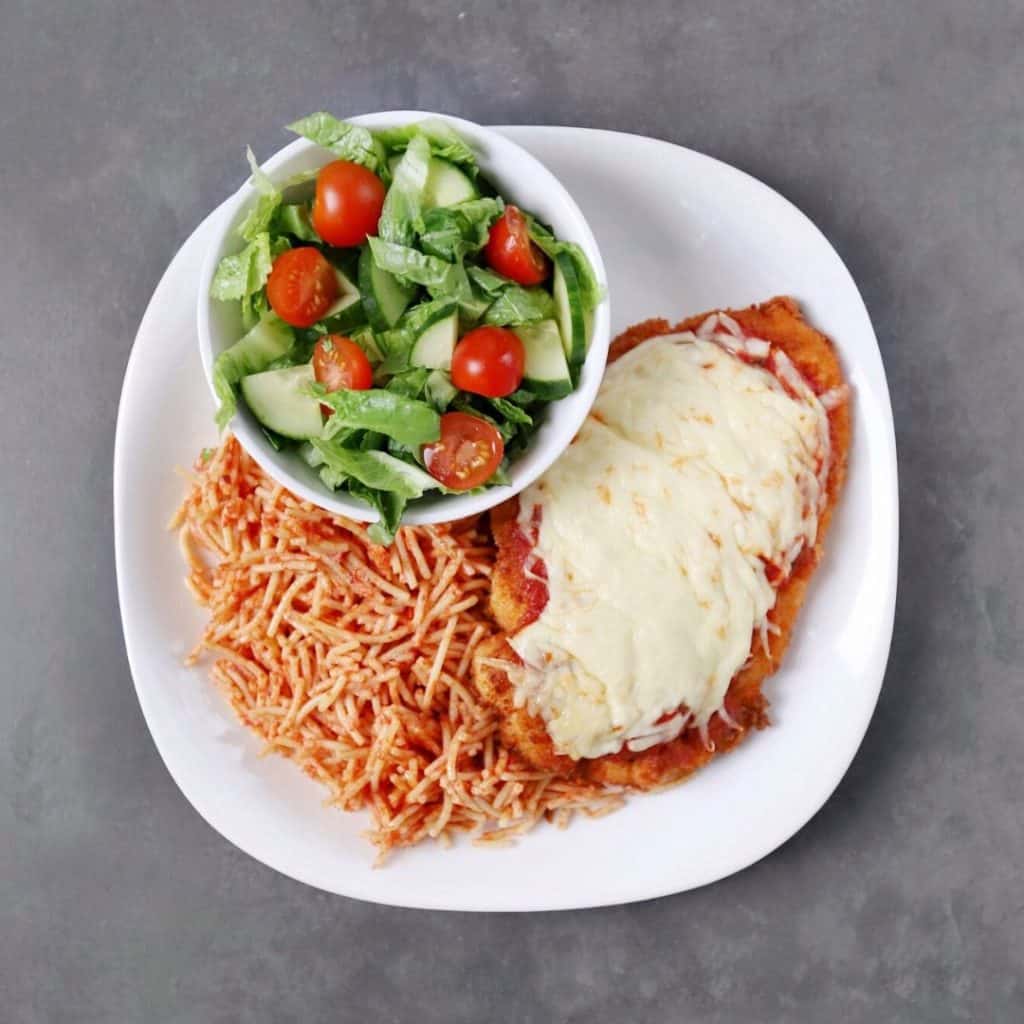 I'm a sucker for anything breaded, so it's no surprise I adore this low FODMAP chicken parmesan. I think it makes ordinary dinners feel special. So, we tend to save it for nights we're feeling a little fancy.
If you're ready for a break from the Low FODMAP Diet, this recipe is for you. With a deep, rich flavour that tastes like the real deal, you'll feel like you have a night off from the elimination phase.
Think this low FODMAP chicken parmesan sounds great, but you don't have time to try it now? Don't worry. You can PIN THIS POST for later. PIN THIS POST for later.
Keep It FODMAP Friendly
This classic low FODMAP chicken parmesan will keep your taste buds and your tummy happy. Check out the notes below for tips on keeping this recipe FODMAP friendly.
First of all, since chicken is a protein, it doesn't have any FODMAPs. This means you can eat as much chicken as you want without adding to your FODMAP load.
Next up is our flour and breading. If you're in the elimination phase, you'll need to use gluten-free products. For the flour, you can either use gluten-free flour or rice flour.
When you're choosing breadcrumbs, make sure you check the ingredients. Lots of gluten-free brands add other high-FODMAP ingredients like amaranth flour, inulin, and honey. So, always double-check the label.
Remember, unless you have celiac disease, you're avoiding the FODMAP fructan, not the gluten itself.
This recipe also uses marinara sauce. According to Monash University, low FODMAP marinara sauce is safe in servings of 250 g (about 1/2 a jar). Servings of 14 oz (3/4 of a jar) are high in fructans, so don't go crazy.
We use a full jar of marinara sauce for this recipe, which works out to about 1/4 of a jar per person. This is well within Monash's recommended range.
If you need a FODMAP-friendly marinara recipe, you can grab mine here.
Last but not least is mozzarella cheese. According to the Monash app, small servings of hard cheeses like mozzarella or cheddar are low FODMAP. This is because bacteria break down the lactose for food during the fermentation process.
Monash says mozzarella is safe in servings of 1/2 a cup per sitting. We use one cheese slice per serving, so you'll be well within the recommended range.
Whose Side Are You On?
Chicken parmesan is normally served on pasta tossed in marinara sauce. If you're in the elimination phase of the program, you'll need to use gluten-free pasta. Using gluten-free pasta doesn't mean you're home-free, though.
According to Monash, you can have 1 cup of gluten-free pasta per sitting (3 hours). Servings of 1.5 cups or more are high in fructans, so you need to measure carefully.
If you don't think this will be enough food for you, try adding a side salad. You can check out three of my favourite side salads here.
Want to try this low FODMAP chicken parmesan? Don't forget to PIN THIS RECIPE for later.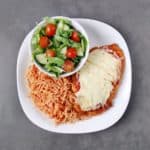 Low FODMAP Chicken Parmesan
Looking for a FODMAP friendly dinner idea? This low FODMAP chicken parmesan is so delicious you'll forget you're in the elimination phase.
What You Need
2

chicken breasts

1/2

cup

gluten-free flour

1

lg

egg

(lightly beaten)

1/2

cup

low FODMAP breadcrumbs

3

tbsp

olive oil

1

jar

low FODMAP marinara sauce

(divided)

4

slices

mozzarella

gluten-free pasta for serving
What You Do
Heat oven to 450 degrees. Place one chicken breast between two sheets of plastic wrap (or in a Ziploc bag) and pound them until they're 1/2″ thick. Cut the chicken breast into two portions. Repeat with the second chicken breast.

Dredge each chicken breast in the flour, then the egg, and then the breadcrumbs. Make sure to pat down the breadcrumbs so they stick firmly.


Warm up the oil in a frying pan over medium heat. Fry each chicken breast until crispy (about 2 minutes per side), then transfer to a baking sheet lined with parchment paper. Top each chicken breast with half of the marinara sauce and a slice of mozzarella cheese. Bake for 15-20 minutes (until the chicken is 165 degrees at the center).


Toss your pasta with the remaining marinara sauce and place your chicken parmesan either on the pasta or to the side. Serve immediately.
You might also like one of these:
Low FODMAP Mushroom Stuffed Chicken Unleash your inner foodie with this deceptively easy low FODMAP mushroom stuffed chicken.
Low FODMAP Memphis Ribs Looking for an epic BBQ recipe? These easy low FODMAP Memphis dry ribs will make you the talk of your block!
Easy Low FODMAP Lasagna Have a savoury craving that just won't quit? Ready in under 30 minutes, this easy, stovetop lasagna is the perfect way to end your day!
If you like this post, don't forget to share it! Together we'll get the low FODMAP diet down to a science!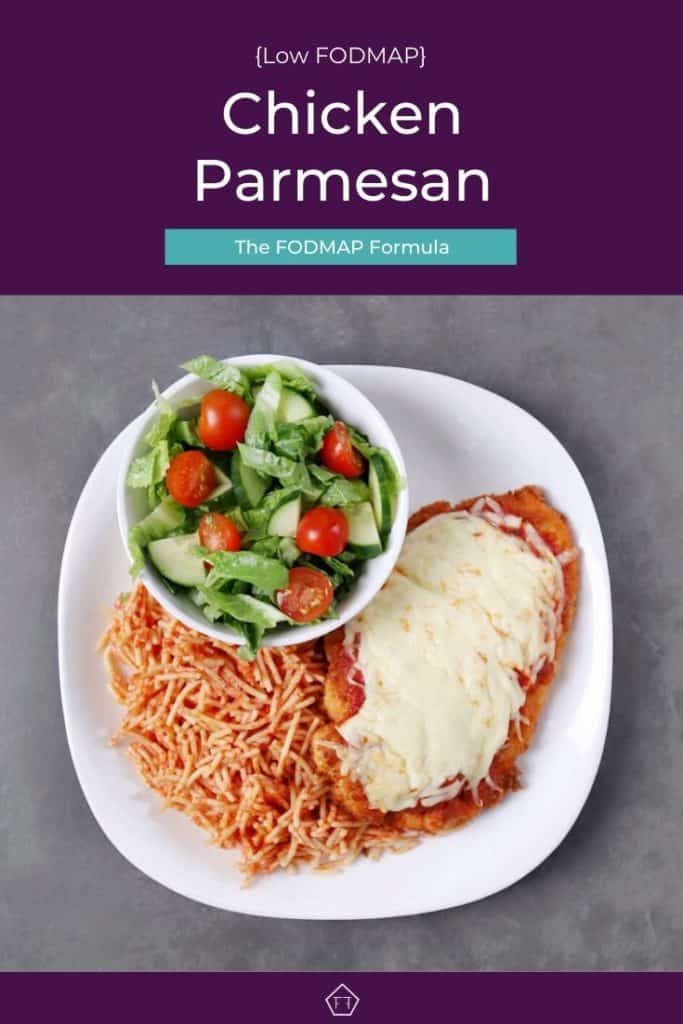 SaveSave
SaveSave
SaveSave