Looking for a salad fit for a foodie? This easy low FODMAP maple bacon salad will add a little magic to your next lunch! Quick and easy to make, your whole family is going to fall in love with this seemingly healthy salad!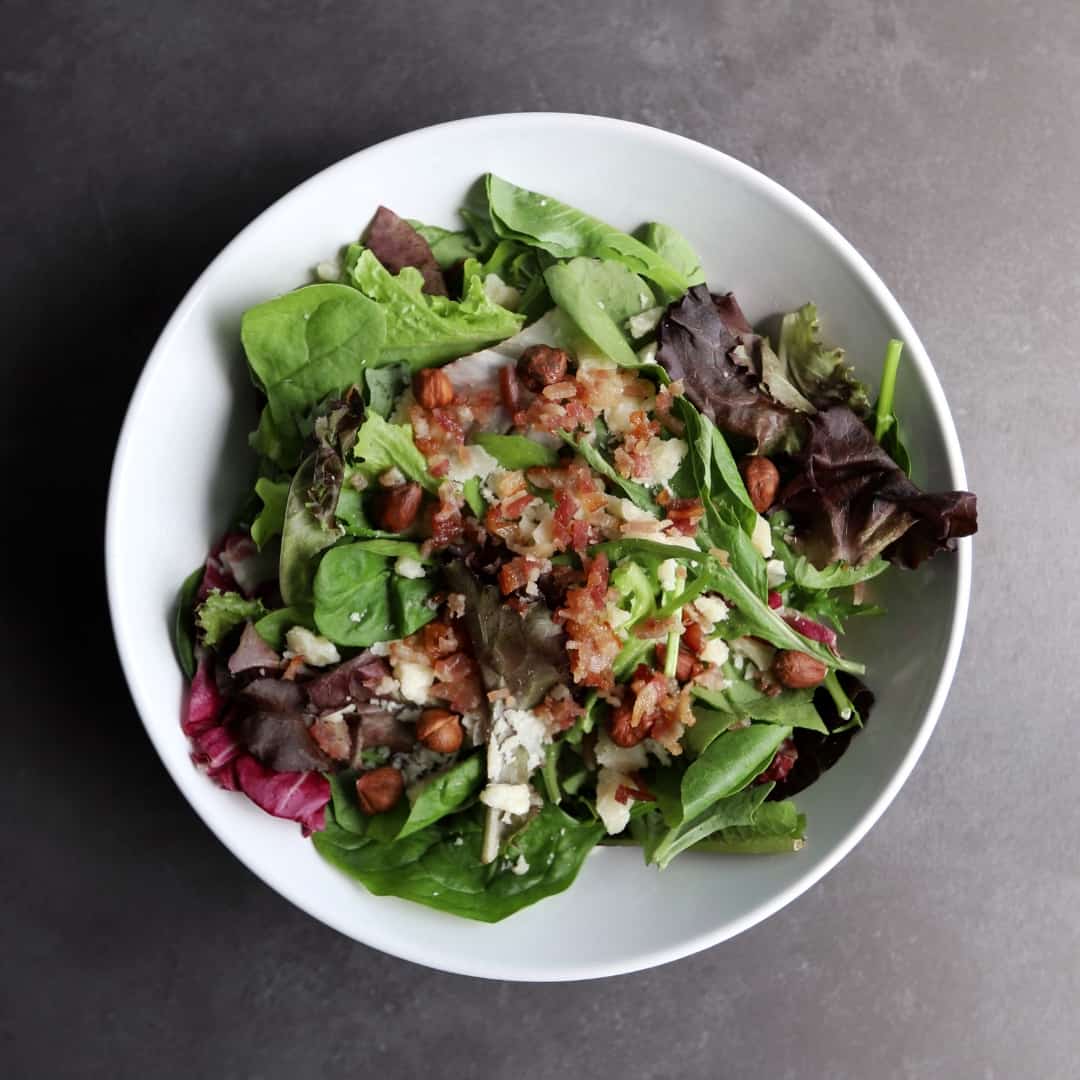 Friends, let me tell you about the magic of maple bacon. It's not from the land of maple trees. It's not smoked in a maple-friendly environment. This mythical treat is made by brushing your rashers with pure maple syrup and letting it caramelize in your oven. Congratulations. You can now make bacon magic.
Trust me. The wonderful smell that fills your kitchen while these babies are cooking could wake the dead. It most definitely wakes up my husband and he could literally sleep through a zombie apocalypse.
Not into salads? Don't worry. When this candied bacon collides with the savoury parmesan and earthy hazelnuts, you won't even mind the lettuce!
Think this low FODMAP maple bacon salad sounds great, but you don't have time to try it now? Don't worry! You can PIN THIS POST for later!
Keep It FODMAP Friendly
This low FODMAP maple bacon salad is a foodie's dream! Check out the notes below for tips on keeping this recipe FODMAP friendly.
First up is bacon. Since bacon is made of magic protein, it doesn't have any FODMAPs. This means you can eat as much bacon as you want without adding to your FODMAP load. It does, however, have a ton of fat. So, if you know you react to fatty foods, be gentle with your serving size.
Next up, maple syrup. According to the Monash App, maple syrup is low FODMAP in servings of 2 tbsp per sitting. Monash doesn't list a maximum serving size. We'll be using 3 tbsp for total, which is well within the recommended range.
When you're picking out your maple syrup, make sure you choose a brand that's 100% maple syrup. Many syrup brands use high FODMAP ingredients like high fructose corn syrup (HFCS) and glucose-fructose to manage costs. So, stick to pure maple syrup.
We'll also be using mixed greens. Most greens are low FODMAP so you should be able to buy a pre-packaged lettuce mix if that's your jam. Make sure to scan the greens included and check them against your Monash app to be sure it doesn't include any sneaky FODMAPs.
This recipe also uses grated parmesan. According to Monash University, parmesan is low FODMAP in servings of 1/3 cup per sitting. Servings of 4 cups or more are high in lactose. Our recipe uses 1/2 a cup total. This works out to 2 tbsp per serving, which is well within the recommended range.
Our last ingredient is hazelnuts. According to the Monash app, hazelnuts are low FODMAP in servings of 10 nuts per sitting. Servings of 20 nuts or more are high in both fructans and galactans. Our recipe uses 1/3 of a cup total which is within the recommended range. I normally just count out 10 and plop them on.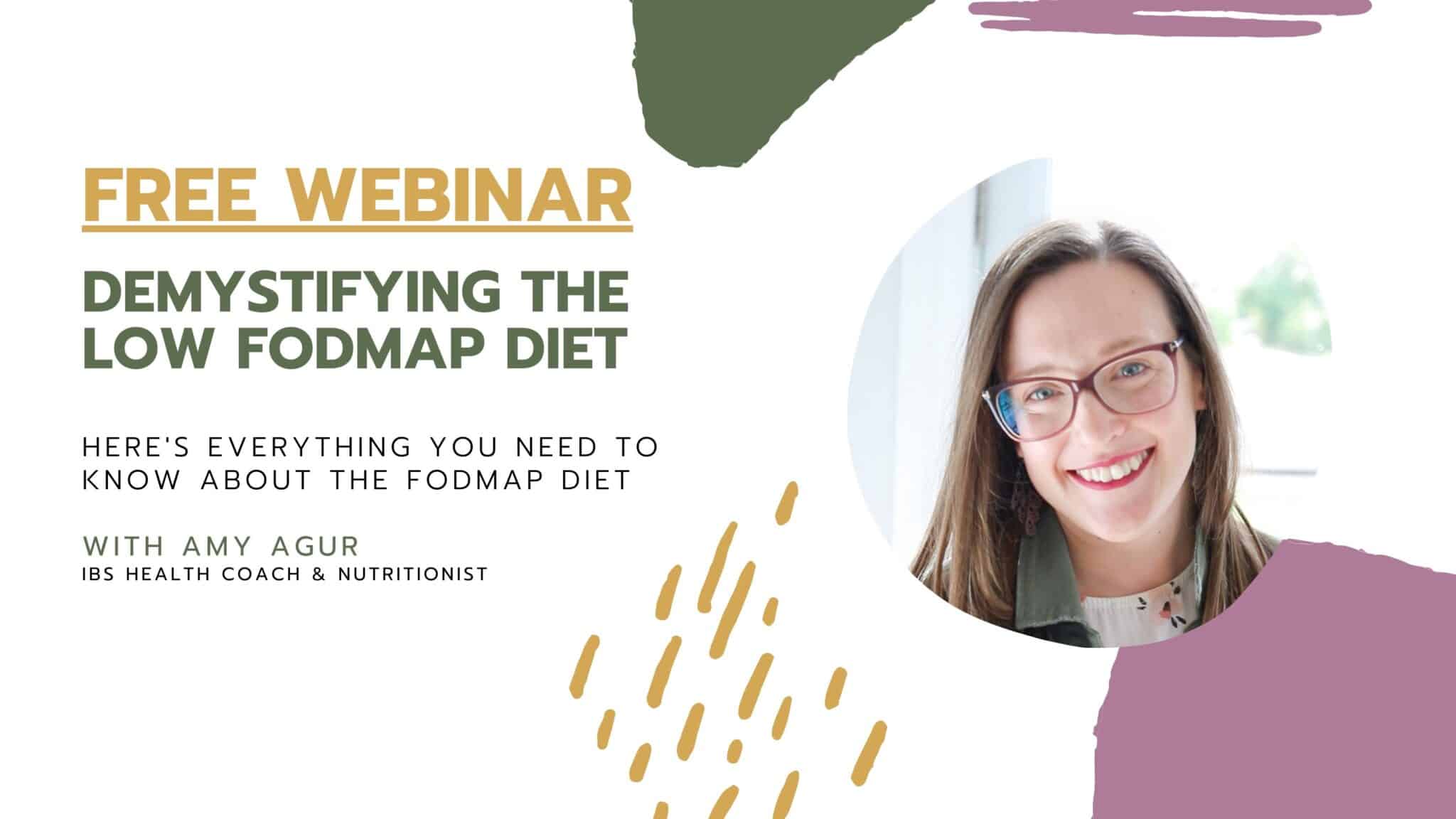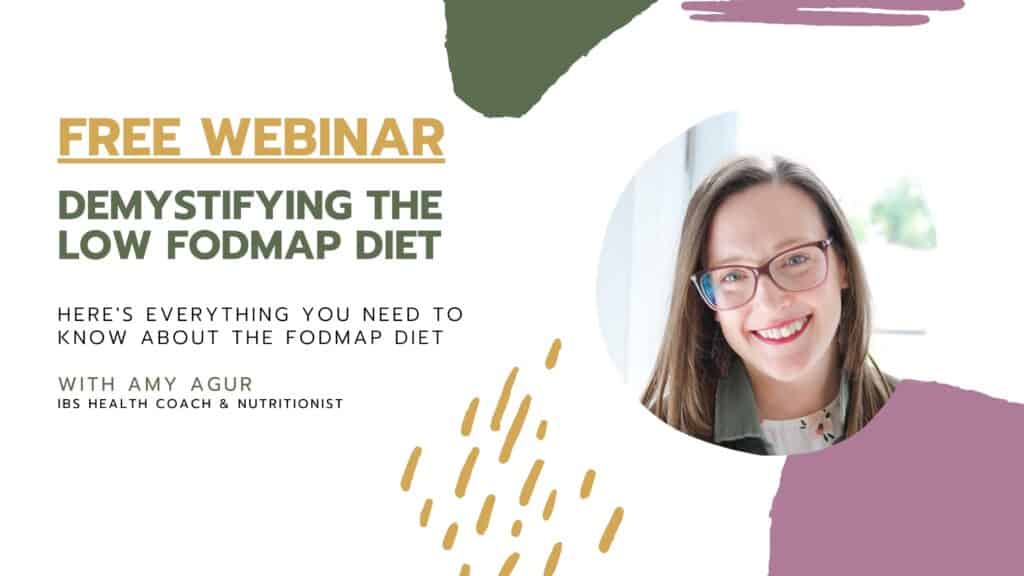 Pick Your Headliner
This low FODMAP maple bacon salad makes a pretty epic lunch. But, it makes a pretty tasty side dish as well. If you're looking for a main dish fit for this salad, it would be fantastic with this low FODMAP pan-fried steak, or these low FODMAP BBQ Ribs!
Want to try this low FODMAP maple bacon salad? Don't forget to PIN THIS RECIPE for later!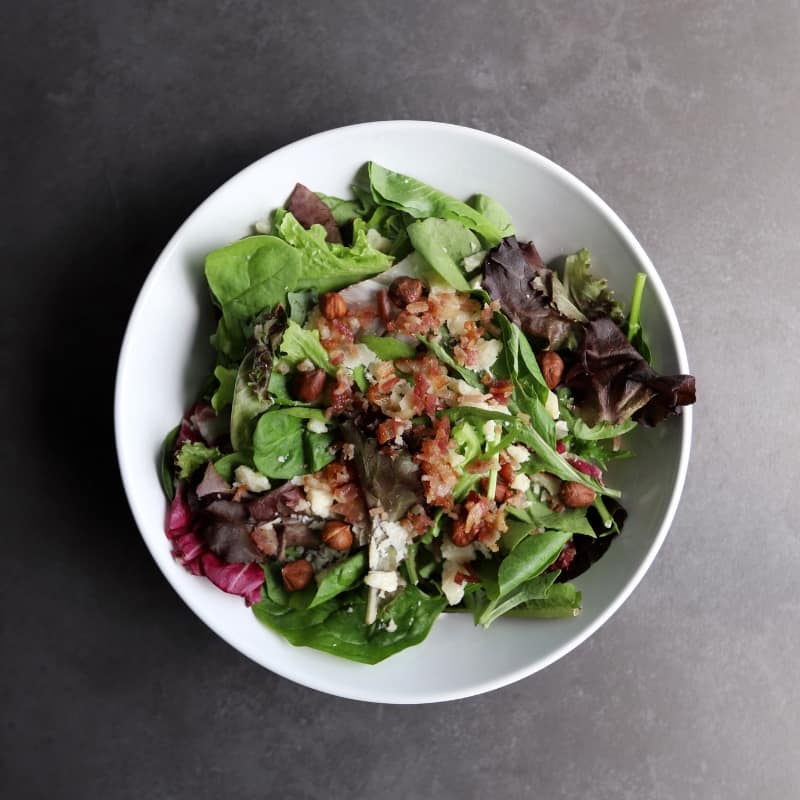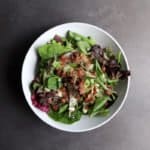 Low FODMAP Maple Bacon Salad
Looking for a salad that's dressed to impress? This low FODMAP maple bacon salad will steal the show on any table.
Course:
Appetizer, Side Dish
What You Need
8

pieces

bacon

3

tbsp

pure maple syrup

5

cups

low FODMAP mixed greens

1/2

cup

parmesan cheese

(broken into small chunks)

1/3

cup

hazelnuts

drizzle

low FODMAP balsamic vinaigrette
What You Do
Preheat oven to 400 degrees and line a baking sheet with foil. Place a roasting rack on top. Place your bacon strips on the roasting rack and bake for 15 minutes.

At the 15 minute mark, brush the top side of each bacon strip with maple syrup, then cook for an additional 5 minutes.

Divide your mixed greens between 4 plates. Sprinkle each salad with an equal portion of parmesan and hazelnuts. Then crumble 2 bacon strips over each salad. Serve immediately with a drizzle of low FODMAP vinaigrette.
You might also like one of these:
Low FODMAP Caprese Salad Looking for a mouthwatering appetizer idea? This light and simple low FODMAP Caprese salad is the perfect addition to your table!
Low FODMAP Mushroom Crostini Looking for a savoury appetizer recipe? These low FODMAP mushroom crostini will keep your taste buds and your tummy happy!
Low FODMAP Lemon-Caper Potato Bites Freshen up your holiday appetizers with these lemon-caper potato bites! Packed with flavour, but light on FODMAPs, this appetizer will keep your tastebuds and your tummy happy!
If you like this post, don't forget to share it! Together we'll get the low FODMAP diet down to a science!