Having trouble finding a FODMAP friendly barbecue recipe? Most BBQ rubs and sauces have high FODMAP ingredients. So, you may have given up all hope of having BBQ this summer. But you're in luck, my friend. Check out these low FODMAP BBQ ribs.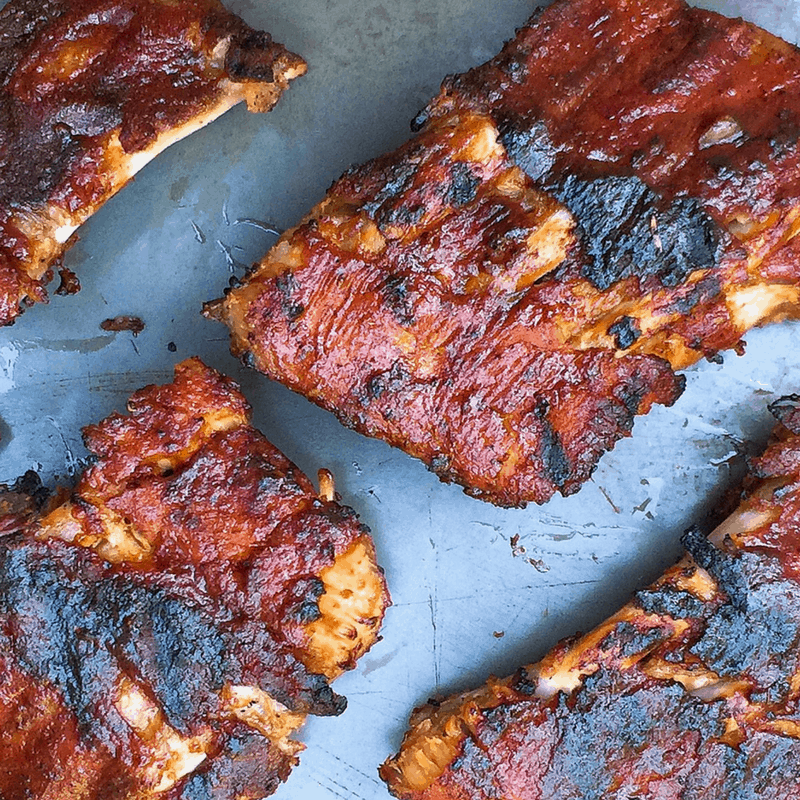 Heads up, this post uses affiliate links. If you make a purchase using one of the links I've provided, I'll receive a small sum of money. You can read more about my affiliations here.
---
I started the low FODMAP program in the middle of the summer and it really put a kink in my BBQ plans. It took me almost a year to figure out a low FODMAP BBQ sauce, but man was it worth it!
These fall off the bone ribs are the perfect combination of sweet and spice. They're so delicious, no one will guess they're low FODMAP. In fact, this recipe has been stolen by a ton of my non-FODMAP friends. I don't blame them. It's pretty spectacular.
Think these low FODMAP BBQ ribs sound great, but you don't have time to try them now? Don't forget to PIN THIS POST for later.
Keep It FODMAP Friendly
These low FODMAP BBQ ribs will be the highlight of your summer. Check out the notes below for tips on keeping this recipe FODMAP friendly.
First, since meat is a protein, it doesn't have any FODMAPs. However, you still need to think about your food volume. Too much food in your gut can put a lot of pressure on your digestive system. This can trigger symptoms no matter what you eat.
Some people are also triggered by fat. While a little fat can make the sweetness of this BBQ sauce sing, too much can trigger your IBS symptoms. If you know fatty foods bother you, trim off some of the fat and watch your portion size.
Low FODMAP Dry Rub
This dry rub is made with low FODMAP ingredients. So, it won't add any FODMAPs to your meal. For the best result, make sure your spices are fresh. If you can't remember when you bought them, replace them before you start. You'll thank me later.
There are a ton of ingredients in this BBQ sauce. Most of them are low FODMAP, but there are still a few things to keep in mind.
Ketchup: Ketchup is a tricky one. Look for a brand without High Fructose Corn Syrup (HFCS) or garlic/onion powder. Garlic and onion can also be listed as "spices" or "natural flavours." If you can't find one at your local store, you can order a FODMAP-friendly ketchup from Fody Foods Co.
Beer: According to Monash University, beer is safe in servings of 375 ml (one can). This recipe uses 1/2 a cup of beer, which works out to 1.3 tbsp per serving. This is within the suggested range.
If you're sensitive to alcohol, don't worry. Alcohol evaporates when it's simmered for 20-30 seconds. You can use non-alcoholic beer if you want to be safe, but it's not necessary.
Remember, if you or a family member suffer from celiac disease, you need to use a gluten-free beer. You can find some gluten-free brands here. Do not use cider! Apples are high FODMAP, so cider isn't appropriate during the elimination phase.
Cola: Most colas in Canada and the US use High Fructose Corn Syrup (HFCS). I tried swapping the cola for diet coke and it was not the same. Now I use PC cane sugar cola, and the world tastes right again. If you're not in Canada, check your local farmer's market for organic or small batch colas that use real sugar.
Molasses: According to the Monash app, 1 tsp of molasses is low FODMAP. We use 1/8 of a cup for 2 racks of ribs. This works out to 6 tsp for the whole recipe or 3 tsp per rack. So, as long as you stick to 1/3 of a rack you'll be fine.
If you know you don't react well to molasses, or if want more than 1/3 of a rack, you can use low FODMAP cane sugar syrup. You can grab my recipe here.
Heads up, if you're swapping in cane sugar syrup, make the BBQ sauce the night before. The syrup has a lighter taste, so, your ingredients will need more time to mingle. It will end up tasting the same, the flavour just needs more time to mature.
Whose Side Are You On?
While it is my dream to one day power through an entire rack of ribs on my own, these days I still need some options on the side.
When I eat BBQ, I tend to go all in. So, I normally pair my ribs with freshly made coleslaw, BBQ vegetables, sweet potato fries, or roasted or mashed potatoes. Have another suggestion? Let me know in the comments below.
Want to try these low FODMAP BBQ ribs? Don't forget to PIN THIS RECIPE for later.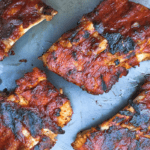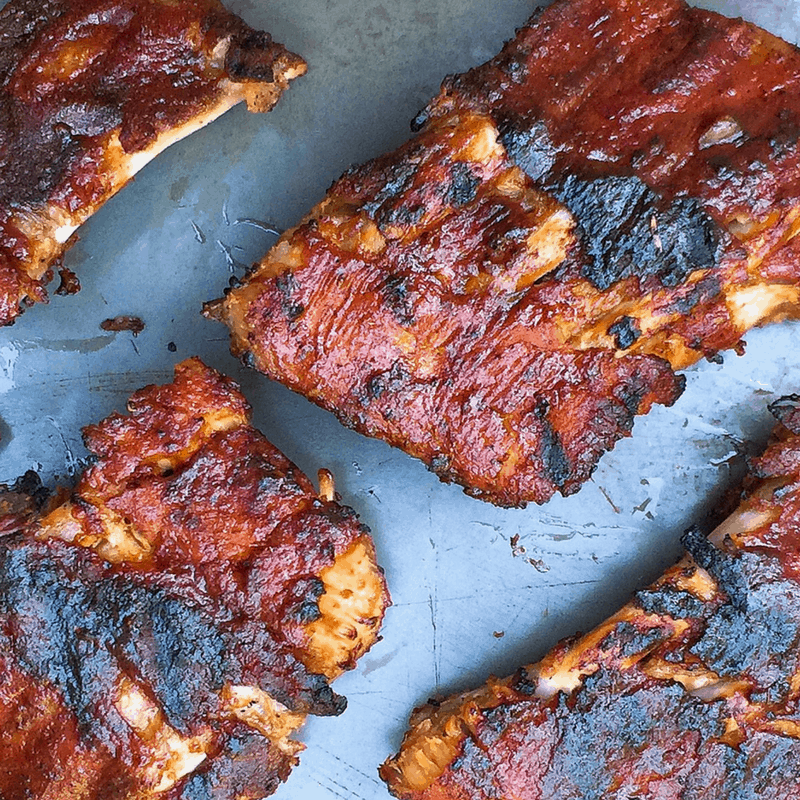 Low FODMAP BBQ Ribs
These fall off the bone ribs are the perfect combination of sweet and spice. Seasoned with a FODMAP friendly dry rub and then coated with a delicious low FODMAP BBQ sauce, this recipe is a winner!
Course:
Dinner, Main Course
What You Need
Low FODMAP Dry Rub
2

racks

baby back ribs

3/8

cup

brown sugar

(firmly packed)

3/8

cup

granulated sugar

1/4

cup

paprika

1/8

cup

ground sea salt

1

tbsp

ground black pepper

1

tbsp

ginger powder

1

tsp

dried rosemary

(crushed)
Low FODMAP BBQ Sauce
1/2

cup

ketchup

(low FODMAP variety)

1/3

cup

brown sugar

(firmly packed)

1/2

cup

beer

(non-alcoholic)

1/4

cup

cola

(made with cane sugar)

1/8

cup

molasses

(or cane sugar syrup)

3

oz (1/2 can)

tomato paste

1.5

tbsp

mustard

1.5

tbsp

apple cider vinegar

1/2

tbsp

ground sea salt

1/2

tbsp

dry mustard

1/2

tbsp

worcestershire sauce

1

tsp

thyme

1/2

tsp

pepper

1/2

tsp

paprika

1/4

tsp

cayenne pepper

3-4

shakes

liquid smoke
What You Do
Low FODMAP Dry Rub
Prepare the dry rub by mixing all of your ingredients in a medium-sized bowl. Set aside.

Lay the ribs bones up on a dishwasher-safe cutting board or a surface you can sanitize. Remove the membrane by picking it up from one end of the rack (I prefer the smaller end) and lifting it in an upward motion. The membrane often comes off in one piece, so work it slowly down the rack until you reach the other end. Discard the membrane when finished.


Take your dry rub and massage it into the meat. Remember to rub both sides of the rack. Go slowly and make sure you cover each rack evenly. Then wrap the ribs in plastic wrap and place them in the fridge for 8 to 24 hours. This will allow the rub to settle into the meat and create the base for our mouthwatering low FODMAP BBQ sauce.
Low FODMAP BBQ Sauce
To make the BBQ sauce, place a medium-sized saucepan over low heat and add all of the ingredients one at a time. Stir after each addition to blend the flavours together. Once all of the ingredients have been added, switch to high heat and whisk the sauce until it boils. Then remove the sauce from heat and let it cool. If you're using molasses for this recipe, your BBQ sauce will need about 2-4 hours to reach the proper flavour. If you're using cane sugar syrup, it will take 8-24 hours to reach full flavour.
Low FODMAP BBQ Ribs
Preheat your BBQ to 300 degrees. Remove your ribs from the plastic wrap and cover them with foil. I prefer putting one layer on the counter, putting the ribs down and then placing a second layer of foil on top. I then fold the top and bottom layers together around the ribs. The idea is to seal the ribs in so they don't lose any moisture.

Place your ribs bone side up on your BBQ and cook for 2-2.5 hours. You'll know they're ready when the meat starts pulling away from the bones. Try not to peek until at least the 2-hour mark or you risk ripping the foil and letting out the moisture.

Once your ribs are cooked, turn the heat up to about 450 degrees. Remove the ribs from the foil and cover both sides of each rack with BBQ sauce. Cook for an additional 20 minutes to caramelize the sugar in the sauce. Turn them about every 5 minutes so they don't burn. Serve immediately!
Notes
If you don't have a pestle and mortar to crush your rosemary, use the bottom of a glass or a bowl to break them down. 
You might also like one of these:
If you like this post, don't forget to share it! Together we'll get the low FODMAP diet down to a science!