Looking for a twist on a classic side dish? Try these low FODMAP chile-lime carrots. Roasted in olive oil and chili flakes and splashed with a squeeze of lime, these roasted carrots pack a zesty punch.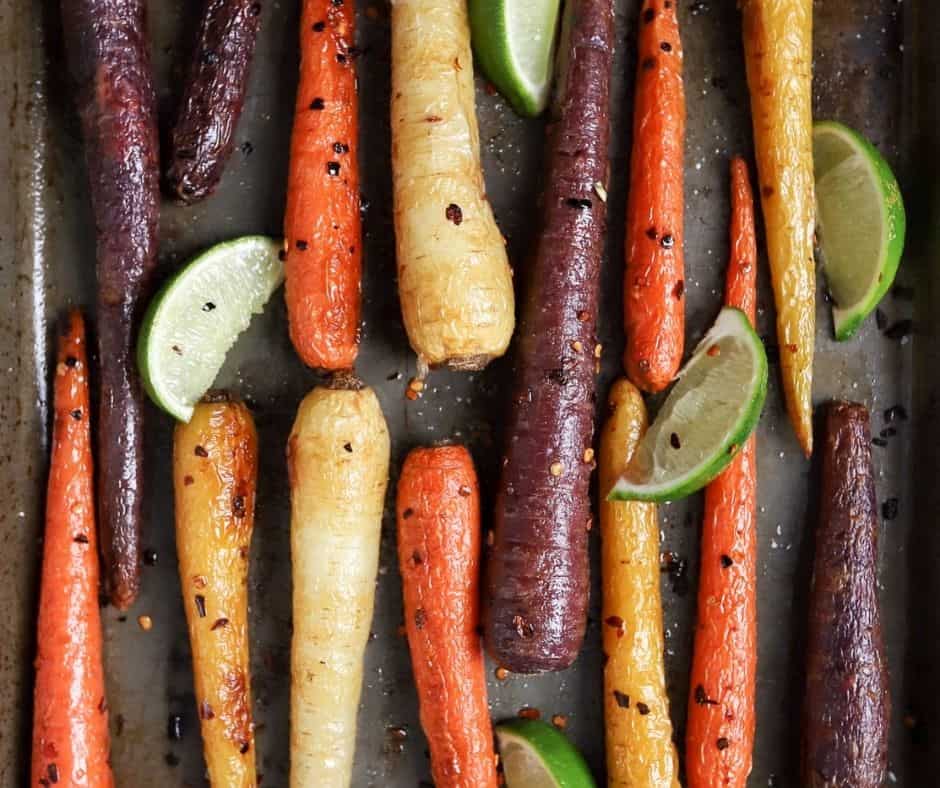 Want to wow your crowd? These low FODMAP chile-lime carrots have a bright, bold flavour that will leave your guests raving. Ready in 20 minutes, these roasted carrots will let you focus on your friends and family instead of your side dish.
Think these low FODMAP chile-lime carrots sound great, but you don't have time to try them now? Don't worry. You can PIN THIS POST for later.
Keep It FODMAP Friendly
If you're looking for a side dish that packs a punch, these low FODMAP chile-lime carrots are a keeper.
Fun fact! According to Monash University, carrots don't have any FODMAPs. So, you can have as many chile-lime carrots as you want without adding to your FODMAP load.
Pick Your Headliner
These low FODMAP chile-lime carrots are packed with flavour, so try adding them to a mellow dish like my FODMAP friendly seasoned chicken to add a bold pop of flavour.
You can also serve them with savoury red meat dishes like pot roast. They'll add a fun splash of colour and fit right in with the rest of your root vegetables.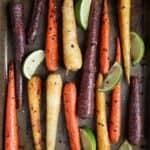 Low FODMAP Chile-Lime Carrots
Looking for a twist on a standard side dish? Try these chile-lime roasted carrots. With a hint of lime and a pop of heat, this side dish will be the talk of your table.
What You Need
10-12

md

sized carrots

(trimmed)

1

tsp

olive oil

1/4

tsp

crushed red pepper

1/8

tsp

kosher salt

2

lime wedges
What You Do
Preheat oven to 500 degrees.

Place your carrots on a baking sheet and drizzle with olive oil. Sprinkle red pepper over carrots and then gently roll the carrots to coat them in oil. Bake for 15 minutes (stirring at the 10-minute mark so they cook evenly).


Once cooked, plate the carrots and sprinkle them with salt. Serve immediately with a wedge of lime.
You might also like one of these side dish ideas:
Low FODMAP Seasoned Carrots Looking for a tasty side dish without any FODMAPs? These simple seasoned carrots are the perfect sidekick for any meat and potatoes dish!
Low FODMAP Avocado & Asiago Salad Looking for a healthy lunch you can eat on the go? This quick and easy low FODMAP avocado and asiago salad will be the envy of your lunch table!
Low FODMAP Roasted Oyster Mushrooms Craving something savoury? Packed with the deep, umami flavour you love, these roasted oyster mushrooms will be a new fan favourite at your dinner table!
If you like this post, don't forget to share it! Together we'll get the low FODMAP diet down to a science!