Have you been wondering if you can have alcohol on the Low FODMAP Diet? According to Monash University, gin is low FODMAP. So, let me introduce you to this low FODMAP twisted tom collins! With a bright, fruity flavour and a pop of festive colour, this low FODMAP cocktail will be the highlight of your holiday. Cheers!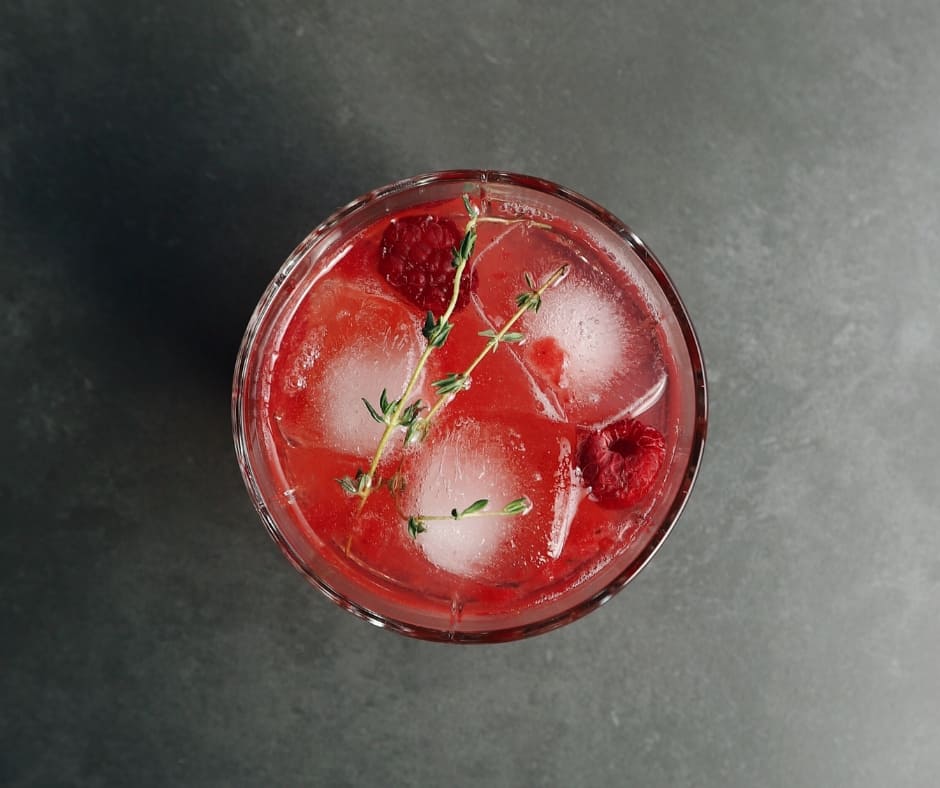 I didn't fall in love with gin until I met a friend with some mad bartending skills. Apparently, the problem was user error. Oops, my bad.
For a little context, gin is made from juniper berries. This means, when you mix it correctly, i.e. not just with soda, you can coax out a deep and fruity taste. This twisted tom collins is made with thyme-infused simple syrup and muddled raspberries. Trust me, they're a match made in heaven!
Are you 100% positive gin's not your thing? No worries! This recipe also makes an amazing mocktail!
Think this low FODMAP twisted Tom Collins sounds great, but you don't have time to try it now? Don't worry, you can PIN THIS POST for later!
Keep It FODMAP Friendly
Looking for a low FODMAP cocktail that will rock your socks? This low FODMAP twisted tom collins will bring a little festive cheer to your holiday! Check out the notes below for tips on keeping this recipe FODMAP friendly!
The first twist in this twisted Tom Collins is thyme-infused simple syrup. Simple syrup is just table sugar (sucrose) dissolved in boiling water. Since table sugar is low FODMAP (because the fructose and glucose are present in equal amounts) there are no FODMAPs here.
This recipe also uses a few sprigs of fresh thyme. According to the Monash app, thyme is low FODMAP in servings of 1 cup. However, they don't mention a maximum serving. We use 16 sprigs for 12 servings, so you'll be well within the recommended range.
We'll also be using raspberries. These add spectacular colour and a deep fruity flavour to our Tom Collins recipe. Monash University has said raspberries are safe in servings of up to 30 berries per serving (60 g). This works out to about 1/4 cup. Servings of 65 g or more are high in the FODMAP fructan, so measure carefully.
Our recipe uses 3 cups of raspberries total, which works out to 1/4 cup per serving. This is within the recommended range.
FODMAP math
You are what you eat! Check out the notes below to see how many servings of each FODMAP group are in one cup of this recipe.
Fructose = 0
Lactose = 0
Fructan = 0.4
GOS = 0
Polyol = 0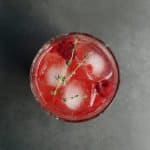 Low FODMAP Twisted Tom Collins
Looking for a FODMAP-friendly cocktail this holiday season? Try this low FODMAP twisted tom collins! With a deep, fruity flavour and a pop of festive colour, this drink makes the perfect cocktail or mocktail.
What You Need
Thyme Infused Simple Syrup
1

cup

sugar

1

cup

water

4

sprigs

fresh thyme
Twisted Tom Collins
3

cups

raspberries

(thaw if frozen)

1.25

cup

thyme simple syrup

(divided)

3

cups

ice cubes

8

cups

sparkling water

1.25

cups

gin

1

cup

fresh lime juice

12

sprigs

fresh thyme
What You Do
Time Infused Simple Syrup
Mix water, sugar, and fresh thyme in a medium saucepan. Stir until the sugar dissolves and then bring to a boil. Remove pan from heat and let the syrup stand for 20 minutes. Remove the thyme sprigs from the syrup, then chill for an additional 30 minutes.
Twisted Tom Collins
Place 2.5 cups of raspberries in a bowl with 1/4 quarter cup of simple syrup. Mash your raspberries into a pulp with a muddler or the handle of a wooden spoon. Then, strain the mush through a fine-mesh sieve directly into the pitcher. Press the raspberries with a spatula to help get the juice out. Discard the raspberry pulp.

Add your ice cubes to the pitcher. Then add the club soda, gin, lime juice, and 12 sprigs of time. Serve cold with remaining raspberries.
Notes
This Twisted Tom Collins also makes a great mocktail. Just leave out the gin to enjoy it's fresh, fruity taste. 
You might also like one of these:
Low FODMAP Holiday Spirits Don't let the Low FODMAP Diet put a kink in your holiday plans! Raise a glass with one of these low FODMAP holiday spirits!
Fully Loaded Low FODMAP Nachos Whether you're looking for an appetizer or a dinner idea for the big game, these nachos are sure to please!
How to Survive the Holidays with IBS The holidays can be tough for IBS patients. Check out these tips on keeping your symptoms in check this holiday season.
If you like this post, don't forget to share it! Together we'll get the low FODMAP diet down to a science!