Looking for a savoury plant-powered dinner idea? This easy low FODMAP vegetable pie is the ultimate comfort food and will be a family favourite in no time!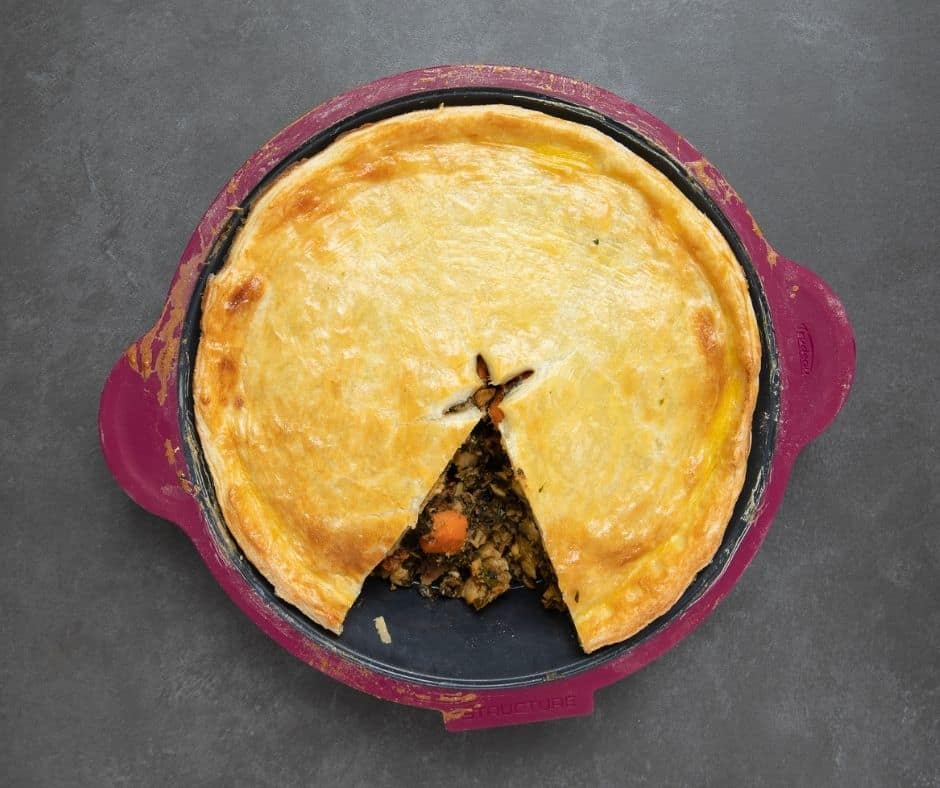 This post may contain affiliate links. That means if you make a purcahse using one of the links on this page I may receive a small comission. I only promote products I use in my own kitchen. You can read more about my affiliations
here
.
---
This holiday season is feeling a little non-traditional! So I've been branching out from our usual winter traditions to add some tasty new recipes to our repertoire!
A few of my plant-powered peeps mentioned they were looking for some fun holiday recipes and this low FODMAP vegetable pot pie seemed like the perfect fit!
This veggie pie is packed with delicious, savoury spices and a hearty filling that will keep you warm all winter long!
The best part is that this pie is made with leftover veggies! So you can put all those bits and bobs from last nights dinner to very delicious use!
If you don't have any pre-cooked veggies handy, I've included instructions on how to roast your vegetables in the recipe instructions. While you can use any starchy vegetables you like, don't forget to adjust your FODMAP math if you make a swap!
Keep it FODMAP friendly
Warm up your insides with this simple and savoury low FODMAP vegetable pie! Check out the notes below for tips on keeping this recipe FODMAP friendly!
First up on the FODMAP food list is low FODMAP puff pastry. If you're in the elimination phase of the low FODMAP diet, you'll need to use gluten-free puff pastry. Remember, unless you have celiac disease, you're avoiding the FODMAP fructan, not gluten itself.
Next up, red chillies! According to Monash University, red chillies are low FODMAP in servings of 1 11cm chilli (11 g) per sitting. Servings of 1 + 1/4 chillies (35 g) or more are high in the FODMAP fructan.
We'll be using 2 fresh chillies for our vegetable pie, which works out to 10 g per serving. This is within the recommended range.
Spicy foods not your thing? Don't worry! After baking, these chillies will be defanged! If you're looking for a little extra spice, throw the chillies into your blender whole (well, maybe without the stem).
We'll also be using garlic-infused oil rather than olive oil. Did the hair on the back of your neck just stand up? Don't panic! FODMAPs are water soluble, meaning the bonds that hold them together break down in water, unleashing a mess of FODMAPs into your food.
But FODMAPs don't break down in fats. So you can safely infuse high FODMAP flavours like onion and oil into fats like butter and oil, as long as you strain out all of the high FODMAP pieces. You can learn more about infusing high FODMAP flavours here.
Next up, leeks. According to Monash University, the green leaves of a leek are low FODMAP in servings of 3/4 cup (54 g) per sitting. Servings of 1 cup (75 g) or more are high in the FODMAP mannitol.
We'll be using 1 cup of leeks total, which works out to 13 g per sitting. This is well within Monash's recommended range.
Last but not least, frozen spinach. According to Monash, spinach is low FODMAP in servings of 1.5 cups (75 g) per sitting. Servings of 150 g or more are high in the FODMAP fructan.
We'll be using 400 g of frozen spinach, which works out to 67 g per sitting. This is within Monash's recommended range.
The rest of the ingredients won't add anything notable to your FODMAP load, so you're good to go.
FODMAP math
Wondering how this veggie-friendly pie stacks up? Check out the notes below to see how many servings of each FODMAP group are in 1/6 of this recipe.
Fructose = 0
Lactose = 0
Fructan = 1.2
GOS = 0
Polyol = 0.2 (mannitol)
Want to try this tasty recipe? Don't forget to save it for later!
Print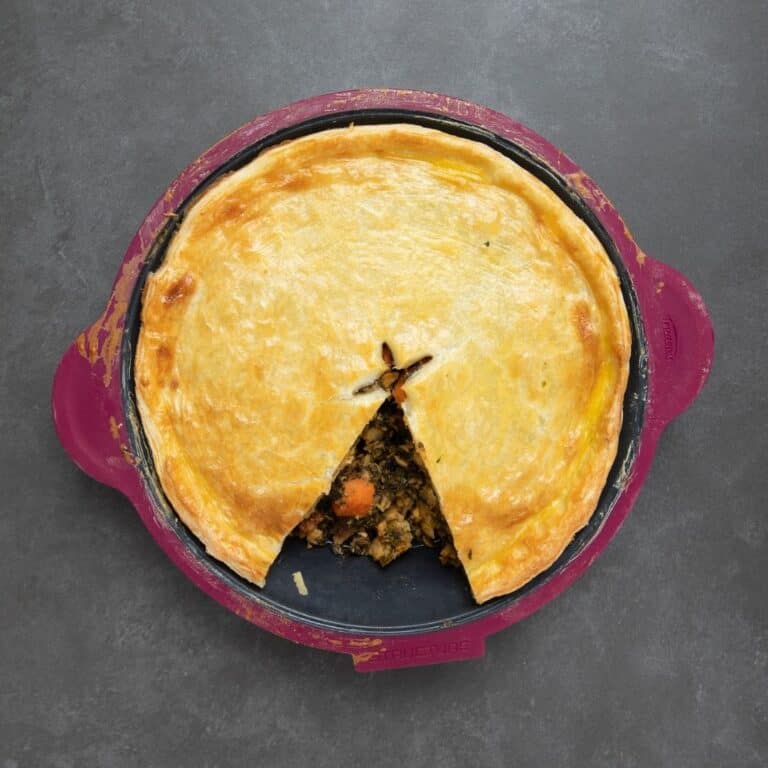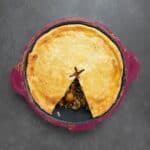 Low FODMAP Vegetable Pie
---
Author:

Amy Agur

Total Time:

1 hr 10 min

Yield:

6

servings

1

x
Description
Brace your taste buds for this savoury low FODMAP vegetable pie!
---
(Rogan Josh Curry Paste)
2 tsp

cumin seeds

2 tsp

coriander seeds

1 tsp

fennel seeds

1 tsp

whole black peppercorns

2

cm fresh ginger, chopped

1

+1/2 tbsp paprika

1/2 tsp

chilli powder

2 tbsp

peanut oil

2 tbsp

tomato paste

2

fresh red chillies, seeded

1

bunch fresh coriander, roughly chopped
(Vegetable Pie)
1 tbsp

garlic-infused oil

1 cup

leeks, chopped

1

+1/2 tbsp rogan josh paste

1 tsp

cumin seeds

1/2 tsp

dried chilli flakes

1 tbsp

tomato paste

400 g

frozen spinach

3/4 cup

low FODMAP vegetable stock

1 cup

chopped carrots, cooked

1 cup

chopped parsnips, cooked

1 cup

chopped mini potatoes, cooked

3/4 cup

sharp cheddar cheese, grated (optional)
gluten-free pastry, thawed

1

egg for wash (or

1

–

2

tbsp coconut oil)
---
Instructions
(Rogan Josh Curry Paste)
Heat up a dry frying pan over medium heat. Pop the cumin, coriander, fennel seeds, and peppercorns into the pan and toast them until you can smell them (about 1-2 minutes). Transfer the seeds to a small food processer or blender and let them cool for 5 minutes. 
Once the seeds are cool, grind them into a fine powder. Then add the ginger and blend until the seeds form a paste. Pop in the rest of the ingredients and blend until the paste becomes smooth. 
(Vegetable Pie)
Preheat your oven to 350℉.
Heat up your oil in a large frying pan. Then add the leeks, rogan josh paste, cumin seeds, and chilli flakes. Cook until the leeks are tender (about 5 minutes). Then stir in the tomato paste and cook for 1 more minute. 
Add the spinach and the vegetable stock and cook for 5 minutes to allow some of the broth to simmer off. Remove the pan from the burner. 
Mash the cooked vegetables in a separate bowl, then stir them into the frying pan and add salt and pepper to taste. Add the cheese (optional) and stir one more time to combine. Pop the filling into a pie baking dish and spread it out evenly using the back of a spoon. 
Roll out your pastry dough on a lightly floured surface to about 1/4 inch thick. 
Gently whisk the egg in a small bowl and brush it around the edges of the pie dish. Place the pastry dough over the pie and trim off any extra bits. Then pinch around the edges of the pie with your fingers to make an airtight seal. Brush the pastry with egg, then make an X in the center of the pie using a sharp knife or a clean razor.
Place the pie plate on a baking sheet and bake until the pastry is golden brown (about 30-35 minutes). At the 15 minute mark, brush the top of the pie with any remaining egg mixture. Serve warm. 
Notes
Recommended low FODMAP serving – 1/6 pie per sitting 
If you don't have leftover veggies on hand, pop your veggies baking sheet and toss them with oil. Bake at 350℉ for 45 minutes. 
Prep Time:

40 min

Cook Time:

30 min

Category:

Dinner

Method:

baking
Nutrition
Serving Size:

1/6 of pie

Calories:

452

Sugar:

8 g

Sodium:

2 g

Fat:

31 g

Saturated Fat:

9 g

Unsaturated Fat:

19 g

Trans Fat:

0 g

Carbohydrates:

54.3 g

Fiber:

6 g

Protein:

14.1 g

Cholesterol:

60 mg
Keywords: low FODMAP vegetable pie, low FODMAP vegetarian pie, gluten-free vegetable pie, Christmas vegetable pie, Thanksgiving vegetable pie
You might also like one of these:
Low FODMAP Roasted Vegetables Add a fresh pop of colour to any meal with these quick and easy low FODMAP roasted vegetables!
Low FODMAP Shepherd's Pie Looking for a rich, savoury dinner idea to keep you warm this season? With a little Franken-FODMAPing, this low FODMAP shepherd's pie is ready to take its rightful place at your winter table!
Low FODMAP Vegetable Broth Need help finding a low FODMAP vegetable broth? This recipe has no detectable FODMAPs, so you can easily add a fresh pop of flavour to all your favourite dishes!
If you like this post, don't forget to share it! Follow me on Instagram @fodmapformula for more FODMAP friendly recipes. Together we'll get the low FODMAP diet down to a science!