Looking for some serious comfort food you can make in a flash! These easy low FODMAP chicken quesadillas will hit the spot!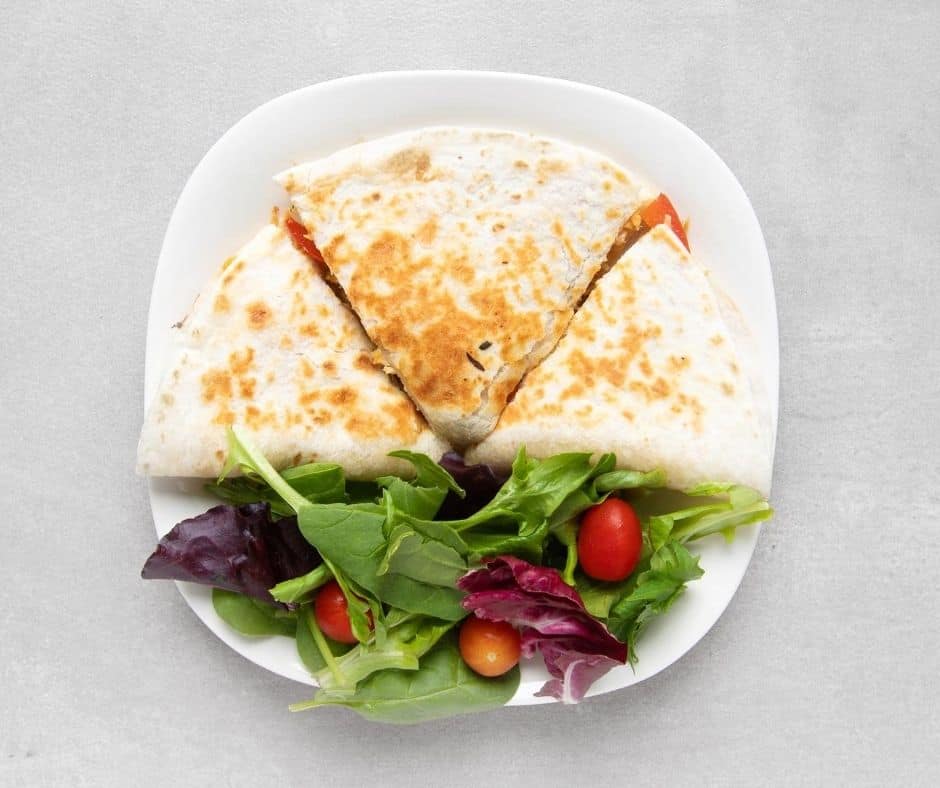 This is the first summer my husband has ever been home with us. And while I'm definitely enjoying a much shorter honey-do list than usual, it's mostly been really weird!
One definite perk, though, is that we've been getting a ton of use out of our smoker! A few weeks ago, my husband announced he was going to smoke us a beer butt chicken. I had heard of it before, but I wasn't 100% sold on shoving a can of beer up something's but as a cooking method.
Anyways, once I got over the terror of pulling a beer can out of my dinner's butt (I made a really big mess, so that's gonna need some work), we sat down to a phenomenal dinner of shredded chicken tacos. We can talk about those later!
The next day, we had a ton of shredded chicken left and my husband suggested quesadillas. We grabbed a leek out of the fridge, popped on some shredded cheese and I took a one-way trip back to my childhood.
They were so gooey and tasty and comforting I made my husband go buy us another chicken so I could take pictures for all of you! Because these super easy chicken quesadillas are definitely something you want in your low FODMAP repertoire!
And don't worry if you don't have a smoker! This will work with any smoked or rotisserie style chicken. Just make sure to check the ingredients for sneaky FODMAPs before you buy!
Keep it FODMAP friendly
These classic low FODMAP chicken quesadillas will rock your socks! Check out the notes below for tips on keeping this recipe FODMAP friendly!
First up, chicken. Since chicken is a protein, it doesn't have any FODMAPs (unless you add them). We'll be using pre-cooked (or left-over) chicken, so make sure to check the label for sneaky FODMAPs if you're using pre-packaged chicken.
Next up, red bell peppers. While red peppers used to be listed as "eat freely" Monash has recently retested them and their new low FODMAP serving is quite low. Now red bell peppers are low FODMAP in servings of 1/3 of a cup (43 g) per sitting. Servings of 1/4 pepper (57 g) are moderately high in the FODMAP fructose.
We'll be using 1 cup of peppers total, which works out to 38 g per serving. This is well within Monash's new recommended range.
Monash recently updated the low FODMAP serving of green leek leaves as well. The recommended low FODMAP serving has been raised to 1 cup per sitting. Monash hasn't specified an upper range and has removed the FODMAP group designation from the app. They have explained on their blog that foods with no listed limits can be eaten in large servings, so this won't add anything notable to your FODMAP load.
Next up, oyster mushrooms. While most mushrooms are high FODMAP, oyster mushrooms are special. According to the Monash app, oyster mushrooms are low FODMAP in servings of 1 cup (75 g) per sitting. Servings of 2.2 lbs or more are high in the polyols sorbitol and mannitol.
We'll be using 1 cup of mushrooms total, which works out to about 19 g per serving. This won't add anything notable to your FODMAP load.
We'll also be using cheddar cheese. Hard cheeses like cheddar only have trace amounts of FODMAPs per serving. This is because some of the FODMAPs are removed when the curd and whey are separated and some are eaten by buggies during the fermentation process (thanks friends!).
Either way, the cheese in this recipe won't add anything to your FODMAP load.
Last but not least, wraps. Monash has FINALLY tested wheat tortillas/wraps and has determined that 1 wheat tortilla/wrap (35 g) is low FODMAP. Servings of 1 + 1/4 wraps are high in the FODMAP fructan and should be avoided.
The remaining ingredients won't add anything notable to your FODMAP load.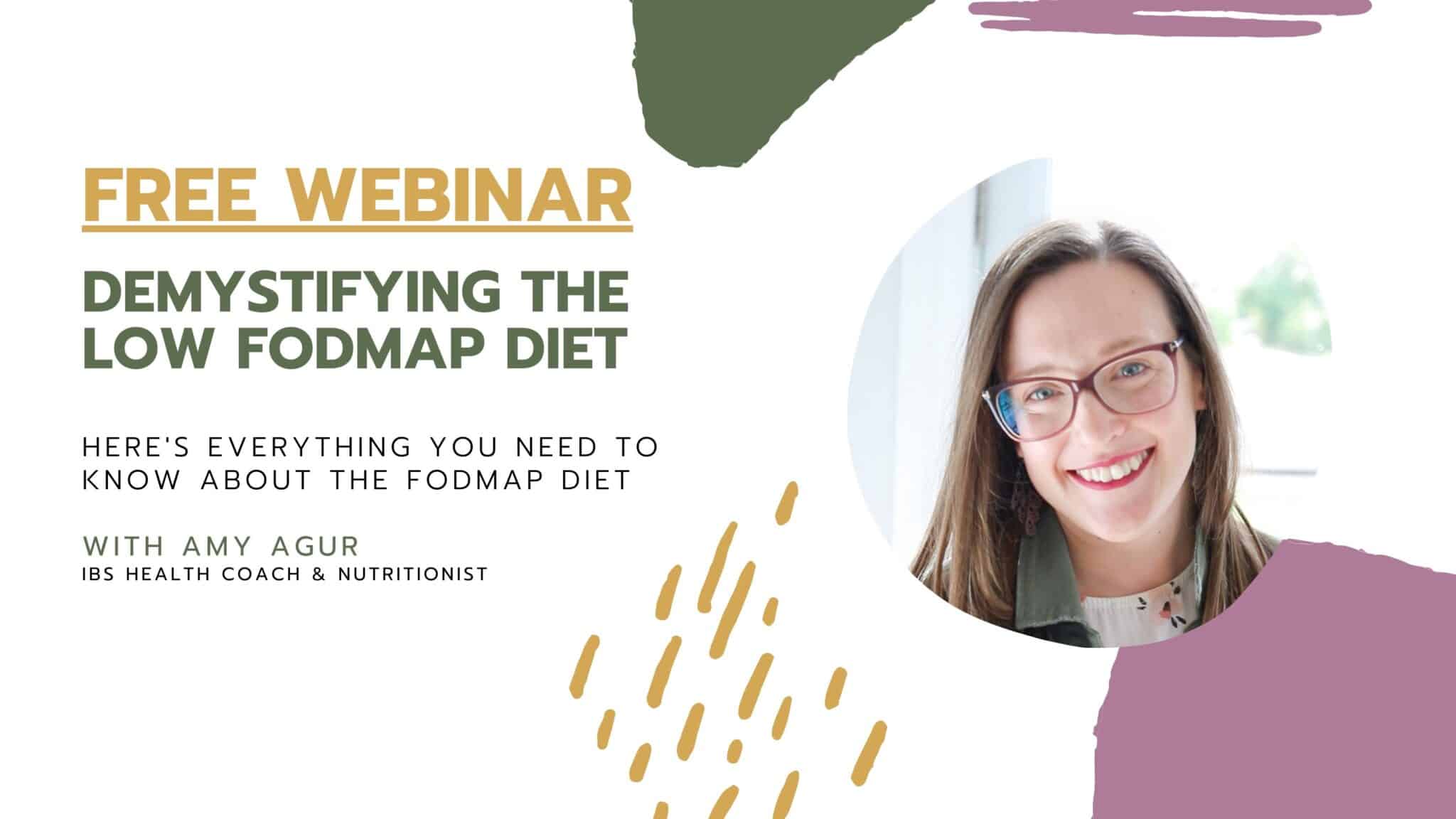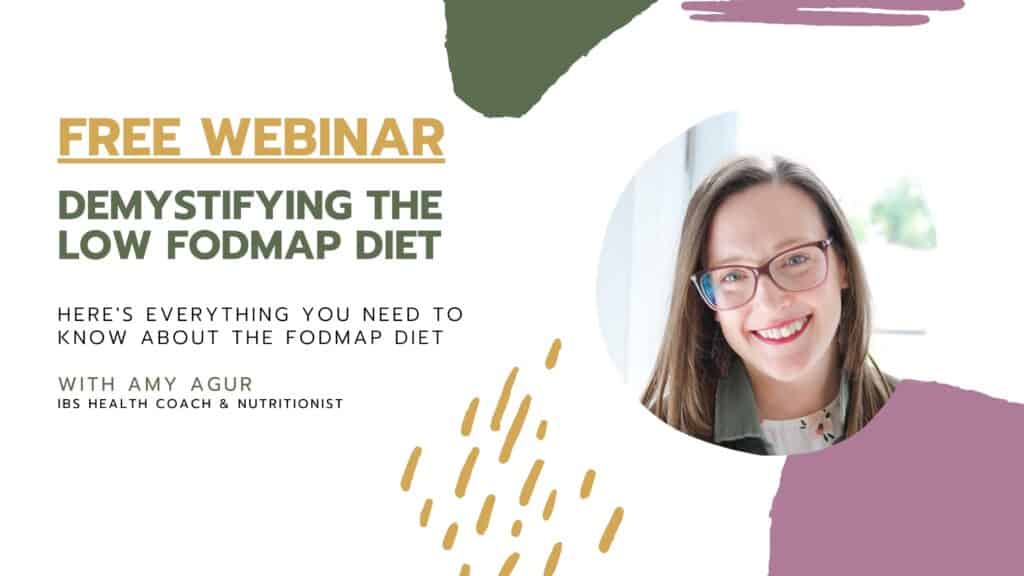 FODMAP math
Wondering how these savoury low FODMAP chicken quesadillas stack up? Check out the notes below to see how many servings of each FODMAP group are in one of these quesadillas!
Fructose = 1
Lactose = 0
Fructan = 1
GOS = 0
Polyol = 0
Want to try this tasty recipe? Don't forget to save it for later!
Print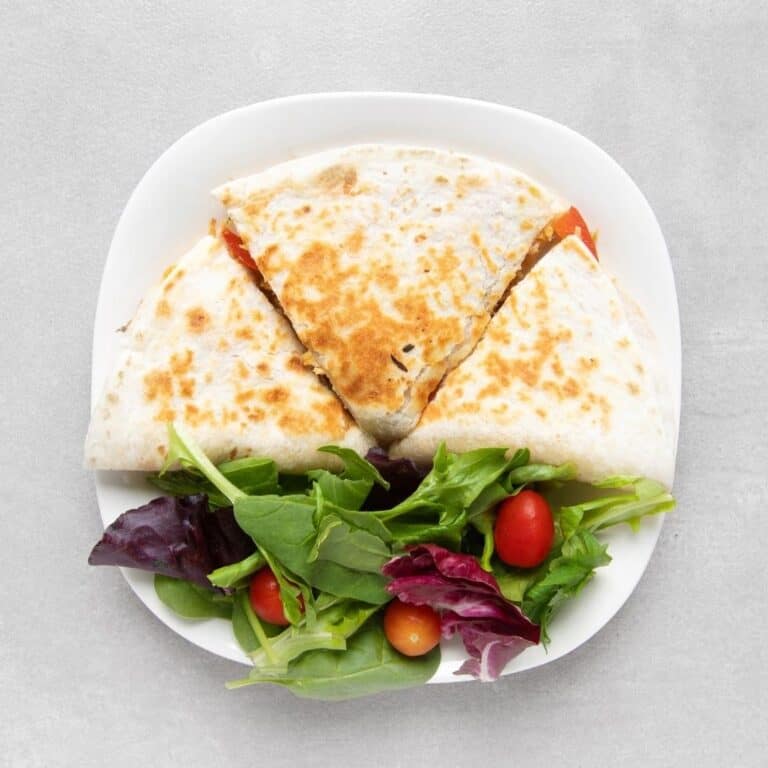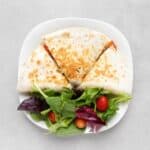 Low FODMAP Chicken Quesadillas
---
Author:

Amy Agur

Total Time:

20 minutes

Yield:

4

quesadillas

1

x

Diet:

Gluten Free
Description
Looking for a quick and easy lunch idea? These tasty low FODMAP quesadillas will be a family favourite in no time!
---
2 tsp

olive oil

1 cup

red pepper, thinly sliced

2/3 cup

leek – green part only, thinly sliced

1 cup

oyster mushrooms, chopped

2 cups

smoked or rotisserie chicken, shredded

1 cup

cheddar cheese, shredded

4

tortillas
---
Instructions
Heat a large frying pan over medium heat. Add the red pepper, leeks, and mushrooms to the pan and cook until the veggies are tender. Add the shredded chicken and cook until the chicken is warmed through. Transfer mixture to plate.
Depending on the size of your frying pan, add 1-2 wraps to your pan. Place a small amount of shredded cheese on half of each wrap. Heap a few spoonfuls of the pepper/chicken mixture on top of the cheese, followed by another small sprinkling of cheese. Then fold your wrap in half. 
When the underside of your tortilla is a golden brown, flip over the wraps to toast the other side. When all the cheese has melted and the wrap is toasty, transfer the quesadilla to a plate and cut into thirds. Repeat with the remaining wraps. Serve warm. 
Notes
Recommended low FODMAP serving – 1 quesadilla per sitting. 
Monash recently updated the low FODMAP serving size for red bell peppers. This recipe has been adjusted to be compliant with their new recommendations. 
Prep Time:

10

Cook Time:

10

Category:

lunch, dinner

Method:

stovetop, pan fried

Cuisine:

Mexican, Tex Mex
Keywords: Low FODMAP Quesadilla, Low FODMAP Chicken Quesadilla, Low FODMAP Smoked Chicken Quesadilla
You might also like one of these:
Low FODMAP Pulled Pork Looking for some FODMAP-friendly comfort food? Made in the slow cooker and slathered in homemade BBQ sauce, this low FODMAP pulled pork will cure any comfort food craving!
Low FODMAP Grilled Cheese Sandwich Looking for a classic lunch idea? Brace your taste buds, friend! This grilled cheese sandwich is so good you'll forget it's low FODMAP!
Low FODMAP Chicken Caesar Wrap Looking for a tasty lunch that travels? Whether you're crushing it at work or having a quiet lunch at home, this chicken caesar wrap will make lunch a little easier!
If you like this post don't forget to share it! Follow me on YouTube @flipyourleaf for a ton of videos on understanding FODMAPs, IBS mechanics, and how to feel safe in your body. Together we'll get the low FODMAP diet down to a science!