This easy low FODMAP shawarma plate will be a welcome addition to any dinner table! Packed with healthy fibre and flavour, it's sure to be a family favourite!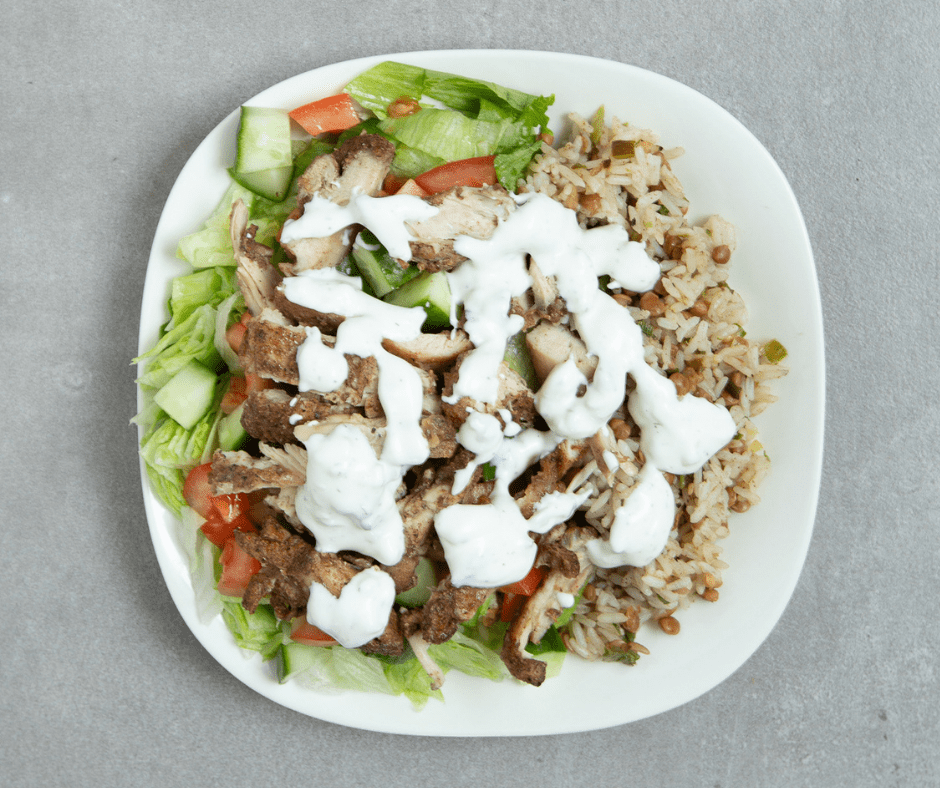 Keep it friendly
Seasoned with homemade shawarma spice and a whole lot of love, this simple chicken shawarma plate is about to be the star of your dinner table!
First up, chicken thighs. The low FODMAP diet is about managing specific sugars (carbohydrates). Since chicken is a protein, it doesn't have any FODMAPs (unless you add them through seasonings or marinades). So this won't add anything to your FODMAP load.
Next up, plain yogurt. If you're in the elimination or re-challenge phase, you need to use lactose-free yogurt. Make sure to check the ingredient list for sneaky high-FODMAP ingredients like inulin as well.
We'll also be using honey. Don't panic! According to the Monash app, honey is low FODMAP in servings of 1 tsp (7 g) per sitting. Servings of 1/2 a tbsp (14 g) or more are high in the FODMAP fructose.
Our recipe calls for 1/2 a tsp, total. This works out to 3.5 g per serving which is well below Monash's recommended range.
Next up, leeks. Monash recently updated the low FODMAP serving of leek leaves (the really green part of the leek) from 3/4 cups to 1 cup (100 g) per sitting. The app also no longer lists a maximum serving size, which means this ingredient won't contribute anything notable to your FODMAP load as long as you stick to the leaves.
Last but not least, canned lentils. According to the Monash app, canned lentils are low FODMAP in servings of 1/4 cup (46 g) per sitting. Servings of 65 g or more are high in the FODMAP GOS, while servings of 77 g or more are high in the FODMAPs GOS and Fructan.
We'll be using 1/2 a cup of lentils total, which works out to 23 g per serving. This is well within Monash's range.
Heads up, canned lentils have a different low FODMAP serving size than lentils prepared at home. This is because FODMAPs are water-soluble (meaning that the bonds that hold them together break apart in water).
While there is some breakdown happening when you boil down your lentils at home, it's not exactly the same as letting your beans stew on a shelf. For the best results, make sure to drain and rinse your canned lentils thoroughly to wash off as many FODMAPs as possible.
The rest of the ingredients won't add anything notable to your FODMAP load.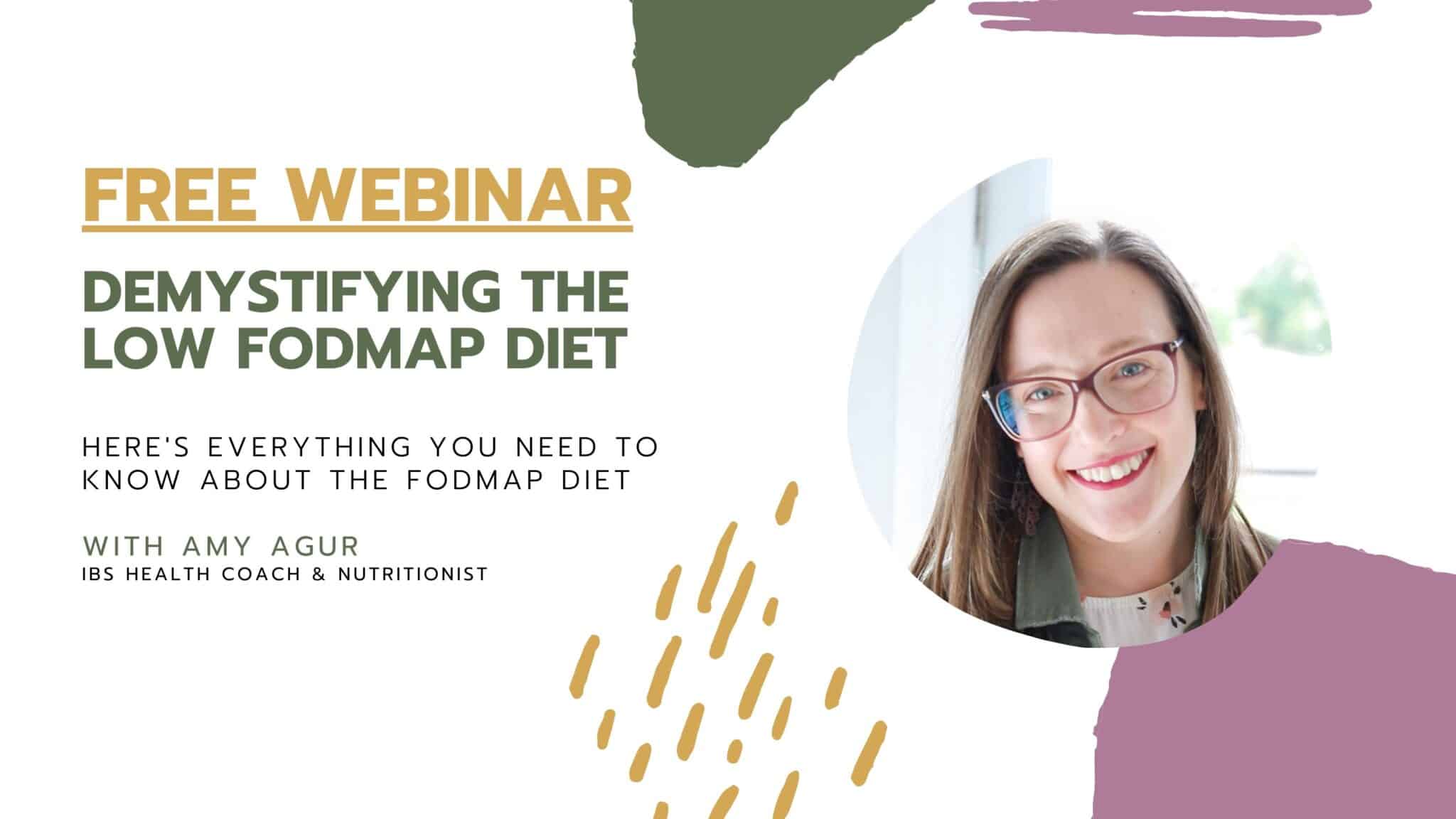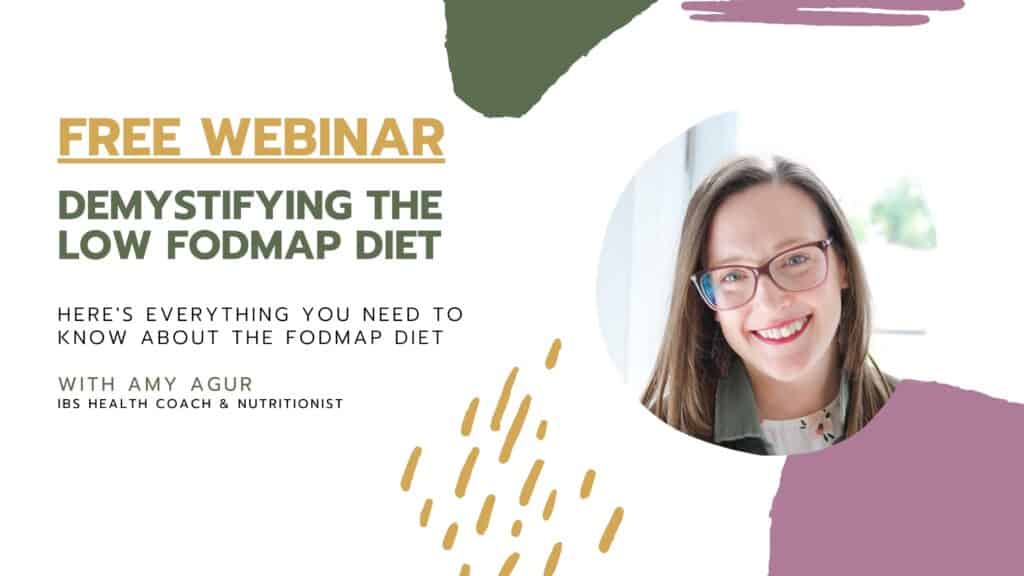 FODMAP math
This savoury low FODMAP shawarma plate is about to rock your socks! Check out the notes below to see how many servings of each FODMAP group are in one serving of this tasty recipe.
Fructose – 0.5
Lactose – 0
Fructan – 0
GOS – 0.5
Polyol – 0
Print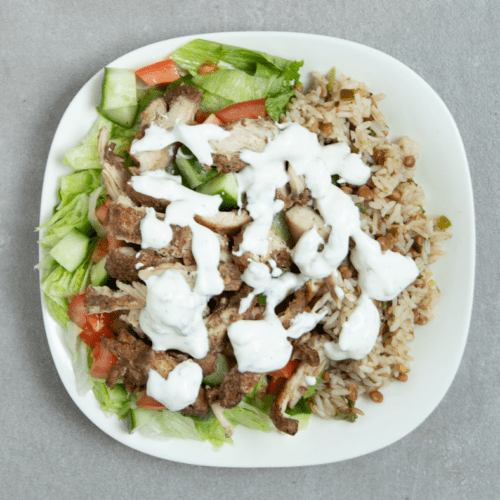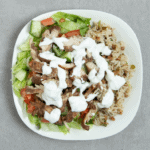 Low FODMAP Shawarma Plate
---
Author:

Amy Agur

Total Time:

50 min

Yield:

4

servings

1

x

Diet:

Gluten Free
Description
Packed with savoury flavour, this low FODMAP chicken shawarma plate will have a permanent place on your weekly menu!
---
Shawarma Chicken
1/2 tsp

ground cumin

1/2 tsp

ground ginger

1/2 tsp

salt

1/4 tsp

freshly ground pepper

1/4 tsp

ground cinnamon

1/4 tsp

ground coriander

1/4 tsp

cayenne

1/4 tsp

ground allspice
pinch nutmeg

1

lb boneless, skinless chicken thighs

2 tbsp

vegetable oil
Yogurt Sauce
1/2 cup

lactose-free plain yogurt

1 tbsp

fresh lemon juice

1/2 tsp

dried dill

1/2 tsp

honey
Mujadara Rice
2

bay leaves

1 tbsp

ground cumin

1 tsp

salt
freshly ground pepper to taste

2

+

1/4 cups

water

2 cups

brown basmati rice

1 cup

leeks – green part only, diced

2 tbsp

vegetable oil

1/2 cup

canned lentils, drained
---
Instructions
Shawarma Chicken
Preheat your oven to 450 ℉ and line a baking sheet with parchment paper.
Combine the shawarma spices in a small dish. Add the chicken thighs to a large bowl and season with 1 tbsp of the shawarma spice. Toss to coat evenly. 
Heat a large frying pan over medium heat. Heat up your vegetable oil and add the chicken thighs, browning on each side for 3 – 4 minutes. 
Transfer the chicken thighs to the prepared baking sheet and bake until cooked through (about 10 – 12 minutes). Slice into small pieces and serve with rice and a garden salad.  
Yogurt Sauce
Combine the yogurt, lemon juice, dill and honey in a small dish. Cover and refrigerate until ready to serve. 
Mujadara Rice
Add bay leaves, cumin, salt, and pepper to the water and bring to a boil. Add your rice and cook according to the package instructions. 
While the rice is cooking, heat a large frying pan over medium-low heat. Warm up your oil and add the leeks. Cook on medium-low heat until the leeks are tender and beginning to carmelize. Transfer them to a plate lined with paper towel. Sprinkle the onions with a little salt to make them crisp up as they cool down. 
Once the rice is cooked, stir in the rinsed lentils and the carmelized leeks and cover the pot with a tea towel and replace the lid. Let the rice sit for 10 more minutes. Fluff with a fork and serve warm. 
Notes
Recommended low FODMAP serving – 1/4 shawarma, 1/2 cup rice, and 2 tbsp yogurt sauce per sitting.
You can speed up the rice by preparing it in a rice cooker. Just add the spices, water, and rice and cook according to your rice cookers instructions, then continue with the remaining steps.
Prep Time:

20 min

Cook Time:

30 min

Category:

lunch, dinner
Keywords: low FODMAP shawarma, low FODMAP chicken shawarma, low FODMAP shawarma plate, gluten-free shawarma plate
You might also like one of these dinner ideas:
Low FODMAP Grilled Chicken with Mustard and Dill Looking for a show-stopping dinner idea that takes almost no effort? This easy grilled chicken will be a weeknight favourite in no time!
Low FODMAP Sesame Beef Stir-Fry Looking for a tasty dinner you can make in a flash? This quick and easy low FODMAP sesame beef stir-fry is the perfect way to shake up your dinner routine!
Low FODMAP Chicken Souvkali Looking for a healthy lunch that travels? Packed with veggies and a fresh pop of lemon, this quick and easy low FODMAP chicken souvlaki will be the talk of your lunch table!
If you like this post don't forget to share it! Follow me on YouTube @flipyourleaf for a ton of videos on understanding FODMAPs, IBS mechanics, and how to feel safe in your body. Together we'll get the low FODMAP diet down to a science!