Looking for a FODMAP friendly caffeine fix? Check out this low FODMAP mocha macchiato. Made with coconut milk, espresso, and of course, a little chocolate, your afternoon pick-me-up just got a delicious FODMAP friendly twist.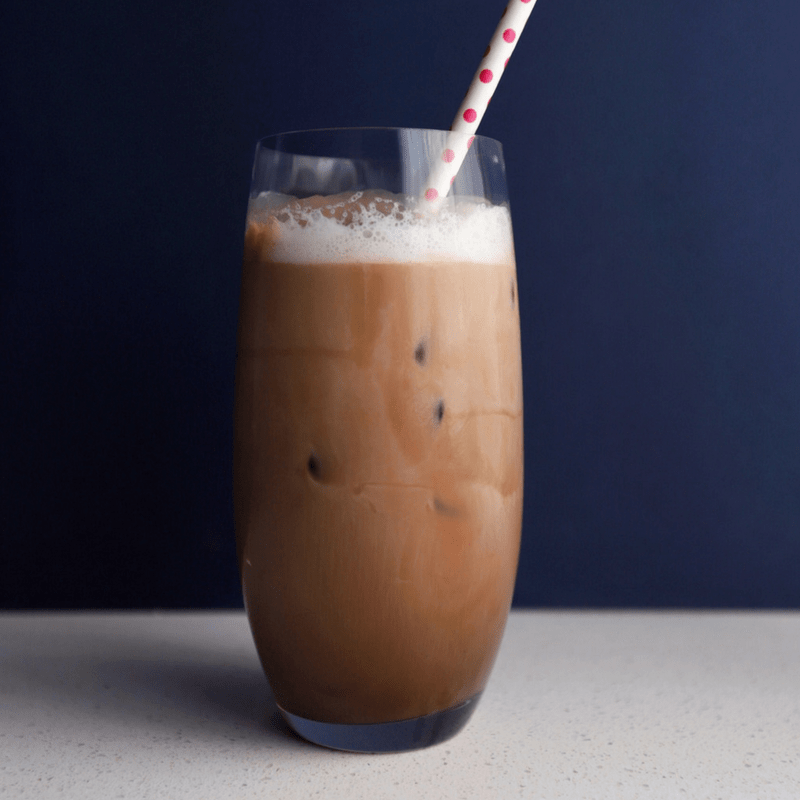 I have the taste buds of a 4-year-old, so I've only recently gotten into coffee. Since I still find the taste of coffee a little strong, I tend to stick to the latte side of the spectrum. It's no surprise then, that one of my first coffee favourites involved a teeny bit of coffee and a lot of chocolate.
I use coconut milk for this recipe because most milk alternatives don't agree with me. Depending on how much ice I use, 1/3 of a cup of coconut milk isn't always enough. So I normally top up my glass with lactose-free milk. You can also use almond milk if that's what you have on hand.
Think this low FODMAP mocha macchiato sounds great, but you don't have time to try it now? Don't worry. You can PIN THIS POST for later.
Keep It FODMAP Friendly
This FODMAP friendly twist on a mocha macchiato will curb your caffeine and your chocolate cravings. Check out the notes below for tips on keeping this recipe FODMAP friendly.
First up is espresso. According to Monash University, one serving of espresso is low FODMAP. Heads up, though, some people react to the acidity of the coffee, while others react to the caffeine. If you know you react to coffee, try switching to a decaf brand. If that doesn't work, you can also try a low-acid brand. If you want more information on how caffeine affects IBS check out this handy article by Monash University.
This recipe gets its creamy flavour from coconut milk. Monash University says coconut milk is safe in servings of 1/3 of a cup. Servings of 1/2 a cup or more are high in the FODMAP sorbitol, so make sure you measure carefully. If you need a top-up, you can use a little lactose-free milk.
Last but not least is chocolate syrup. For my Canadian peeps, I normally use PC's "No Name" chocolate syrup because it's low FODMAP and it comes in a huge container (yay!). Other brands like Nesquick may be low FODMAP, but maltodextrin hasn't been tested by Monash yet, so the jury's still out.
Whose Side Are You On?
If you're looking for a tasty sidekick for your mocha macchiato, try one of these low FODMAP chocolate cupcakes, a slice of FODMAP friendly banana loaf, or a fresh low FODMAP raspberry muffin.
Want to try this low FODMAP mocha macchiato? Don't forget to PIN THIS RECIPE for later!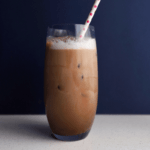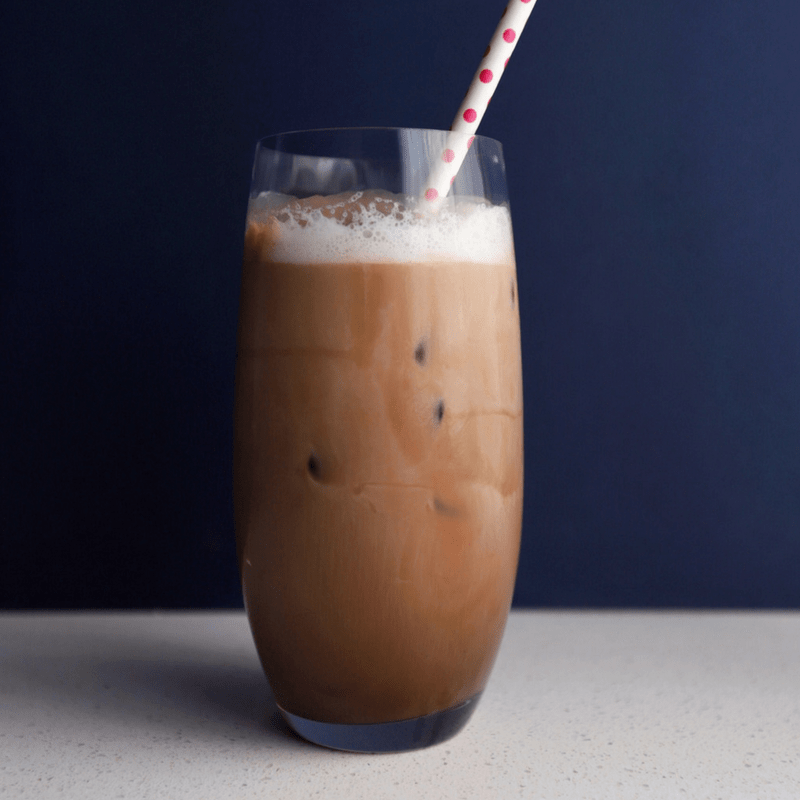 Low FODMAP Mocha Macchiato
Made with coconut milk, espresso, and chocolate syrup, this low FODMAP mocha macchiato will curb your caffeine and your chocolate cravings.
Course:
Breakfast, Drinks
What You Need
1

shot

espresso

(chilled)

3/4

cup

ice

1/3

cup

coconut milk

1/4

cup

lactose-free milk

1

tbsp

low FODMAP chocolate syrup
What You Do
Brew a shot of espresso and place it in the freezer in a plastic or metal container for 10 minutes to chill.

Fill your glass 3/4 full with ice. Add your coconut milk and top it up with lactose-free milk until you reach the level of the ice.

Remove your espresso from the freezer and mix in your chocolate sauce. Gently pour the espresso over the coconut milk. Serve chilled.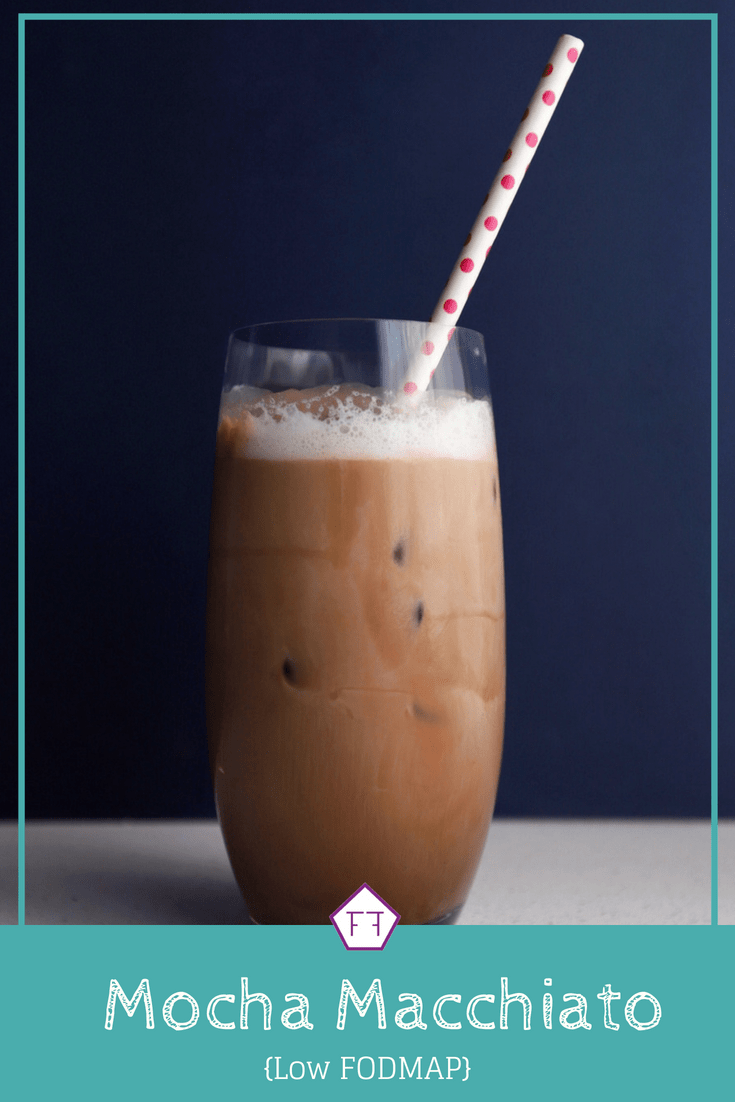 This low FODMAP mocha macchiato will put a FODMAP friendly twist on your afternoon pick-me-up. If you like this recipe, sign up for my mailing list below. You'll get new low FODMAP recipes and articles delivered right to your inbox.
Wondering what else is happening in The FODMAP Formula kitchen? Follow me on Instagram for bonus recipes and a sneak peek at my latest projects. Together we'll get the Low FODMAP Diet down to a science!
© 2018 Amy Agur – The FODMAP Formula