If you're looking for a tasty make-ahead breakfast, word on the street is that these low FODMAP strawberry tea biscuits are a breakfast made in heaven! With a fluffy texture and a pop of fresh strawberries, these tasty tea biscuits are the perfect breakfast on-the-go!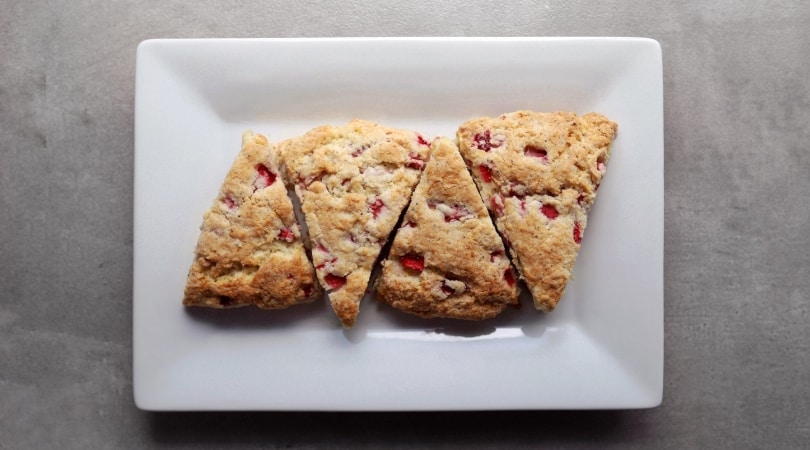 The first time I made these low FODMAP strawberry tea biscuits, I took them to an event my friend was hosting. I stuck them on the table and 10 minutes later they were gone! So, I'm not kidding when I say they come highly recommended.
I'm a tea biscuit nudist, so I tend to eat them plain. But if that's not you're thing, they also taste great with butter or a little strawberry jam. Also, tea biscuits aren't just for breakfast, friend. These tasty treats make an awesome snack if you need an afternoon pick-me-up at school or at work.
Think these low FODMAP strawberry tea biscuits sound great, but you don't have time to try them now? Don't worry, you can PIN THIS POST for later!
Keep It FODMAP Friendly
Looking for a quick and easy make-ahead breakfast idea? These low FODMAP strawberry tea biscuits are the perfect way to start your day! Check out the notes below for tips on keeping this recipe low FODMAP.
If you're in the elimination phase of the Low FODMAP Diet, you'll need to use gluten-free flour. For my Canadian peeps, I'm a huge fan of President's Choice all-purpose gluten-free flour. I like it because I can use it cup for cup and it doesn't have any gums.
You'll also need to use lactose-free cream. Both Natrel and Lactantia have lactose-free lines that go up to 35%. If you can't find a lactose-free cream in your area, you can get lactase drops from most drug stores. Stick them in regular cream and 24 hours later it will be lactose-free.
We'll also be using butter. Even though butter is technically a dairy product, you don't need a lactose-free product. Monash University has determined butter is low FODMAP (because it's all fat). Just double-check the ingredients for "milk solids" and you're good to go.
This recipe also uses strawberries and lemon zest. According to the Monash app, strawberries have no detectable FODMAPs. That means you can eat as many as you'd like without adding to your FODMAP load.
Lemon zest isn't in the Monash app, yet. But, Monash has several low FODMAP recipes on their official blog with 2 tbsp of lemon zest. This is the same amount we're using. If you're not comfortable using an ingredient that isn't in the app, leave it out until you've finished the re-challenge phase.
Last but not least, poppy seeds. According to the Monash app, poppy seeds are low FODMAP in servings of 2 tbsp per sitting. Monash doesn't specify a maximum serving size.
Our recipe uses 2 tsp of poppy seeds total. This is well within Monash's recommended range.
Want to try these low FODMAP strawberry tea biscuits? Don't forget to PIN THIS RECIPE for later!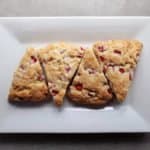 Low FODMAP Strawberry Tea Biscuits
Looking for a quick and easy make-ahead breakfast? These low FODMAP strawberry tea biscuits are the perfect sidekick for your busy morning!
What You Need
2

cups

gluten-free all-purpose flour

6

tbsp

sugar

2.5

tsp

baking powder

1/2

tsp

salt

2

tsp

poppy seeds

1

lemon

(zested)

1/2

cup

unsalted butter

(frozen)

1/2

cup

lactose-free cream

1

lg

egg

1

cup

strawberries

(chopped – if frozen, don't thaw)
What You Do
Preheat oven to 400 degrees and line a baking sheet with parchment paper. Set aside.

Mix the flour, sugar, baking powder, salt, and poppy seeds in a large bowl. Stir in the lemon zest, then quickly grate the butter into the flour mixture and stir to lightly coat in flour. Set aside.

In a separate bowl, whisk together the cream, egg, and vanilla. Drizzle the cream mixture over the flour mixture and gently mix together with a rubber spatula until the batter is just moist. Slowly fold in the strawberries (the batter may turn a little pink). Don't overwork the dough!

Work the dough into a ball. Turn it out onto your prepared baking sheet and press into an 8″ disc. Cut the disc into 8 wedges and bake for 20-25 minutes (until golden brown and cooked through). Let the scones cool down on a wire rack before serving.
You might also like one of these:
Low FODMAP Raspberry Muffins Looking for a FODMAP-friendly muffin recipe? These raspberry muffins are so light and fluffy, no one will guess they're low FODMAP!
Low FODMAP Strawberry Scuffins Looking for a freezer-friendly breakfast idea? These strawberry scuffins can be made in bulk and frozen for up to a month. So, you'll always have a tasty low FODMAP breakfast handy.
Low FODMAP Chive and Parmesan Scones Looking for a savoury breakfast idea? These quick and easy make-ahead scones are perfect as a breakfast on the go or an afternoon pick-me-up.
If you like this post, don't forget to share it! Together we'll get the low FODMAP diet down to a science!