Not everyone is born with a sweet tooth. If you're looking for a savoury breakfast idea, I've definitely got you covered! These low FODMAP chive and parmesan scones are easy to make and absolutely delicious! So, grab one tomorrow on your way out the door and have a FODMAP-friendly day.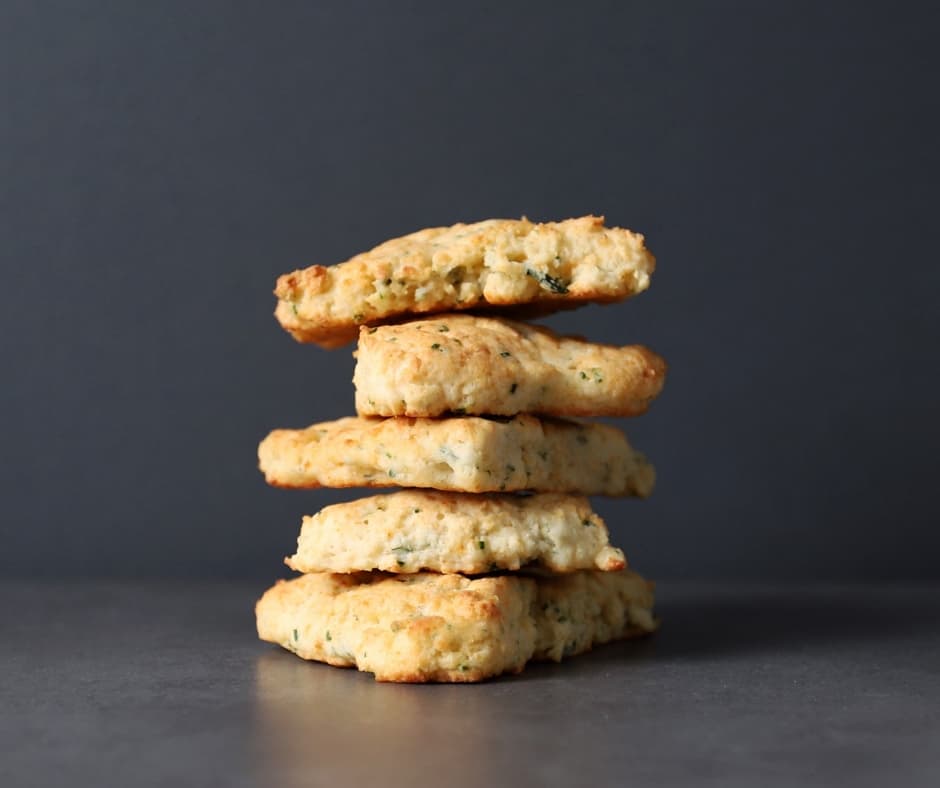 These low FODMAP chive and parmesan scones are a delicious way to start your day! Packed with chives and freshly grated parmesan, you really can't go wrong.
They're also ridiculously easy to make. So, I like to make them in bulk and pop them in the freezer. That way I always have something savoury kicking around when cravings hit.
These scones are perfect for breakfast on the go, but you can also have them as an afternoon snack. Or, even as a savoury low FODMAP biscuit with your dinner. Make sure to come back and let me know how you use them in the comments below!
Think these low FODMAP chive and parmesan scones sound great, but you don't have time to try them now? Don't worry. You can PIN THIS POST for later!
Keep It FODMAP Friendly
These low FODMAP chive and parmesan scones are an easy way to start your busy day! Check out the notes below for tips on keeping this recipe FODMAP friendly.
First up, is buttermilk. If you're in the elimination phase of the Low FODMAP Diet, you'll need to use a lactose-free product. I normally make my own using lactose-free milk and lemon juice. I've included instructions in the recipe, below.
Next up is flour. If you're in the elimination phase, you'll need to use gluten-free flour. For my Canadian peeps, I normally use President's Choice all-purpose gluten-free flour. I like it because I can use it cup for cup and it doesn't have any gums which is nice.
We'll also be using chives. According to the Monash app, chives don't have any detectable FODMAPs. That means you can use as many as you want without adding to your FODMAP load.
Our final ingredient is parmesan. Monash University says parmesan cheese is low FODMAP in servings of 1/3 of a cup per sitting. This is because bacteria break down most of the lactose while the cheese is fermenting. 4 cups or more are high in lactose. Our recipe uses 1/2 a cup total. This works out to 1 tbsp per scone, which is well within the recommended range.
Want to try these low FODMAP chive and parmesan scones? Don't forget to PIN THIS RECIPE for later!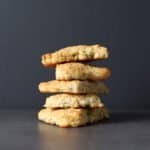 Low FODMAP Chive and Parmesan Scones
Start your FODMAP-friendly morning off with one of these easy low FODMAP chive and parmesan scones!
Course:
Breakfast, Side Dish
What You Need
3/4

cup

lactose-free milk

(low Fat)

3

tsp

fresh lemon juice or white vinegar

2

cups

gluten-free all-purpose flour

1

tbsp

sugar

2

tsp

baking powder

2

tsp

dry mustard

1/4

tsp

kosher salt

1/4

tsp

cayenne pepper

1/4

cup

fresh chives

(minced)

1/2

cup

parmesan

(grated)

2

tbsp

unsalted butter

(melted)

2

tbsp

olive oil
What You Do
Preheat oven to 425 degrees and line a baking sheet with parchment paper. Combine the lactose-free milk and lemon juice in a small measuring cup. Let it sit for 10 minutes undisturbed (this will make a low FODMAP buttermilk replacement)

Mix the flour, sugar, baking powder, dry mustard, salt, and cayenne powder in a large bowl. Add the fresh chives and parmesan and stir.


Combine the buttermilk replacement, melted butter, and olive oil in a small bowl and mix until the butter starts to form clumps. Add the buttermilk mixture to the flour mixture and gently mix them together until the dough is just barely holding together.

Turn the dough out onto the lined baking sheet and gently shape it into a 7" circle. Cut the dough into 8 wedges and nudge them apart so they have some breathing room (about 2" in between each wedge). Bake for 12-15 minutes.
Notes
Take a peek around 10 minutes to make sure you don't leave them in the oven too long. My first batch was a little toasty!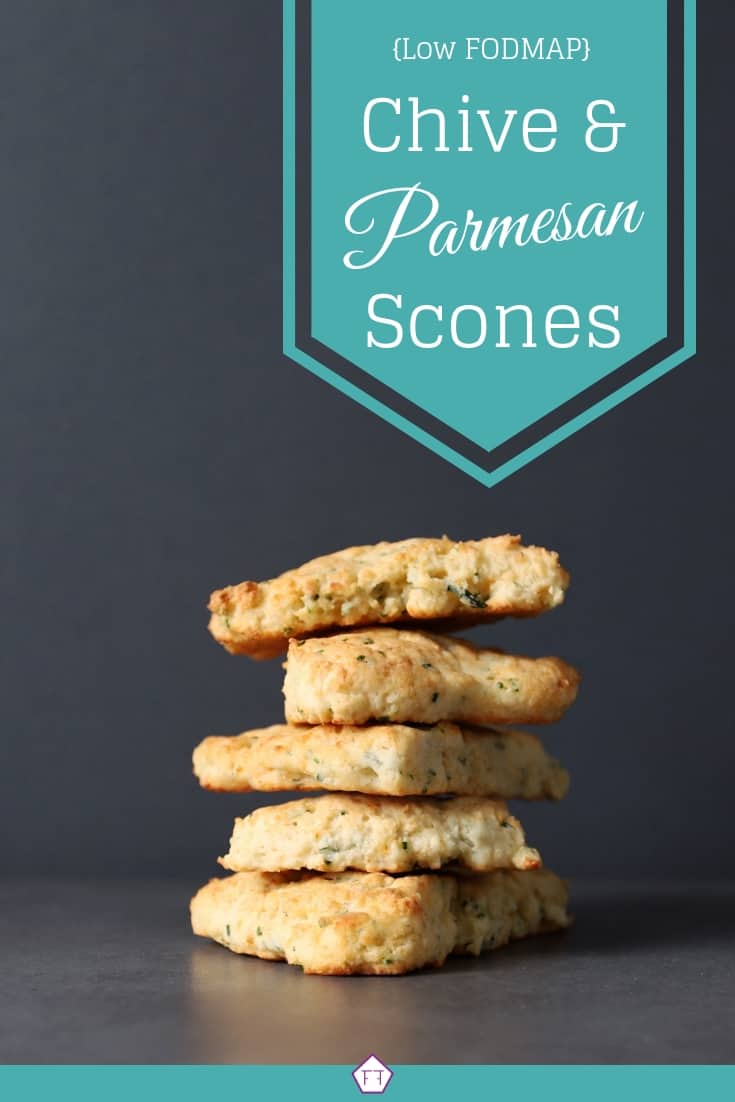 These low FODMAP chive and parmesan scones are the perfect sidekick from your busy morning to your dinner table. If you like this recipe, don't forget to share it. Together we'll get the Low FODMAP Diet down to a science!
P.S. Want access to even more recipes, articles, and some fabulous freebies? Make sure to sign up for my mailing list below. You'll get new posts and VIP treats delivered right to your inbox!
© 2018 Amy Agur – The FODMAP Formula
---
You might also like one of these:
Low FODMAP Bacon and Cheddar Scuffins Mornings can be easy with these low FODMAP bacon and cheddar scuffins. These savoury treats can be made in advance and stored in the fridge for a stress-free breakfast all week long.
Low FODMAP Raspberry Muffins These freezer-friendly raspberry muffins are perfect for a busy morning on the go, or a leisurely brunch. Light and fluffy, no one will know they're low FODMAP
Low FODMAP Orange Scones Looking for an easy make-ahead breakfast? Try these low FODMAP orange scones. With a light, fluffy texture and a hint of citrus, these scones are a stress-free way to start your day.