Need an easy make-ahead breakfast idea? Try these low FODMAP raspberry muffins. These freezer-friendly muffins are perfect for a busy morning on the go, or a leisurely FODMAP friendly brunch. Light and fluffy, no one will know they're low FODMAP.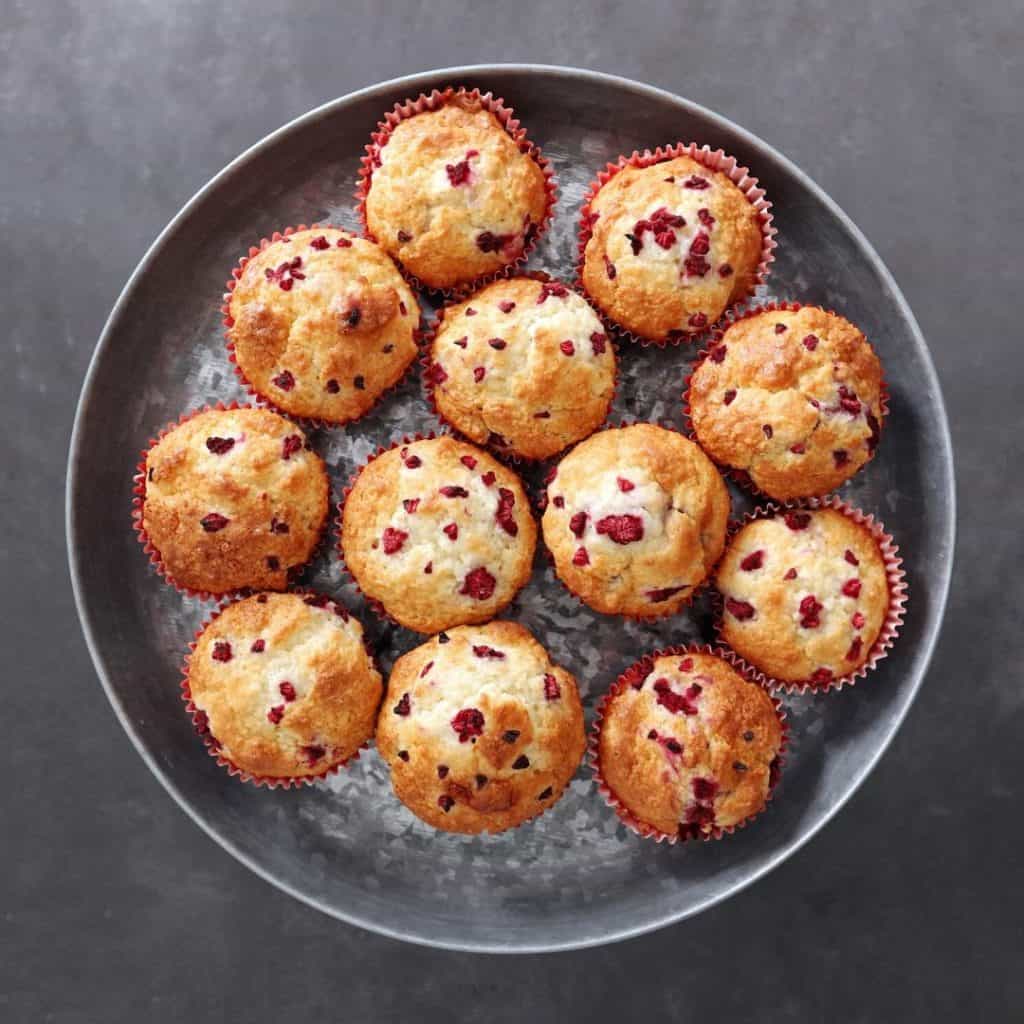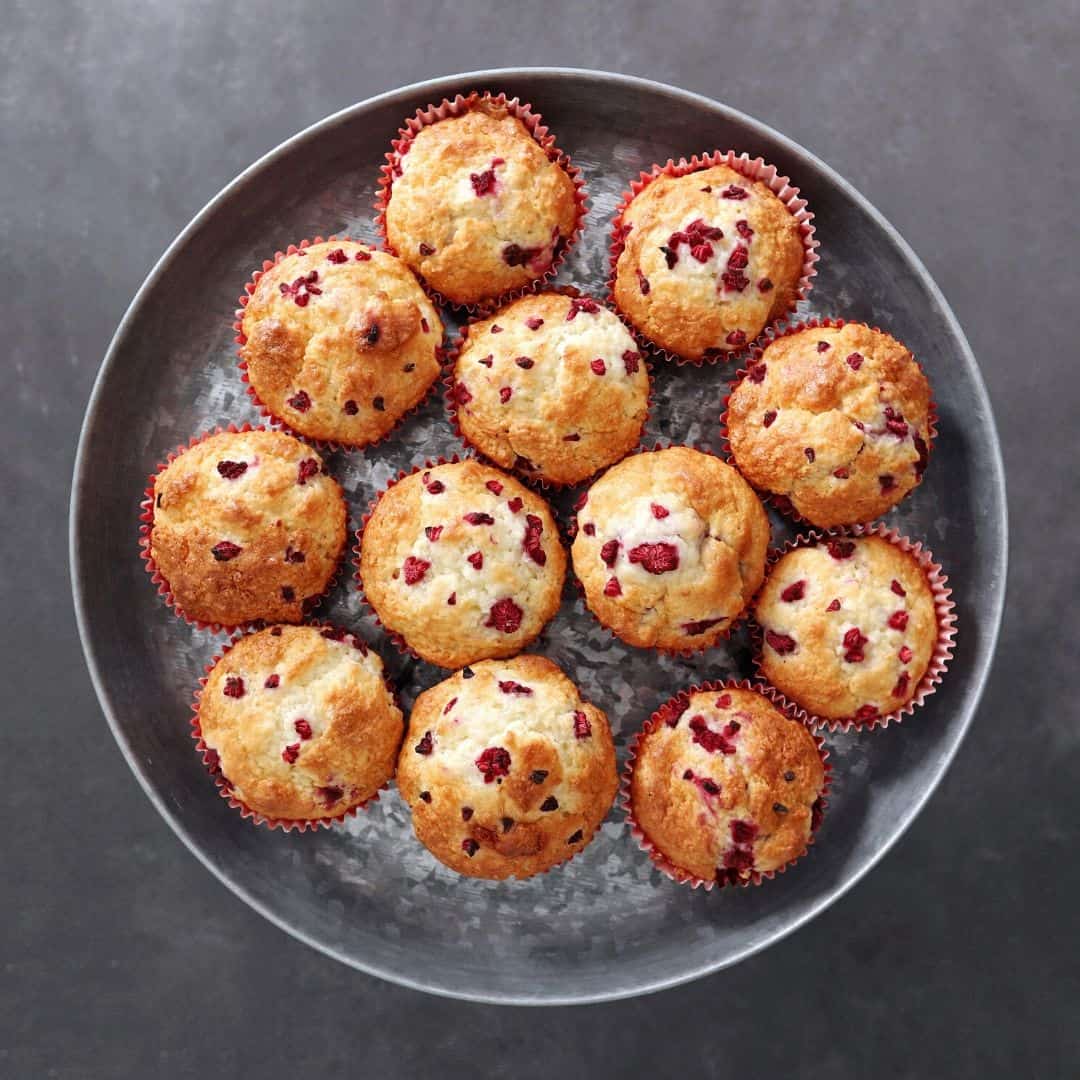 My husband is obsessed with these low FODMAP raspberry muffins. He isn't normally a breakfast person. But, when these are on the menu, he's up bright-eyed and bushy-tailed every morning until we run out. Needless to say, they're a family favourite.
If raspberries aren't your thing, don't worry. You can swap them out for any other low FODMAP berry of your choice. If you're looking for something a little sweeter, you can also make these muffins with low FODMAP chocolate chips.
Think these low FODMAP raspberry muffins sound great, but you don't have time to try them now? Don't worry. You can PIN THIS POST for later.
These low FODMAP raspberry muffins will add a fresh splash of flavour to your mornings. Check out the notes below for tips on keeping this recipe FODMAP friendly.
If you're in the elimination phase, you need to use gluten-free flour. For my Canadian peeps, I like using PC's all-purpose gluten-free flour. I like it because I can use it cup for cup and it doesn't have any gums.
Remember, unless you have celiac disease, you're avoiding the FODMAP fructan, not the gluten itself.
You'll also need to use lactose-free milk. The fat percentage isn't important for this recipe, so you can use whatever's handy.
Last but not least is raspberries. According to Monash University, raspberries are low FODMAP in servings of 10 berries. Servings of 20 berries or more are high in fructans, so you need to keep track of how many you eat.
Keep It FODMAP Friendly
While it would be hard to fit 20 raspberries in a single muffin, this information is important if you're eating multiple muffins or you're having them as part of a larger meal.
I normally pick a specific number and make sure all of my muffins have the same amount of berries (my magic number is five). That way, I always know how many berries I've eaten per muffin.
Want to try these low FODMAP raspberry muffins? You can PIN THIS RECIPE for later.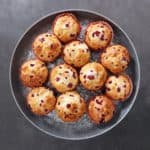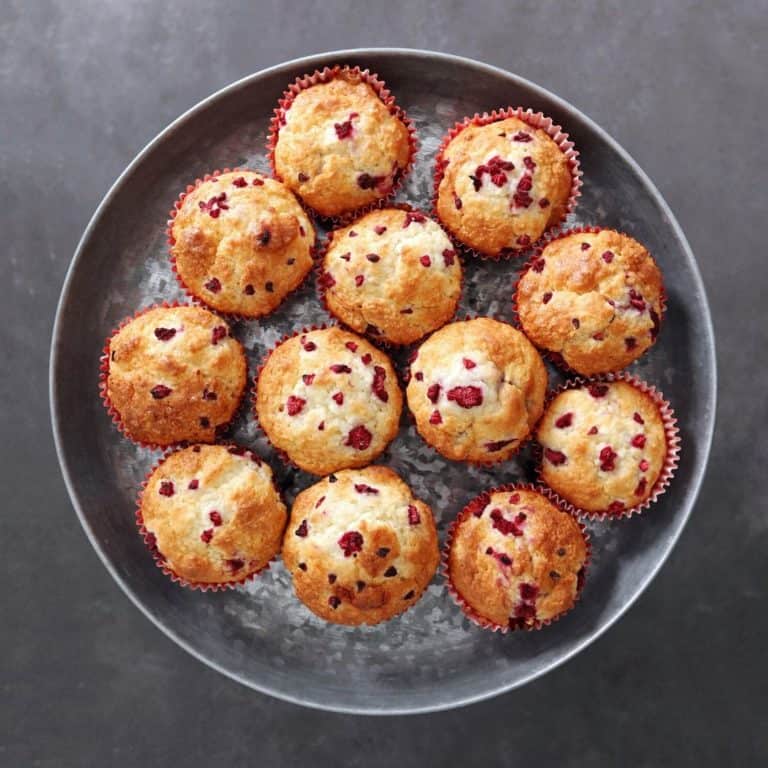 Low FODMAP Raspberry Muffins
Looking for an easy make-ahead breakfast idea? Try these Low FODMAP Raspberry Muffins! They're ready in a flash and are freezer-friendly.
What You Need
2

cups

gluten-free flour

2

tsp

baking powder

1/2

tsp

salt

3/4

cup

sugar

1

egg

1

cup

milk

1/4

cup

vegetable oil

1/2

cup

frozen raspberries
What You Do
Preheat oven to 400 degrees and line a muffin tray. Set aside.

Place flour, baking powder, salt, and sugar in a large bowl and mix well.


Place the egg in a small bowl and whisk gently. Add milk and vegetable oil and whisk again.

Make a well in the dry mixture and add the wet ingredients all at once. Mix as quickly and gently as possible with a fork until the batter is just moistened. Place a few raspberries in the bottom of each muffin liner and cover with 1/4 cup of batter.

Bake for 23-25 minutes or until a toothpick inserted in the center of a muffin comes out clean. Cool on a wire rack.
Notes
This recipe freezes really well. If you want to make multiple batches and freeze them, I recommend wrapping each muffin individually before freezing for the best results. Make sure the muffins have cooled completely before you wrap them to prevent freezer burn.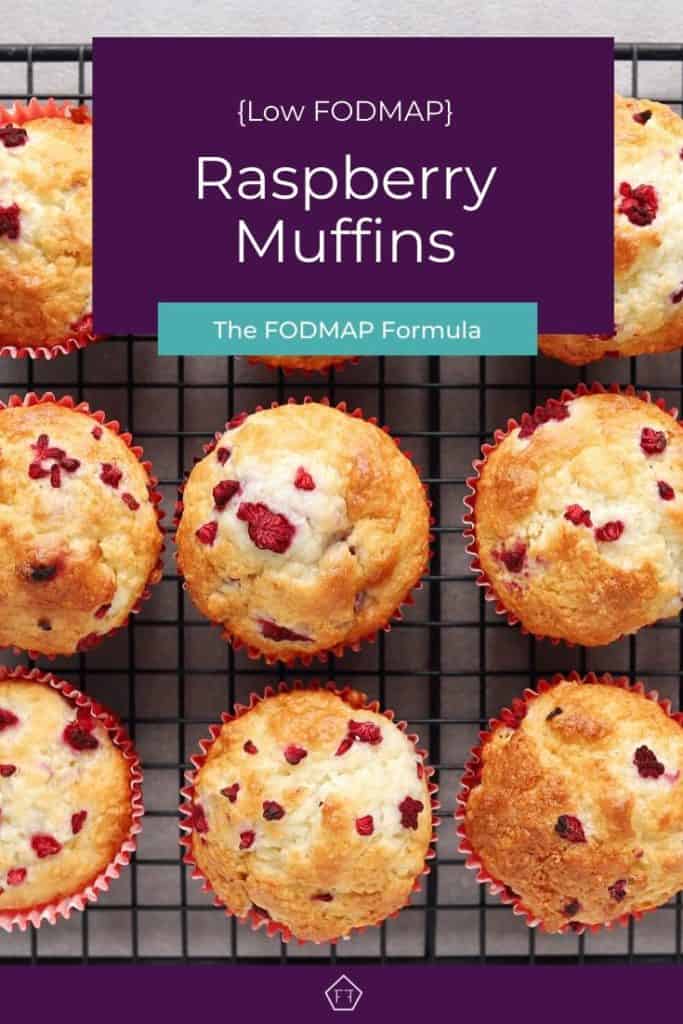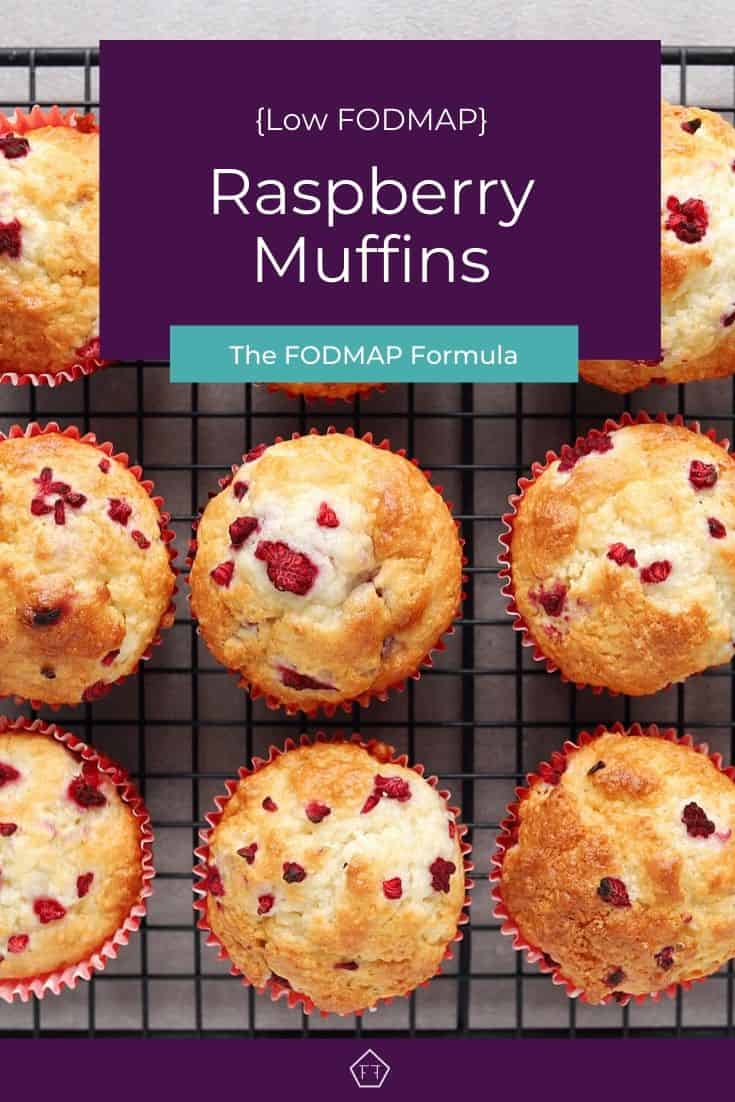 These low FODMAP raspberry muffins will get your morning off to the right start. If you like this recipe, sign up for my mailing list below. You'll get new recipes and articles delivered right to your inbox.
Looking for more information on the Low FODMAP Diet? Follow me on Facebook for more articles and research on managing Irritable Bowel Syndrome and the low FODMAP program. Together we'll get the Low FODMAP Diet down to a science!
© 2018 Amy Agur – The FODMAP Formula
SaveSave
SaveSave
SaveSave
SaveSave
SaveSave
SaveSave
SaveSave
SaveSave