Looking for a dinner idea that's light on ingredients but big on taste? Keep your grocery list short and sweet with this simple low FODMAP penne alla vodka. Packed with fresh flavour and a rich, creamy texture, this classic pasta dish will be a family favourite in no time!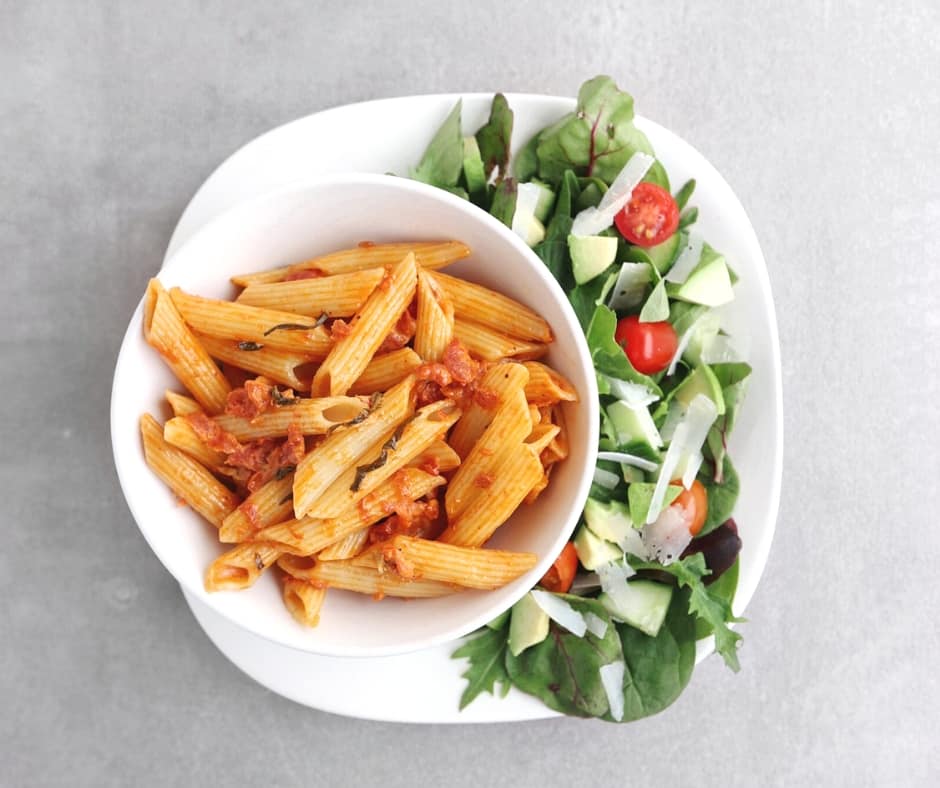 Heads up, this post uses affiliate links. If you make a purchase using one of the links I've provided, I'll receive a small sum of money. You can read more about my affiliations here.
---
Have you ever heard the phrase "less is more?" I'm pretty sure they were talking about this penne alla vodka. Considering it's basically crushed tomatoes and basil on pasta, this recipe packs a serious flavour punch!
Since this recipe is so light on ingredients, it's also a budget-friendly option when you're feeding a crowd. Since you don't need to worry about overcrowding your pan, you can double or even triple the recipe without adding a ton of extra time.
Think this low FODMAP penne alla vodka sounds great, but you don't have time to try it now? Don't worry! You can PIN THIS POST for later.
Keep It FODMAP Friendly
Looking for a simple dinner idea? This low FODMAP penne alla vodka will keep your taste buds and your tummy happy! Check out the notes below for tips on keeping this recipe FODMAP friendly.
First up, garlic-infused oil. Since FODMAPs don't break down in fats, we can safely infuse their flavour into products like oil and butter. When you're purchasing a low FODMAP garlic-infused oil, remember to check the label for ingredients like "garlic extract," or "natural flavours" as these are high FODMAP. You should also check the bottle for any visible pieces of garlic or sediment.
If you're nervous about trying an infused-oil or if your local grocery store doesn't have any low FODMAP brands, grab this Monash certified garlic-infused oil from Fody Foods Co.
We'll also be using canned whole, peeled tomatoes. According to Monash University's recent update, canned tomatoes are low FODMAP in servings of 1/2 of a cup (100 g) per sitting. Servings of 2/3 cup (138 g) or more are high in the FODMAP fructose.
Our recipe uses 1 cup of tomatoes for four servings. This works out to 50 g per person, which is well within Monash's new recommended range.
This recipe also uses vodka! According to Monash, vodka is low FODMAP in servings of 2 tbsp (30 ml) per sitting. Though, Monash doesn't list a maximum serving. Our recipe uses 2 tbsp of vodka total, which is well within the recommended range.
If you're sensitive to alcohol, don't panic! The alcohol will burn off within a few seconds of hitting the pan, leaving the flavour behind.
If you don't have any vodka handy, or if vodka isn't your thing, you can swap it out for two tbsp of your pasta water.
We'll also be using heavy cream. If you're in the elimination phase of the program, you'll need to use a lactose-free product. For my Canadian peeps, both Natrel and Lactantia have lactose-free lines that go up to 35%.
Last but not least, pasta! According to the Monash app, gluten-free pasta is low FODMAP in servings of 1 cup per sitting. Servings of 1.5 cups or more are high in the FODMAP fructan. Our recipe uses 4 cups of pasta total, which works out to 1 cup of pasta per person. This is within Monash's recommended range.
Want to try this low FODMAP penne alla vodka? Don't forget to PIN THIS POST for later!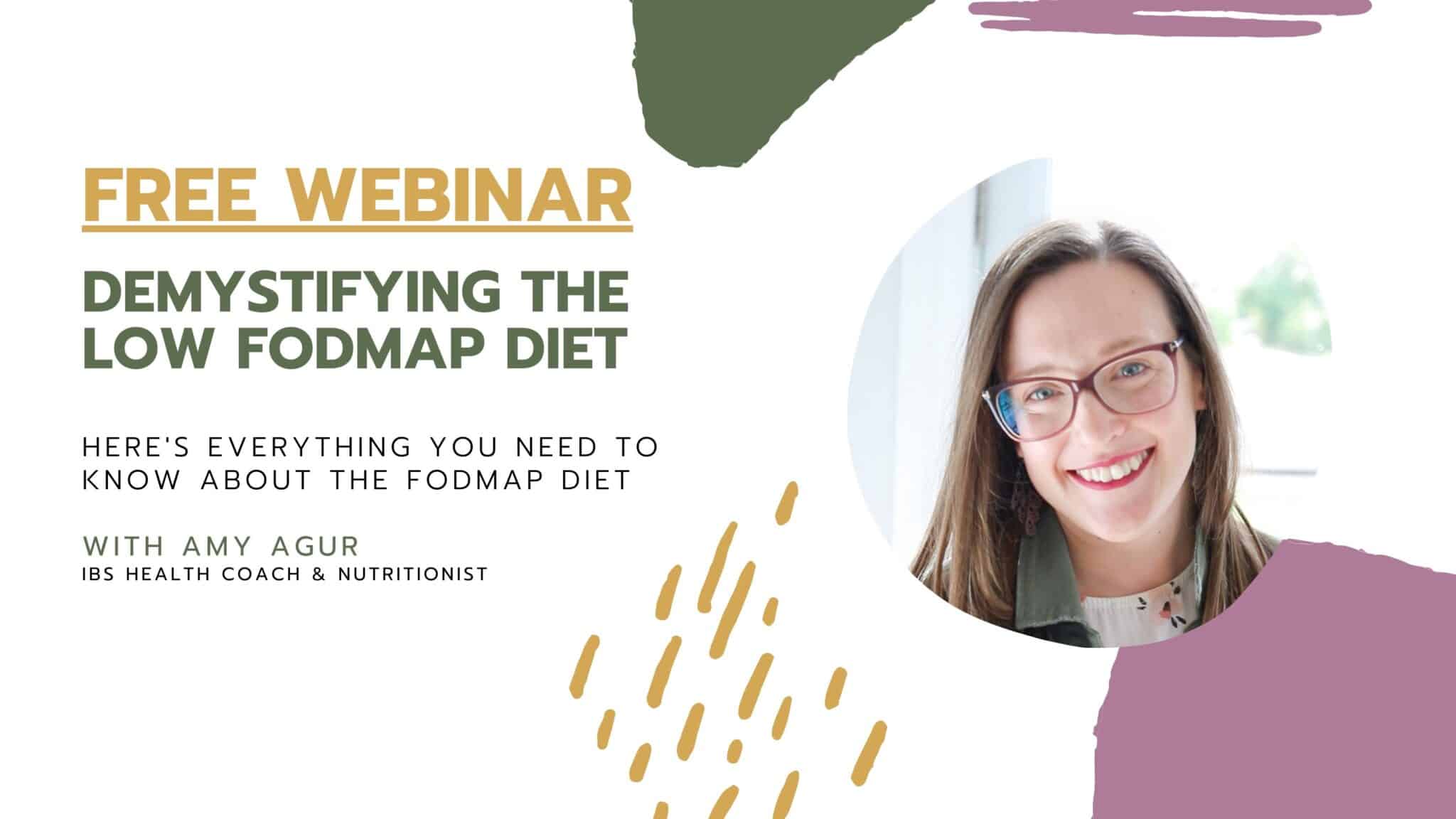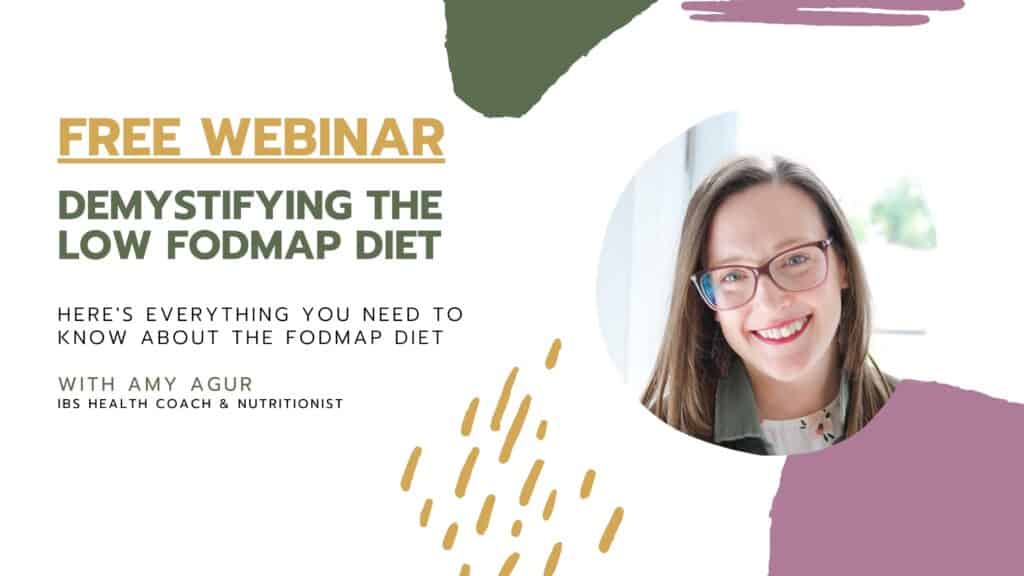 Whose Side Are You On?
This pasta tastes fantastic with a nice fresh salad as a sidekick! Try pairing it with my easy garden salad, greek salad, or my pomegranate salad.
Show Your Work (FODMAP Math)
Since low FODMAP foods can stack up, let's do some FODMAP math so you can see what you're eating.
Fructose = 0.7
Lactose = 0
Fructan = 1
GOS = 0
Polyols = 0
Print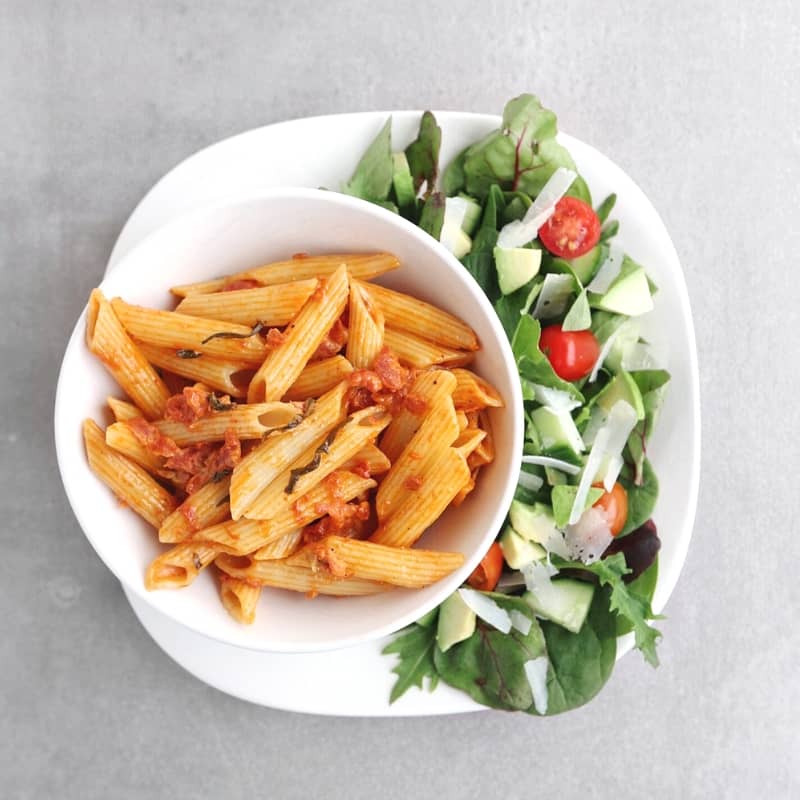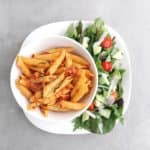 Low FODMAP Penne Alla Vodka
---
Description
Looking for a simple dinner idea? Try this classic low FODMAP penne alla vodka!
---
1 tbsp

garlic-infused oil

1 cup

whole, canned tomatoes

1/4 cup

fresh basil
salt and pepper to taste

2 tbsp

vodka

1 cup

lactose-free heavy cream

4 cups

low FODMAP penne pasta, prepared as per package instructions
---
Instructions
Heat oil in a large frying pan over medium heat. Add whole tomatoes and cook for 2-3 minutes, breaking them up with a wooden spoon as they soften. 
Stir in fresh basil, salt, and pepper and simmer (covered) for 15 minutes, stirring occasionally.
Add vodka to the sauce and simmer for another 15 minutes, stirring occasionally. 
Stir in cream and simmer for an additional 10 minutes. Then toss with cooked pasta. Serve immediately. 
Notes
Recommended low FODMAP serving – 1 cup of pasta per sitting
Monash has recently updated the recommended serving size of tomatoes. This recipe has been updated to accommodate their new recommendations.
Cook Time:

45 minutes

Category:

Dinner

Cuisine:

Italian
Keywords: Cream, pasta, Penne, White Sauce
You might also like one of these:
Low FODMAP Pasta with Roasted Red Pepper Sauce Made with roasted peppers and cherry tomatoes, this easy pasta with roasted red pepper sauce has a deep, savoury flavour that will have even the pickiest eaters coming back for seconds.
Low FODMAP Chicken Parmesan Ready to put a FODMAP-friendly twist on a classic dinner recipe? Covered in low FODMAP breadcrumbs and baked in a savoury marinara sauce, you'll forget this chicken parmesan is low FODMAP!
Low FODMAP Baked Ziti Curb your comfort food cravings with this delicious baked ziti! Packed with rich, savoury flavour it will be a family favourite in no time!
If you like this post, don't forget to share it! Together we'll get the low FODMAP diet down to a science!