Want to shake up your next salad? Try this low FODMAP quinoa tabouleh! Packed with fresh, low FODMAP flavours this traditional Lebanese dish will keep you fueled up throughout your busy day.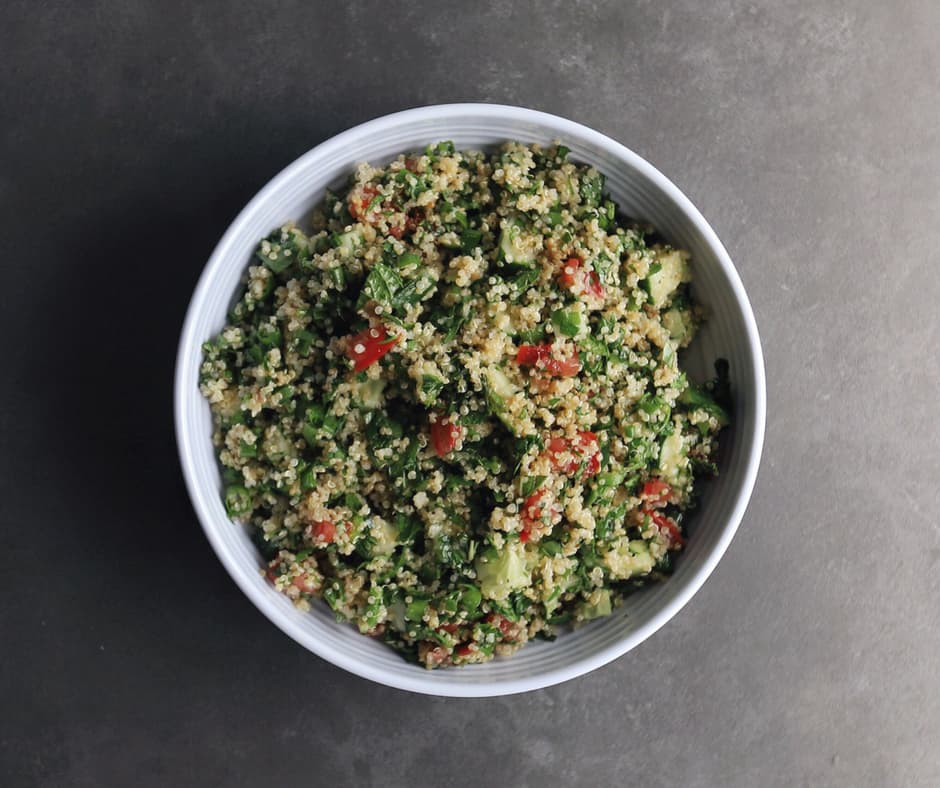 This low FODMAP quinoa tabouleh is a great way to add some fresh flavours to your daily diet. The combination of lemon juice and fresh mint will sparkle on your taste buds.
Heads up! This recipe also travels really well. This makes it a great option to take to work or school. I normally pre-portion it in airtight containers right after making it. That way I can grab a healthy lunch on my way out the door.
Just so you know, traditional tabouleh is normally made with bulgur. Bulgur is high FODMAP, so I made a quinoa swap. If you want to try it the traditional way once you've completed the program, make sure to let me know how it turned out in the comments below!
You can learn more about the history of traditional tabouleh here!
Think this low FODMAP quinoa tabouleh sounds great, but you don't have time right now? Don't worry! You can PIN THIS POST for later!
Keep It FODMAP Friendly
This low FODMAP quinoa tabouleh is a FODMAP friendly twist on a classic Lebanese dish. Check out the notes below for tips on keeping this recipe low FODMAP.
First up, quinoa. According to Monash University, black, red, and white quinoa are all safe in servings of 1 cup (cooked). Monash doesn't have a maximum serving, but I try to stick to one cup per sitting because it has a ton of fibre. Because all three types of quinoa have the same serving size, I like to make this recipe with rainbow quinoa to add some extra pops of colour.
We'll also be using lemon juice. According to Monash, lemon juice is safe in servings of 1/2 a cup per sitting. Just so you know, servings of 3/4 cups or more are high in the FODMAP fructan. We're only using 3 tbsp for the entire recipe, though. So we'll be well within the recommended range.
This recipe also uses fresh parsley and mint. The Monash app says parsley is safe in servings of up to 1 cup per sitting, but it doesn't list a maximum serving size.
Mint is safe in servings of up to one bundle (90 g) per sitting. Mint also has no maximum serving, so it's unclear if and when it becomes high FODMAP.
Our final ingredients are cucumber, common tomatoes, and green onion tops. According to Monash, no FODMAPs were detected in these foods, so you can add as much of these as you'd like without adding to your FODMAP load.
Whose Side Are You On?
This low FODMAP quinoa tabouleh has a fresh, delicious taste all on its own. But, if you're using it as a side dish instead of a main, try it with these low FODMAP pork chops. The light seasoning of the breading will taste fantastic with the bright flavours of the tabouleh.
Want to try this low FODMAP quinoa tabouleh? Don't forget to PIN THIS RECIPE for later!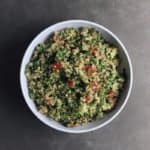 Low FODMAP Quinoa Tabouleh
Looking for a twist on your next quinoa salad? This low FODMAP quinoa tabouleh is packed with fresh flavours but light on FODMAPs.
What You Need
1.5

cups

water

3/4

cup

quinoa

(rinsed)

3

tbsp

lemon juice

2

tbsp

extra-virgin olive oil

1/4

tsp

salt

1/4

tsp

pepper

1

cup

fresh parsley

(chopped)

1

cup

cucumber

(chopped)

1/2

cup

green onions

(green parts only)

1/4

cup

fresh mint

(chopped)

1

common tomato

(seeded, chopped)
What You Do
Bring water to a boil in a large saucepan. Stir in the quinoa and return to a boil, then reduce to low heat, cover the pan and simmer the quinoa until the liquid is gone (about 20 minutes). Transfer the quinoa to a large bowl and let it cool off.

While the quinoa is cooling, whisk together the lemon juice, oil, salt, and pepper in a small bowl. Pour it over the quinoa and add the parsley, cucumber, green onions, mint, and tomato and gently toss to coat.
You might also like one of these:
Low FODMAP Quinoa and Tuna Salad: Looking for a healthy, protein-packed recipe? With 19.8 g of protein per serving, this quinoa and tuna salad will keep you full throughout your busy day.
Low FODMAP Fruit and Walnut Salad: With the perfect combination of sweet, salty, and crunch, this fruit and walnut salad is an easy way to add some FODMAP friendly fibre to your diet.
Low FODMAP Summer Bruschetta Bites: This summer-inspired twist on a classic bruschetta bite will bring a pop of colour to your table all year long. Serve as an appetizer, dessert, or healthy snack.
If you like this post, don't forget to share it! Together we'll get the low FODMAP diet down to a science!