Having trouble curbing your pumpkin spice cravings this fall? If you've got a hankering for a sweet pumpkin treat, boy do I have a surprise for you! This low FODMAP pumpkin cheesecake is the perfect fall-inspired dessert. With a creamy texture and a rich, savoury taste, you'll forget it's low FODMAP.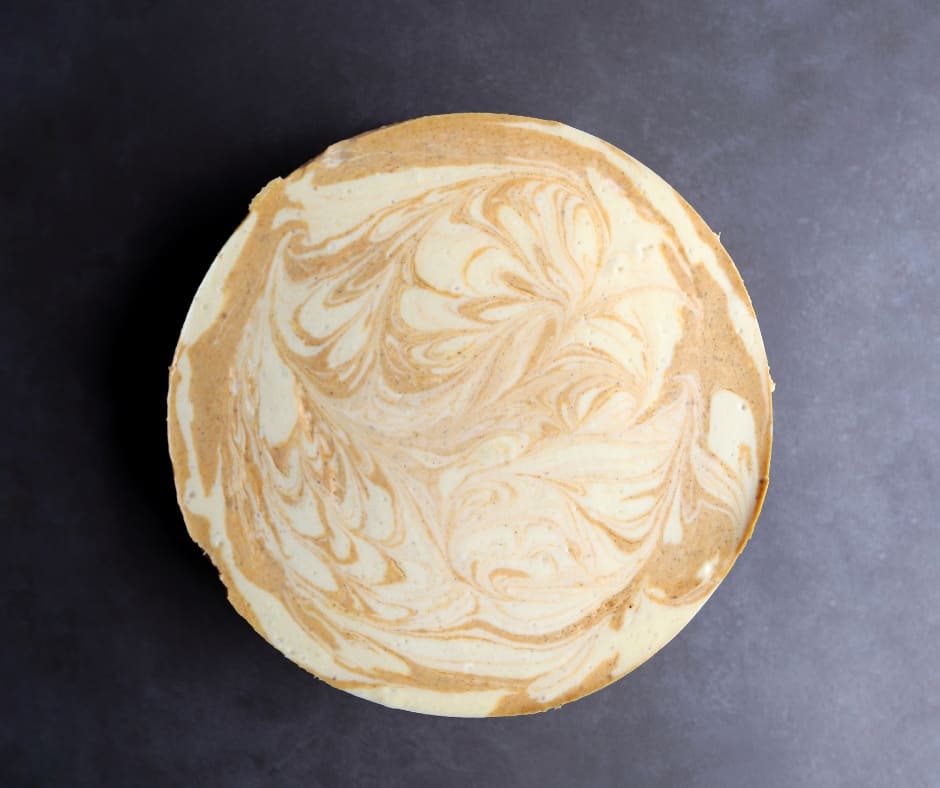 Since we're getting friendly, you should know I'm obsessed with cheesecake. So, I don't recommend this low FODMAP pumpkin cheesecake to you lightly! What you're looking at is a marble cheesecake packed with spiced pumpkin and classic vanilla cheesecake filling. If that doesn't sound tasty enough, I popped it on a crust made of low FODMAP gingerbread cookies!
I was inspired to sneak a little Christmas cheer into this recipe last winter when I realized pumpkin pie and gingerbread cookies use almost identical spices. I was having trouble finding a gluten-free graham cracker crust and this seemed like a great solution. Now that I've tasted it, I can tell you they're a match made in heaven. I'll definitely be bringing this one out for Thanksgiving!
I know making a cheesecake can seem a little daunting if you haven't tried it before. So I've included lots of notes on how to make a happy cheesecake in the recipe below. Give it a try and definitely come back and let me know how it turned out for you!
Think this low FODMAP pumpkin cheesecake sounds great, but you don't have time to try it now? Don't worry! You can PIN THIS POST for later.
Keep It FODMAP Friendly
This low FODMAP pumpkin cheesecake is the perfect fall-inspired dessert. Check out the notes below for tips on keeping this recipe FODMAP friendly.
One of the things that makes this low FODMAP pumpkin cheesecake stand out is the gingerbread cookie crust. If you're in the elimination phase of the low FODMAP Diet, you'll need to use gluten-free cookies. Make sure to check the full list of ingredients against your Monash app. Keep an eye out for ingredients like inulin/chicory root and arrowroot flour, and sweeteners like high fructose corn syrup, honey, or apple/pear juice or puree. If you want to make your own gingerbread cookies, you can try my low FODMAP gingerbread recipe.
Another star of this recipe is obviously cream cheese. If you're in the elimination phase of the program, you'll need to use a lactose-free product. For my Canadian peeps, Green Valley and Arla both have lactose-free cream cheese. If you can't find a lactose-free brand in your area, you can grab instructions on how to make your own here.
This recipe also uses butter. Even though there are lactose-free butter brands available, save your money! Monash has determined that butter doesn't have any FODMAPs (because it's all fat). As long as your butter doesn't have added "milk solids" you're good to go.
The final ingredient we'll look at is pumpkin. According to the Monash app, pumpkin is safe in servings of 1/3 of a cup per sitting. While servings of 1/2 a cup or more are high in both fructans and galactans. Our recipe uses 1 can of pumpkin which is just under 2 cups. This works out to 2 tbsp per serving, which is well within the recommended range.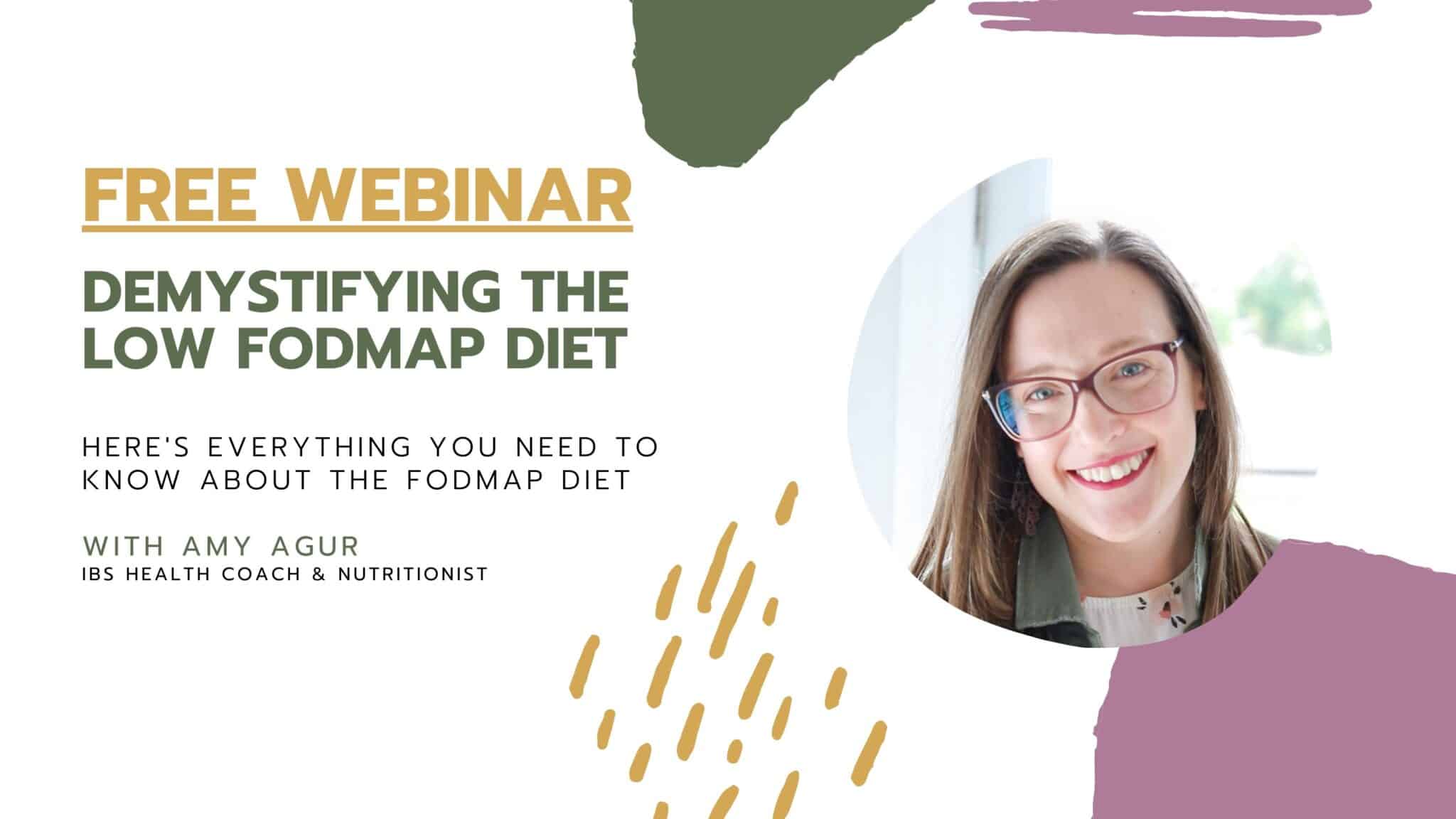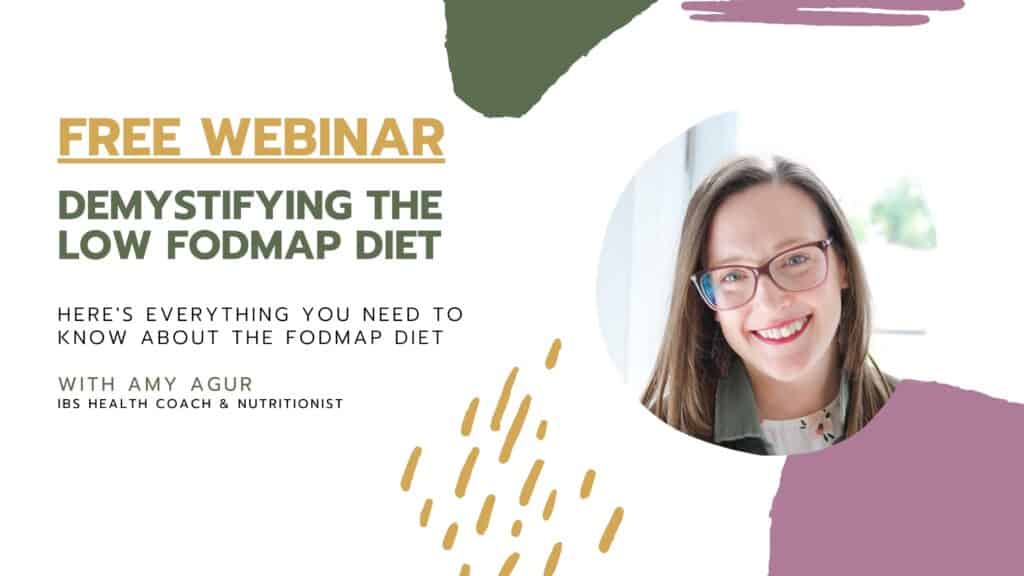 FODMAP math
Wondering how this tasty treat stacks up? Check out the notes below to see how many servings of each FODMAP group are in 1/16 of this recipe.
Fructose = 0
Lactose = 0
Fructan = 0.3
GOS = 0.3
Polyol = 0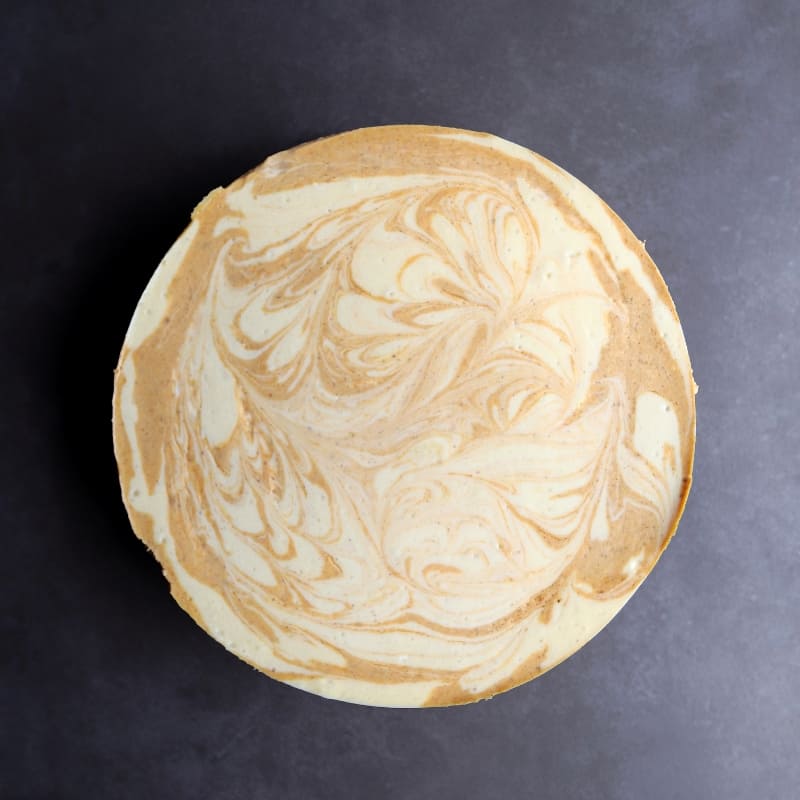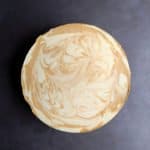 Low FODMAP Pumpkin Cheesecake
Looking for a sweet treat to curb your pumpkin spice cravings this fall? With a creamy texture and a rich, savoury flavour, this low FODMAP pumpkin cheesecake is the one to beat!
What You Need
2 1/4

cups

low FODMAP gingerbread cookies

(crushed)

1/4

cups

unsalted butter

(melted)

750

g

lactose-free cream cheese

(room temperature)

3/4

cups

sugar

(divided)

1

tsp

vanilla

3

eggs

1

cup

canned pumpkin

1

tsp

ground cinnamon

1/4

tsp

ground nutmeg

pinch

ground cloves
What You Do
Preheat your oven to 350 degrees. Thoroughly grease the inside of a 9″ springform pan with butter and line the outside of the pan with 2 layers of aluminum foil.

Mix your cookie crumbs and butter together and press them firmly into the bottom of the pan to form your crust.

Beat your cream cheese, 1/2 a cup of sugar, and vanilla together until smooth. Then, add your eggs one at a time until just blended. (Eggs add lots of air to the batter which can cause cracking. So mix gently!) Scoop out one cup of batter and set aside.

Add the remaining sugar, pumpkin, and spices into the batter. Pour half of the pumpkin batter into the pan and spoon half of your plain batter on top in random dollops. Repeat with the remaining batter.

To make your swirls, start at the edge of the pan and drag a knife or a thick skewer stick in figure eights around the edge of the pan, slowly working your way toward the center.

Carefully place your springform pan in a large roasting pan (big enough that your cake can sit flat). Place both containers in the oven and add enough hot water to reach 1-2″ up the side the springform pan. This is called a water bath and will help prevent the cheesecake from cracking.

Bake your cheesecake for 60-70 minutes. Keep an eye on it but DO NOT OPEN THE DOOR. Your cheesecake is ready when the edges have puffed up, but the center still wiggles.

When your cake has finished cooking, turn off the oven and open the oven door a crack. Leave your cheesecake in there for at least 1 hour to cool down. Once it's completely cool, place plastic wrap directly on the surface of the cheesecake and refrigerate for at least 4 hours (preferably overnight).
Notes
Cheesecakes are temperamental little jerks! Here are my favourite tips and tricks for keeping them in line. 
Use room temperature cream cheese. It's easier to mix and will prevent air bubbles from getting stuck in your batter. You should also make sure all your ingredients are thoroughly mixed before you add your eggs. Eggs become whipped really easily, which will add even more air to your batter. Remember, air is good for you but bad for cheesecakes. 
NO PEEKING!  Cheesecakes don't like sudden changes in temperature. If you open the oven door while your cake is baking the draft can cause it to crack. 
That being said, make sure to keep an eye on your cake so it doesn't overbake. Overbaking can also cause cracking (and it tastes weird). To check if my cheesecake is done, I normally bang on the side of the oven door starting at the 60-minute mark. If the edges are set but the middle still wiggles, it's done. 
Let the cheesecake cool down on its own timeline. If you open the oven door right away, the draft can cause it to crack later. Similarly, if you put the cake in the fridge when it's too warm, you're going to end up with issues. 
All that being said, cracks happen! If you end up with a crack or two, throw some whipped cream on it and call it a day. It's all the same on the inside. 
You might also like one of these:
Low FODMAP Pumpkin Cupcakes Curb your pumpkin spice cravings this fall with a low FODMAP pumpkin cupcake! This quick and easy recipe is so delicious, you'll probably make it all year long.
Low FODMAP Chocolate Cupcakes Looking for a sweet treat this holiday season? These quick and easy chocolate cupcakes will be a family favourite in no time!
Low FODMAP Pumpkin Tarts Think following the Low FODMAP Diet means you'll miss out on classic fall flavours? Fear not, my friend. These low FODMAP pumpkin tarts are the perfect way to add a pop of pumpkin spice to your fall.
If you like this post, don't forget to share it! Together we'll get the low FODMAP diet down to a science!