Looking for a low FODMAP dessert to curb your sweet tooth? Unleash your inner foodie with these low FODMAP lava cakes! Made with real chocolate and a little magic, no one will guess they're low FODMAP.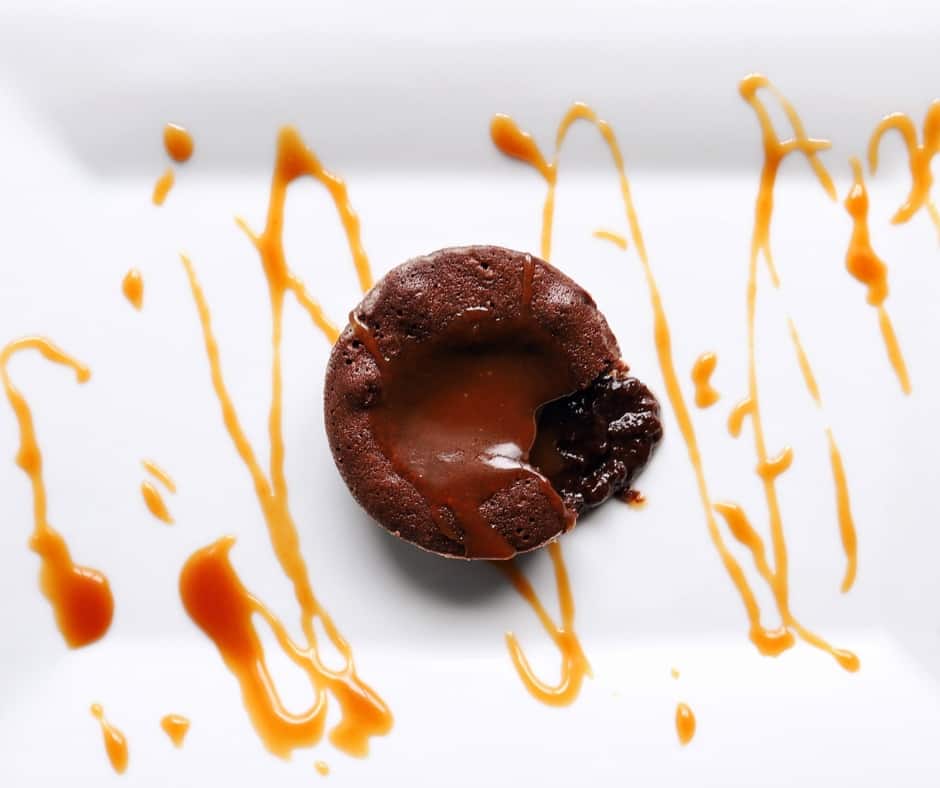 The first time my husband and I tried this recipe was for a friend's birthday. She's a bit of a foodie, so we wanted something really fancy. These lava cakes definitely fit the bill! But, we were pretty nervous when it came time to pop them in the oven.
Our labour of love was worth it, though. The lava cakes were raging success! In fact, they've gone down in Agur history, as a few people literally licked their plates clean! I highly recommend you give these lava cakes a try.
Think these low FODMAP lava cakes sound great, but you don't have time to try them now? Don't worry, you can PIN THIS POST for later!
Keep It FODMAP Friendly
Looking for a dessert fit for a foodie? These lava cakes are the ones to beat! Check out the notes below for tips in keeping this recipe FODMAP-friendly.
First up is chocolate. According to the Monash app, dark chocolate (85% or higher) is safe in servings of 1 oz per sitting. Servings of 11.5 oz or more are high in galactooligosaccharides.
Our recipe uses 6 oz total. This works out to 1 oz per lava cake, which is well within Monash's recommended range.
Next up is flour. If you're in the elimination phase of the Low FODMAP Diet, you'll need to use a gluten-free flour. For my Canadian peeps, my go-to brand is President's Choice gluten-free flour. I like it because I can use it cup for cup and it doesn't have any gums.
Last but not least is butter. According to the Monash app, butter doesn't have any FODMAPs (because it's all fat). That means you can use whatever you have on hand. Just check the ingredients for "milk solids" and you're good to go!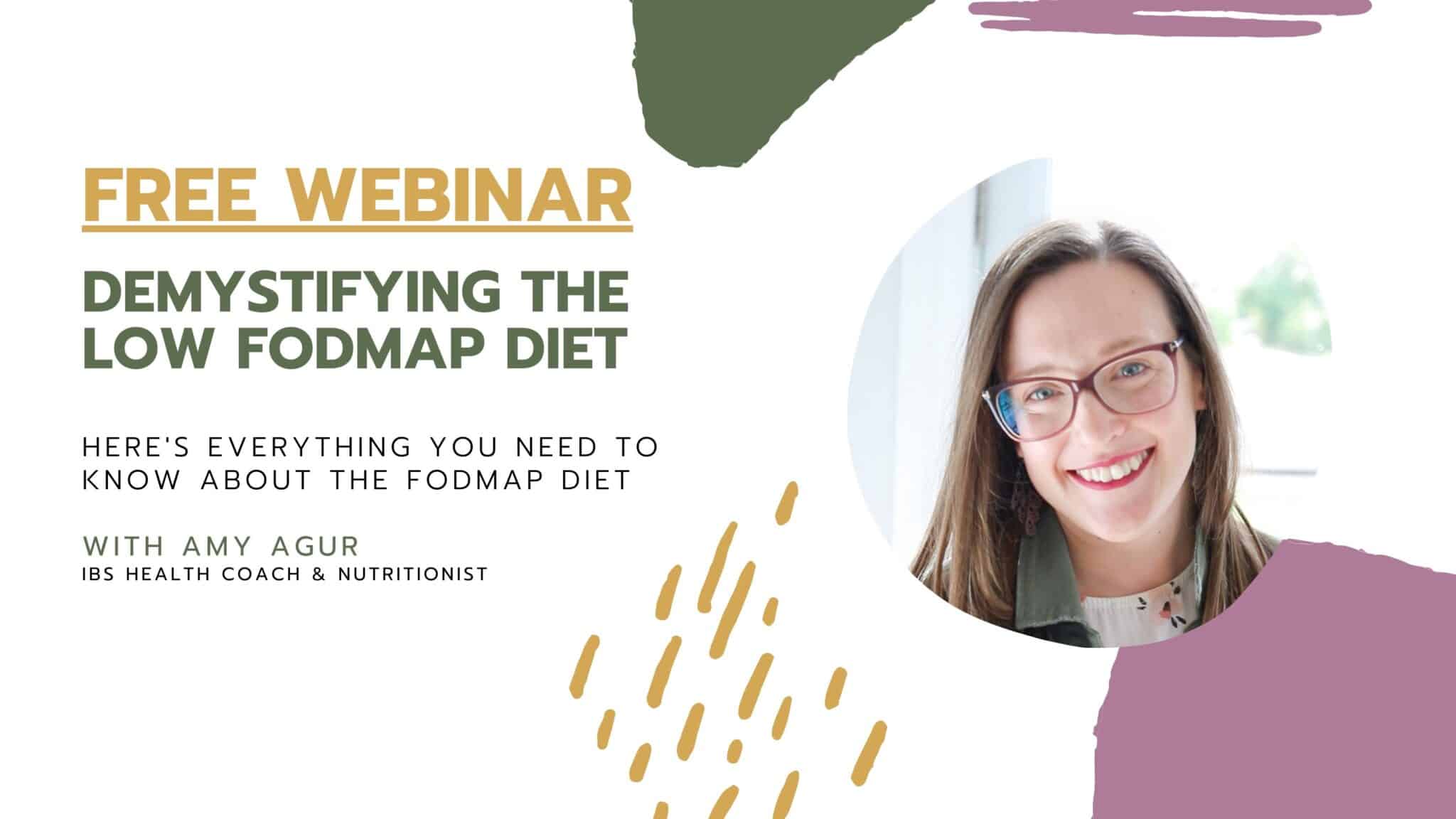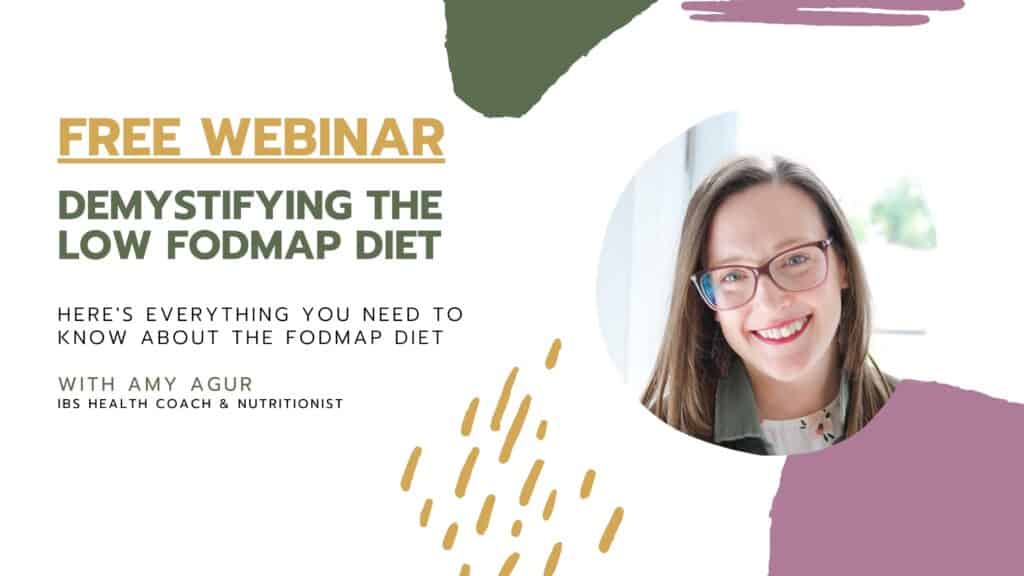 Want to try these low FODMAP lava cakes? Don't forget to PIN THIS RECIPE for later!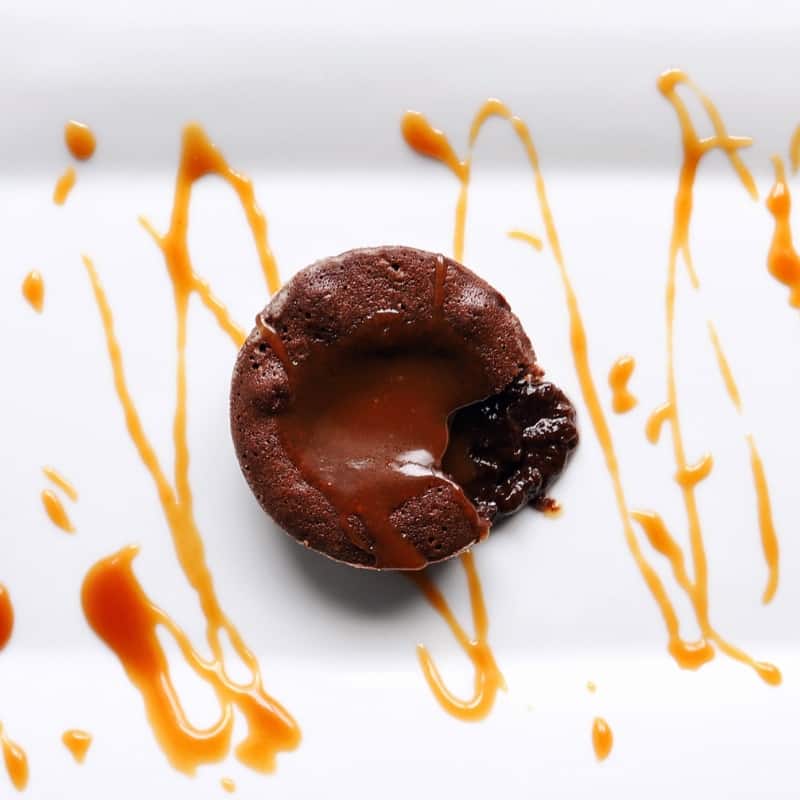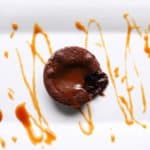 Low FODMAP Lava Cakes
Looking for a sweet treat to curb your sugar cravings? These low FODMAP lava cakes will have your favourite foodies lining up for seconds!
What You Need
1/2

cup

unsalted butter

6

oz

dark chocolate

2

eggs

2

egg yolks

1/4

cup

sugar

pinch

salt

2

tbsp

gluten-free flour
What You Do
Preheat oven to 400 degrees. Spray 6 ramekins with cooking spray and lightly flour the bottom.

Add the butter an dark chocolate and melt in a double boiler (a heatproof bowl sitting on top of steaming water). Whisk until smooth.

Beat the eggs, egg yolks, sugar, and salt on high until they're fluffy and light yellow. Quickly fold the melted chocolate into the bowl, followed by the flour. Spoon an equal amount of batter into each ramekin and cook for 10-12 minutes. Your lava cakes are done when the sides are completely set and the center is starting to crust over but isn't firm. Watch these like a hawk! There's about a 30-second difference between a lava cake and a brownie. Ask me how I know.

Once your lava cakes are cooked, carefully pick up a ramekin and place a plate over the top. Flip them both over and gently tap on the bottom of the ramekin with a wooden spoon. Gently lift up the ramekin to reveal your lava cake! Serve with warm berry compote, low FODMAP caramel, or lactose-free ice cream.
Notes
I've tried greasing my ramekins with butter, vegetable shortening, and cooking spray. While I've had some success with butter, I get more consistent results with cooking spray. 
Make sure to serve your lava cakes immediately. They'll keep cooking in the ramekins. So, if you pull the perfect lava cake out of the oven, it might be a brownie by the time you serve it if you dawdle. 
You might also like one of these:
Low FODMAP Chocolate Cupcakes Need a FODMAP friendly treat to curb those chocolate cravings? Rich and delicious, these chocolate cupcakes will be a family favourite in no time!
Low FODMAP Butter Tarts Ready to tackle a classic Canadian treat? With a sweet and clean taste, butter tarts will delight your taste buds without distressing your tummy. Enjoy!
Low FODMAP Dark Chocolate Gelato This mouthwatering dessert is the perfect way to beat the summer heat. Made with FODMAP friendly dark chocolate squares, it's rich, bold flavour will leave you licking your fingers.
If you like this post, don't forget to share it! Together we'll get the low FODMAP diet down to a science!