Has the cold weather left you craving something warm? Try this low FODMAP hot chocolate. Made with dark chocolate and lactose-free milk, this rich and creamy hot chocolate will leave your insides warm and toasty.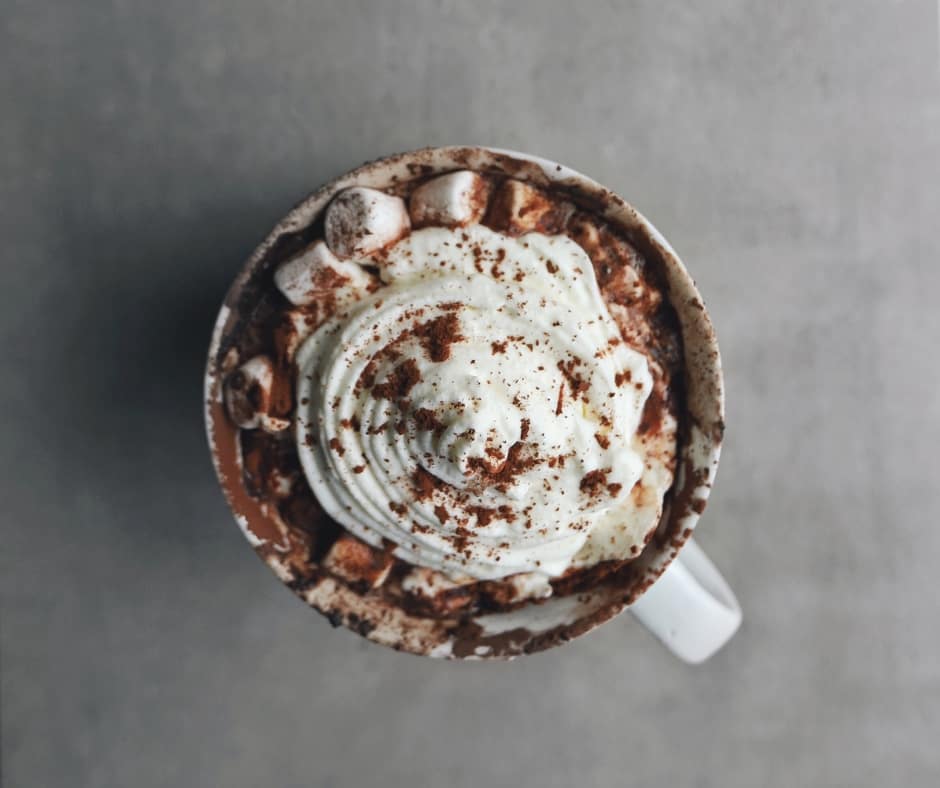 One of my favourite things about winter is snuggling up on the couch with a good book and a hot chocolate. But, it can be hard finding FODMAP friendly hot chocolate brands. So, I was pretty excited when I figured out how to make my own.
I love this recipe in particular because it has a deep, rich flavour you won't get from a packaged mix. Top it off with freshly whipped cream or FODMAP friendly marshmallows for a chocolate-infused treat that will hit the spot.
Think this low FODMAP hot chocolate sounds great, but you don't have time to try it now? Don't worry. You can PIN THIS POST for later.
Keep It FODMAP Friendly
This low FODMAP hot chocolate will keep your taste buds and your tummy happy. Check out the notes below for tips on keeping this recipe FODMAP friendly.
First, Monash University recommends using dark chocolate instead of milk chocolate. So, aim for chocolate with 70% cocoa or higher.
They also recommend sticking to 1 oz per sitting. This recipe uses 1 oz of dark chocolate per serving. Servings of 3 oz or more are high in lactose, so measure carefully.
Next up is milk. If you're in the elimination phase of the diet, you need to use lactose-free milk. We use whole milk in this recipe. For my Canadian peeps, Nielson has a lactose-free line that goes up to 3.2%.
If you can't find lactose-free whole milk at your local store, you can use lactase drops in regular milk. Just remember to let the milk sit for at least 24 hours so the enzymes can break the lactose down.
Finally, let's discuss toppings. According to the Monash app, a serving of 1/2 a cup of fresh whipped cream is low FODMAP. To make fresh whipped cream, put 1/4 cup of fresh cream in a measuring cup with 2 tbsp of sugar and whisk until it forms stiff peaks. Place a dollop in each cup before serving.
Whipped cream not your thing? For the hot chocolate traditionalist, you can also add a few FODMAP friendly marshmallows to your mug. Make sure to double-check the ingredients to make sure they're FODMAP friendly.
Want to try this low FODMAP hot chocolate? Don't forget to PIN THIS RECIPE for later.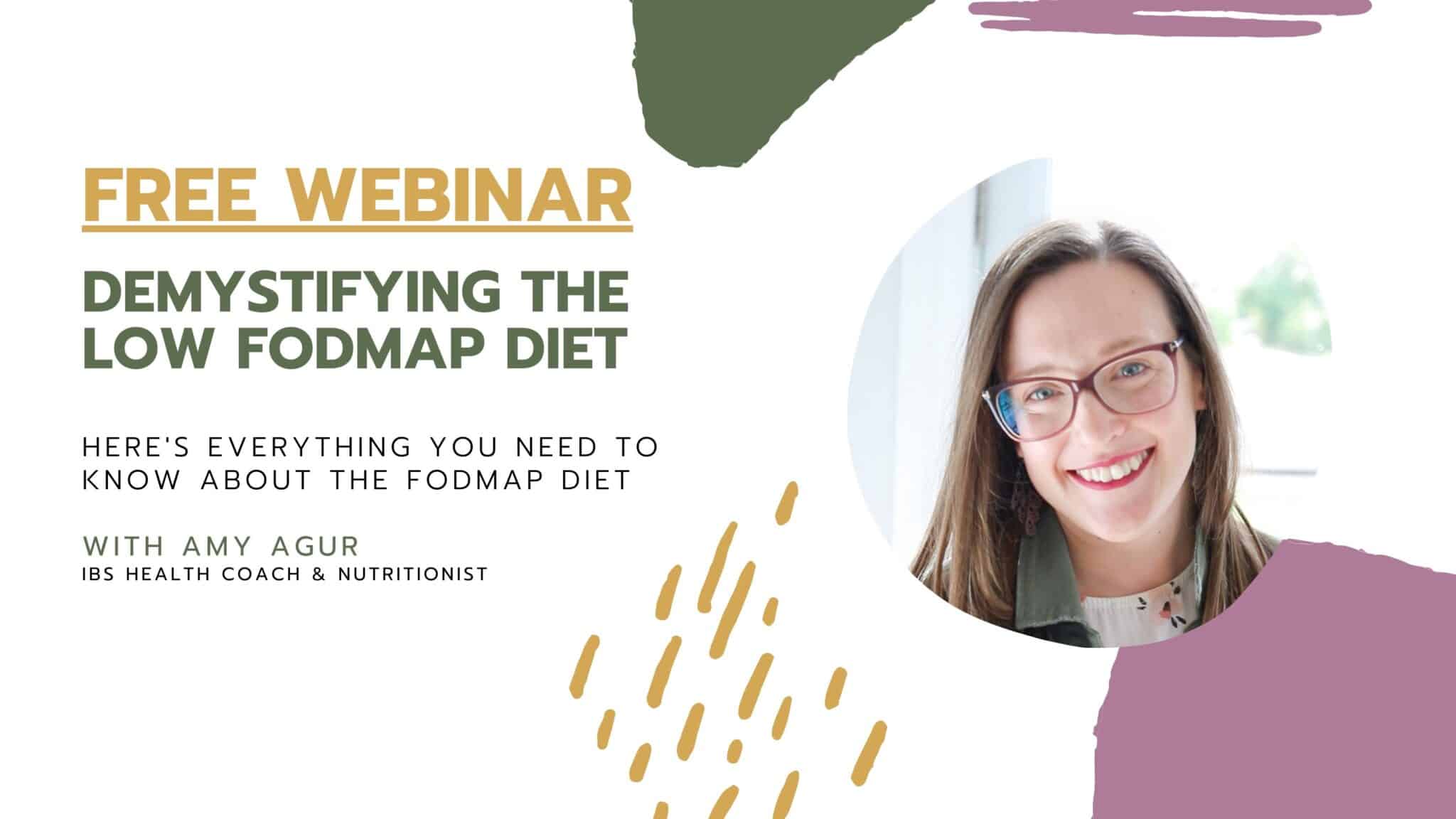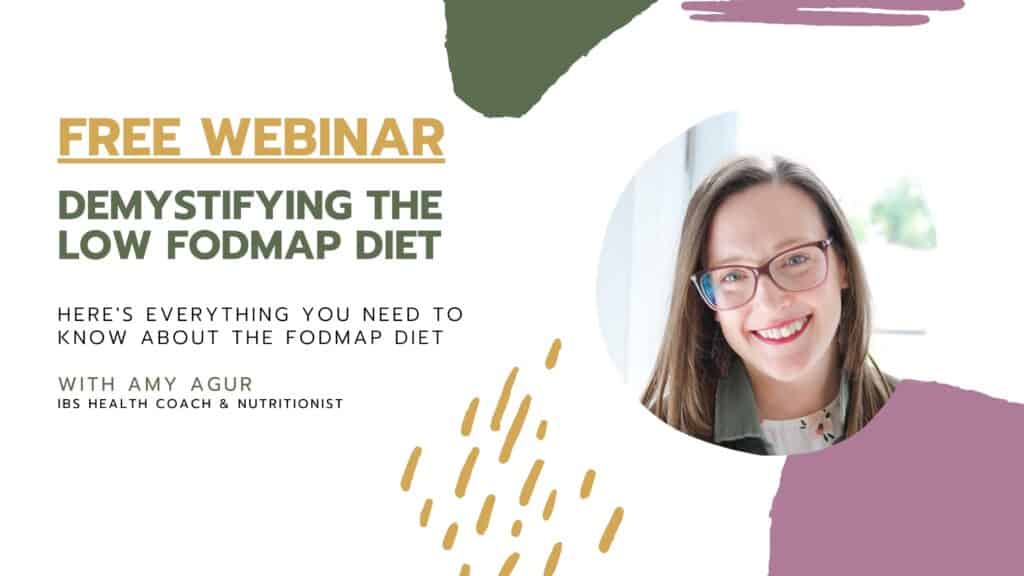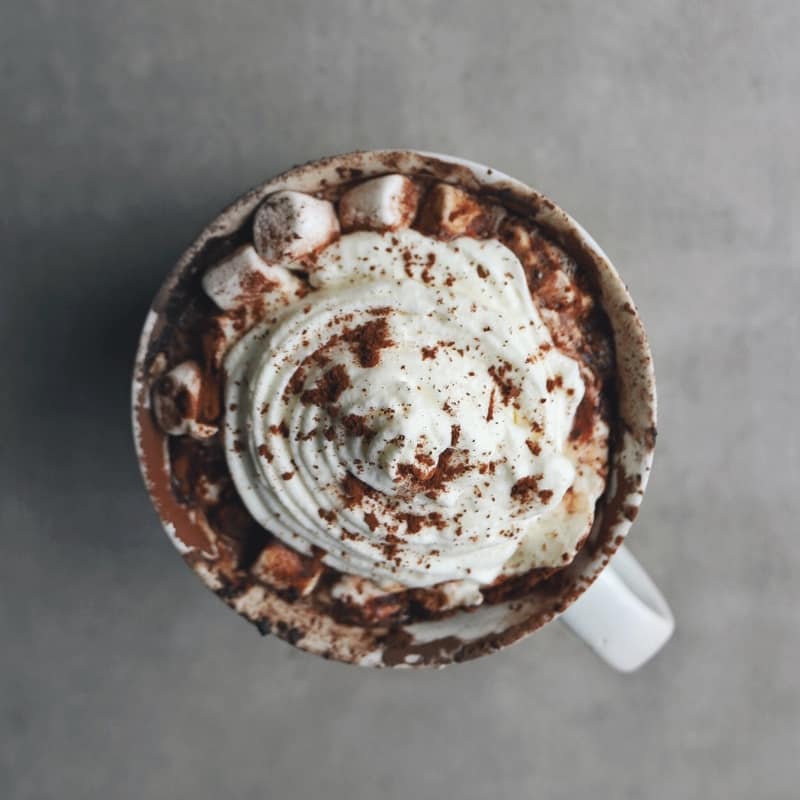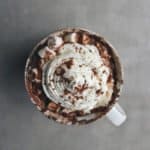 Low FODMAP Hot Chocolate
Looking for a FODMAP friendly way to warm up this season? Try this low FODMAP hot chocolate! Rich and creamy, this traditional winter treat will warm up your insides.
What You Need
2

oz

dark chocolate

1.5

cups

lactose-free whole milk

4

tsp

light brown sugar

(packed)

2

tsp

cocoa powder

1/8

tsp

kosher salt
What You Do
Finely dice chocolate using a serrated knife. Place chocolate, milk, brown sugar, cocoa powder, and salt in a saucepan. Warm over medium heat, whisking continuously until the chocolate has melted and the mixture is completely smooth. Divide between two mugs and top with a dollop of whipped cream or marshmallows. Serve warm.
You might also like one of these:
Low FODMAP Gingerbread Latte With a rich, creamy texture and a dash of gingerbread spice, this low FODMAP gingerbread latte tastes like a cup of holiday cheer!
Low FODMAP London Fog Are you a fan of Earl Grey tea? Made with steamed milk and a hint of lavender, this sweet and silky London fog will warm up your insides!
Low FODMAP Mocha Macchiato Made with coconut milk, espresso, and of course, a little chocolate, this mocha macchiato will put a FODMAP friendly twist on your afternoon pick-me-up.
If you like this post, don't forget to share it! Together we'll get the low FODMAP diet down to a science!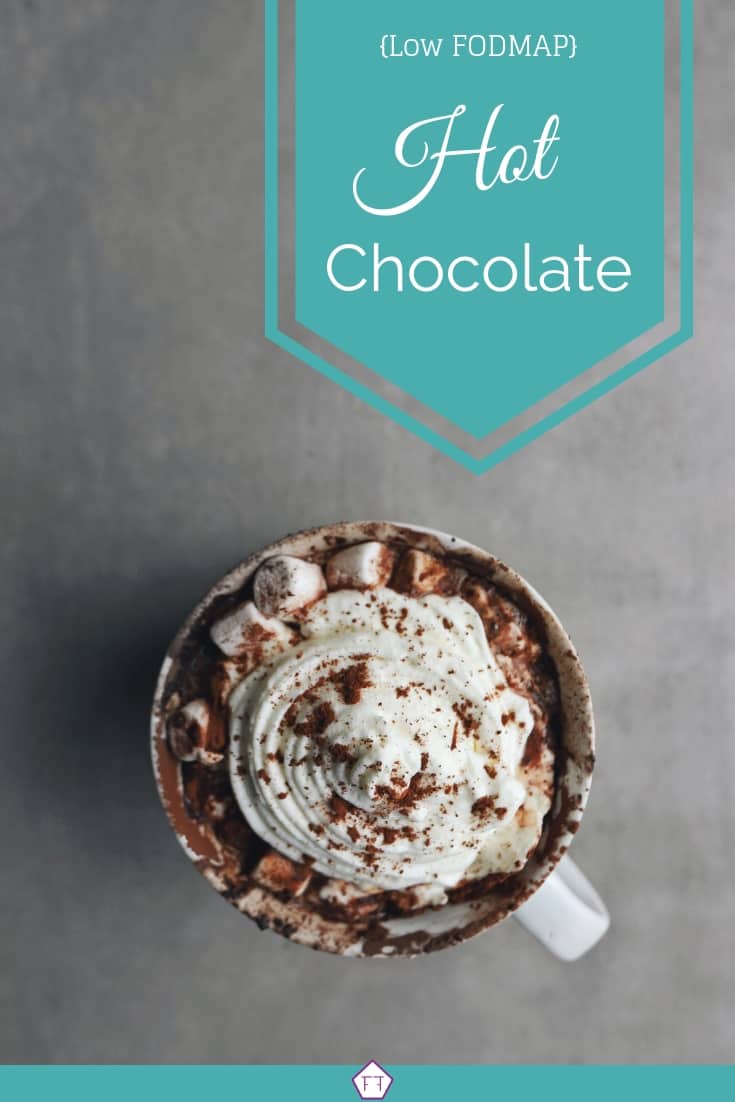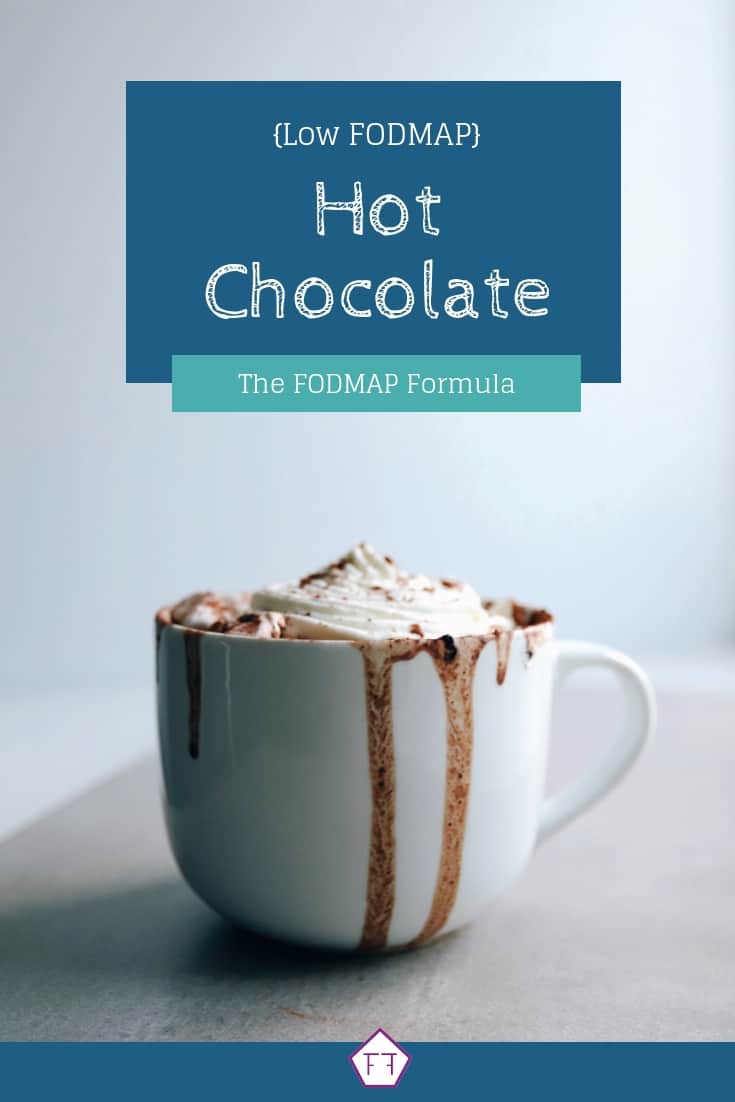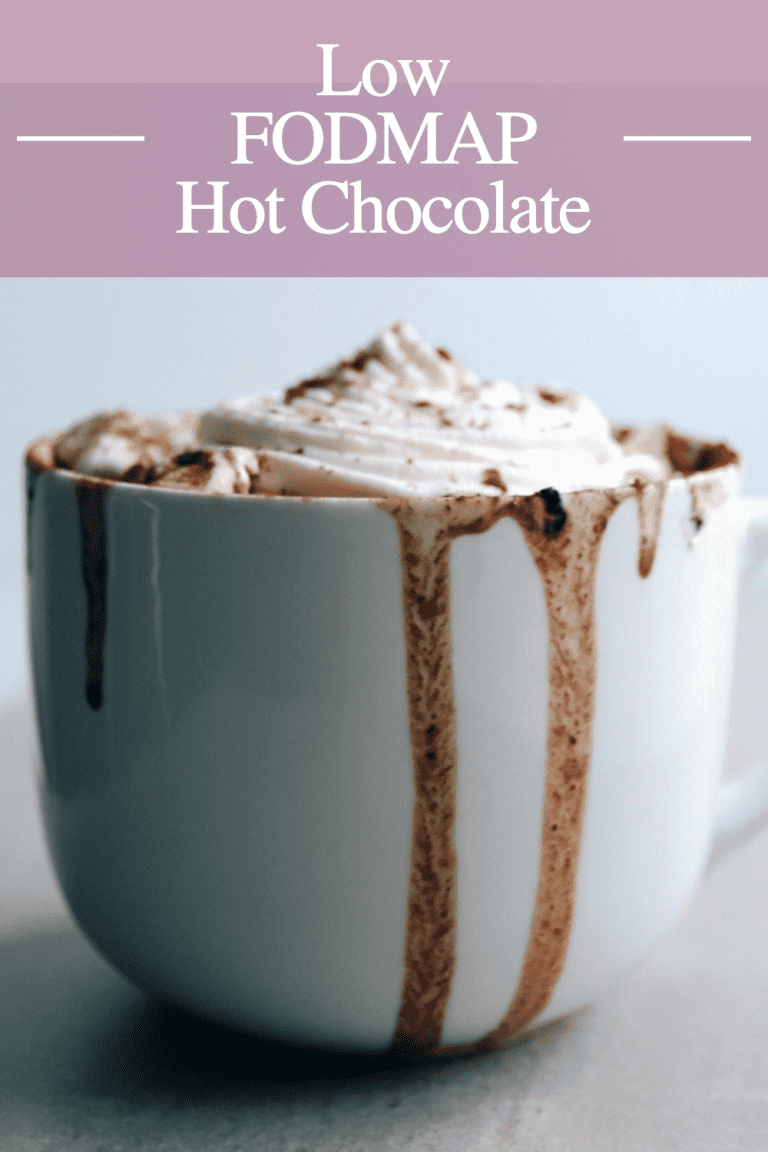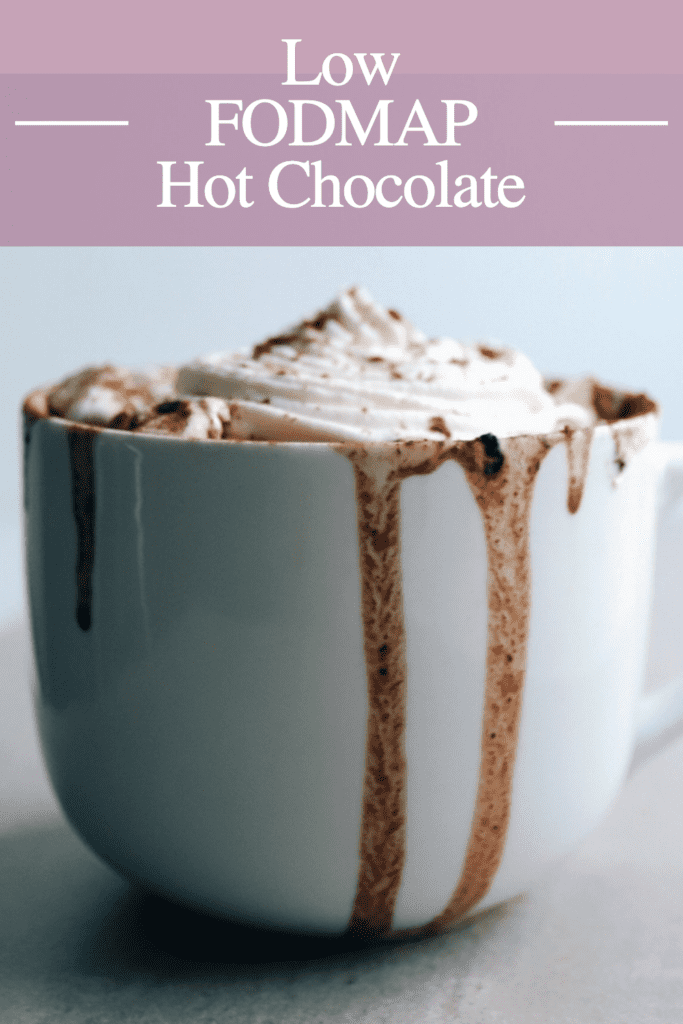 SaveSaveSaveSave
SaveSave