Has the Low FODMAP Diet put a kink in your game day plans? Don't worry. These low FODMAP buffalo chicken wings will leave your friends licking their fingers.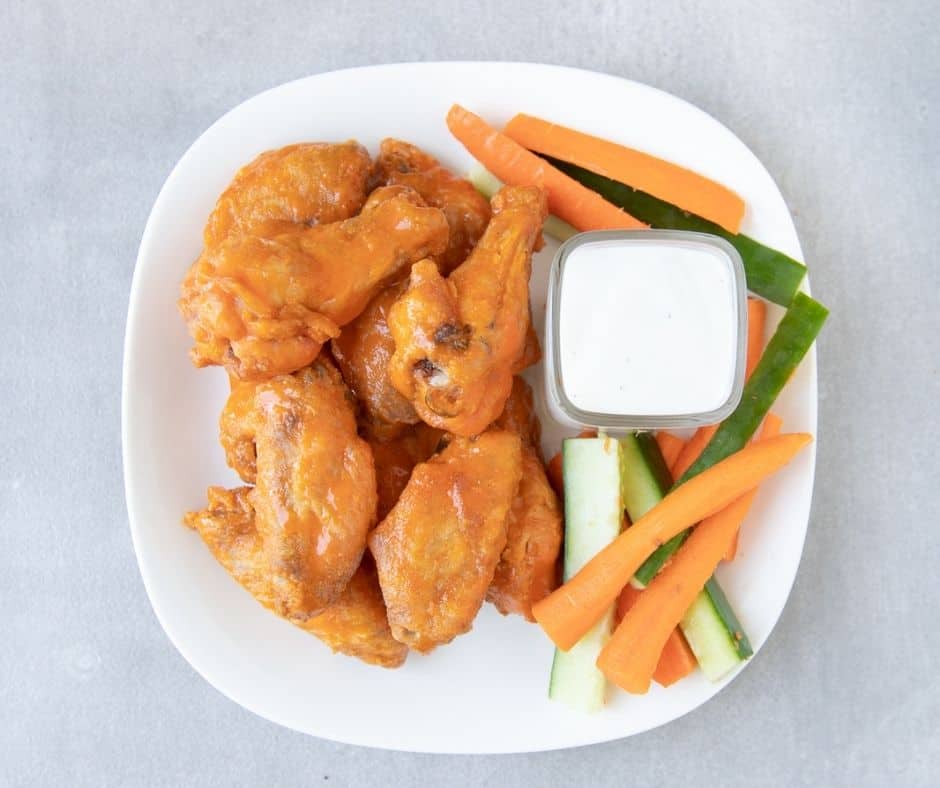 This is one of my favourite ways to make chicken wings. By tossing them in flour before you bake them, the skin gets nice and crispy, no deep-frying required. I also find it makes the wings a little lighter which is a bit easier on my tummy than restaurant-style chicken wings.
Technically you can toss these wings in whatever sauce you want. But my husband and I are partial to this savory buffalo sauce. With only a few ingredients, this recipe is quick and easy to make, which means you can keep your focus on the game. If buffalo sauce isn't your thing, you can also try my low FODMAP barbecue sauce.
Think these low FODMAP buffalo chicken wings sound great, but you don't have time to try them now? Don't worry. You can PIN THIS POST for later.
Keep It FODMAP Friendly
These low FODMAP buffalo wings are so good, no one will guess they're low FODMAP. Check out the notes below for tips on keeping this recipe FODMAP friendly.
First up is chicken. Since chicken is a protein, it doesn't have any FODMAPs. This means you can have as much chicken as you want without adding to your FODMAP load.
This recipe also uses flour. If you're in the elimination phase, you need to use gluten-free flour. If you don't have any handy, you can also use cornstarch.
Remember, unless you have celiac disease, you're avoiding the FODMAP fructan, not the gluten itself.
We also use Worcestershire sauce. According to Monash University, Worcestershire sauce is safe in servings of 2 tbsp per sitting. Our recipe uses 1 tsp, which is well within the recommended range.
Last but not least, this recipe uses cayenne pepper sauce. It can be hard to find low FODMAP pepper sauces because most brands use onion and garlic. If you can't find one at your local store you can make your own. If you're not sure where to find a homemade cayenne pepper sauce, I like this recipe by Chili Pepper Madness
Whose Side Are You On?
My husband and I like to serve these low FODMAP buffalo chicken wings with fresh low FODMAP veggies like carrots, cucumbers, or fresh bell pepper slices.
Looking for a hardcore game day side dish? Try my low FODMAP sweet potato fries or classic potato wedges to fill you up.
FODMAP math
You are what you eat! Check out the notes below to see how many servings of each FODMAP group are in 6-8 wings (1/2 lb) of these easy buffalo wings.
Fructose = 0
Lactose = 0
Fructan = 0
GOS = 0
Polyol = 0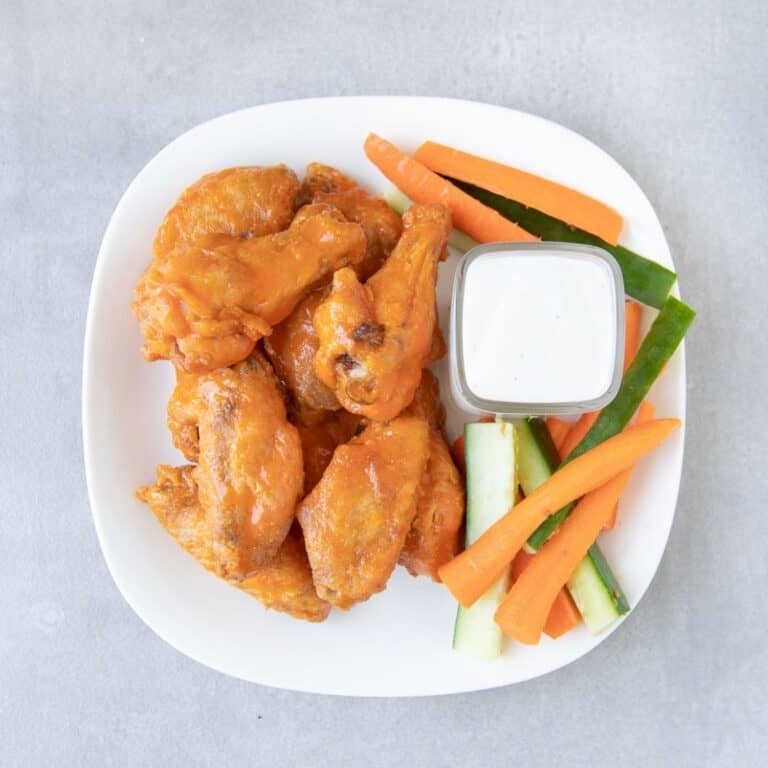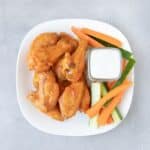 Low FODMAP Buffalo Wings
Feel like you're missing out on classic game day foods? Check out these low FODMAP buffalo wings. Baked to crispy perfection and tossed in a low FODMAP buffalo sauce, these chicken wings will be the MVP of your game day party.
Course:
Appetizer, Dinner, Lunch
What You Need
900

g

chicken wings

(separated and trimmed)

4

tbsp

gluten-free flour

pinch

salt and pepper

1/3

cup

low FODMAP cayenne pepper sauce

2

tbsp

butter

1

tsp

worcestershire sauce
What You Do
Preheat oven to 400 degrees and line a baking sheet with parchment paper.

Place your chicken wings in a Ziplock bag with the salt and pepper and give them a shake to coat. Then add the flour and shake them again. You might need to massage them a little to make sure you get full coverage.

Place the chicken wings on the lined baking sheet, making sure each wing has it's own personal space. Bake them until they're crispy and golden (about 45-50 minutes). Remember to turn them once about halfway through cooking.

While your chicken wings are cooking, combine the cayenne pepper sauce, butter, and worcestershire sauce in a small saucepan. Bring the mixture to a boil and then remove the saucepan from heat. Allow the mixture to cool to room temperature.

Once the wings are cooked, place them in a bowl and toss them in the buffalo sauce. Serve immediately.
You might also like one of these:
Low FODMAP Peri Peri Chicken Wings Set your taste buds to sizzle! These low FODMAP peri peri chicken wings will satisfy any spicy craving!
Low FODMAP Mediterranean Pizza Whether you're cooking up a date-night extravaganza or planning out your movie night menu, this easy low FODMAP Mediterranean pizza will hit the spot!
Low FODMAP Chicken Satay Looking for a mouthwatering appetizer, lunch, or dinner idea? This savoury low FODMAP chicken satay will hit the spot!!
If you like this post, don't forget to share it! Together we'll get the low FODMAP diet down to a science!
SaveSave