Getting tired of scrambled eggs? If you need some protein-packed breakfast inspiration, try this low FODMAP bruschetta omelet. Stuffed with fresh ingredients, this omelet will keep you fueled through your busy morning.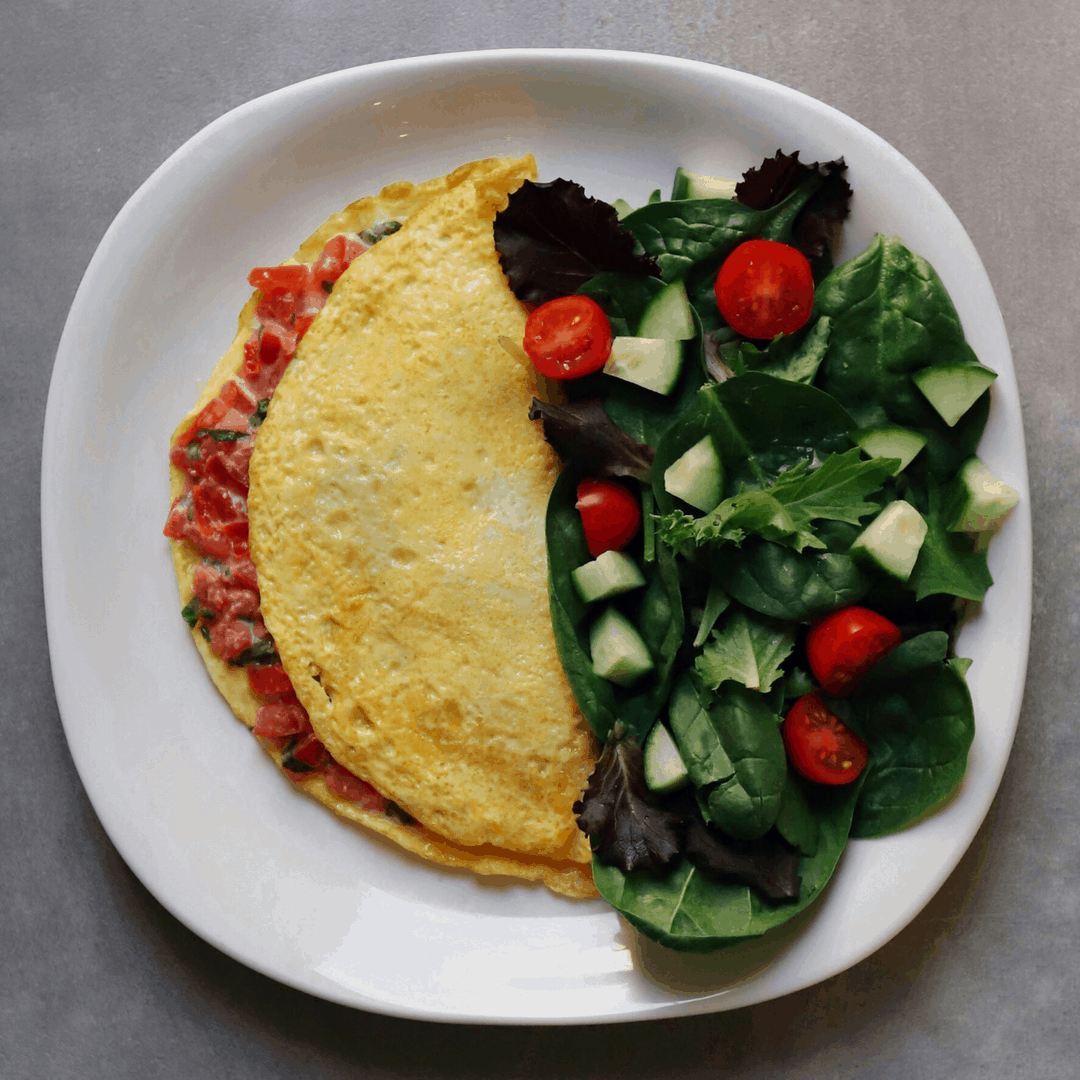 With 6 g of protein each, eggs are a great way to start a healthy day. That's one of the reasons I love this low FODMAP bruschetta omelet. Packed with tomatoes, fresh herbs, and a hint of cheese, this recipe sneaks a little healthy and a lot of flavour into your morning.
Think this low FODMAP bruschetta omelet sounds great, but you don't have time to try it now? Don't worry. You can PIN THIS POST for later.
Keep It FODMAP Friendly
This low FODMAP bruschetta omelet will add a fresh pop of colour and a ton of protein to your next breakfast. Check out the notes below for tips on keeping this recipe low FODMAP.
First, eggs are a protein, so they don't have any FODMAPs. However, some people have trouble digesting that much protein on its own. If you know you have trouble digesting eggs, try eating your omelet with toast or some low FODMAP fruit. Or, you can try using one egg instead of two.
Next up is tomatoes. According to the Monash app, roma tomatoes are safe in servings of 1 tomato. Servings of 5.5 tomatoes or more are high in the FODMAP fructan. It would be pretty hard to fit that many tomatoes in a single omelet, though. So I wouldn't worry about it.
This recipe also uses chèvre (goat) cheese. According to Monash chèvre cheese is safe in servings of 1/2 a cup per sitting. This recipe uses 2 tbsp of cheese, which works out to 1/2 a tbsp per sitting. This is within Monash's recommended range.
Whose Side Are You On?
This low FODMAP bruschetta omelet is a great way to add some protein to your morning. If you want some carbs to balance out your meal, try these paprika potatoes or my sweet potato fries.
If you're looking for something a little lighter, you can also pair this bruschetta omelet with a fresh Greek or garden salad.
Want to try this low FODMAP bruschetta omelet? Don't forget to PIN THIS RECIPE for later.
Print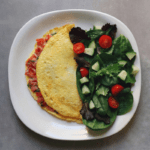 Low FODMAP Bruschetta Omelet
---
Description
Ready to shake up your eggs? Try this low FODMAP bruschetta omelet. Made with fresh veggies and herbs, this classic omelet is a great way to start your day.
---
2

roma tomatoes, diced

1 tbsp

olive oil
salt and pepper to taste

6

fresh basil leaves, torn

2 tbsp

chèvre cheese, crumbled

4

lg eggs, room temperature

2 tbsp

unsalted butter, divided
---
Instructions
Mix roma tomatoes, olive oil, and salt and pepper in a small bowl and set aside for 5-10 minutes. 
Add eggs to a mixing bowl and gently stir with a fork. You want to blend the eggs and their yolks without adding any air or making them frothy. 
Warm an 8 to 10″ frying pan over medium-high heat. Add 1 tbsp of butter and gently swish it around to thoroughly coat the bottom and sides of the pan. When you can smell the butter (but it isn't brown), you're ready to add your eggs. 
Add 1/2 a cup of eggs to the frying pan and shuffle it back and forth so the eggs spread out evenly on the bottom of the pan. While you continue to shake the eggs from side to side, take a fork and swish the top layer of the eggs to move the liquid egg around. The fork should be flat as you move it around so you don't break the cooked egg underneath. 
Once the omelet is almost fully solid, remove the pan from the heat and continue to shake and stir the uncooked portions of the egg until it has cooked through.
Quickly add your prepared basil and chèvre cheese to your bruschetta mixture and add 1/2 a cup of bruschetta mixture to the center of your egg. To create a half-folded omelet, gently fold one side of the omelet over the other and slide the omelet onto your plate. 
If you want a proper French-style omelet, fold one-third of the omelet over the center, then slide the open portion of the omelet onto the plate. Once it's in place, turn the pan at a 90-degree angle to create a third fold and tuck the edges underneath the omelet. 
Notes
The trick to an amazing omelet is to start with room temperature eggs. To get your eggs to the right temperature, let them rest in a bowl of warm tap water for 5 minutes before mixing them. 
Since omelets are ready in a flash, it's also a good idea to have all your filling ingredients prepped and close by. 
Prep Time:

10 minutes

Cook Time:

5 minutes

Category:

Breakfast, Brunch

Cuisine:

American
You might also like one of these:
Low FODMAP Scrambled Eggs with Dill and Feta Shake up your morning with these low FODMAP scrambled eggs with dill and feta. With a silky smooth texture and a little zip, these scrambled eggs will put some pep in your step.
Low FODMAP Smashed Avocado Toast Unleash your inner foodie with this quick and easy low FODMAP smashed avocado toast! Whether you're serving up brunch or enjoying a meal for one, this is the breakfast of champions.
Low FODMAP Breakfast Sausage Sandwiches Looking for a FODMAP-friendly breakfast that's dressed to impress? Get your brunch on with these savoury low FODMAP breakfast sausage sandwiches!
If you like this post, don't forget to share it! Together we'll get the low FODMAP diet down to a science!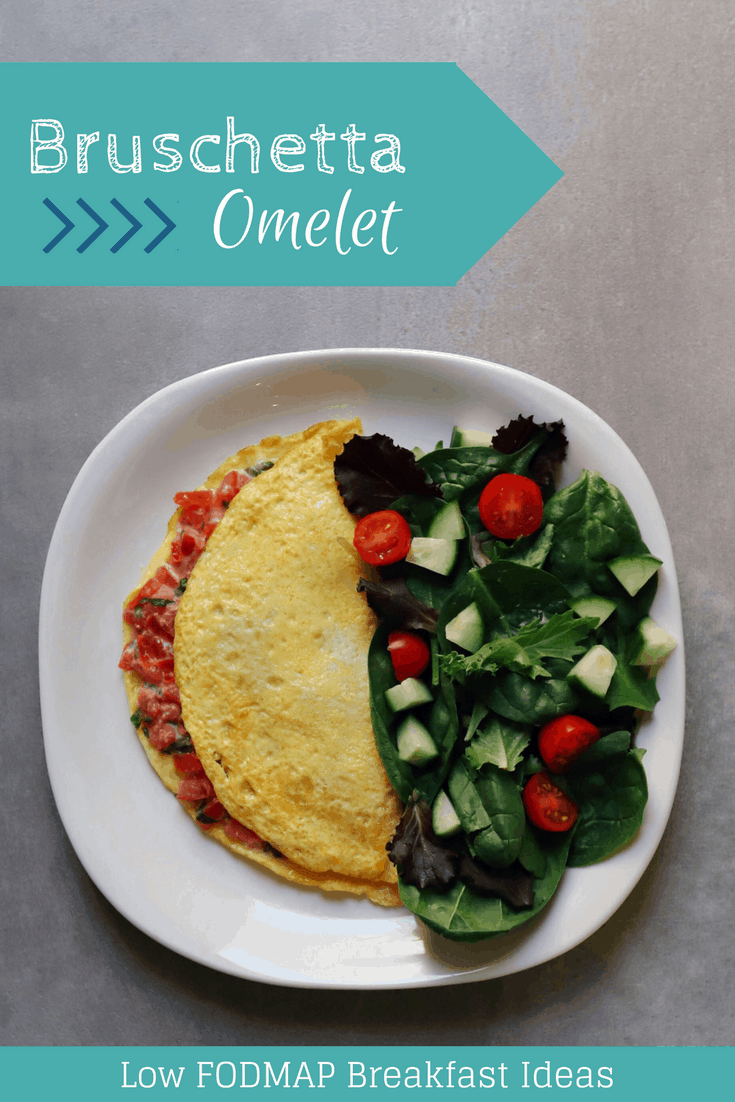 SaveSave
SaveSave
SaveSave
SaveSave
SaveSave
SaveSave
SaveSave
SaveSave