Want to see a magic trick? With the help of low FODMAP onion infused butter, this low FODMAP French onion soup is so good no one will know it's low FODMAP!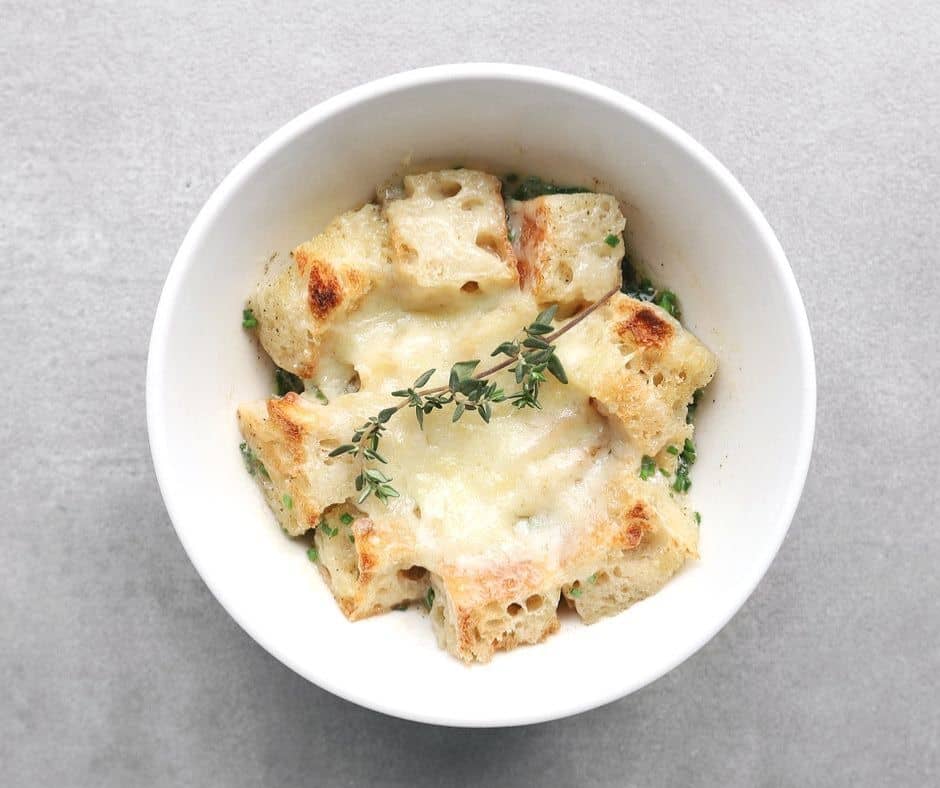 ---
Heads up, this post uses affiliate links. If you make a purchase using one of the links I've provided, I'll receive a small sum of money. You can read more about my affiliations here.
When I met my husband, I could barely boil water. Even then, I was terrified of his gas stove, so hot water was a no-go.
But once I started to find my groove in the kitchen, my husband started a "wish list" of things he wanted us to make. One of his top picks was French onion soup!
Unfortunately for him, I was put on the low FODMAP diet before we had a chance to try it out. But with a little science (and a lot of magic), I've created a Franken-FODMAPed recipe that is a dead ringer for the real thing!!
So whether you're looking for a head-turning appetizer or something savoury to warm you up after a long day, this easy low FODMAP French onion soup will hit the spot!
Heads up, this low FODMAP French onion soup is one of the recipes in my new low FODMAP soup ebook! Check it out in the FODMAP formula shop to see what else is inside!
Keep it FODMAP friendly
Looking for a classic lunch idea? This easy low FODMAP french onion soup will rock your socks! Check out the notes below for tips on keeping this recipe FODMAP friendly!
First up, infused butter. To get that authentic French onion soup flavour, we're going to use real onions to infuse our butter. Yes, I said we're using real onions! But you don't need to panic, friend. FODMAP chains break apart in water, contaminating the food and fluids around them.
But FODMAPs don't break down in fats. So it's possible to infuse fats like butter and oil with high FODMAP flavours to steal a little of their magic without adding and FODMAPs to your meal. Just make sure to strain your infused butter through several layers of cheesecloth before you use it to strain out any wayward particles!
If you want to learn more about infusing fats and how to tell if infused products are safe for you, check out my new article, why is garlic-infused oil low FODMAP?
Next up, leeks. These leeks are optional, as you'll get enough flavour from your infused butter. But if you don't enjoy dining on straight onion broth, the leeks will add a nice onion texture to your soup.
According to Monash University, leeks are low FODMAP in servings of 2/3 of a cup (54 g) per sitting. Servings of 1 cup (75 g) or more are high in the polyol mannitol.
We'll be using 2 cups of leeks, which works out to 25 g per serving. This is well within Monash's recommended range.
Next up, beef broth. It can be really tricky finding a low FODMAP beef broth, as most products use garlic and onion, as well as other high FODMAP ingredients like celery and beets. If you can't find a low FODMAP option at your local store, try my easy low FODMAP beef broth recipe.
We'll also be using a few slices of bread. If you're in the elimination phase of the low FODMAP program, you'll need to use gluten-free bread. According to the Monash app, gluten-free bread is low FODMAP in servings of 2 slices (52 g) per sitting. Servings of 3.5 slices (91 g) are high in the FODMAPs fructan and fructose.
This recipe calls for one slice of bread per soup bowl, which works out to 26 g per serving. This is well within Monash's recommended range.
Last but not least, swiss cheese. According to Monash, swiss cheese only contains trace amounts of FODMAPs. So you can eat larger servings without adding to your FODMAP load. That being said, cheese does have a lot of fat, which is a general gut irritant. So don't go crazy!
FODMAP math
You are what you eat! Check out the notes below to see how many servings of each FODMAP group are in one cup of this recipe. You can learn more about FODMAP stacking and how to avoid it here.
Fructose = 0.5
Lactose = 0
Fructan = 0.5
GOS = 0.02
Polyol = 0.5 (Mannitol)
Want to try this easy low FODMAP French onion soup? Don't forget to
PIN THIS POST
for later!
Print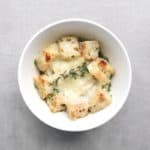 Low FODMAP French Onion Soup
---
Author:

Amy Agur

Prep Time:

30

Cook Time:

270

Total Time:

5 hours

Yield:

6 cups

1

x
Description
This low FODMAP French onion soup is so good you'll forget it's low FODMAP!
---
Scale
Ingredients
1/2 cup

unsalted butter

1 cup

yellow onion, chopped

2 cups

leeks – green part only, thinly sliced

1 cup

dry white wine

6 cups

low FODMAP beef broth

1 tsp

Worchestershire sauce

1/2 tsp

salt

1/2 tsp

dried thyme

6

slices low FODMAP crusty bread, cubed

1 tsp

dried basil
pinch salt

1.5 cup

Swiss cheese, shredded
---
Instructions
Melt the butter in a large frying pan over medium heat. Add the onions and cook for 15-20 minutes, sturring occasionally. Once the onions are tender, strain the butter directly into your slow cooker using a fine mesh sieve double lined with cheesecloth.
Add the leeks, wine, beef broth, Worchestershire sauce, salt and thyme to the slow cooker and cook on low for 4.5 hours.
Once the soup is cooked, preheat your broiler on high for 5-10 minutes. Combine the garlic-infused oil and basil in a small bowl and brush it generously onto your bread cubes. Broil the bread until the edges are golden brown and crunchy (about 3 – 5 minutes)
Ladel your soup into 4 oven-safe bowls. Top each bowl with bread and Swiss cheese. Place the bowls in the oven and broil them until the cheese has melted (about 2-4 minutes). Serve immediately.
---
Notes
Recommended low FODMAP serving – 1 cup
Category:

Lunch, Appetizer

Method:

Slow Cooker

Cuisine:

French
Nutrition
Serving Size:

1 cup

Calories:

486

Sugar:

4

Sodium:

556

Fat:

31

Saturated Fat:

16

Unsaturated Fat:

12

Trans Fat:

0

Carbohydrates:

28

Fiber:

6

Protein:

18

Cholesterol:

71
This low FODMAP French onion soup is so good no one will know it's low FODMAP! If you like this recipe, don't forget to share it! Together we'll get the low FODMAP diet down to a science!
P.S. Want access to bonus content, VIP discounts, and some fabulous freebies? Sign up for my mailing list below, and you'll get all these goodies and more sent directly to your inbox!
---
You might also like one of these soup recipes:
Low FODMAP Beef Stew Looking for a hearty dinner idea? Your whole family will love this savory beef stew!
Low FODMAP Leek and Potato Soup Looking for an easy lunch you can eat on-the-go? Grab your thermos, friend! This low FODMAP leek and potato soup is the perfect sidekick for a cold winter day.
Low FODMAP Thai Noodle Soup Shake up your lunch routine with this easy low FODMAP Thai noodle soup! Packed with fresh flavours, this soup will keep your taste buds and your tummy happy!