Hey friends, craving something with a little sizzle? Set your taste buds to stun and dig into these tasty low FODMAP peri peri chicken wings!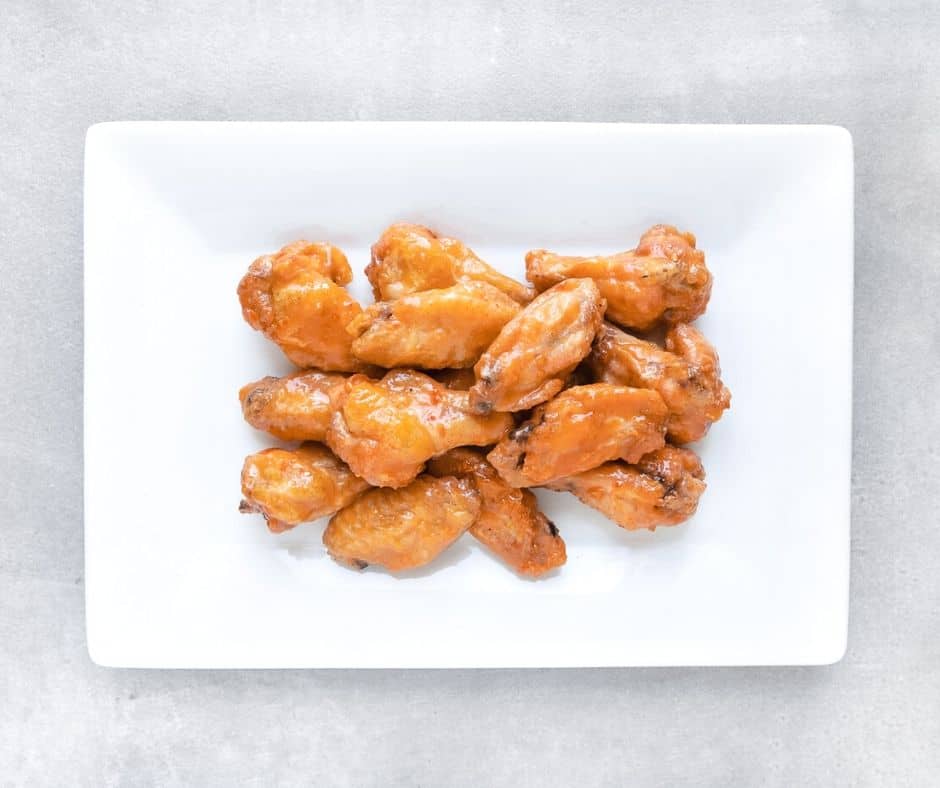 This post may contain affiliate links. That means if you make a purcahse using one of the links on this page I may receive a small comission. I only promote products I use in my own kitchen. You can read more about my affiliations
here
.
---
Last summer, my husband and I were invited to a friend's backyard barbecue. This friend is a master smoker, and anything that comes off his grill is pure magic. So you can bet we were pretty excited when we got an invitation for a chicken wing extravaganza.
This particular friend is also really careful about my "super weird diet," so when we arrived he pulled me aside to talk sauce. One of the magical potions sauces he was testing that day was peri peri sauce.
Now, growing up in Mississauga Ontario, I've always been surrounded by flavours from all over the world. But somehow I had never treated my taste buds to peri peri sauce.
One reason is that it is blasted spicy! And I had the taste buds of a 4-year-old until I tried to crack to code for low FODMAP Thai red curry and accidentally made lava. Now I have taste buds (and a tummy) of steel. But that's a whole other story.
The moral of the story here, is that since last summer I have been obsessed with creating low FODMAP peri peri sauce. I'll admit it was kind of tricky, because traditional recipes use a heapful of onion and a whole head of garlic, and that took a minute to work around.
But after a little experimenting, these tasty chicken wings were born. So if you're looking to get a little sweat on without lacing up your shoes, set your taste buds to stun and tuck into these mouthwatering peri peri chicken wings!!
Keep it FODMAP friendly
These epic low FODMAP peri peri chicken wings will leave your taste buds sizzling! There are a ton of ingredients in this recipe, so check out the notes below for the scoop on which ingredients you'll want to keep an eye on!
First up, chicken! Since chicken is a protein, it doesn't have any FODMAPs (unless you add them). So this won't add anything to your FODMAP load.
Next up, flour. If you're in the elimination phase of the program, you'll need to use gluten-free flour. Just remember to check the label for other high-FODMAP ingredients before you buy. For my North American peeps, I like PC's gluten-free flour.
Remember, unless you have celiac disease, you're managing the FODMAP fructan, not gluten itself.
We'll also be using shallot-infused olive oil. Don't panic!! FODMAPs are water soluble, which means their bonds break apart in water leaching FODMAPs into your food. But they don't break down in fats. So you can safely infuse tasty high-FODMAP flavours like garlic and onion into fats like butter and oil.
If you're not sure where to find a low FODMAP onion-infused oil, start with Fody Foods Co. Monash-certified shallot-infused olive oil.
You can read more about the mechanics of why infused oils are low FODMAP and how to pick low FODMAP products at your local store here.
We'll also be using ginger (what?). Peri peri sauce is traditionally made with garlic. Like, a lot of garlic! But that isn't going to work for us! So I did a FODMAP swap for fresh ginger.
Fresh ginger is one of my favourite ways to recreate the pungent saltiness and bite of garlic. The trick is to cut it into small pieces instead of grating or mincing it (think crushed almond size).
According to the Monash app, ginger doesn't have any FODMAPs, so it won't add anything to your FODMAP load.
PS if you pass your garlic re-challenge, start by adding a few cloves of raw garlic to the recipe. If that works for you, take out the ginger and work your way up to a whole head of garlic if you can (yeah a whole head!).
Next up, red Thai chilli peppers. According to Monash University, chilli peppers are low FODMAP in servings of 1 11cm pepper (about 28 g). Servings of 1 + 1/4 chillies (35 g) or more are high in the FODMAP fructan.
We'll be using 2-3 chillies (depending on what works for your tummy), which works out to about 13 g per serving. This is well within Monash's recommended range.
This recipe is traditionally made using African bird's eye chillies, but they haven't been tested by Monash, yet. Feel free to test them out when you reach the personalization phase of the program!
Heads up! Both red bell peppers and chillies contain a chemical called capsaicin. This chemical is what gives peppers their tell-tale kick! But it can also cause heartburn. If you know you're prone to heartburn, or if spicy foods muck up your guts, you might want to sit this one out!
Last but not least, coconut milk. I love spicy foods, but peri peri sauce can be a little tough on my tummy. So I add a few tbsp of coconut milk to give my gut a little break.
According to Monash, coconut milk is low FODMAP in servings of 1/4 cup (60 g) per sitting. Servings of 1/2 a cup (120 g) or more are high in the polyol sorbitol.
I've put 2 tbsp in the recipe because I want to stick as close to the traditional flavour as possible. But you can add a few tablespoons more if you need to. Just don't forget to adjust your FODMAP math!
Want to try this tasty recipe? Don't forget to save it for later!
FODMAP math
Wondering how these low FODMAP peri peri chicken wings stack up? Check out the notes below to see how many servings of each FODMAP group are in 1/2 a pound of these chicken wings.
Fructose = 0
Lactose = 0
Fructan = 0.2
GOS = 0
Polyol = 0.4 (sorbitol)
Print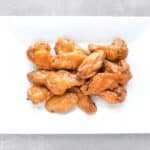 Low FODMAP Baked Peri Peri Chicken Wings
---
Author:

Amy Agur

Total Time:

1 hour 15 minutes

Yield:

2

lbs chicken wings

1

x
Description
Looking for a summer show stopper? These easy low FODMAP peri peri chicken wings will be a family favourite in no time!
---
2 cups

red bell pepper, roughly chopped

50 g

(2-3) red Thai chilli peppers, chopped

2 tbsp

fresh ginger, roughly chopped

1 tbsp

smoked paprika

1/2 tsp

ground black pepper

1/4 cup

white vinegar

2 tsp

salt

1 tbsp

dried oregano

1 tsp

lemon zest

1 tbsp

lemon juice

2 tbsp

coconut milk * optional

2

lbs chicken wings (separated and trimmed)

4 tbsp

low FODMAP flour
pinch salt and pepper
---
Instructions
Add all of your ingredients to a strong blender or food processor and blend until very smooth. 
Transfer the sauce to a medium-sized saucepan and cook on medium-low heat. The sauce is done when you can drag a spoon across the bottom of the pan and leave a trail. Let the sauce cool to room temperature
Preheat oven to 400 degrees and line a baking sheet with parchment paper. 
Place your chicken wings in a Ziplock bag with the salt and pepper and give them a shake to coat. Then add the flour and shake them again. You might need to massage them a little to make sure you get full coverage. 
Place the chicken wings on the lined baking sheet, making sure each wing has it's own personal space. Bake them until they're crispy and golden (about 45-50 minutes). Remember to turn them once about halfway through cooking. 
Once the wings are cooked, place them in a bowl and toss them in the peri peri sauce. Serve immediately. 
Notes
Recommended low FODMAP serving – 1/2 lb of peri peri chicken wings per sitting. 
This sauce is traditionally made with African bird's eye chilli peppers, but this pepper has not been tested by Monash, yet. Sub any spicy low FODMAP pepper during the first or second phase of the program. 
This sauce loses a bit of its bite after freezing. So if you find it a little too spicy for your taste buds, try freezing it before you use it. 
Prep Time:

30 min

Cook Time:

45 min

Category:

appetizer, lunch, dinner

Method:

baking

Cuisine:

South African, American
Nutrition
Serving Size:

1/2 lb wings

Calories:

715

Sugar:

6 g

Sodium:

1403 mg

Fat:

52 g

Saturated Fat:

12 g

Unsaturated Fat:

0 g

Trans Fat:

0 g

Carbohydrates:

18 g

Fiber:

2 g

Protein:

42 g

Cholesterol:

170 mg
Keywords: Low FODMAP Peri Peri Chicken Wings, Low FODMAP baked peri peri chicken wings, low FODMAP piri piri wings
You might also like one of these:
Low FODMAP Buffalo Chicken Wings Whether you're gearing up for game day or settling in for a cozy backyard BBQ, these easy buffalo chicken wings will be the talk of your table.
Low FODMAP Enchiladas Give your dinner routine a shake with these easy low FODMAP enchiladas! Stuffed with savoury seasoned beef and smothered in a homemade red sauce these enchiladas will be the talk of your table.
Fully Loaded Low FODMAP Nachos Whether you're getting looking for a fun family recipe or settling in for the big game, these fully loaded nachos will be the talk of your table!
If you like this post, don't forget to share it! Follow me on Instagram @fodmapformula for more FODMAP-friendly tips and recipes! Together we'll get the low FODMAP diet down to a science!