Do you have a jam-packed schedule? If you're like me, you probably have some go-to recipes you can throw together in a pinch. If the Low FODMAP Diet threw a monkey wrench in your backup plan, you can try these low FODMAP roasted vegetables.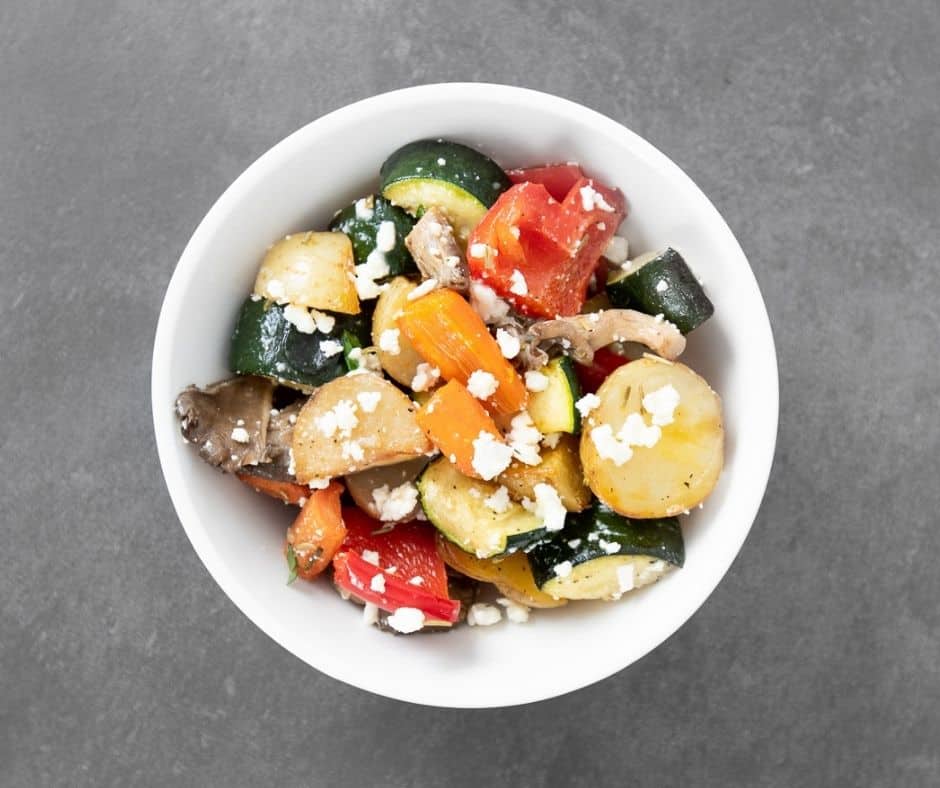 Heads up, this post uses affiliate links. If you make a purchase using one of the links I've provided, I'll receive a small sum of money. You can read more about my affiliations here.
---
My husband and I love these low FODMAP roasted vegetables. While they're technically a side dish, we usually make them for a hearty lunch. Since potatoes are so filling, this recipe is perfect if you're in for a busy afternoon. It can also be scaled up or down depending on how many servings you need. This makes it an ideal side dish for parties and family holidays.
Think these hearty low FODMAP roasted vegetables sound great, but you don't have time to try them now? You can PIN THIS POST for later.
Keep It FODMAP Friendly
One of my favourite things about this recipe is that most of the ingredients are FODMAP friendly. Check out the notes below for specific information on keeping these low FODMAP roasted vegetables FODMAP friendly.
First, according to Monash University, potatoes and carrots don't contain any FODMAPs. This means you can eat as many as you want without adding to your FODMAP load.
We'll also be using red peppers. Monash has recently updated the recommended serving of red peppers. They used to be listed as "eat freely," meaning you could have as much as you'd like without adding to your FODMAP load.
According to the recent update, red peppers are low FODMAP in servings of 1/3 cup (43 g) per sitting. Servings of 1/4 pepper (57 g) are now high in the FODMAP fructose.
We'll be using 3/4 of a cup (14 g) per serving. This is well within Monash's new recommended range.
Next up is zucchini. The Monash app says zucchini is safe in servings of 1/2 a cup (66 g). Monash recommends avoiding servings over 100 g or more, as they're high in fructans. This recipe uses one zucchini (about 1.5 cups), which works out to 49.5 g per serving. This is within the recommended serving size.
Our final ingredient is feta cheese. According to Monash University, feta cheese is safe in servings of 1/2 a cup. This recipe uses 1/4 cup, which works out to 1 tbsp per serving. This is also within the recommended range.
Pick Your Headliner
While these low FODMAP roasted vegetables are delicious on their own, they also make a great side dish. I like to pair my roasted veggies with meats like pork tenderloin, steak, or my seasoned chicken breasts.
Fun fact: you can also make this recipe on the barbecue. This is handy if you're trying to keep your kitchen cool in the summer, or if you're cooking your main dish on the BBQ already. Since the temperature will be a little higher, make sure you check your veggies often after 15-20 minutes so they don't get too crispy.
Want to try these low FODMAP roasted vegetables? Don't forget to PIN THIS RECIPE for later.
Print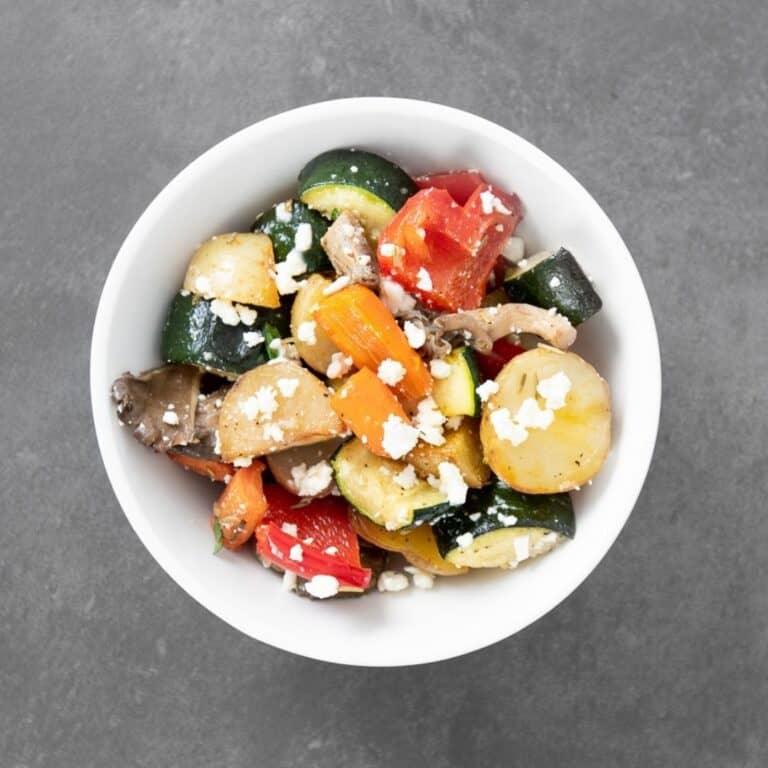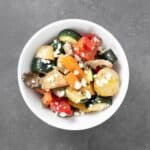 Roasted Vegetables with Rosemary & Feta
---
Description
Need a quick and easy FODMAP friendly recipe? Try these low FODMAP roasted vegetables. Ready in under 30 minutes, these roasted vegetables will fill you up and add some FODMAP friendly fiber to your diet. 
---
1

zucchini

3/4 cup

red pepper

2

carrots
mini potatoes (as many as you want)
salt & pepper to taste

1 tbsp

dried rosemary, crushed
fresh rosemary (for garnish)

1/2 cup

feta
---
Instructions
Preheat the oven to 425 degrees. Place all of the veggies (except the zucchini) in a roasting pan with salt, pepper, garlic infused olive oil, and dried rosemary. Roast uncovered for 30 minutes. Shake them every ten minutes so they don't stick – add the zucchini on the first shake. 
Once the vegetables are tender, place them in your serving dish and add your feta and fresh rosemary. Serve warm.
Notes
Recommended low FODMAP serving – 1 cup per sitting
Monash has recently updated the low FODMAP serving of red peppers. This recipe has been updated to accommodate the new recommendations. 
Prep Time:

10 minutes

Cook Time:

30 minutes

Category:

Side Dish

Cuisine:

American
You might also like one of these:
Low FODMAP Chile-Lime Carrots Looking for a side dish that sizzles? These chile-lime carrots will add fresh pop of flavour to any weeknight!
Low FODMAP Slow Cooker Stuffing This quick and easy low FODMAP slow cooker stuffing is the perfect sidekick for any holiday meal!
Low FODMAP Warm Potato Salad Whether you're gearing up for the holiday season, or you're looking for the perfect sidekick for the big game, this warm potato salad is a winner!
If you like this post, don't forget to share it! Together we'll get the low FODMAP diet down to a science!
SaveSave
SaveSave
SaveSave
SaveSave
SaveSaveSaveSaveSaveSave