The first few days of the Low FODMAP Diet can be frustrating. There are so many things to remember that looking at recipes can feel exhausting all on its own. Then you have to find the energy to get the food and put it together. This is one of the reasons I recommend this low FODMAP spicy pasta sauce to beginners.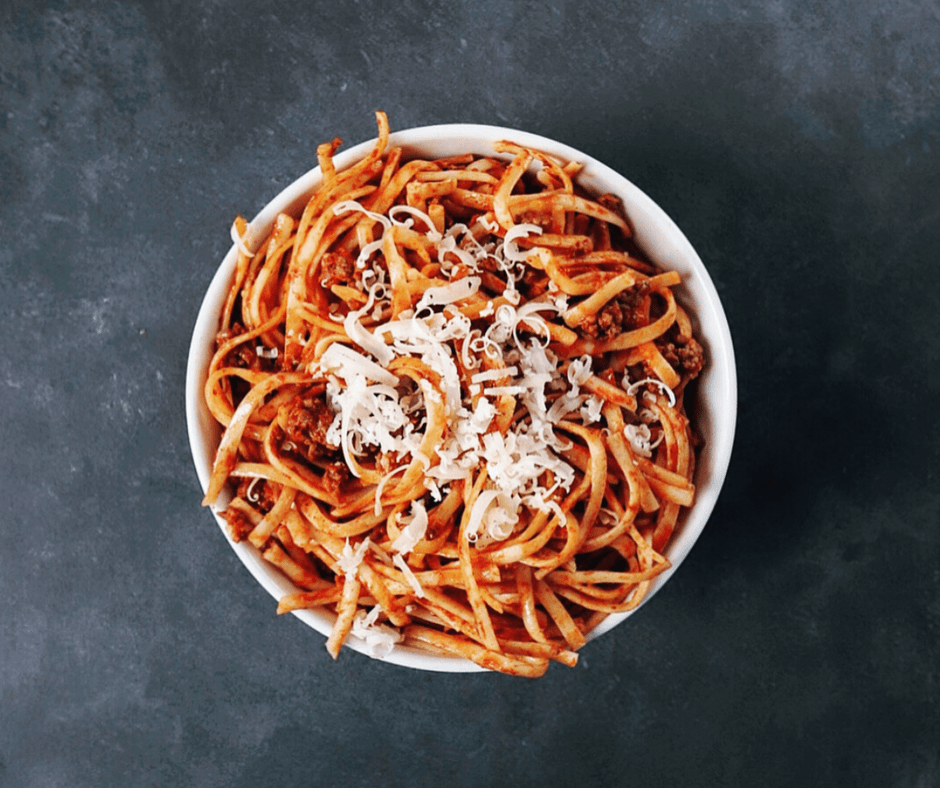 Heads up, this post uses affiliate links. If you make a purchase using one of the links I've provided, I'll receive a small sum of money. You can read more about my affiliations here.
---
Don't let the title scare you. I have the taste buds of a 4-year-old, so this recipe is pretty tame as far as "spicy" goes. If you're still worried, you can always cut the spices in half.
I like this recipe in particular because it's ready in under 30 minutes. Since I normally have these ingredients on hand, it's an easy meal idea when I'm in a pinch. As a bonus, the sauce can be frozen in individual portions. I normally keep one or two servings in my freezer for emergencies.
If that sounds great, but you don't have time to look at it now, you can PIN IT for later.
Keep it FODMAP Friendly
You're going to love this low FODMAP spicy pasta sauce. Check out the notes below for some handy tips on keeping this recipe FODMAP friendly.
First, Monash University recommends limiting canned tomatoes to 1/2 a cup (or 92 g) per sitting. Servings of 3/4 cups or more can be high in the FODMAP fructan. This means you'll need to keep an eye on your serving size.
This recipe serves 4 people. As long as you manage your portion, you'll fall within the recommended serving size.
Next up is pasta. According to the Monash app, 1 cup of gluten-free pasta per sitting is low FODMAP. Yes, this includes seconds. Servings of 1.5 cups or more can be high in the FODMAP fructan. When I'm hungry, my eyeballs tend to lie shamelessly; so I would recommend physically measuring your pasta before you dig in.
Finally, if you like your pasta with a side of cheese, you're in luck. Hard cheeses like parmesan or asiago have most of their lactose broken down during the cheese making process. This makes them FODMAP friendly during the elimination phase as long as you stick to a "green" serving size. According to the Monash app, you can have up to 1/2 a cup of parmesan per sitting. That should be more than enough.
Whose Side Are You On?
You may have noticed that a safe portion of pasta is kind of small. I solve this problem with side dishes.
My husband and I like to pair this pasta recipe with a fresh garden salad. You can also go a little crazy and make yourself some fresh low FODMAP garlic bread.
Think this sounds doable? Don't forget to PIN IT so you can give it a try.
Print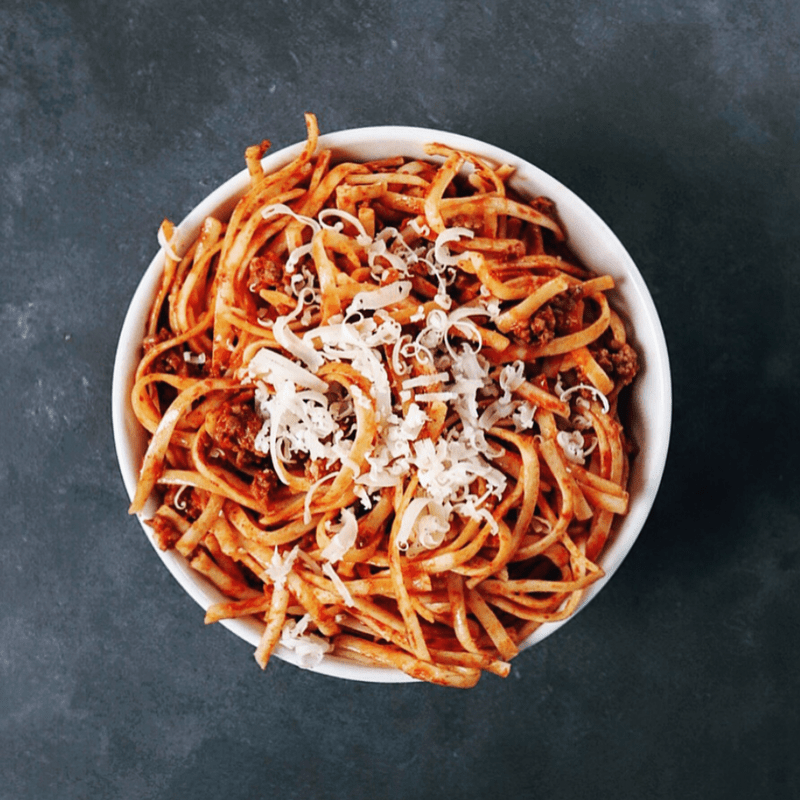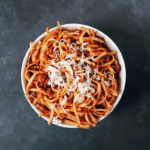 Spicy Pasta Sauce
---
Description
A delicious alternative to traditional spaghetti bolognese. Use whatever kind of gluten-free pasta you have on hand, and enjoy!
---
1

box gluten-free pasta

2 tsp

olive oil

1

lb lean ground beef

2 cups

tomato puree

1/2 tsp

cayenne pepper

1/2 tsp

chilli powder
salt and pepper to taste
---
Instructions
Heat both oils together in a frying pan. Add ground beef and cook until browned (break it up as small as you can).
Once meat is cooked through, add tomato puree, cayenne powder,  chili powder, and salt and pepper.  Stir thoroughly and leave to simmer (stirring occasionally).
Fill a large pot with water and bring to a boil.  Cook pasta according to instructions.
Once pasta is cooked, remove from pot with a slotted spoon and place it directly in the sauce (do not drain). Stir to coat pasta and allow to sit for 2-3 minutes to absorb the flavour of the sauce.  
Plate pasta and top with parmesan and any additional sides. Enjoy!
Notes
Recommended low FODMAP serving – 1 cup per sitting 
Monash has recently updated the recommended serving size for tomatoes. This recipe has been updated to accommodate their new recommendations.
This sauce is freezer friendly
Prep Time:

5 minutes

Cook Time:

25 minutes

Category:

Main Course

Cuisine:

Italian
You might also like one of these:
Low FODMAP Marinara Sauce Your whole family will love this quick and easy dinner idea. Made with simple ingredients, this will be one of your go-to recipes in no time.
Low FODMAP Meatball Sub Looking for a savoury lunch idea? These easy low FODMAP meatball subs will have even the pickiest eaters coming back for seconds!
Low FODMAP Beef Bourguignon Looking for a dinner that's dressed to impress? This dangerously easy beef bourguignon will be the talk of your table!
If you like this post, don't forget to share it! Together we'll get the low FODMAP diet down to a science!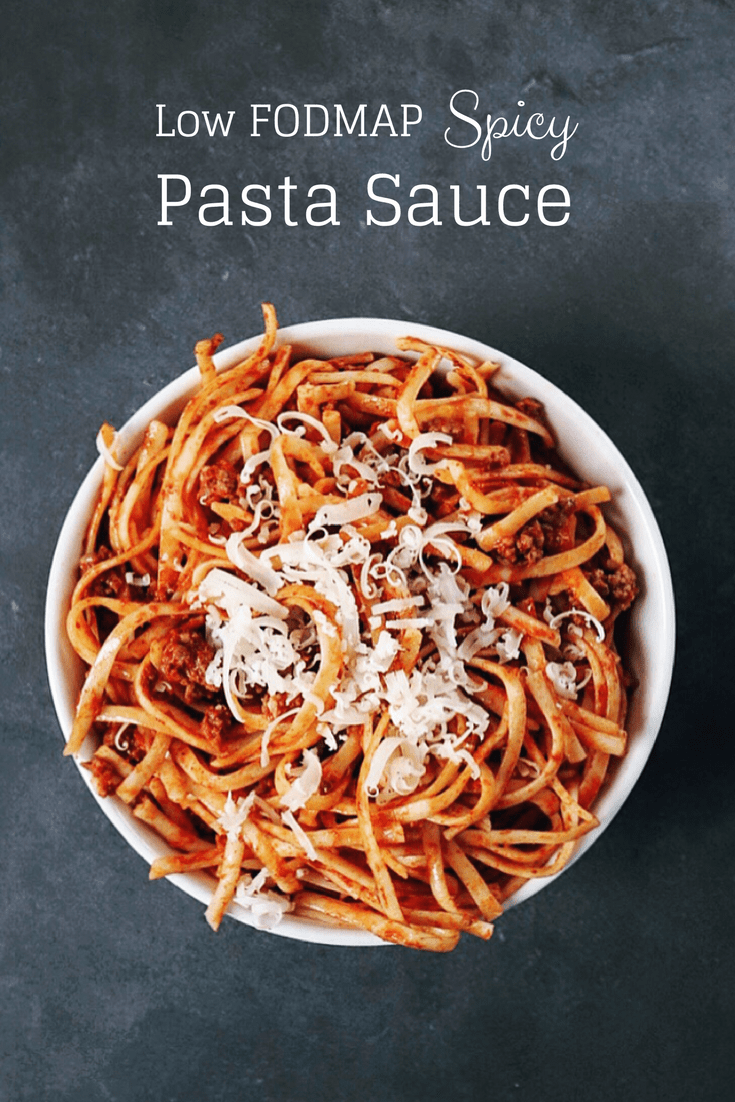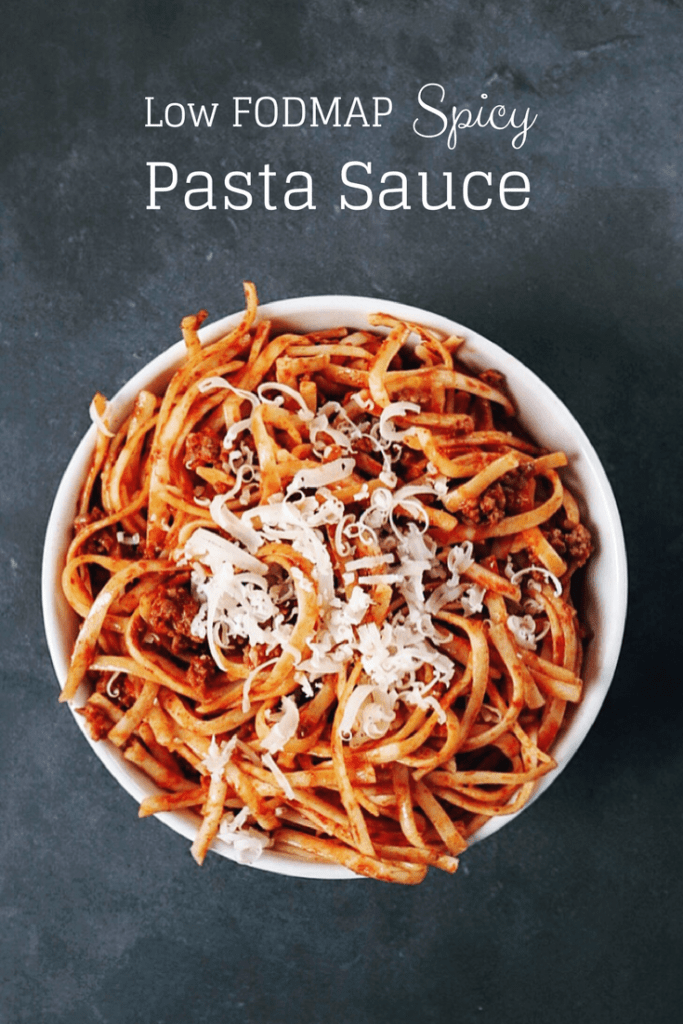 SaveSave
SaveSave
SaveSave
SaveSave
SaveSave
SaveSave
SaveSave