Mornings are a stressful time of day for me. I have to get everyone up, fed, and out the door before I can even think about my "real job." While I'm fussing around with boots and lost toys and sleepy heads, breakfast isn't on my radar. This is one of the reasons I like these low FODMAP bacon and cheddar scuffins.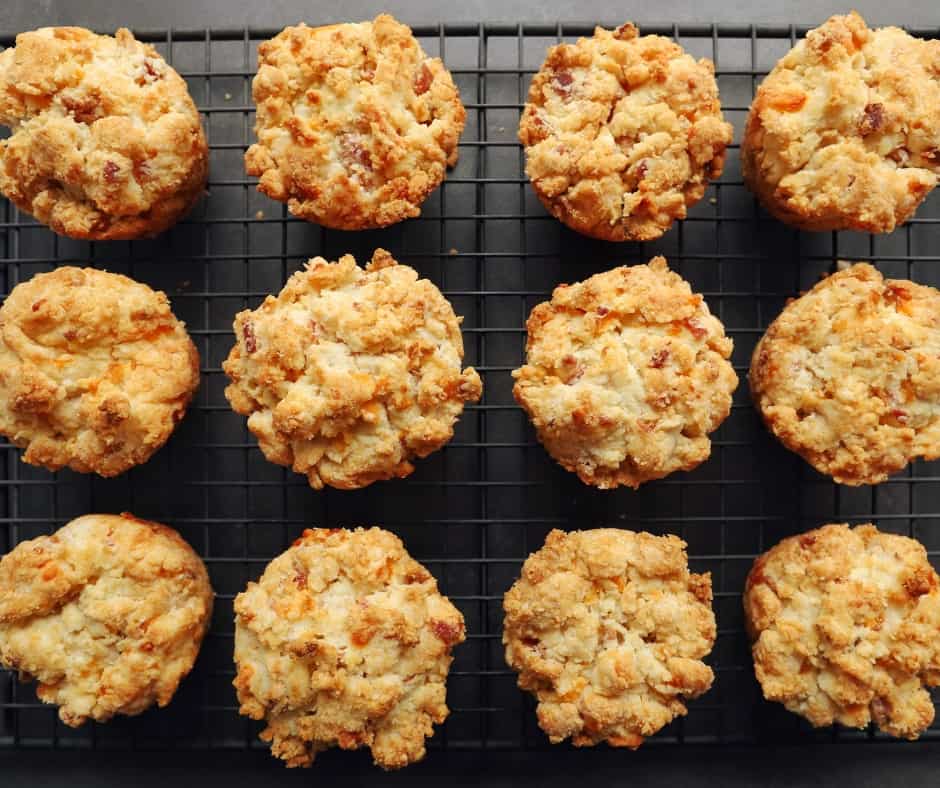 The best thing about these savory little scuffins is that I can make them in advance. When I have a free weekend, I'll make a batch or two and stick them in the fridge for an easy peasy breakfast all week long.
When I first told my husband about this recipe, he said they sounded weird and he absolutely did not want one. I have to tell you, though, a few minutes after they came out of the oven, one suspiciously disappeared.
My husband only confessed to the theft when I caught him coming back for seconds. Since then, we've started making them regularly. Although, my husband still refuses to call them by name.
So, what exactly is a scuffin? Technically, it's a cross between a scone and a muffin. Savory scuffins tend to lean more toward a crumbly scone. Sweet ones lean more toward a muffin. If bacon and cheddar isn't your thing, Check out my low FODMAP strawberry scuffin recipe.
Think these low FODMAP bacon and cheddar scuffins sound great, but you don't have time to try them now? Don't worry, you can PIN THIS POST for later.
Keep It FODMAP Friendly
These low FODMAP bacon and cheddar scuffins will take a ton of stress out of your morning. Check out the notes below for tips on keeping this recipe FODMAP friendly.
First, if you're in the elimination phase, you need to use lactose-free milk. Neilson has a Lactose-free line that goes up to 3.25% fat. I like using a high-fat milk for scuffins. I find the extra fat helps hold everything together.
This recipe also uses cheddar cheese. Hard cheeses are lower in lactose because bacteria break it down during the fermentation process. According to the Monash app, IBS patients can have up to 1/2 a cup of shredded cheddar cheese per sitting.
This recipe uses 1/2 a cup of cheddar cheese, which works out to 0.6 tbsp per serving. This is within the suggested range, even if you have more than one scuffin.
Finally, you'll need to use gluten-free flour. Remember, unless you have celiac disease, you are not avoiding the gluten itself. Instead, you are avoiding the FODMAP fructan.
For my Canadian peeps, I used PC gluten-free all-purpose flour. It's cup for cup and doesn't have any extra gums, which is nice.
If you think these low FODMAP scuffins will get your mornings off to the right start, don't forget to PIN THIS RECIPE for later.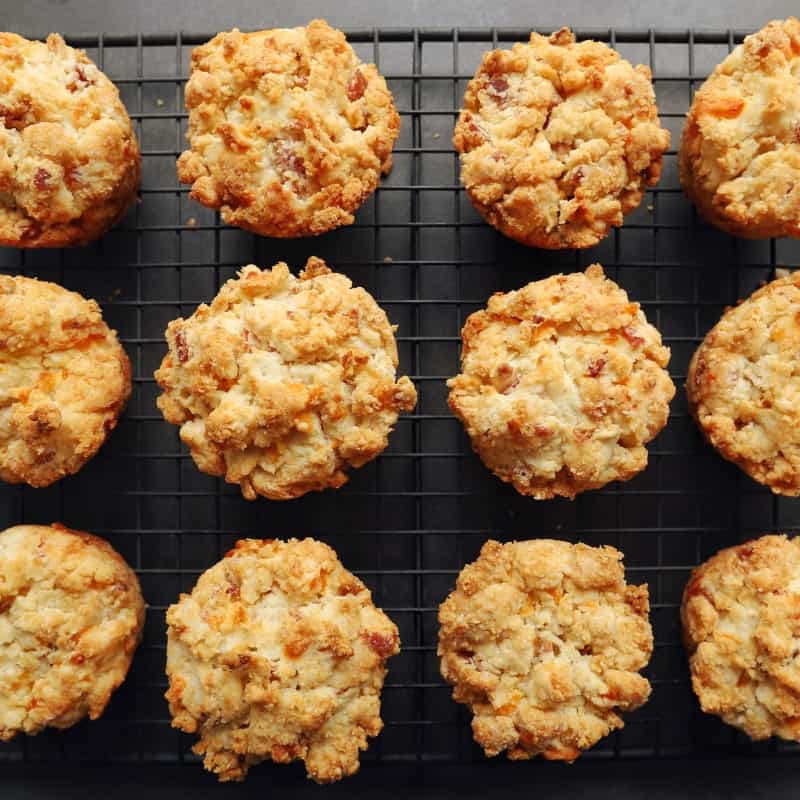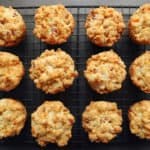 Low FODMAP Bacon and Cheddar Scuffins
Mornings can be easy with these low FODMAP bacon and cheddar scuffins. These savoury treats can be made in advance and stored in the fridge for a stress-free breakfast all week long.

What You Need
1

egg

(lightly beaten)

1

cup

lactose-free milk

(2%)

3

cup

gluten-free flour

1

tbsp

sugar

1

tbsp

baking powder

1/4

tsp

salt

1/2

cup

butter

1/2

cup

cheddar cheese

(shredded)

6

slices bacon

(crumbled)
What You Do
Preheat oven to 400 degrees. Grease muffin tray with butter or cooking spray. Set aside.

Combine egg and milk in a small bowl and set aside.

Combine flour, sugar, baking powder, and salt in a large bowl. Cut in butter using your fingers or a pastry cutter until the mixture becomes coarse crumbs.

Stir in the cheese and bacon, and make a well in the center of the bowl. Pour the entire egg mixture into the well, and mix with a fork until just moist. DO NOT over mix!

Spoon the batter into the muffin tray and bake for 20-25 minutes (or until the tops are golden brown). Cool for 5 minutes on a wire rack before serving.
Notes
These are best enjoyed warm. If you're storing them in the fridge, pop them in the microwave for 20-30 seconds before eating.
If you like this post, don't forget to share it! Together we'll get the low FODMAP diet down to a science!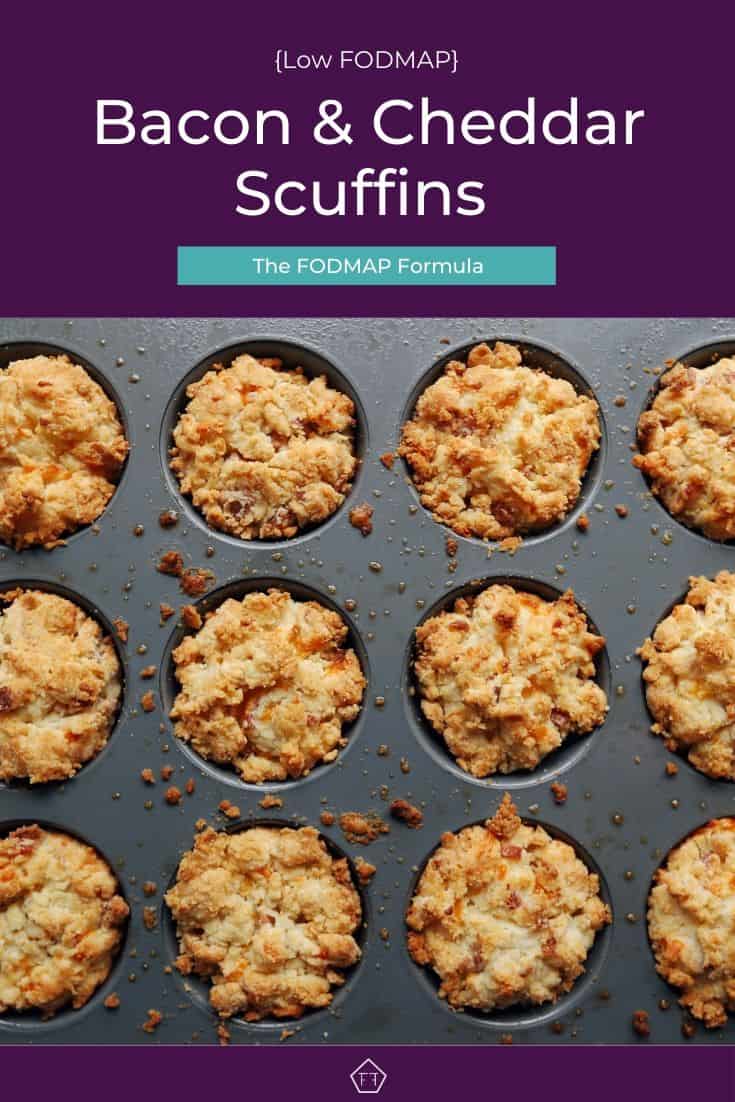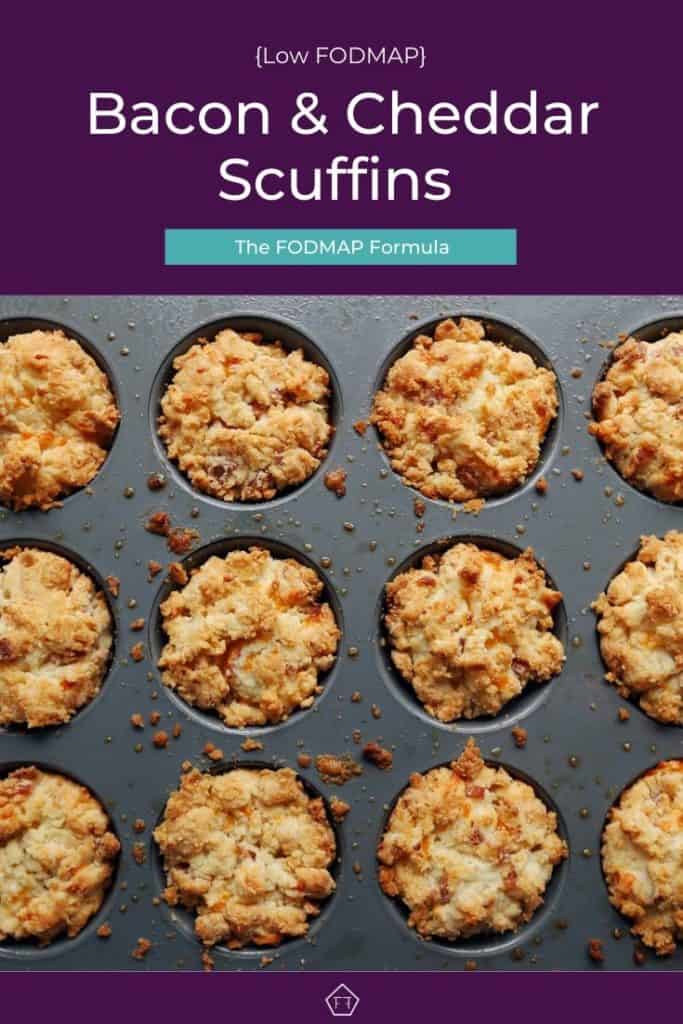 SaveSave
SaveSave
SaveSave
SaveSave
SaveSave