Looking for a tasty breakfast on-the-go? Try this simple low FODMAP yogurt parfait. Made with savoury granola and fresh strawberries, it will keep your taste buds and your tummy happy!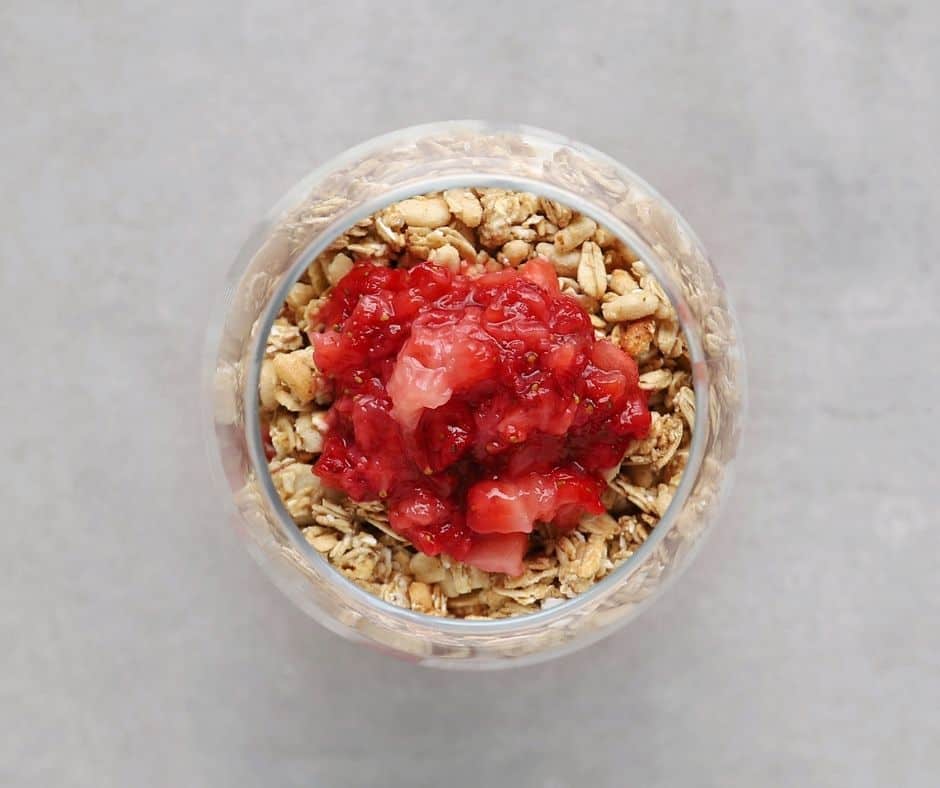 This low FODMAP yogurt parfait is a standard recipe in our house. I love it because it's so easy to pack all the parts separately the night before and throw them together in the morning for a spectacular breakfast.
Because good friends share, I'll let you in on Ontario's best-kept secret. The trick to a fantastic parfait is to smash the strawberries with a potato masher or a ricer before you add them. This sweet, sticky mess mixes spectacularly with the yogurt and creates a true breakfast of champions.
Smooshing your strawberries works best with fresh, local strawberries. If strawberries don't grow in your region (or if they're out of season), frozen strawberries will work just fine. You can also go for a classic sliced strawberry if that's your jam.
Pssst! This recipe is part of my 30 under 30 challenge! For the month of June, I'll be posting a new recipe every day that's ready in 30 minutes or less. Make sure to hop on my mailing list below, so you don't miss a thing!
Keep It FODMAP Friendly
Looking for a new way to start your day? Try this simple low FODMAP yogurt parfait! Check out the notes below for tips on keeping this recipe FODMAP friendly!
First up, yogurt. If you're in the elimination phase of the program, you'll need to use lactose-free yogurt. You should also make sure to check the label for added high FODMAP ingredients like high fructose corn syrup (HFCS), xylitol, sorbitol, inulin, and natural flavours like cherry, blackberry, peach, etc.
We'll also be using strawberries. According to the Monash App, strawberries don't have any detectible FODMAPs. That means you can eat as many as you'd like (from a FODMAP perspective, of course).
Last but not least, granola. Many granolas are high FODMAP, as they contain high FODMAP nuts, dried fruit, and sweeteners like honey. While there are some low FODMAP granolas available, I usually make my own.
For this recipe, I like using my low FODMAP stovetop granola recipe. This recipe is a bit sweeter, so it pairs nicely with the strawberries. If you're looking for something savoury, try my low FODMAP crunchy granola. Heads up! This recipe was calculated using my low FODMAP stovetop granola. If you use something else, don't forget to adjust your FODMAP math.
FODMAP Math
Want to know how this recipe stacks up? Check out the notes below to see how many servings of each FODMAP group are in this recipe.
Fructose = 0
Lactose = 0
Fructans = 0.39
GOS = 0.97
Polyols = 0
Want to try this low FODMAP yogurt parfait? Don't forget to PIN THIS RECIPE for later!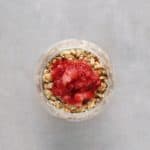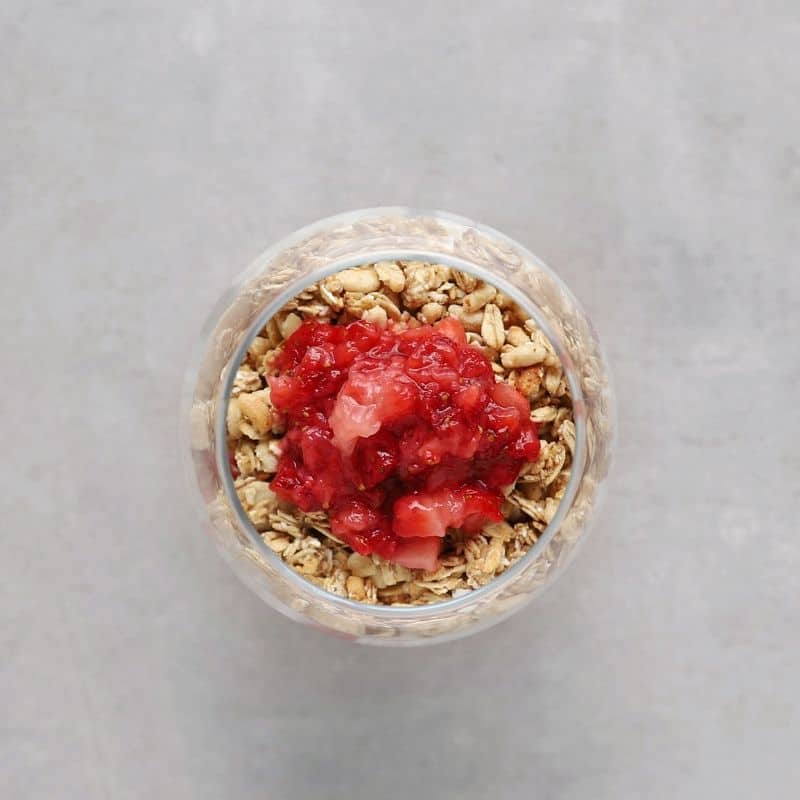 Low FODMAP Yogurt Parfait
What You Need
1

cup

plain low FODMAP yogurt

1/4

cup

low FODMAP granola

4-5

fresh strawberries

(sliced)
What You Do
Place your strawberries on a small plate and smoosh them with a potato masher or ricer.

Place 1/2 of your yogurt in the bottom of a cup or bowl, followed by 1/2 of your strawberries and half of the granola. Repeat each layer a second time, and top with one final dollop of yogurt or strawberries.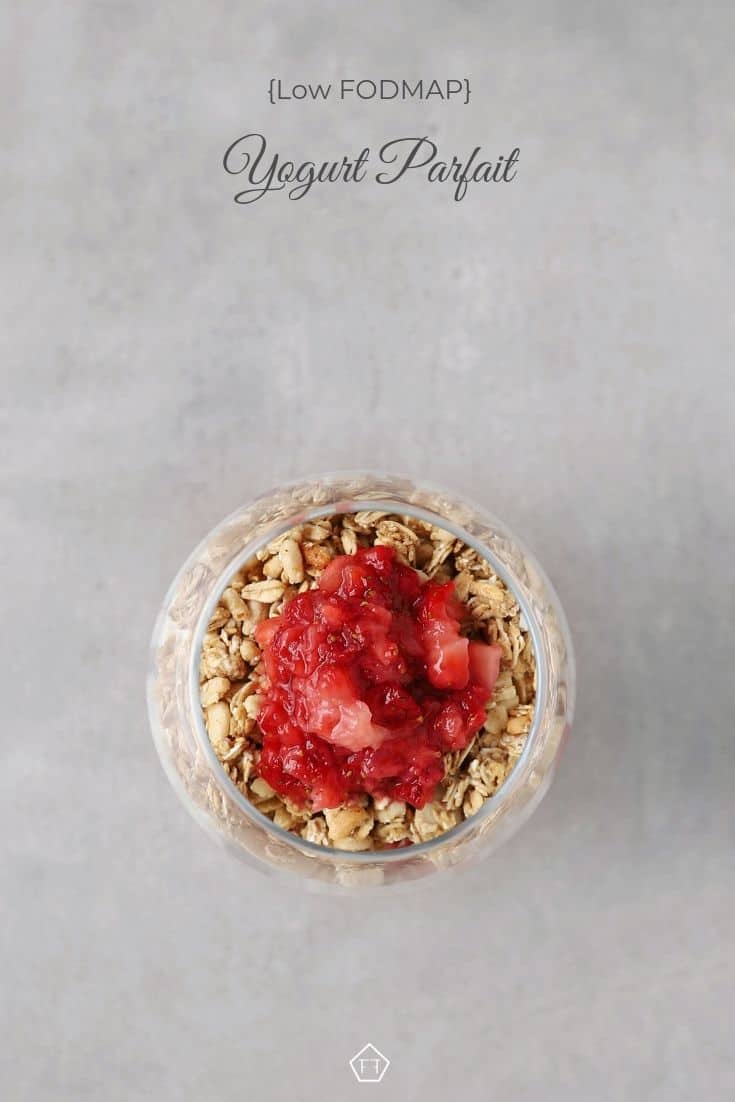 This low FODMAP yogurt parfait is the perfect way to start your day! If you like this recipe, don't forget to share it! Together, we'll get the low FODMAP diet down to a science!
P.S. Want access to bonus content, VIP discounts, and some fabulous freebies? Sign up for my mailing list below, and you'll get all these goodies and more sent directly to your inbox!
© 2019 Amy Agur – The FODMAP Formula
---
You might also like one of these:
Low FODMAP Maple Oatmeal Need a healthy breakfast to help you power through your busy day? Ready in 15 minutes, this quick and easy low FODMAP maple oatmeal is the perfect morning sidekick!
Low FODMAP Breakfast Bars Make your morning a little easier with these low FODMAP breakfast bars! Packed with protein and a little magic, these breakfast bars will help you power through your busy day!
Low FODMAP Raspberry Muffins Looking for an easy make-ahead breakfast idea? These raspberry muffins are so light and fluffy, no one will guess they're low FODMAP!