Looking for a healthy lunch you can take on the go? This low FODMAP taco salad will be a family favourite in no time! Packed with fresh veggies and bold taco flavours, it's so tasty you'll forget it's low FODMAP!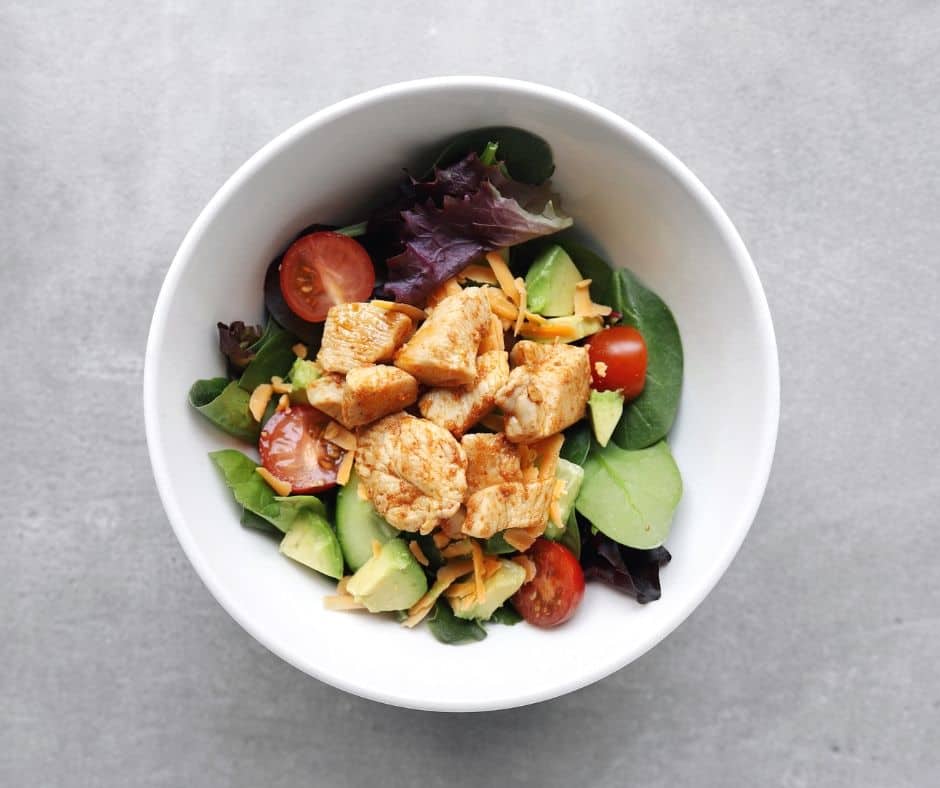 ---
Heads up, this post uses affiliate links. If you make a purchase using one of the links I've provided, I'll receive a small sum of money. You can read more about my affiliations here.
My husband is obsessed with tacos. So much so that we had to put a moratorium on tacos in our house for a while. But a life without tacos is no life at all! So my husband and I worked out a healthy compromise… taco salad!
This low FODMAP taco salad has the classic flavour you're craving. But, unlike their hand-held counterparts, this recipe comes with a ton of fresh veggies. Plus, by eating it directly off a plate, you don't lose half your precious taco filling.
As if this recipe wasn't great enough already, you can make the chicken in advance. So if you're looking for a fun lunch you can take to work or school, this recipe is a winner!
Keep It FODMAP Friendly
Looking for a fun dinner idea? This low FODMAP taco salad will put a healthy twist on your next taco Tuesday! Check out the notes below for tips on keeping this recipe low FODMAP.
First up is chicken. Since chicken is a protein, it doesn't have any FODMAPs. That means you can eat as much chicken as you'd like without adding to your FODMAP load.
We'll also be using garlic-infused oil. Did your hair just stand up on end? Don't panic! FODMAPs break down in water but not in fats. So you can safely infuse high FODMAP flavours like onion and garlic into fats like oil and butter without unleashing a bunch of FODMAPs on your dinner. If you want to know more about how this process works, check out this article.
Not all infused oils are created equally, though! When you're purchasing an infused oil, make sure to check the label for ingredients like "natural flavours," "garlic," or "garlic extract."
You should also take a peek in the bottle to look for pieces of garlic or sediment floating in the oil. These are not true infused oils, so they're not appropriate for the low FODMAP program.
If you're having trouble finding a low FODMAP garlic oil, Fody Foods Co.'s garlic-infused oil is certified by Monash University, so it's 100% low FODMAP.
Next up, taco seasoning! Most pre-packaged taco seasonings contain onion and garlic. So they're not appropriate during the elimination phase. If you want to make your own, you can grab my recipe here. If you'd prefer something pre-packaged, I use Fody's low FODMAP taco seasoning regularly.
We'll also be using mixed greens. While most types of lettuce are low FODMAP, some greens (like baby spinach, chicory leaves, and radicchio) become high FODMAP in large servings. So make sure you double-check what's in your package against your Monash app before you buy.
We'll also be using roma tomatoes. According to the Monash app, roma tomatoes are low FODMAP in servings of 1 tomato (75 g) per sitting. Servings of 1 + 1/3 tomatoes (250 g) are high in the FODMAP fructan.
We'll be using 2 tomatoes which works out to 38 g per sitting. This is well within Monash's new recommended range.
We'll also be using cucumber. According to Monash University, cucumber doesn't contain any FODMAPs. So you can add as much as you'd like without adding to your FODMAP load.
Next up, cheddar cheese. Monash has determined cheddar cheese only has trace amounts of lactose. So a standard serving won't contribute anything to your FODMAP load.
Heads up! While cheddar cheese is low in FODMAP, it's very high in fat. Since fat is a general gut irritant, it does trigger symptoms in some people. So don't go crazy!
We'll also be using avocado. According to the Monash app, avocado is low FODMAP in servings of 1/8 of an avocado (30 g). Servings of 1/4 of an avocado (45 g) or more are high in the FODMAP sorbitol.
This recipe uses 1/2 an avocado total. This works out to 30 g of avocado per serving, which is within Monash's recommended range.
Last but not least is salsa! Finding a low FODMAP salsa can be tricky, so I usually make my own. My low FODMAP salsa recipe doesn't have any FODMAPs, so you can add as much as you'd like without adding to your FODMAP load.
Heads up! The FODMAP math for this recipe was calculated using my salsa recipe. If you're using a pre-packaged low FODMAP salsa, you'll need to adjust your FODMAP math accordingly.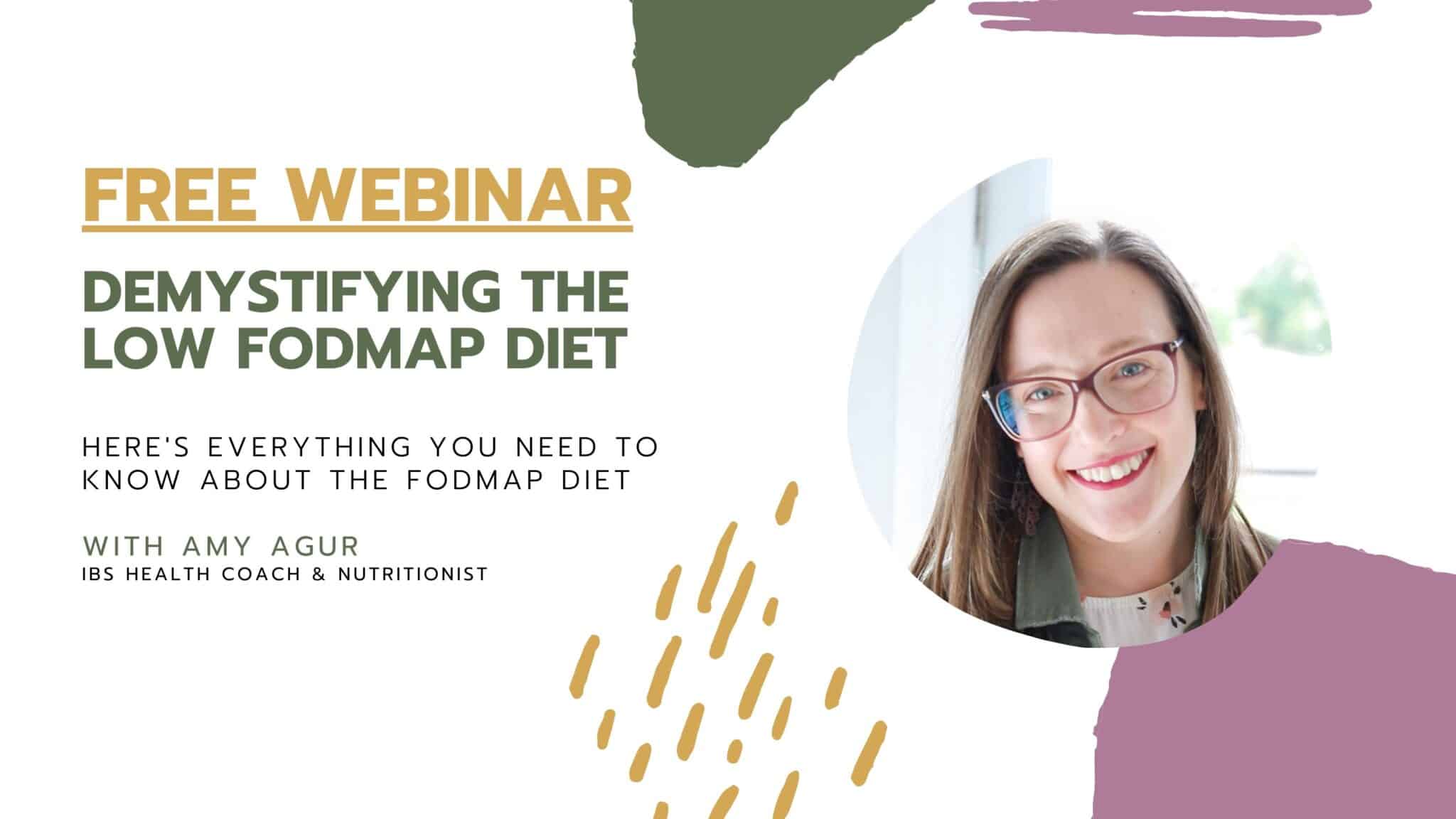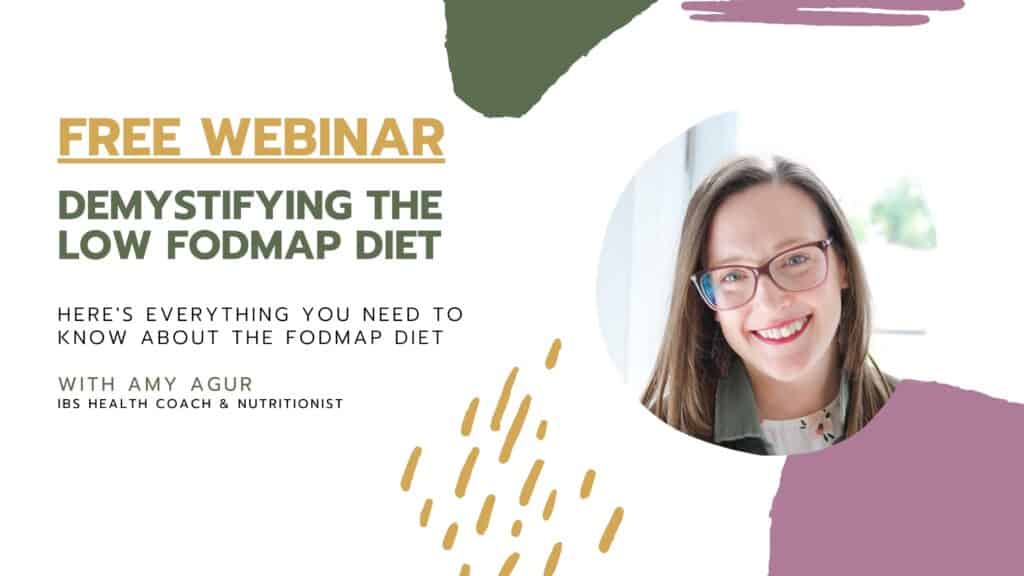 FODMAP Math
Wondering how this low FODMAP taco salad stacks up? Check out the FODMAP math below for information on how many servings of each FODMAP group will be on your plate. Want more information on FODMAP stacking? Check out my full article here.
Fructose = 0
Lactose = 0
Fructans = 0.5
GOS = 0
Polyols = 1 (Sorbitol)
Want to try this low FODMAP taco salad? Don't forget to PIN THIS RECIPE for later!
Print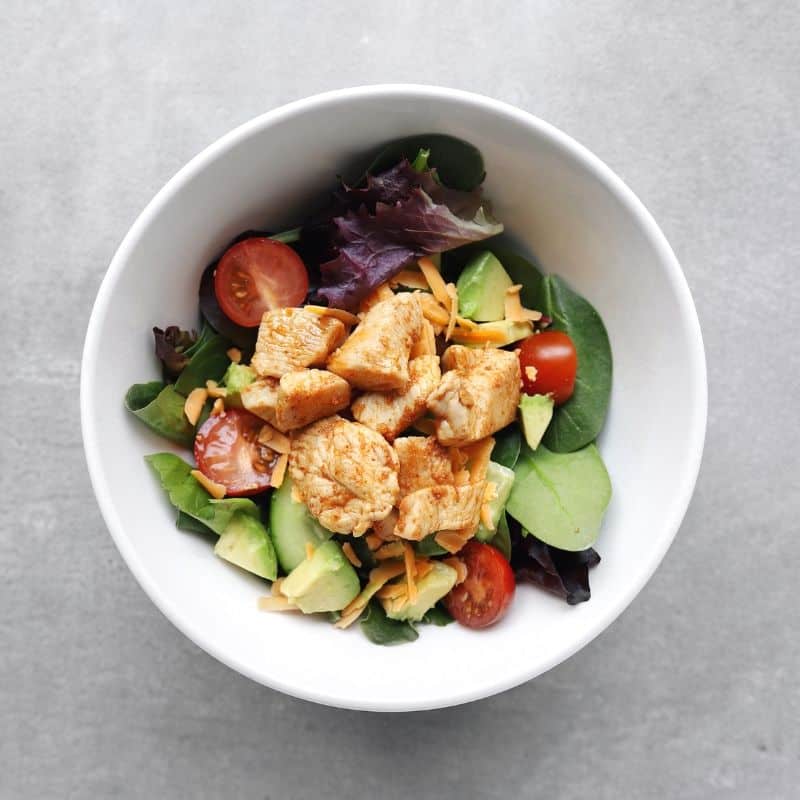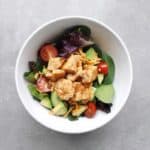 Low FODMAP Taco Salad
---
Description
Want to give your next taco Tuesday a healthy twist? Try this quick and easy low FODMAP taco salad!
---
1 tbsp

garlic-infused oil

2

chicken breasts, cut into small pieces

1 tbsp

low FODMAP taco seasoning

0.5 cup

water

4 cups

low FODMAP mixed greens

2

roma tomatoes

0.25 cup

cucumber, diced

1 cup

cheddar cheese, grated

0.5

avocado, thinly sliced

0.5 cup

low FODMAP salsa *optional
---
Instructions
Heat your oil in a large frying pan over medium heat. Add your chicken and scramble-fry until cooked through (about 6-8 minutes).
Combine the taco seasoning and water in a small bowl and add it to the pan. Allow the mixture to simmer until most of the water has evaporated, stirring occasionally (about 4-5 minutes).
Divide mixed greens, tomatoes, cucumber, cheddar cheese, and avocado between four bowls or travel containers. Top each bowl with chicken and salsa.
Notes
Recommended low FODMAP serving size – 1 salad per sitting
Monash University recently updated the recommended serving size of tomatoes. This recipe has been updated to reflect their new recommendations. 
Prep Time:

10 minutes

Cook Time:

15 minutes

Category:

Dinner, Lunch

Cuisine:

American
You might also like one of these:
Low FODMAP Seasoned Chicken Breasts Don't get stuck in a chicken rut! These low FODMAP chicken breasts are perfect on salads, in sandwiches, or as the VIP in any meat and potatoes dish!
Low FODMAP Chicken Caesar Wrap Looking for a tasty lunch that travels? Whether you're crushing it at work or having a quiet lunch at home, this chicken caesar wrap will make lunch a little easier!
Low FODMAP Hamburgers Bring on the summer with these easy low FODMAP hamburgers! Packed with savoury flavours, no one will guess they're low FODMAP.
If you like this post, don't forget to share it! Together we'll get the low FODMAP diet down to a science!