Hey friend! Looking for a quick and easy breakfast you can take on the go? Packed with fresh fruit and protein, this low FODMAP strawberry orange smoothie is the perfect way to start your day!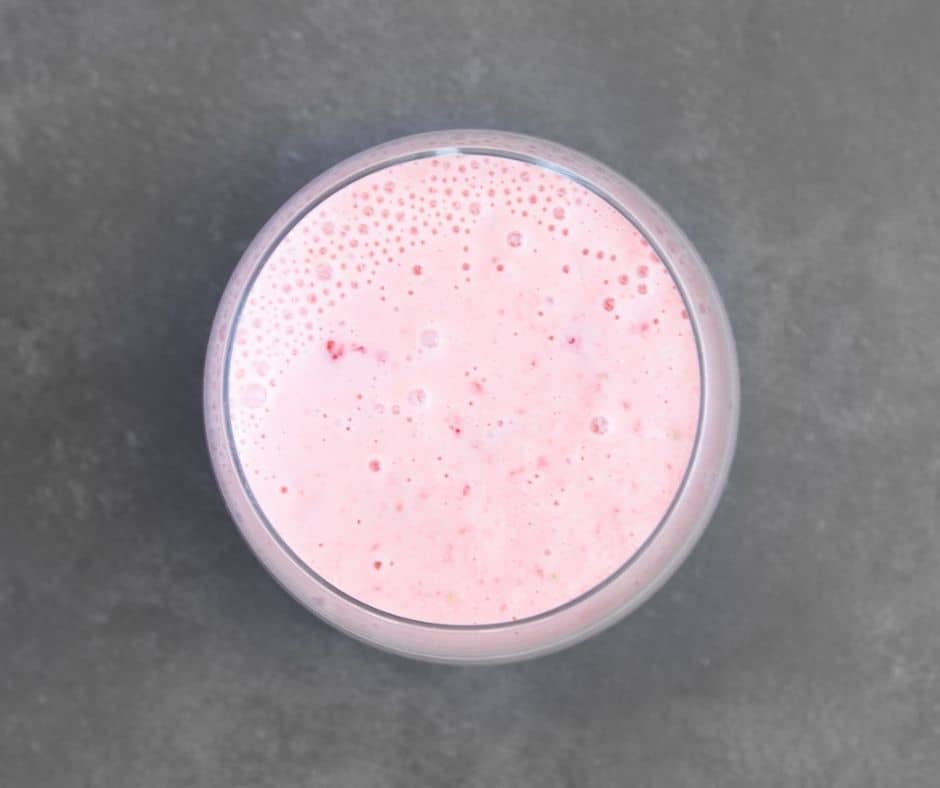 I'm happy to say that I've reached a point in my IBS journey where my symptoms are mostly under control day-to-day. But some days I wake up and my gut's like, nope!
I know my body pretty well, so I like to think of this like waking up on the wrong side of the bed. I know that even if I'm not feeling particularly hungry, if I don't put something in my tummy I'm setting myself up for a rough day.
But if I try something small and light like a smoothie, I can often turn my day around!
I like this strawberry orange smoothie in particular because it's made with a hearty serving of strawberries and greek yogurt. Having a good serving of protein, fibre, and fat slows down our digestive process, so I know I'm not going to have a sugar crash in a few hours on top of an uneasy tummy.
So whether you're looking for a healthy snack, something tasty to bring on your morning walk, or a friendly good morning for a grumpy tummy, this smoothie will be your best friend in no time!
Keep it FODMAP friendly
This strawberry orange smoothie is light on ingredients and FODMAPs! Here's what you need to know to keep this recipe FODMAP friendly.
First, strawberries don't have any FODMAPs, so you can add a few extra if you're feelin' it. Just make sure your body is ok with the extra fibre.
Second, if you're in the elimination phase of the low FODMAP diet, you need to use lactose-free Greek yogurt. Technically any yogurt will do, but Greek yogurt will add some protein which will help keep you full and reduce a blood sugar spike (and crash) from the natural sugars in the strawberries and orange juice.
Last but not least, orange juice. Oranges don't have any detectable FODMAPs in a standard serving – like if you ate an orange. But when you concentrate them into juice, they're low FODMAP in servings of 1/2 a cup (120 ml) per sitting. Servings of 3/4 cups (160 ml) or more are moderately high in the FODMAP fructose.
We'll be using 1/2 cup of orange juice total, so we'll be within Monash's recommended range. Just remember to use fresh orange juice, not juice made from concentrate, since that will change the FODMAP content.
Pick your sidekick!
This low FODMAP strawberry orange smoothie will add a fresh pop of flavour to any day! But it's a little low in fibre. Try pairing it with a piece of low FODMAP toast with nut butter, a low FODMAP muffin, or adding in a low FODMAP serving of whole oats to help keep you full and your blood sugar level.
FODMAP math
You are what you eat! Check out the notes below to see how many servings of each FODMAP group are in one of these low FODMAP strawberry orange smoothies!
Fructose = 1
Lactose = 0
Fructan = 0
GOS = 0
Polyol = 0
Want to try this tasty recipe? Don't forget to save it for later!
Print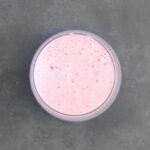 low FODMAP strawberry orange smoothie
---
Author:

Amy Agur

Prep Time:

5 min

Cook Time:

0 min

Total Time:

5 min

Yield:

1

smoothie

1

x
Description
With a tasty mix of fibre, protein, and fat, this quick and easy strawberry orange smoothie is the perfect way to start your day!
---
10

strawberries (thawed if frozen)

1 cup

lactose-free Greek yogurt, plain

1/2 cup

fresh orange juice
---
Instructions
Pop all of your ingredients in a blender and blend until smooth. Enjoy!
Notes
Recommended low FODMAP serving size – 1 smoothie per sitting
Category:

breakfast, snack
Keywords: strawberry orange smoothie, low FODMAP strawberry orange smoothie, high protein strawberry smoothie
If you like this post, don't forget to share it! Together we'll get the low FODMAP diet down to a science!
PS Want access to bonus content, VIP discounts, and some fabulous freebies? Sign up for my mailing list below and you'll get all these goodies and more sent directly to your inbox!
You might also like one of these:
Low FODMAP Raspberry Almond Smoothie Looking for a protein-packed breakfast idea? With 14 g of protein per serving, this mouthwatering low FODMAP raspberry almond smoothie will be a morning favourite in no time!
Low FODMAP Berry Smoothie Give your taste buds a healthy wake-up call with this fresh and simple low FODMAP berry smoothie!
Low FODMAP Strawberry Maple Smoothie Need some help getting out the door? This quick and easy strawberry maple smoothie is the perfect breakfast on-the-go!
If you like this post, don't forget to share it! Together we'll get the low FODMAP diet down to a science!