Has the low FODMAP diet left you craving some serious comfort food? Packed with sautéed beef and smothered with melted cheese, this low FODMAP Philly cheesesteak sandwich will keep your taste buds and your tummy happy!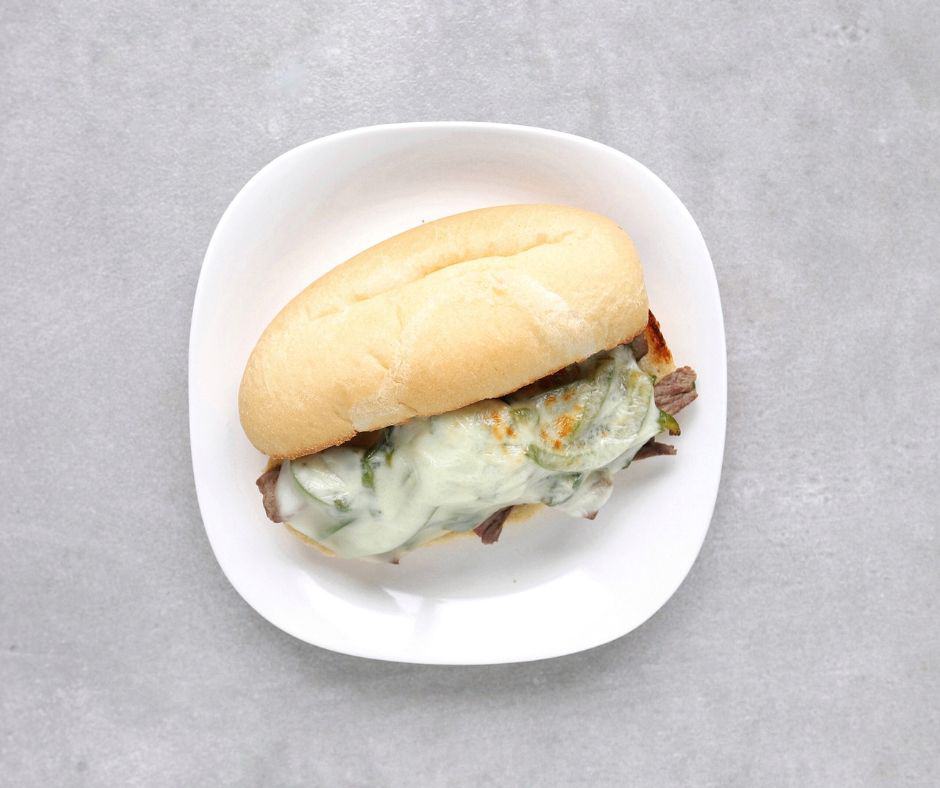 When I started the low FODMAP diet, I immediately started craving onions. I wanted onion rings. I wanted a stir-fry. I wanted a Philly cheesesteak sandwich. And I wanted them all right now!
Back then, I wasn't sure how to swap out onions. So I learned to live without the foods I was craving. But now that I've had some practice, things like this easy low FODMAP Philly cheesesteak sandwich are back on the menu!
Want to know the secret to the perfect Philly cheesesteak? According to my husband (our resident steak whisperer), the trick to a fantastic cheesesteak sandwich is to cut your steak as thinly as possible. The easiest way to do this (according to him) is to brown both sides of your steak before you cut it. This way the meat will hold its shape, and you can slice it very thinly.
Keep It FODMAP Friendly
This low FODMAP Philly cheesesteak sandwich is the comfort food you've been waiting for! Check out the notes below for tips on keeping this recipe FODMAP friendly.
First up, steak. Since steak is a protein, it doesn't have any FODMAPs. That means you can eat as much as you'd like – from a FODMAP perspective, of course!
Next up, green bell peppers. According to Monash University, green peppers are low FODMAP in servings of 1/2 a cup (52 g) per sitting. Servings of 75 g or more are high in the FODMAP sorbitol.
Our recipe uses 1/2 a cup of green peppers total. This works out to 13 g per serving, which is well below Monash's recommended range.
We'll also be using leeks. According to Monash, leeks are low FODMAP in servings of 2/3 of a cup (54 g). Servings of 1 cup (75 g) or more are high in the FODMAP mannitol.
We'll be using 1/2 a cup of leeks total. This works out to 18 g per serving, which is well within the recommended range.
Next up, provolone cheese. While provolone is technically a dairy product, like most hard cheeses, it only has trace amounts of lactose. That means you can have large servings of provolone without going over your FODMAP threshold.
Last but not least, your sandwich bun! If you're in the elimination phase of the program. You'll need to use a gluten-free bread. Don't forget to check the label for other high FODMAP ingredients. Just because a product is free of wheat, doesn't mean it's free of all FODMAPs.
And remember, unless you have celiac disease, you're managing your intake of the FODMAPs fructose and fructan, not the gluten itself.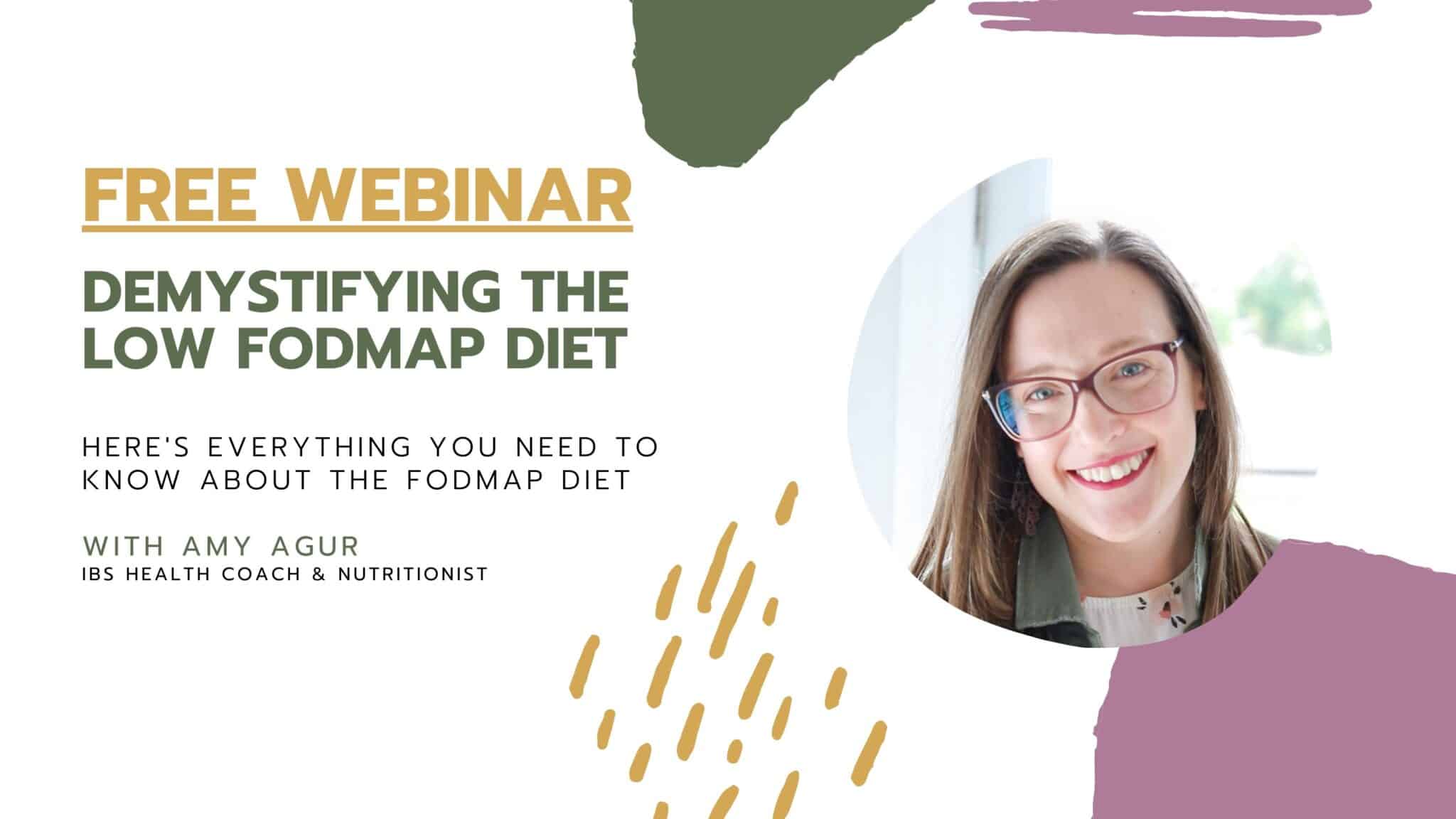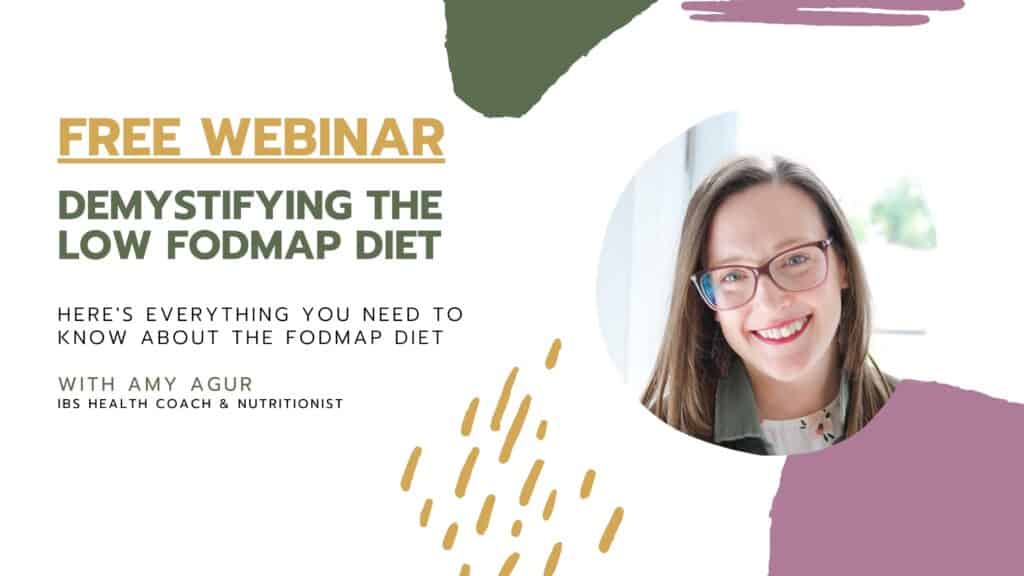 FODMAP Math
Wondering how these low FODMAP Philly cheesesteaks stack up? Check out the notes below to see how many servings of each FODMAP group are in one sandwich. You can learn more about FODMAP stacking here.
Fructose = 1.4
Lactose = 0
Fructan = 1.4
GOS = 0
Polyols = 0.6 (sorbitol and mannitol)
Want to try this low FODMAP Philly cheesesteak sandwich? Don't forget to PIN THIS RECIPE for later!
Print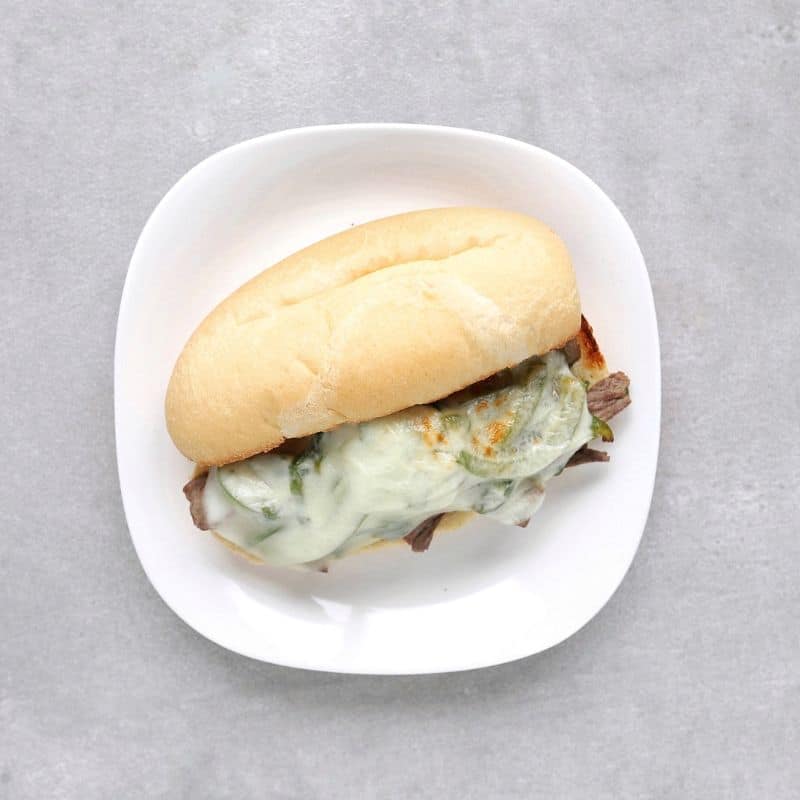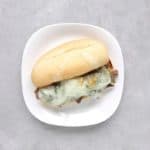 Low FODMAP Philly Cheesesteak
---
Description
Looking for the ultimate comfort food? Check out this easy low FODMAP Philly cheesesteak sandwich!
---
2 tbsp

olive oil

0.5 cup

leeks, thinly sliced

0.5 cup

green bell peppers, thinly sliced

1

lb ribeye steak

6 oz

provolone cheese

4

low FODMAP sandwich buns
---
Instructions
Heat your olive oil over medium-high and brown both sides of your steak. Transfer the steak to a cutting board and cut it into very thin slices. Set aside.
Add your leeks and peppers to the pan and cook until soft (about 3-5 minutes). Push the veggies off to the side of the pan and add your steak. Scramble-fry the meat until it's cooked through, then stir in the veggies to combine.
Preheat your broiler and cut your buns in half and place them on a baking sheet (insides facing up). Divide the meat into 4 portions and place it on the bottom half of each bun. Place the cheese on top of the meat and stick them under the broiler for 3-4 minutes or until the cheese has melted. Serve warm.
Notes
Recommended low FODMAP serving – 1 sandwich per sitting
Monash has recently updated the serving size for green bell peppers. This recipe has been updated to accommodate for their new recommendations.
Prep Time:

10 minutes

Cook Time:

15 minutes

Category:

Dinner, Lunch

Cuisine:

American
Keywords: Cheesesteak, Philly Cheesesteak, Provolone, Steak
You might also like one of these:
Low FODMAP Macaroni and Cheese Whether you're feeding the gang for the big game or looking for some leftovers you can steal for lunch, this easy macaroni and cheese will hit the spot!
Low FODMAP Grilled Cheese Looking for a classic lunch idea? Brace your taste buds, friend! This grilled cheese sandwich is so good you'll forget it's low FODMAP!
Fully Loaded Low FODMAP Nachos Whether you're getting looking for a fun family recipe or settling in for the big game, these fully loaded nachos will be the talk of your table!
If you like this post, don't forget to share it! Together we'll get the low FODMAP diet down to a science!