Looking for some serious comfort food? Made with freshly poached eggs and savoury hollandaise sauce, these low FODMAP eggs benedict will take your brunch to the next level!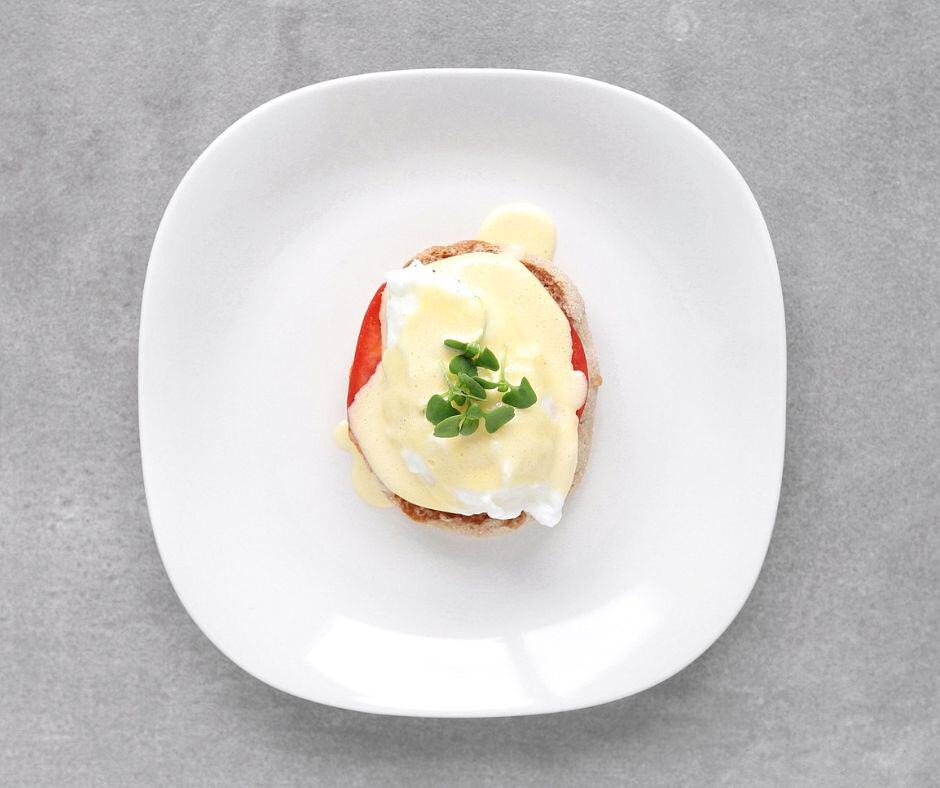 I know poaching eggs can be a little tricky. Don't panic! Some people add a little vinegar to the water to help the egg whites stick together. I really, really hate vinegar. So I try to poach my eggs without it whenever possible.
If you're also a vinegar hater, the number one rule to making poached eggs is – the fresher the better. If you have access to a local farmer's market, those are the eggs you want! You can literally drop them right into the water, and they'll poach themselves.
If you live in a larger city like me, fresh eggs may be a little harder to come by. This is why many people turn to vinegar. I, however, prefer the power of a strong vortex.
When you stir water, a vortex or whirlpool will form in the center of the pot. If you can create the right conditions, when you drop an egg into the center of the vortex, the water will scoop it up and swirl it around the pot several times. This will help encourage the egg whites to wrap around the egg yolk as they cook, creating a tasty poached egg – no vinegar required!
The trick to creating a strong vortex is giving it a lot of space to form. I usually stick to 2″ of water, but I'll use a medium-sized pot for 2 eggs (or a large pot for 4 eggs). This gives me a little extra water to work with. You can also experiment with using a smaller pot with 3-4″ of water, or sticking with a splash of vinegar. Use whichever method works best for you!
Keep It FODMAP Friendly
Unleash your inner foodie with these quick and easy low FODMAP eggs benedict! Check out the notes below for tips on keeping this recipe FODMAP friendly.
First up, eggs. Since eggs are a protein, you can eat as many as you'd like without adding to your FODMAP load. Yay!
Next up, lemon juice. According to Monash University, lemon juice is low FODMAP in servings of 1/2 a cup (125 g) per sitting. Servings of 3/4 cups (187 g) or more are high in the FODMAP fructan.
We'll be using 1 tbsp of lemon juice total. That works out to 7.8 g per serving. This is well within Monash's recommended range.
We'll also be using butter. According to Monash, butter doesn't have any FODMAPs (because it's all fat). Check the label for ingredients like "milk, "cream," or "milk solids," and you're good to go.
Next up, tomatoes. Traditionally, eggs benedict is served with peameal bacon or ham. But that would take more than 30 minutes, so you get a tomato. It's still yummy, promise!
According to the Monash app, common tomatoes don't have any detectible FODMAPs. So you can add as many slices as you'd like without adding to your FODMAP load.
Last but not least, English muffins. If you're in the elimination phase of the low FODMAP program, you'll need to use gluten-free English muffins. Remember, unless you have celiac disease, you're avoiding the FODMAP fructan, not the gluten itself.
FODMAP Math
Want to see how this recipe stacks up? Check out the notes below to see how many servings of each FODMAP group are in 1 serving of this recipe.
Fructose = 1.0
Lactose = 0
Fructan = 1.1
GOS = 0
Polyols = 0
Want to try these low FODMAP eggs benedict? Don't forget to PIN THIS RECIPE for later!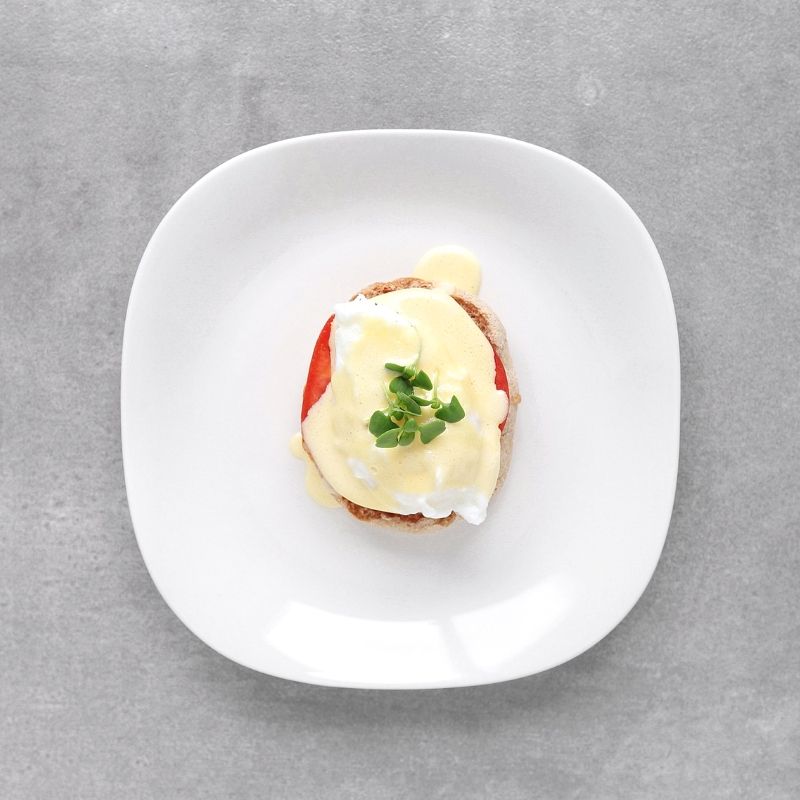 Low FODMAP Eggs Benedict
Get your brunch on with these quick and easy low FODMAP eggs Benedict!
What You Need
Hollandaise Sauce
3

lg

egg yolks

1

tbsp

hot water

1

tbsp

fresh lemon juice

0.5

cup

unsalted butter

(melted)

salt and freshly ground pepper to taste
Eggs Benedict
4

lg

eggs

2

low FODMAP English Muffins

4

slices

common tomato

1

dash

paprika powder
What You Do
Hollandaise Sauce
Combine your egg yolks, hot water, and lemon in a small blender and blend for 1 minute. Add the melted butter in small increments, blending in between additions until it is fully incorporated. Season lightly with salt and freshly ground pepper.
Eggs Benedict
Fill a small pot with 2" of water and bring it to a light simmer over medium heat (a few bubbles every few seconds). Crack each egg into a separate mug, then stir the simmering water with a slotted spoon to create a whirlpool in the water. Quickly drop each egg, one at a time, into the water. Cook until the whites have set, but the yolks are still runny (3-4 minutes). Then scoop out the eggs with a slotted spoon and rest them on a plate lined with paper towel.

While your eggs are cooking, toast your English Muffins. Top each muffin half with a slice of tomato and a poached egg. Drizzle with hollandaise sauce and sprinkle with paprika powder. Serve immediately.
You might also like one of these:
Low FODMAP Pancakes Looking for a cozy breakfast idea? Made with a few simple ingredients, these light, and fluffy pancakes will delight your taste buds and your tummy.
Low FODMAP Breakfast Sausage Looking for a FODMAP-friendly breakfast that's dressed to impress? Get your brunch on with these savoury low FODMAP breakfast sausage sandwiches!
Low FODMAP Lemon Blueberry Muffins Looking for a tasty breakfast you can make in advance? Packed with fresh flavours, these low FODMAP lemon blueberry muffins are the ultimate breakfast on-the-go!
If you like this post, don't forget to share it! Together we'll get the low FODMAP diet down to a science!