Think following the Low FODMAP Diet means your brunch plans are on hold? Think again, my friend. While I'm not a huge fan of brunch, these low FODMAP croissants are so light and flaky I may reconsider my anti-brunching ways.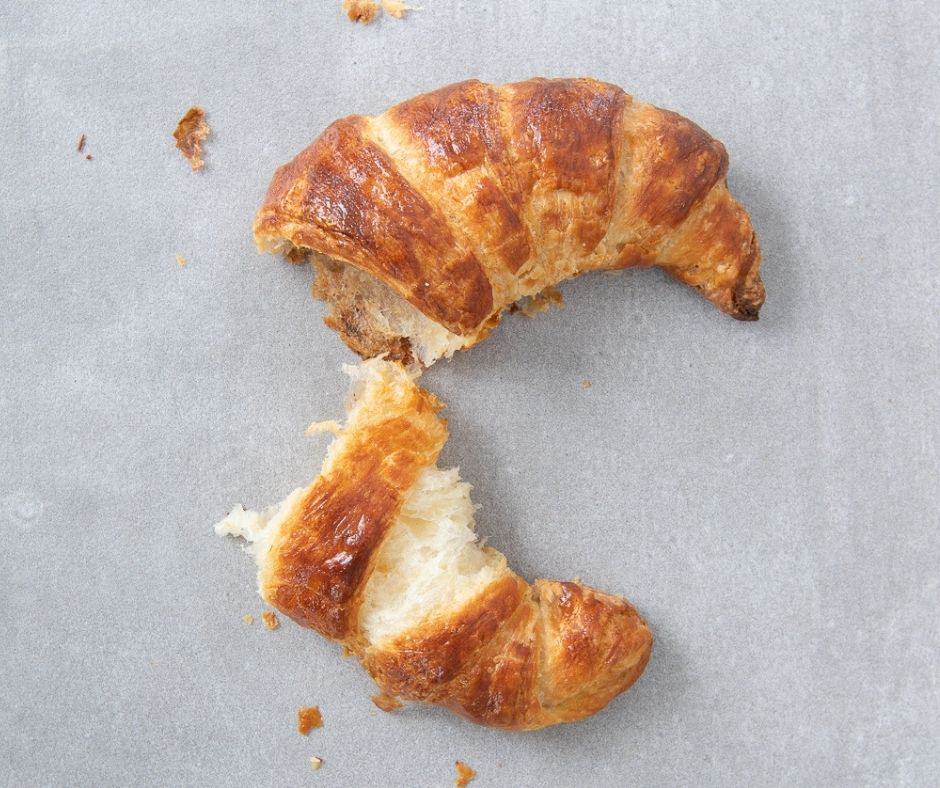 So how did a brunch-hater end up with a low FODMAP croissant recipe, you ask? Honestly, it was a dare.
A friend of mine was having a skin care party, and I brought my new low FODMAP cinnamon buns to share. I joked that I was looking for a new challenge, and the consultant (who is also a friend of mine) said: "I bet you can't make croissants."
Challenge accepted…
It took a few tries, but these croissants were well worth the wait. Their texture and flavour are right on point. Light and fluffy on the inside with a crunchy, flaky crust, no one will know they're low FODMAP.
Think these low FODMAP croissants sound great, but you don't have time to try them now? Don't worry. You can PIN THIS POST for later.
Keep It FODMAP Friendly
These low FODMAP croissants will wow your crowd. Check out the notes below for tips on keeping this recipe FODMAP friendly.
First, if you're in the elimination phase, you need to use lactose-free milk. The fat percentage doesn't matter, so use whatever you have on hand.
This recipe also uses a ton of butter. According to Monash University, butter doesn't have any FODMAPs (because it's all fat). This means you won't need to use a lactose-free product.
Just so you know, even though butter is low FODMAP, it does have a lot of fat. Too much fat can cause spasms in the smooth muscle of the intestines. So, if you know you're sensitive to fats, try one croissant and see how you react. You can also make 24 croissants instead of 12 to make the servings a little smaller.
You can read more about what Monash says on IBS and fats here.
Next up is flour. If you're in the elimination phase, you need to use gluten-free flour. For my Canadian peeps, I used PC's gluten-free all-purpose flour. If you're using something else, make sure it doesn't have any gums (as we're adding our own and we need to control the portion size).
Remember, unless you have celiac disease, you're avoiding the FODMAP fructan, not the gluten itself.
Last but not lease is xanthan gum. While gums aren't FODMAPs, they can cause issues for some people. If you know you're sensitive to gums, you may want to sit this recipe out. If you're not sure how you handle them, start with one croissant and see how it goes.
Whose Side Are You On?
There are so many things you can do with a fresh croissant. Try it with low FODMAP jam, use it for a sandwich (like this chicken BLT), or make it into epic french toast.
Want to try these low FODMAP croissants? Don't forget to PIN THIS RECIPE for later.
Print
Description
Has the Low FODMAP Diet put a kink in your brunch plans? Check out these low FODMAP croissants! Light and flaky, you won't need to tell anyone they're low FODMAP.
---
1

+ 1/2 cups lactose-free milk (lukewarm)

1/4 cup

brown sugar

1

pkg active dry yeast (2 +

1/4 tsp

)

3 cups

gluten-free all-purpose flour

3 tsp

xanthan gum

1 tsp

salt

1

+

1/2 cups

unsalted butter

1

egg for wash
---
Instructions
Day One: Making the Dough
Check the expiry date of your yeast, if it's expired, stop now and get a new package! If it's still good, place the yeast and the brown sugar in the bottom of a large bowl. warm up your milk (to 100-110 degrees). Add the milk to the yeast and sugar and give it a gentle stir with a fork. Leave it be for about 5 minutes.
If the yeast is still alive, it will create foam on the surface of the milk. If, after about 5 minutes, you don't see a good amount of foam, your yeast is dead and you need to start again.
Next, add the flour, xanthan gum, and salt. I normally measure these out while the yeast is proofing and dump it all in together. Take a wooden spoon and stir the mixture until it comes together into a ball. If it's still really sticky, add a sprinkle or two of flour until it is "sticky" but doesn't "stick to you." You can use up to 3.5 cups of flour to get the right consistency.
Turn your dough out onto a countertop dusted with flour or covered with wax paper. Knead the dough for a few minutes. It should get soft but still be a little sticky. Once it has reached the consistency of bread dough, roll it out into a rectangle about 1.5″ thick. Put it in a large ziplock bag and refrigerate it for an hour.
Laminating the Dough
Before you take your dough out of the fridge, you need to get your butter ready. Cut your butter into three equally sized pieces and arrange them side by side. Pound and roll out the butter until it makes an 8 by 5″ rectangle. Then take your dough out of the fridge and carefully remove it from the bag (you want to keep that). Sprinkle some flour on your workspace, then roll out the dough into a 16 by 10″ rectangle. Place the butter in the middle of the rectangle and fold the long pieces over the butter (like you're folding a letter).
Brush off any excess flour, then turn the dough around so the shortest side is facing you (so you're rolling the opposite way you did the first time). Roll the dough out in another 16 by 10″ rectangle and fold it up into thirds like a letter. This the first fold. Put your dough back into your ziplock bag and stick it back into the fridge for another hour.
Once the hour is completed, pull it out and turn it so the short side is facing you, then roll it out to 16 by 10″ and fold/refrigerate again. You're going to do this four more times. ☐☐☐☐ Check them off so you don't forget!
Once you've finished your final fold (fold number 5), let your dough relax in the fridge overnight.
Day Two: Making the Croissants
First, cut the dough in half. If you're only planning on making half of the recipe, wrap one half and pop it in the freezer now. If you're making both portions, roll each half into a long rectangle about 1/4″ thick. Then cut each rectangle into 6 triangles (I use a pizza cutter for this).
Take one triangle at a time and roll it from the wide part up to make it a little longer. Sometimes it helps if you gently pull on the top of the triangle to stretch it a little further. Then make a little cut (about an inch) in the center of the wide part of the triangle. This will make two little legs. Roll each leg from the center toward the edge of the triangle, then keep rolling up toward the top of the triangle. This will make the tell-tale layers of the croissant. Place the croissant on an ungreased baking sheet. Repeat for all triangles, then let them sit on the counter for 1-2 hours. They may rise a little.
After an hour, preheat your oven to 400 degrees. Lightly beat one egg and brush each croissant, then put the tray in the oven and cook for 12 minutes. After 12 minutes, lower the temperature to 375 degrees and cook for another 8-12 minutes (until the tops are golden). Let the croissants cool on a wire rack. Serve warm or store in an airtight container at room temperature.
Notes
Recommended low FODMAP serving – 1 croissant per sitting
Many things may happen while you're making these croissants that will make you think you've ruined them. This happens at least twice to me every time I make them and I haven't murdered them yet! My best advice is to manage the size of your rectangle when you're rolling out your dough. If you see breaks at the edges of the dough, put them back together with your fingers. If your dough breaks at the crease of the fold, don't panic! Put it back where it's supposed to be and roll it out as normal. These are a large time commitment, but they're surprisingly hard to screw up!
Prep Time:

840 minutes

Cook Time:

24 minutes

Category:

Breakfast, Brunch

Cuisine:

French
Nutrition
Serving Size:

1 Croissant

Calories:

350

Sugar:

6 g

Sodium:

222 mg

Fat:

23 g

Saturated Fat:

14 g

Unsaturated Fat:

7 g

Trans Fat:

0 g

Carbohydrates:

29 g

Fiber:

2 g

Protein:

4 g

Cholesterol:

65 mg
Keywords: low FODMAP croissant, gluten-free croissant, easy croissant recipe
You might also like one of these:
Low FODMAP Cinnamon Buns Need a little magic in your life? These light and fluffy cinnamon buns are so delicious, no one will know they're low FODMAP!
Low FODMAP Sourdough Waffles Looking for a fun FODMAP-friendly twist on a breakfast classic? Take your brunch to the next level with these easy make-ahead low FODMAP sourdough waffles!
Low FODMAP Sweet Crepes Looking for a fun FODMAP-friendly twist on a breakfast classic? Take your brunch to the next level with these easy make-ahead low FODMAP sourdough waffles!
If you like this post, don't forget to share it! Together we'll get the low FODMAP diet down to a science!
SaveSave
SaveSave
SaveSave
SaveSave
SaveSave