While the Low FODMAP Diet can help settle your IBS symptoms, it can also leave you feeling a little deprived. If you're craving some sweet treats this summer, try these low FODMAP cinnamon buns.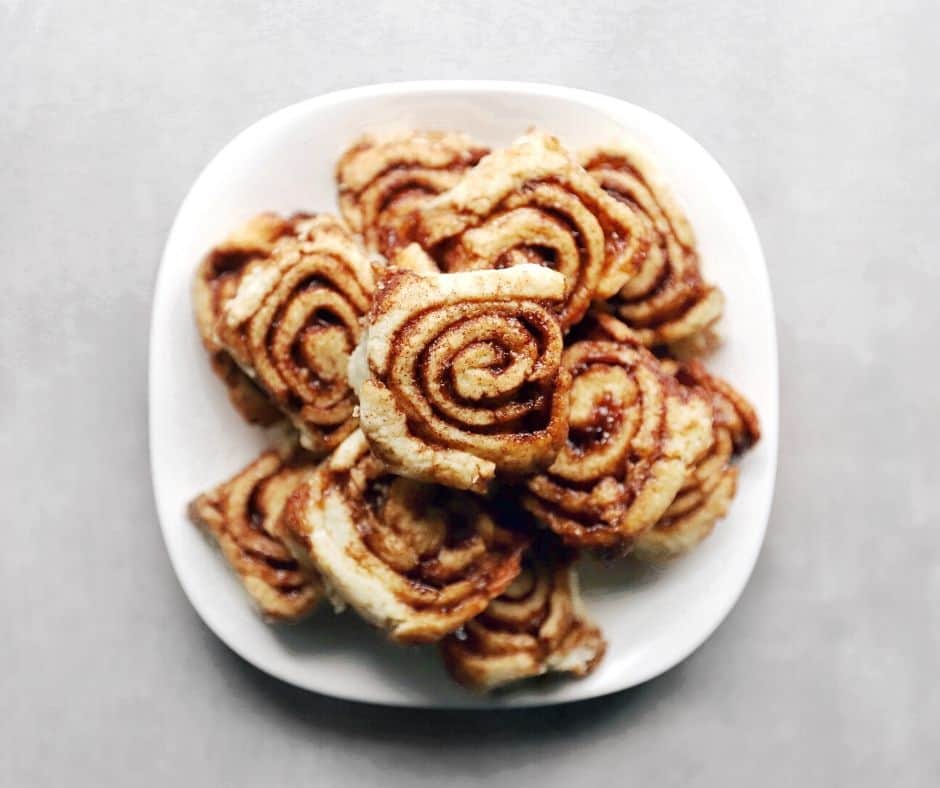 These low FODMAP cinnamon buns are one of my prized creations. I know low FODMAP baking makes some people squeamish. So let me take a second to reassure you, these taste like proper cinnamon buns; not cinnamon flavoured hockey pucks.
So, what's the trick amazing low FODMAP cinnamon buns? While some of my friends chalk it up to magic, it's actually a combination of good yeast management and egg whites.
For starters, activating yeast means more than adding warm water. A spoonful of sugar will help jump-start them into action. You can also help them out by letting your dough rise in a warm, damp environment. I normally stick mine in a warm oven to help things along.
While activating your yeast is important, the real magic is in the egg whites. Most cinnamon bun recipes use egg yolks, but I like to reserve the whites and add them right at the end. This extra boost of protein binds the dough and helps the cinnamon buns rise.
Think these low FODMAP cinnamon buns will rock your socks, but you don't have time to try them now? You can PIN THIS POST for later.
Keep It FODMAP Friendly
These low FODMAP cinnamon buns only have a few ingredients, so they're easy to Franken-FODMAP. Check out the notes below for tips on keeping this recipe FODMAP friendly.
First, if you're in the elimination phase, you'll need to use gluten-free flour. For my Canadian peeps, I used PC gluten-free all-purpose flour for this recipe.
Remember, unless you have celiac disease, you're avoiding the FODMAP fructan, not the gluten itself.
You'll also need to use lactose-free milk. I use whole milk for this recipe. The fat helps bind the dough, so use a high-fat milk if you have one. For my Canadian peeps, Natrel, Lactantia, and Nielson make lactose-free whole milk.
Want to try these low FODMAP cinnamon buns? Don't forget to PIN THIS RECIPE for later.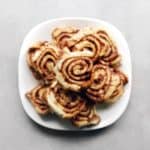 Low FODMAP Cinnamon Buns
Looking for a FODMAP friendly idea for your next brunch? Check out these low FODMAP cinnamon buns! These light and fluffy cinnamon will make your breakfast feel like something extra special.
Course:
Breakfast, Brunch, Dessert
What You Need
Cinnamon Buns
2.25

tsp

active dry yeast

1/3

cup

warm water

(130F)

1

tbsp

granulated sugar

1/2

cup

warm lactose-free whole milk

(130F)

1/4

cup

unsalted butter

(melted)

2

egg yolks – egg whites reserved

2.75

cups

gluten-free flour

1/4

cup

granulated sugar

1

tsp

salt
Cinnamon Filling
1/2

cup

unsalted butter

(room temperature)

1/2

cup

brown sugar

1

tbsp

cinnamon
Glaze
1

cup

icing sugar

4

tsp

lactose-free milk
What You Do
Preheat your oven to 200 degrees. Place your yeast in the bottom of a medium-size bowl and add warm water. I like to throw in 1 tbsp of sugar with the water so the yeast has something to eat. I find this helps them become extra frothy which makes for taller cinnamon buns. Let the yeast sit in the warm water for 10 minutes undisturbed.

After your yeast has turned frothy, whisk in your warm milk, melted butter, and egg yolks until combined. Then, add your flour, sugar, and salt. Mix everything together with a wooden spoon until the mixture forms several clumps of dough. Add the reserved egg whites and mix until the dough is fully combined. Transfer the dough to a lightly oiled, heatproof bowl and cover with a damp tea towel. Place the dough in the oven and turn off the oven. Allow the dough to rise four 1 hour. – Dough rises best in a warm environment. Becuase we don't have gluten to fall back on, you will get the best results if you create a nice warm space. Just don't forget to turn the oven off, as we aren't cooking the dough quite yet!

Just before your dough has finished its first rise combine butter, brown sugar, and cinnamon in a small bowl. Then pull your dough out of the oven and place it on lightly floured parchment paper. Form the dough into a rectangle and flatten it out as much as you can with the heels of your hands. Remember to dust some additional flour underneath your dough as you work to prevent sticking. Once you have done as much as you can with your hands, pull out your rolling pin and continue until your rectangle is about 18×12-in. Then scoop out your filling and spread evenly over the dough with the back of a spoon (right to the edges).

Preheat the oven to 200 degrees. With the long end of the rectangle facing you, roll the dough gently into a log (like a jelly roll). Because the roll can be sticky, I use the parchment paper to encourage the dough into the correct direction. Work slowly so the dough doesn't rip or fray. Cut the dough into 12 equally sized disks and stick them in a greased 11×7-in baking dish. Place a fresh damp tea towel over the cinnamon rolls. Place them back in the oven and turn the oven off. Allow dough to rise for another 60 minutes.


Remove the cinnamon buns from the oven and preheat to 325 degrees. Place the cinnamon rolls in the oven (without the tea towel) and bake until golden (about 30 minutes). Allow the cinnamon rolls to stand for 10 minutes before removing them from the dish.

If you want some extra pizzaz, whisk together one cup of icing sugar with 4 tsp of milk in a small bowl and drizzle over cinnamon buns for a delicious glaze!
Notes
Note 1: You can save some time in the morning by preparing the rolls the evening before. Wrap up the prepared rolls after their second rise, place a paper towel over your baking dish to catch any condensation and cover with plastic wrap. 
Note 2: Make sure your cinnamon is fresh for the best results. If you can't remember the last time you replaced it, I would recommend you do so now. Half the fun of a cinnamon bun is the smell. Make sure yours are irresistibly aromatic by using fresh ingredients. You won't regret it!
You might also like one of these:
If you like this post, don't forget to share it! Together we'll get the low FODMAP diet down to a science!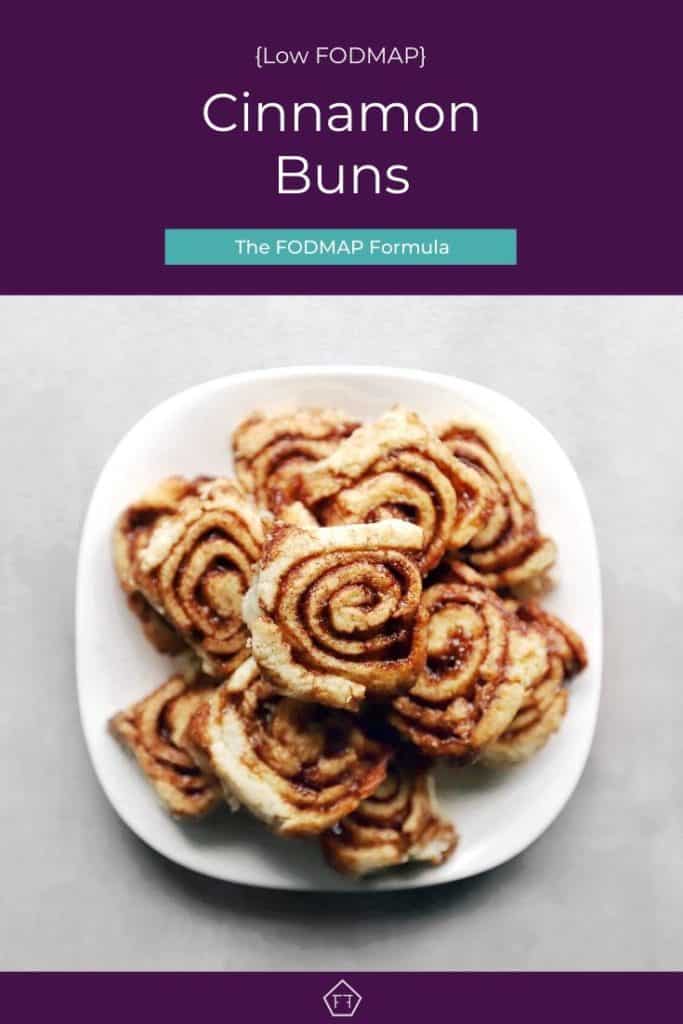 SaveSave
SaveSave
SaveSave
SaveSave
SaveSave
SaveSave