Looking for a sweet treat that won't upset your tummy? These low FODMAP cake doughnuts are the dessert you've been waiting for! Seriously! These light and fluffy doughnuts are so tasty no one will guess they're low FODMAP!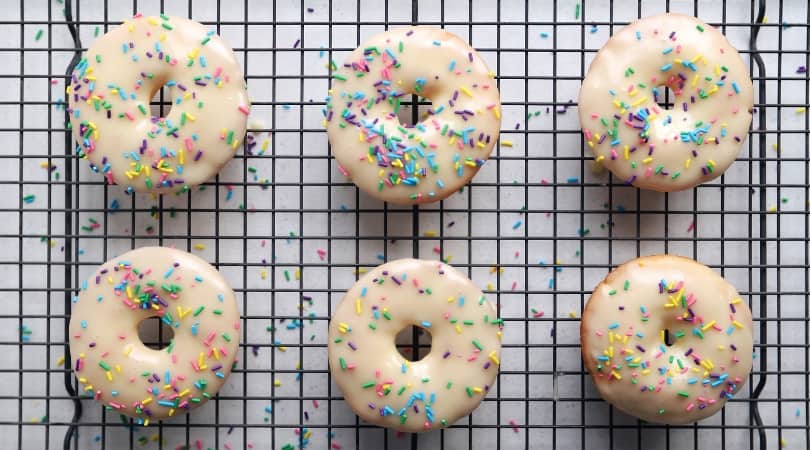 So, confession. I'm obsessed with doughnuts… Maybe it's from my days working at Tim Horton's? Or possibly my insatiable sweet tooth? Whatever the reason, doughnuts are kind of my thing.
Even though I'm practically 99% doughnut, for some reason, my husband will not buy me a doughnut maker (rude). But, don't worry, friends! We FODMAPers are nothing if not resourceful. So, I've created a cake doughnut recipe you can make in the oven with a basic mold! Brace your tastebuds, friend. This one's a winner.
Update: My husband has clarified we can't have a doughnut maker because he'll eat all the doughnuts… seems reasonable.
Think these low FODMAP cake doughnuts sound great, but you don't have time to try them now? Don't worry! You can PINT THIS POST for later!
Keep It FODMAP Friendly
Curb your sugar cravings with these impossibly fluffy low FODMAP cake doughnuts! Check out the notes below for tips on keeping this recipe FODMAP friendly.
First up is low FODMAP flour. If you're in the elimination phase of the program, you'll want to use gluten-free flour. Make sure to check the ingredients, though, as not all gluten-free products are low FODMAP.
Remember, unless you have celiac disease, you're avoiding the FODMAP fructan, not the gluten itself.
We'll also be using eggs. But, since eggs are a protein, they don't have any FODMAPs. That means you can have as many eggs as you'd like without adding to your FODMAP load.
Next up, milk. If you're in the elimination phase, you'll need to use lactose-free milk. The fat content doesn't matter for this recipe, so use whatever you have handy.
We'll also be using butter. But, unlike other dairy products, you won't need to use a lactose-free brand. According to the Monash app, butter doesn't have any FODMAPs (because it's all fat). Just make sure to check the label for "milk solids," and you're good to go.
Last but not least, icing sugar. Since icing sugar is made of finely milled granulated sugar, it's equal parts glucose and fructose. That means icing sugar is low FODMAP and won't contribute to your FODMAP load (it will contribute to cavities, though, so be gentle).
Want to try these low FODMAP cake doughnuts? Don't forget to PIN THIS RECIPE for later!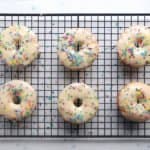 Low FODMAP Cake Doughnuts
Course:
Baking, Breakfast, Dessert
What You Need
Low FODMAP Cake Doughnuts
1.5

cups

low FODMAP flour

1

tsp

baking powder

0.25

tsp

salt

0.5

cup

unsalted butter

(soft)

1

cup

sugar

2

lg

eggs

2

tsp

pure vanilla extract

0.5

cup

lactose-free milk

cooking spray
Low FODMAP Vanilla Frosting
0.25

cup

unsalted butter

(melted)

1

tsp

pure vanilla extract

1.25

cups

powdered sugar

2-4

tsp

hot water

low FODMAP sprinkles

(optional, but highly encouraged)
What You Do
Low FODMAP Cake Doughnuts
Preheat your oven to 350 degrees and spray a doughnut tray with cooking spray. Set aside.

Mix together flour, baking powder, and salt in a medium-sized mixing bowl. Set aside.

Beat the butter and sugar together with an electric mixer until they're light and fluffy. Then, mix in your eggs one at a time, followed by your vanilla.

While you're still mixing, slowly add the flour, followed by the milk. Transfer the batter to a piping back or Ziplock bag for easy pouring. Then, fill up each doughnut well with an equal amount of batter.

Bake your doughnuts for 17 minutes (or until cooked through). Once your doughnuts are baked, turn them out onto a wire rack and leave them until they're completely cool.
Low FODMAP Vanilla Frosting
Mix your butter and vanilla together in a small bowl. Once they're combined, add your icing sugar. Then, slowly add hot water until your frosting has reached the consistency you want. Lay your wire rack over a piece of parchment paper to catch any drips, then dip each of your doughnuts into the icing. Let any excess icing drip back into the bowl, then place your doughnut back on the wire rack. Add your sprinkles and allow the icing to dry before serving.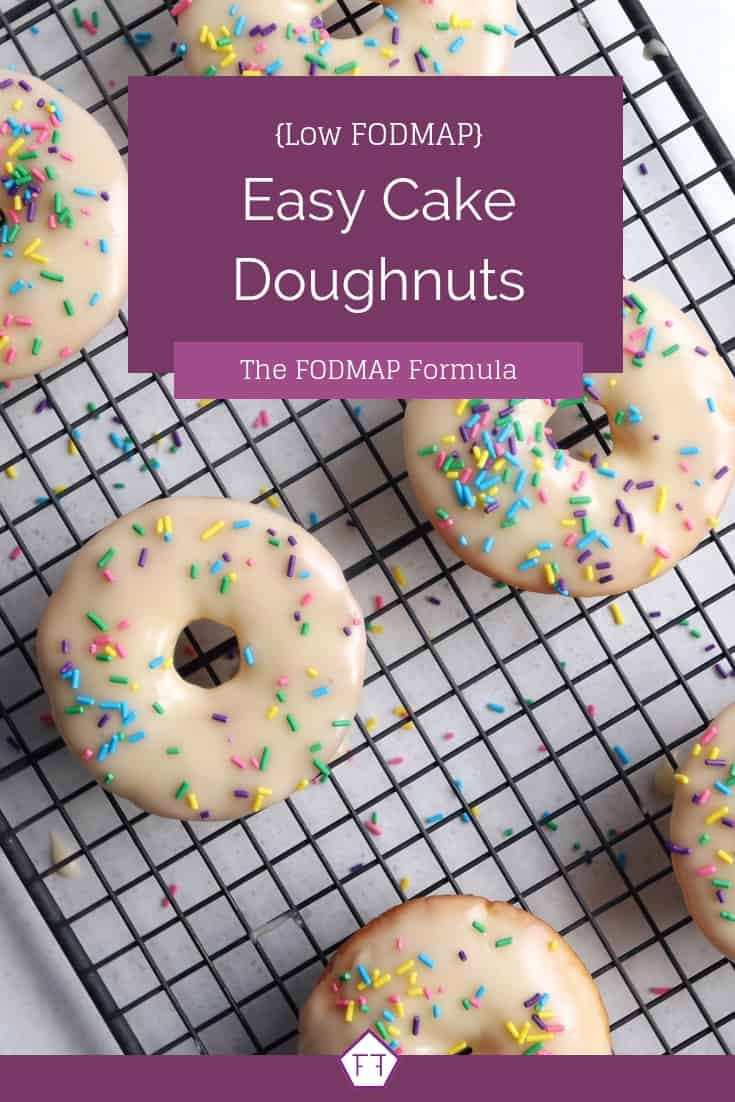 These low FODMAP cake doughnuts will rock your socks! Did you like this recipe? Don't forget to share it! Together we'll get the Low FODMAP Diet down to a science!
P.S. Want access to bonus content, VIP discounts, and some fabulous freebies? Sign up for my mailing list below, and you'll get all these goodies and more sent directly to your inbox!
© 2019 Amy Agur – The FODMAP Formula
---
You might also like one of these:
Low FODMAP Confetti Cake Looking for a kid-friendly dessert idea? Sprinkle a little magic in your next baking project with this adorable confetti cake.
Low FODMAP Chocolate Cupcakes Have a chocolate craving that just won't quit? These chocolate cupcakes will hit you right in the sweet spot!
Low FODMAP Haystack Cookies Have a chocolate craving that just won't quit? Packed full of chocolate, oats, and coconut, these mouth-watering cookies will make your tummy and your taste buds happy.