I don't know about you, but my Valentine's Day chocolate cravings start on New Year's Day. It's probably because while you and I ring in the new year, displays jam-packed with chocolate and candy spring up in every store. Lucky for us, I have the perfect treat to curb our cravings. Check out these low FODMAP peanut butter cups.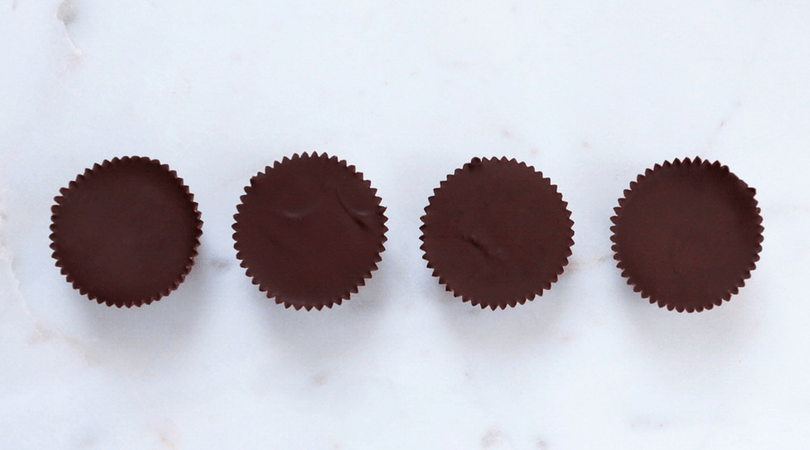 These magical treats only have three ingredients. This makes them ridiculously easy to Franken-FODMAP. They come together in about 30 minutes and set in the refrigerator. Just remember to let them warm up on the counter for 10 minutes before you serve them. Your teeth will thank you!
If you think this recipe sounds great, but you don't have time to try it now? PIN THIS POST for later.
Keep It FODMAP Friendly
The trick to keeping these low FODMAP peanut butter cups safe is to start with FODMAP friendly ingredients. Check out the notes below for tips on keeping this recipe FODMAP friendly.
First, Monash University recommends using peanut butter made with 100% peanuts. Many peanut butter brands contain the polyol xylitol and other high FODMAP ingredients. Your best bet is peanut butter made with peanuts and nothing else.
According to the Monash app, peanut butter is safe in servings of 2 tbsp. Servings of 3 tbsp or more are high in fructans and oligosaccharides. This recipe uses 1/3 cups of peanut butter which works out to 0.2 tbsp per cup. It would take 10 peanut butter cups to reach 2 full tbsp of peanut butter, so you can have more than one per sitting.
This recipe also uses melted chocolate. Monash recommends using dark chocolate because it has less lactose. I normally use Enjoy Life vegan chocolate chips. They're made with cocoa and coconut oil which is FODMAP friendly. They're also wheat, lactose, and nut-free.
If you think you'd like these peanut butter cups, PIN THIS RECIPE for later.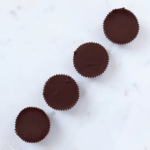 Low FODMAP Peanut Butter Cups
It's ok to give into that chocolate craving with these low FODMAP peanut butter cups! These rich little treats will sweeten your Valentine's day without hurting your tummy.
What You Need
1/3

cup

smooth peanut butter

(100% peanuts)

1/4

cup

icing sugar

300

g

dark chocolate

(chopped)
What You Do
Mix the peanut butter and icing sugar together in a small bowl. Once smooth, scoop them out using a teaspoon and plop them onto a parchment-lined baking sheet. Stick them in the freezer for at least 15 minutes.

Create a double boiler using a small pot and a heat-proof bowl. Bring the pot of water to a low simmer (not a boil). Place your chocolate pieces in the bowl and put it on top of the pot. Stir constantly.

Once the chocolate is fully melted and smooth, place 20 liners in mini muffin tins and scoop one tablespoon of chocolate into each liner. Give the tray a light tap on the counter to level the chocolate in each well.

Remove your peanut butter drops from the freezer. Place one drop in each well. Wait 1-2 minutes for the peanut butter to thaw and lightly tap the tray on the counter to level the peanut butter mixture.

Add the remaining chocolate to each liner. Make sure to leave room at the top to remove the lining later. Tap your tray a final time to level the top layer of chocolate and place in the refrigerator for about an hour.

Once firm, remove the liners from the treats and store in the refrigerator. Allow to warm up on the counter for 10 minutes before serving.
You might also like one of these:
Low FODMAP Triple Chocolate Muffins Have a chocolate craving that just won't quit? These easy low FODMAP triple chocolate muffins are what sweet dreams are made of!
Low FODMAP Lava Cakes Calling all my chocolate lovers! Made with real chocolate and a little magic, these lava cakes will satisfy any sweet tooth!
Low FODMAP Mini Black Forest Cakes Looking for a show-stopping dessert idea? These low FODMAP mini black forest cakes will hit you right in the sweet spot!
If you like this post, don't forget to share it! Together we'll get the low FODMAP diet down to a science!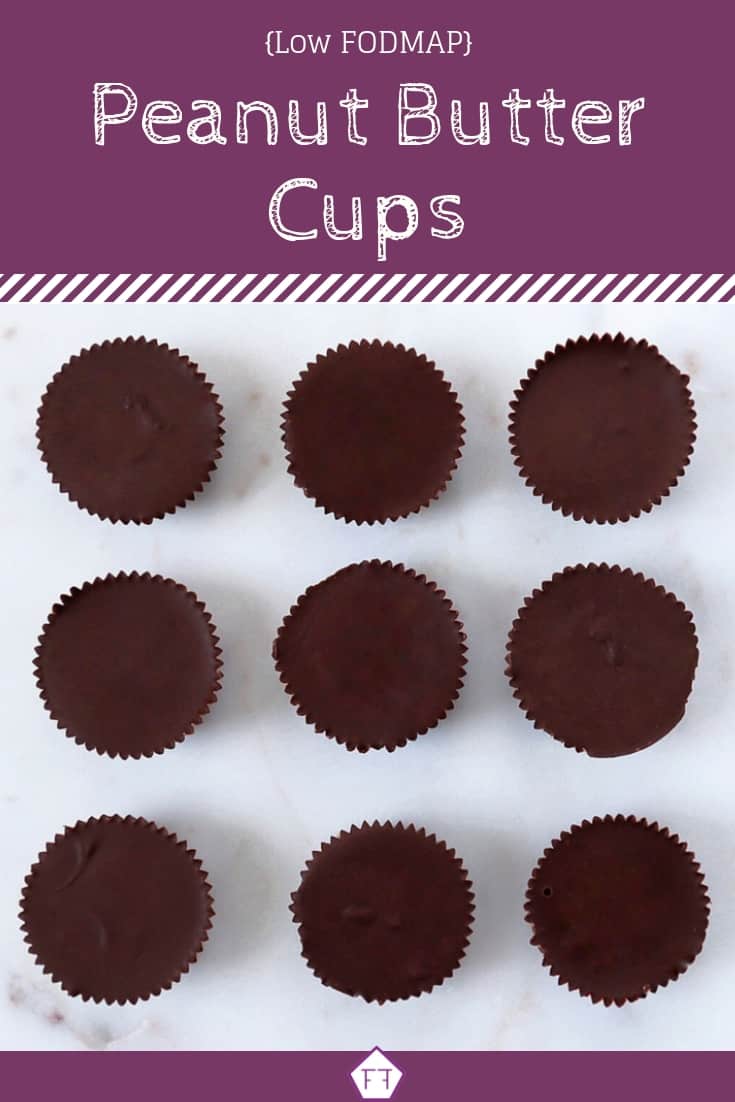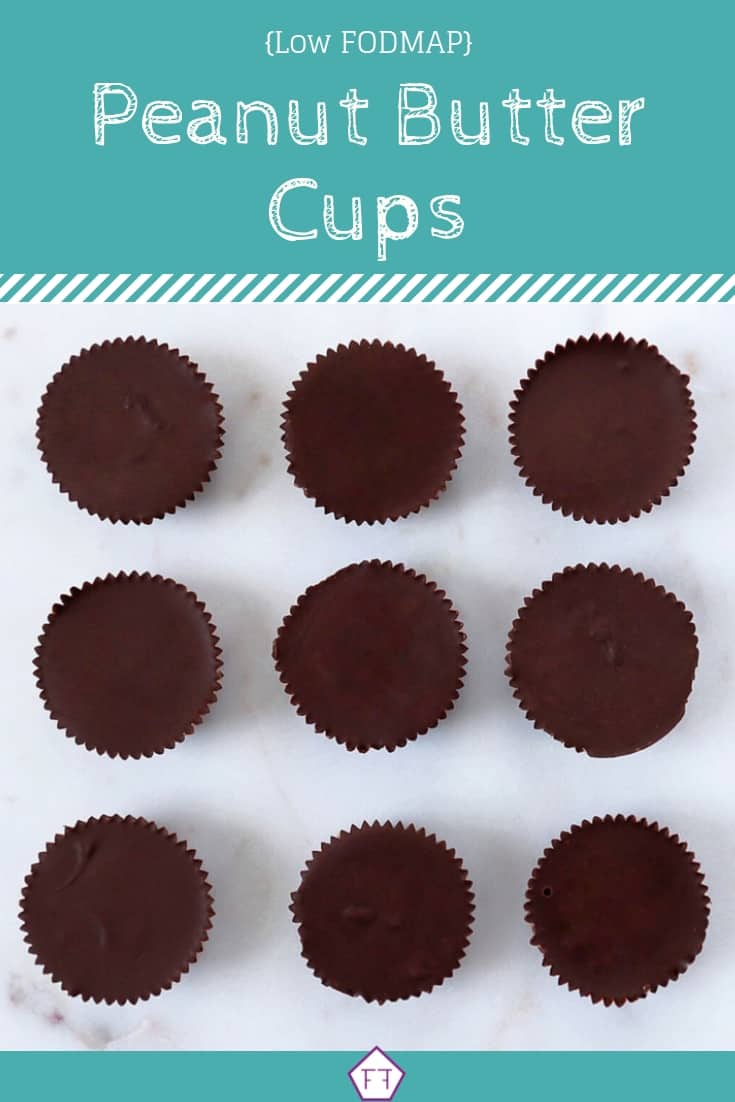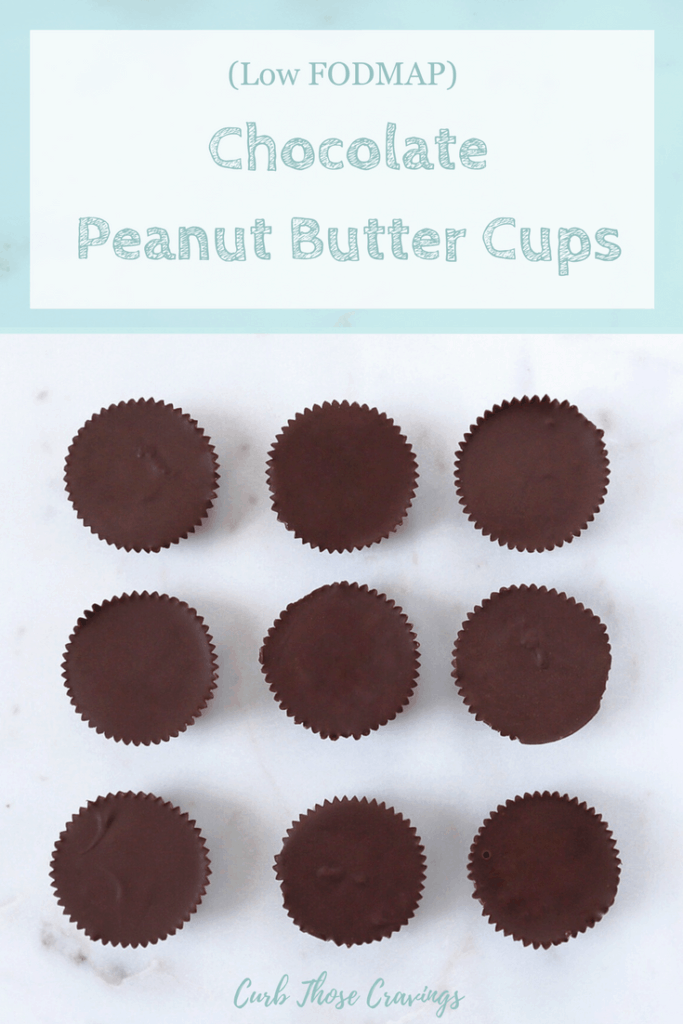 SaveSaveSaveSaveSaveSave
SaveSave
SaveSave
SaveSave