Once you've got the hang of the re-challenge phase, hopefully, you'll be feeling pretty good! So good, in fact, you might be thinking about staying in the elimination phase forever. But this is a terrible plan friend! Let me tell you why!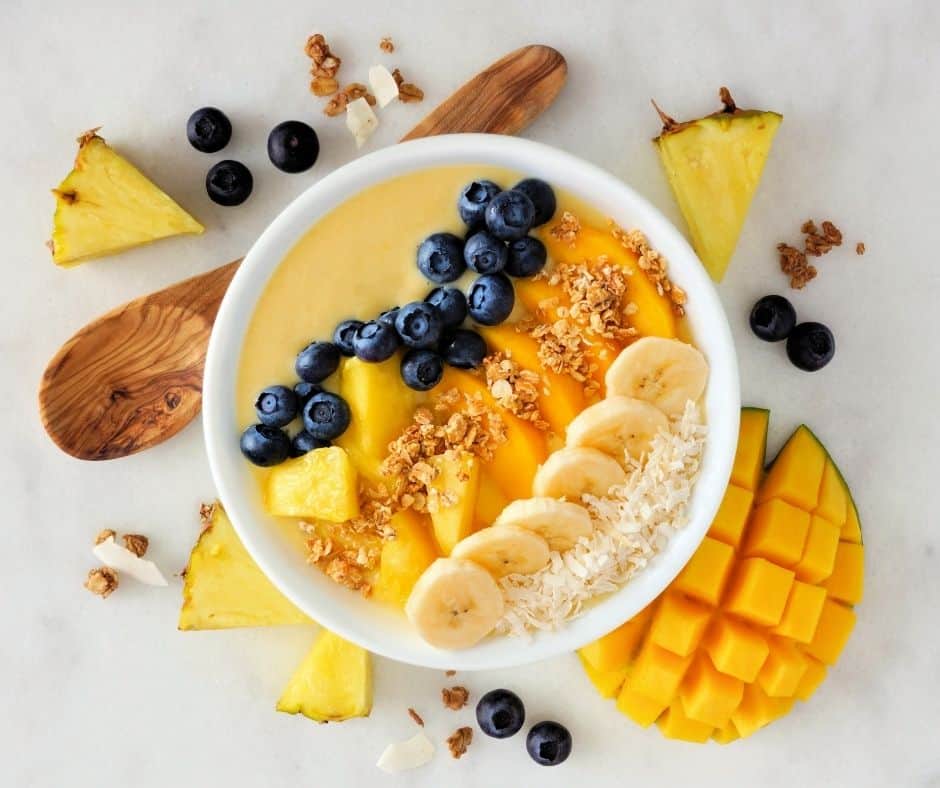 Do you really need to re-challenge?
The first thing you need to know is that because FODMAPs are found in many fruits, vegetables, beans, and pulses, the low FODMAP diet tends to be low in fibre. New research on low fibre diets has shown that following a low fibre diet for too long can have a long-term impact on your gut health.
The problem with low-fibre diets is that they're often low in a specific type of fibre called prebiotics. The World Gastroenterology Association describes prebiotics as things we eat that aren't digestible, and which have a positive impact on our gut flora. Think of them like a bagged lunch for your good gut bugs.
Several studies have looked at the impact of low prebiotic diets on our gut bugs and determined that limiting prebiotics over a long period of time can starve out your good bugs. That means staying in the elimination phase too long can cause long-term harm to your gut – which is the opposite of what we're going for, here.
So are your gut bugs starving to death as you read this? Probably not. According to the Journal of nutrition, our good bacteria begin to die off in about 4 weeks. But they can replenish themselves once they have a steady source of food.
Heads up, one of the first bugs to perish are our luminal bifidobacteria. these bugs are linked to the immune system and how we feel gut pain, so we definitely want to keep this community as healthy as possible.
Stanford University has also warned that changes in our gut balance due to a low fibre diet may be irreversible. This might be because we need a specific number of bugs left in order to repopulate our gut communities.
How to re-challenge FODMAPs
Now that you know why it's important to re-challenge FODMAPs, let's talk about how to get it done.
You have a few options when it comes to re-challenging FODMAPs. The system you choose will depend on how you and your healthcare team think you'll react to testing.
Once you're ready to begin the re-challenge phase – meaning you've completed at least 14 days of full elimination and your symptoms have been noticeably reduced and stable for 7 days in a row – you'll test one food from each FODMAP group in increasing amounts over three days followed by a washout period where you let your body rest and reset.
Heads up, the washout period is really important! Not only does it give your body time to clean out all the FODMAPs you eat during each test. It also gives your body time to recover from any reactions you experienced That way you can start your next test with a clean slate.
If you don't allow your body time to properly recover, you run the risk of skewing the results of your next test. Since the goal of the low FODMAP diet is to add as many foods back into your diet as possible, skipping the washout period to save time can cost you in the long-run.
Just so we're clear, with the exception of the food being tested, you'll stay on the low FODMAP diet during your re-challenge. Foods you tolerate during your re-challenge will be reintroduced back into your diet once all of your re-challenges are complete.
Classic systemic re-challenge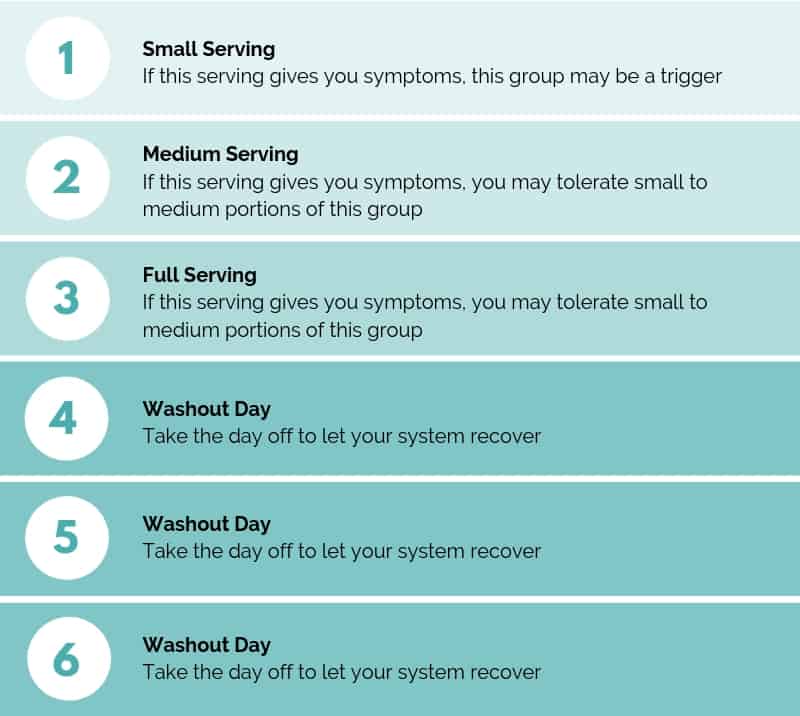 To complete your re-challenges using this method, pick one food containing one FODMAP group and eat it in increasing amounts over 3 days.
Using a three-day testing schedule will give you two important pieces of information. First, it will tell you if you can tolerate the food you're testing in the serving size you've eaten.
Second, by conducting the tests back to back, you'll learn more about your FODMAP threshold (how many FODMAPs from that FODMAP group you can hold in your body at one time).
To test a FODMAP group, pick one food containing one FODMAP. On day 1, test 1/4 of your normal serving. On day 2, test 1/2 of your normal serving. On day 3, test a full serving.
To test a FODMAP group, pick one food containing one FODMAP. On day 1, test 1/4 of your normal serving. On day 2, test 1/2 of your normal serving. On day 3, test a full serving.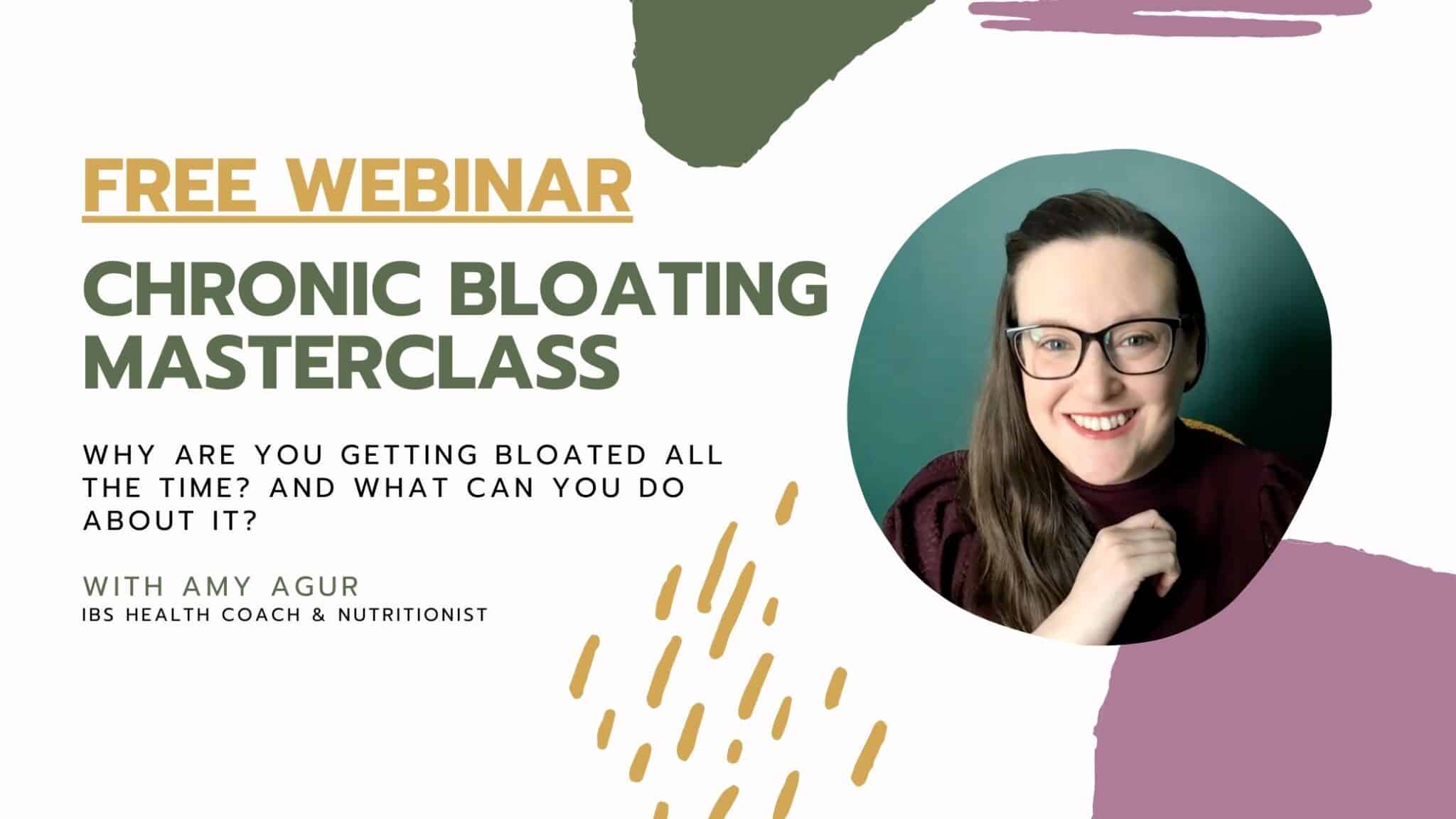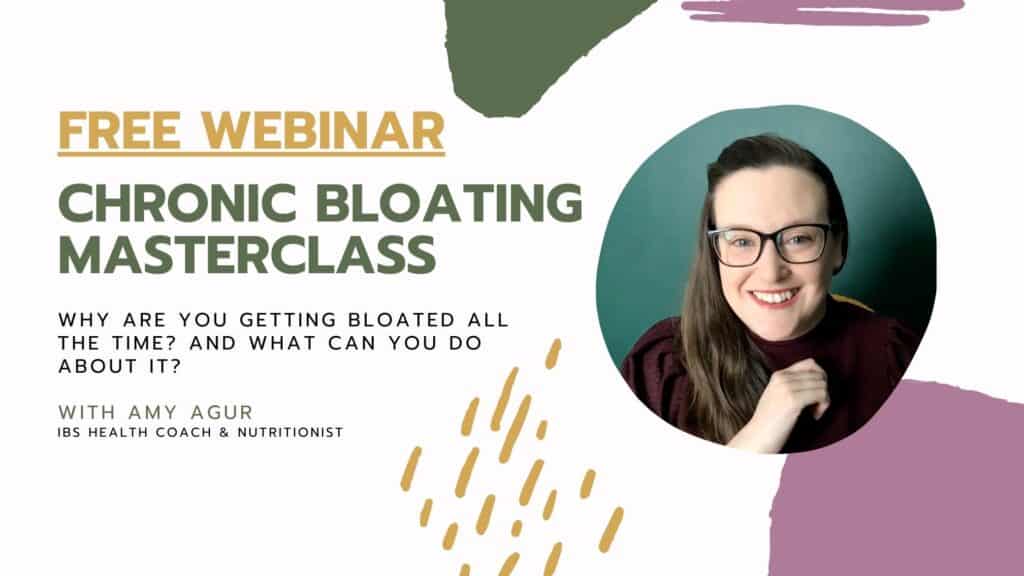 Stop the test if you experience symptoms you wouldn't tolerate in your daily life. This might include constipation, diarrhea, cramping, or excessive bloating that interferes with your normal activities. Remember, mild bloating after eating and stools between 3-5 on the Bristol Stool Scale and having days with no poop (or a bonus poop) are considered normal parts of digestion.
If you have a severe reaction to a small serving of food, take your washout period and try again with a different food from that FODMAP group.
There are lots of things that impact our symptoms. You may have loose stools if you're close to your period, you might have increased bloating or pain after a poor night sleep, or during a stressful event.
Our goal here is to add as many foods as possible, so if you knock out a group on the first try, make sure you're truly reacting to that group and that you're not secretly allergic to mangos!
Cautious systematic re-challenge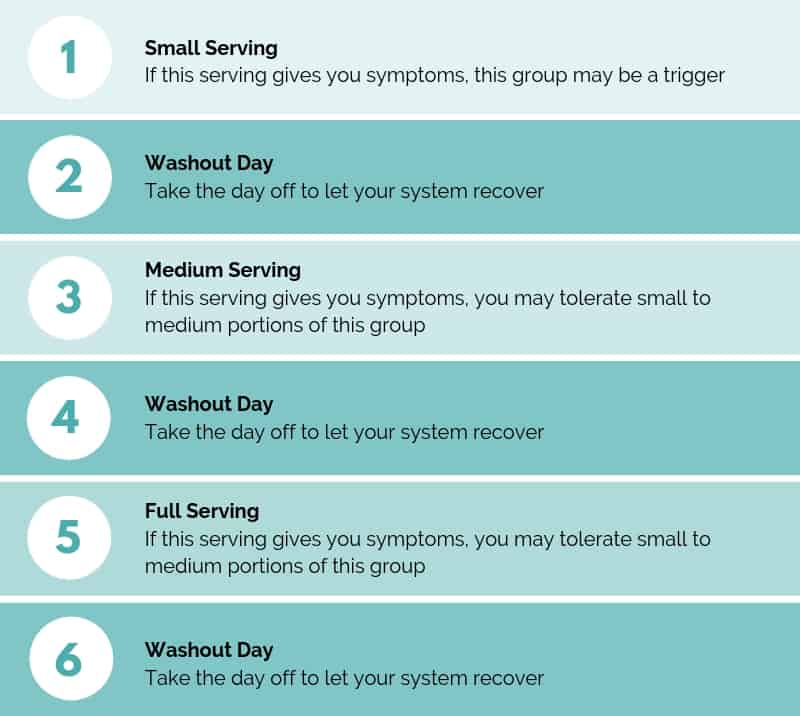 If you had severe symptoms before starting the low FODMAP diet, you might feel more comfortable using a cautious systematic re-challenge approach.
This process is similar to the classic systemic re-challenge, in that a single food is tested in increasing amounts. But instead of completing your tests back to back, there's a 24-hour washout period in between tests to give your gut a little break.
This approach is handy if you think you might have an aggressive reaction to a specific FODMAP group or if you're having some anxiety around completing your re-challenges. You can still gather a ton of information on your personal FODMAP threshold using this method. Just remember to keep detailed notes of any symptom shifts.
The FODMAP freestyle re-challenge

The FODMAP freestyle is really just the third and final phase of the low FODMAP program. If you had mild or moderate symptoms before starting the low FODMAP diet you can use this method to begin adding foods back into your long-term diet permanently.
To use this method, eat a normal portion of your test food one time, followed by a 24-hour washout period. If you don't have any troublesome symptoms, congrats! You can add this food to your diet going forward.
When adding foods back into your long-term diet, Monash suggests starting with a FODMAP group you think you'll tolerate well and adding those foods back in one at a time. They also recommend starting with foods containing a single FODMAP while you get the hang of things and saving foods with more than one FODMAP for the end.
There are a few benefits to testing FODMAPs by group. First, by focusing on one FODMAP group at a time, you'll gain small wins every time you successfully add a new food to your diet.
Second, you'll be able to spot problematic groups pretty quickly. If you notice you have a strong reaction to several different foods in a FODMAP group, set that group aside and make a mental note to revisit over time to see if your tolerance has changed.
Remember, if you have a mild to moderate reaction to a test food, you can always try testing a smaller portion after your washout period. The goal of the low FODMAP diet is to add as much variety to your diet as possible. Even if that includes 1/2 or 1/4 servings of your favourite foods!
What happens after the re-challenge phase?
Once you've completed all of your re-challenges, you're ready to start the third and final phase of the program: personalization.
During this phase, you'll use the information you gathered during your re-challenges to pick a group you tolerated well. Then make a list of all the foods in your pre-FODMAP diet that belong to that group and test them one at a time using the freestyle method (1 full serving followed by a rest day). Every food you tolerate can be added back into your diet permanently.
Once you've worked your way through each FODMAP group, you'll have a personalized long-term diet packed with foods that feel good in your body. You can read more about creating your long-term diet and how to practice mixing and matching high FODMAP foods in my next article: How to create a personalized low FODMAP diet.
Final thoughts
While it can be tempting to stay on the low FODMAP diet forever, staying on a low fibre diet can harm your gut bugs over time. So if you're ready to move into the re-challenge phase, it's time to skedaddle!
You might also like one of these Articles:
If you like this post, don't forget to share it! Together we'll get the low FODMAP diet down to a science!